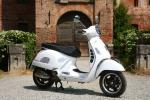 By Kevin Ash
Pictures: Milagro
There are three brands which not only evoke a loyalty and passion unusual even within our emotion-driven world of two-wheelers, they have transgressed the usual bounds and gained real awareness among those not normally interested in our kind of thing. The first, inevitably, is Harley-Davidson, a symbol of freedom, style and rebellion across the world. The second is Ducati, as the single-track embodiment of the Italian obsession with motorsport, persistently punching far above its weight with improbable success year upon year, not only on the track but in terms of public recognition too. The third is also Italian, and arguably coming from the most brilliant and original two wheel design of the last century: Vespa is so strong as a brand, a large proportion of people who've heard of it have no idea the company that makes it is called Piaggio. Indeed, to many, vespa has evolved into a generic term for scooter.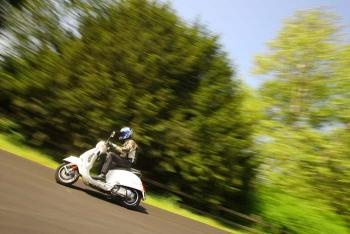 Click on image for galleryThe original was built in 1946, designed by former aircraft engineer Corradino D'Ascanio to get working factories silenced by the ending of hostilities as well as to mobilise populations short of fuel, cash and jobs. The steel monocoque chassis was simple and highly effective, the fully enclosed engine an essential for everyday transport, the easily detached wheels and spare dealt with the then common problem of punctures, and it was styled with Italian flair at its finest.

In the UK mods took to scooters – mostly Vespas and Lambrettas – as the antithesis to the grubby, high performance motorcycle culture of the rockers, but if they were a cult, the fundamentals of easy and unintimidating transport which kept their clothes clean applied to most people. That was 62 years ago and while most motor transport has moved on almost unrecognisably, those Vespa fundamentals were so strong the latest machines' principles are little changed. Even D'Ascanio's aircraft undercarriage-derived front suspension remains the same and unique in the two wheeler world, single sided for that wheel change facility and with a trailing link that looks at first sight as if it ought to dive horribly at the first hint of front brake. It doesn't though, remaining stable and level because while the weight transfer of the scooter is trying to compress the suspension, attaching the brake caliper to the bottom of the shock absorber means it counters by trying to extend the suspension as it attempts to rotate around the wheel. Wheel removal aside another advantage is that the wheel moves backwards as it moves up, like one mounted in telescopic forks, rather than forward and up as in many other unusual front ends such as BMW's Telelever, and in turn this provides a better ride quality.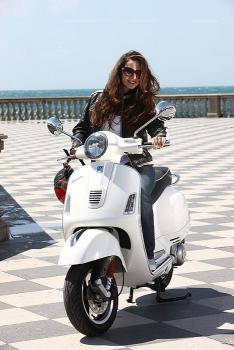 Which is why you still find the D'Ascanio suspension design on the latest Vespa, the 300 GTS Super. The Super tag has been applied only to the sportiest Vespas over the years and before the details of this latest one were announced, Vespisti worldwide were arguing over the merits of blowing the dust of this suffix once again. Yes, they really should have better things to do... What they didn't know was that the GTS's capacity was about to be upped, out to 278cc from the 244cc of the 250's Quasar engine via bore and stroke increases, concomitant with cylinder head changes to deal with the additional flow demands of the larger cylinder. But the changes to the motor's resultant power curve don't appear especially sporting, with the low and mid rev ranges being packed out with more torque as a priority over a top end horsepower boost – indeed, the claimed top speed of 82mph is the same on the 300 as the 250. But it's all the better for that, and perhaps ironically sportier too, at least at speeds it'll mostly be used at. It drives off the line with some impressive muscle then surges forward into overtakes, up hills and with faster moving traffic significantly more urgently than the 250, and no doubt will cope with a passenger more effectively too. It's not until 70mph that it starts to feel breathless, so you could conceivably use this as a fast A-road and motorway tool should needs be.

Certainly the chassis stability is well up to the engine's capability. That pressed steel monocoque is, according to Piaggio, more than twice as rigid as typical tubular steel ones with plastic bodywork, the general scooter chassis formula, and it really does show. Bear in mind the step-through design is poor from a rigidity angle, there's a 40:60 front to rear weight distribution and usually wobble-inducing 12 inch wheels, yet the 300 GTS Super is very stable even flat out and in windy conditions. Okay, it's not motorcycle secure, but within scooter parameters it's one of the best, and that competence extends to the way it steers, with perfect neutrality at low speeds preventing it from dropping to far into tight corners and little of the urge to run wide in faster, broader corners that's typical of this weight distribution.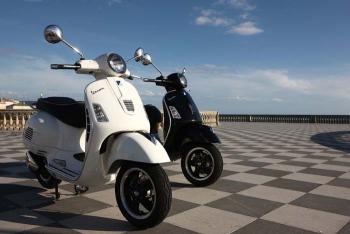 You do start to notice the considerable unsprung weight of an engine and transmission that move in concert with the rear wheel as the going gets quicker and bumpier, with some jarring and bouncing, but again, the Vespa is more composed than most scooters.

The transmission plays an important role in the GTS's feeling of rider obedience as it picks up the drive with unusual smoothness and predictability. On some scooters it's almost impossible to execute a three point turn without at least a small wobble when the drive kicks in as you open the throttle, and some are downright difficult because of this. But controlling very low, traffic trickling speeds with just the twistgrip on the GTS is pleasing and easy – you can pull away directly into a full lock turn with both feet up on the footboards and not keep them poised near the edges in case a quick dab is needed.

Engine aside the differences between 300 and 250 are not major. The Super badge gives the 300 the right to some side panel cooling grills as sported by older, er, sporting Vespas, while the legshields have been revised with different chrome trim and vents, red-painted suspension components front and rear and new seats (there are two options at purchase time), both of which are leaner looking than the 250's. What you don't get is the 250's very useful and I think rather good looking rear rack, a shame as this seriously reduces the 300's practicality, always something of a quiet disadvantage with Vespas compared to most other modern scooters as they have less underseat storage than most. No chance at all to fit my full face Arai under there without taking a saw to it (and even then I'm speculating), while not all open face lids will fit. There is a top box option, though this will of course annihilate your sporting pretensions. No doubt a rack of some sort will be an option at some point, even if it's not one of Piaggio's own.


Another omission which surprises is the lack of ABS. The Brembo brakes inevitably impress with both their balance and power, and there's even good feel from the rear which most motorcyclists aren't used to, although that's also because a scooter's rear stopper generally is stronger than the front not just because of rider habits but because with more weight squeezing its tyre to the road it has greater stopping potential, even with weight transfer taken into account. But the Vespa is upmarket, sophisticated and expensive, and lesser scooters offer ABS so really this one should too.

Like all motorcycle and scooter manufacturers, Piaggio doesn't quote meaningful fuel economy figures (BMW will tell you some about its bikes, but not for speeds or conditions any normal person would relate to). But judging by experience with the 250, I'd expect you'd be able to get 70mpg (24.8km/l, 4.0l/100km) or maybe more out of the 300, which with its 2 gallon tank (2.4 gallons US, 9l) means 140 miles (225km) to empty. That's fine for round town use and probably the majority of Vespa riders, but I can't help thinking a little more would add a touring dimension the machine is otherwise capable of (given that top box too of course). It's certainly comfortable enough for several hours in the saddle, weather protection isn't bad (you could even wear one of those all-over leg covers and keep your lower half completely dry) and reliability is good enough for confidence over long distances in foreign lands. But then with more space taken up by fuel tank you'd not even fit a Barbie doll helmet beneath the seat...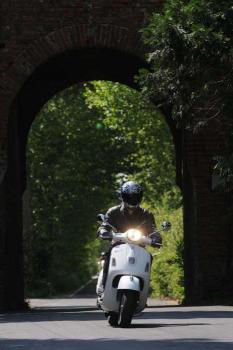 If the initial £3649 is high, where you gain is in depreciation, or lack of it compared especially with cheap Chinese offerings. Not only do they generally lack any sort of style, they don't come close to a Vespa's very impressive build quality, often barely have an importer at all let alone a proper dealer network, and when they go wrong, as they inevitably do, you can't get any spares and pretty soon have to throw them away. Even if you can sell one on the depreciation hit often is huge.

In the end though, no matter how convincing the rationalising, a Vespa sells because it's a Vespa. That is taken to mean Italian style and chic at its finest, and in those respects too, the 300 GTS Super does not disappoint in the slightest. It's one of those rare objects, like some Ducatis and Harleys and a few other bikes too which is simply a pleasure to own, whether you rode it or not. But of course you will, and you'll enjoy it then too.



Other Scooters
Recent comments
In HONDA NC700X, kharli wrote:

In HONDA NC700X, kharli wrote:

In HONDA NC700X, Grump wrote:

In HONDA NC700X, kharli wrote:

In Lest we forget..., Captain Scarlet wrote:

In Captain Scarlet's next bike, malauder wrote:

In Captain Scarlet's next bike, Captain Scarlet wrote:

In Benelli 750 SEI, CCM wrote:

In Benelli 750 SEI, Gekom57 wrote:

In Benelli 750 SEI, Gekom57 wrote:

In Captain Scarlet's next bike, Grump wrote:

In Captain Scarlet's next bike, Navy Boy wrote:

In Captain Scarlet's next bike, Captain Scarlet wrote:

In Captain Scarlet's next bike, Grump wrote:

In HONDA NC700X, Grump wrote:

In Lest we forget..., Navy Boy wrote:

In Lest we forget..., unconventional rebel wrote:

In Captain Scarlet's next bike, unconventional rebel wrote:

In HONDA NC700X, unconventional rebel wrote:

In Lest we forget..., davvy wrote:
Donate to the Kevin Ash Fund
Kevin's funeral was held on Thursday 28th February 2013 and was well attended by family, friends and colleagues.
The Telegraph has very kindly established The Telegraph Kevin Ash Fund to assist with the education of Kevin's three daughters.
If you'd like to make a donation then you can use the PayPal 'Donate' button below which will allow you to donate from your PayPal account, or via credit or debit card. A small percentage (about 3.4%) will be retained by PayPal for the service.
Kevin's family have been touched by the generosity and messages of support from people using the website and would like to express their gratitude to those who have contributed in any way.
The donations keep coming in, thank you so much, and the family especially like it when you leave a message.
Recent Articles
We're familiar with solid-state electronics in biking. Ignition swapped points for transistors in the 1970s, then went digital in the 1990s. Now, the need for greater power, fuel efficiency and emissions control means modern engines only work with computer-controlled fuelling, ignition, combustion and exhaust. When we open the throttle we pull the strings, but the ECU calls the shots. To do it, the ECU needs an accurate view of the world. And it gets it through its sensors.
A gyroscope is a rigid circular or spherical mass rotating around an axis and for over 100 years motorcycles have come with three of them: a front wheel, a rear wheel and a crank (if you're being pedantic you could include cams, balancer shafts, gearbox, clutch etc). The classic mechanical model of a gyroscope ranges from the very small – electrons spinning around an atom's nucleus – to the very large – the Earth.
Most of us have an innate feel for balancing a high centre of gravity on a relatively short wheelbase. Say, like a motorbike. Its centre of gravity is the point at which the sum of the surrounding mass is zero, and is largely determined by the location of the engine, the heaviest part of the package. Usually the CoG is midway between the wheels (half the wheelbase) and 60 to 75cm off the ground; just above the engine, in front of your knees. Or at least it is until you get on.
Anyone with fingers knows bikes vibrate, sometimes strongly enough to make picking your nose impossible. But how we perceive vibration depends on its type, pattern, frequency and cause. Bikes are subject to different types of vibration. A bumpy road creates random forced vibration at medium to high frequency (around 5-35 Hz depending on vehicle speed). It's perceived as unpleasant, as is head buffeting caused by wind turbulence. Engineers and aerodynamicists try to minimise these bad vibrations. But we usually talk about engine vibration. There are many sources...
From the launch of Yamaha's new Super Ténéré: "The exhaust pipe connection between the two headers is discontinued to give more character to the engine. The link pipe gives a flat feeling to the curve, so removing it makes the engine a bit more peaky." This is all about exhaust gas. When a four-stroke is tuned for power it means more revs, and so the cylinders have thousandths of second to fill with fresh mixture, compress it, burn it and pump it out again. To get enough mixture in and out, inlet valves open early and exhaust valves stay open for longer – so both are open at the same time.