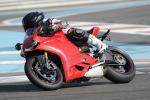 Wrench open the throttle, feel the bike beneath you writhe as it punches forward with hungry force, and you`re not thinking about breathtaking technology, taut and feline style or searing performance. It`s much simpler than that: the Ducati 1199 Panigale is just the sexiest motorcycle ever built.
The rest contrives to create that aura of course: it wouldn`t stir those most base of emotions without arresting you visually, with a second rate response to your inputs or reheated engineering. But there`s something extra here, something beyond the reach of CAD and FEM and stopwatches and scales. It`s a sprinkling of magic, an allure that when you go out to your garage in the morning, not even to ride but still you see it waiting there, temptation poised, you will think yes, today is already a better day.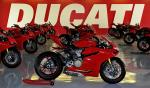 The technology alone is seductive, though like a teenage boy with his first willing girl, it`s hard to know where to start. The front, where the high spec Panigale S reveals its motorcycling-first LED headlights? The Brembo monoblocs? Not just Brembo monoblocs, but new Brembo monoblocs for the Panigale, seven per cent lighter than the old. Or beneath the skimpy red attire, the aluminium monocoque frame, just 9.3lb (4.2kg) clamped to the V-twin engine to create a chassis stiff enough to contain 192bhp (195PS, 143kW) and direct it accurately through curves.
For a full insight into the engine of this radically new machine, see the Ducati Panigale Engine Feature, but be warned, if technology turns you on, this is hardcore. In summary, the Ducati 1199 Panigale has the biggest pistons at 112mm of any production car or motorcycle, matched only by the Suzuki M1800S with its 50 per cent bigger capacity. It`s massively oversquare so it can use huge titanium valves for the colossal gas flow needed to generate all that power, and without desmodromics to control them, it simply couldn`t happen.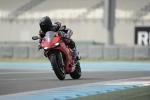 We know it`s new, but just how new is summed up in an extraordinary fact: this is the first Ducati twin to use different crank and gearbox centre dimensions since the Pantah 500 SL of 1980. Until now, every engine since has continued the belt driven cams and roller bearing crank spec, and retained the distances and angles between the three fundamental shafts, two gearbox and the crankshaft, first laid out by the legendary engineer Fabio Taglioni at the end of the 1970s.
They`ve not done badly since, have they? But in the biggest investment Ducati has ever made in a new model, it`s time to move on. Tradition has not been forgotten, it`s been adhered to, as Ducati tradition at its heart is not retro but high performance married to feel and sensation. So the belts are replaced by a chain cam drive, needed to cope with the heavy loads of operating such big valves at high revs. It`s a service item less too, as it will last much longer than the previous belts - major service intervals are at 15,000 miles (25,000km). The new crank rotates in plain bearings, which because they`re more compact allow space for more crankcase material and greater strength - tuned 916-derived engines could split their cases and they made a lot less power than 192bhp.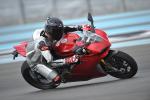 The gearbox in the modern way is stacked vertically to shorten the engine and facilitate a longer swingarm, 1.5in (39mm) more than the 1198`s, yet with no weight penalty. This and the svelte rear end are responsible for the bike`s 52 per cent forward weight distribution, similar to race versions of the 1198.
The crankcase is sealed so the oversize oil scavenge pump can suck out air, reducing pressure by up to 0.8 bar and saving the pistons from pumping crankcase gas about needlessly and wasting their energy. The ingenious decompression system pops two exhaust valves open during start up, so a smaller starter and battery are required, saving more than 6.lb (3kg) of the 22lb (10kg) advantage the 1199 has over the 1198.
That`s not the only bike it`s lighter than. Ducati says, after weighing its own and rival machines in the same condition (all fluids present except fuel) that the 1199 Panigale is 31lb (14kg) lighter than the Aprilia RSV4 and 37.5lb (17kg) more slight than the BMW S1000RR.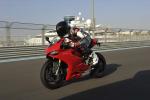 Those bikes matter, according to chief engineer Andrea Forni, because the Aprilia was the benchmark for the Panigale`s chassis, and almost inevitably, the ferocious BMW set the standard for the Ducati`s engine. But it`s worth repeating because it matters so much when you`re riding: 37.5lb (17kg)!
Neither competes with the Bologna bike`s electronics package - we`re talking Panigale S here, the high spec version which will be the most popular option despite a hefty price premium. The traction control is more refined than ever and includes rear lift-off intervention, there`s a combined ABS system similar in principle to the C-ABS which is such an excellent feature of Honda`s Fireblade - both come from Bosch so the differences are only in detail, and there are of course different engine management settings affecting power delivery and peak output.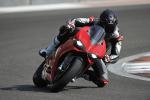 You get a quickshift gearchange, and the self-servo slipper clutch is backed up by Engine Brake Control (EBC), a system which looks at braking effort and speed to decide if the throttles need to be opened slightly to reduce engine braking and improve stability. There are different levels for this as well as everything else, changed automatically when you select one of three basic modes, Wet, Sport or Track, and at the same time, Multistrada-style, the suspension settings are altered to suit. Every setting can be personalised within these modes, and the system will keep using your new settings until you tell it otherwise, or revert to default.
Still not hot enough? Then how about the dash- this is not only a generation ahead of the dull LCDs we`re used to, with its crisp definition and multiple colours, it changes according to what you`re doing. For the first 600 miles (1000km) while you`re running the engine in, the red line markings slip down the scale to remind you not to push it too far at first - tempting though that is. Yes, it`s a tease, but it`ll let you have it in the end... It does the same when it`s cold - you don`t just jump straight in there and give it everything, it wants to be warmed up, a little foreplay to help build some heat, and gradually it will slide back the red zone when it`s ready for you.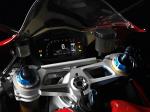 Wiggle your finger to slip it into race mode and the rev counter scale adapts, the lower figures bunching up because you won`t need those, while the middle and upper reaches extend for improved clarity. People buy bikes for this kind of thing alone.
Okay, unless you`re made of wood, now you`re gagging to ride.
The figures and Ducati precedent fuel expectations of a radical, wrist-heavy stance, instead the 1199 Panigale is roomy with 10mm higher bars, further back and set wider and with the seat more forward. I`m 6`3" (1.91m) and I fit fine, yet the reach to the ground isn`t too daunting for those of more compact stature. The fuel tank is substantive to grip between your knees too, putting right another persistent Ducati issue - this bike brakes hard enough to make your nose bleed, but now you can hold tight with your thighs and your hands are higher so it`s not a struggle to stay in the seat, while flinging it side to side is made so much easier by your increased leverage.
Not that it takes much flinging. The Panigale`s agility will take your breath away, it makes other superbikes feel like lumbering beasts. Think supersport 600 and you`ll be about right, except for what happens when you turn the twistgrip of course. We`ll come to that-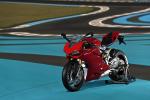 What`s also surprising is how much difference some of those settings can make. Leave all else alone but change the EBC to decrease engine braking and the bike freewheels more into a turn then starts to push wide without the rear wheel to hold it back. Switch a couple of levels more engine braking and the Panigale 1199 S hunkers down as it sheds its huge speed, swaying only gently even with the ABS cutting in, before flicking onto its side and scribing the tightest arc through the turn.
Wind on the power at the apex and the drive out onto the next straight has you laughing maniacally, you can`t believe how much thrust combines with how much lean before the traction control even bothers to get out of bed. The new 200 section Pirelli Diablo Supercorsa SP, connected to the rest of the bike through that long swingarm and controlled by Öhlins` finest suspension, is as tenacious as last year`s superbike rubber, which it should be as that`s exactly where the outer, softer bands of the dual compound construction come from.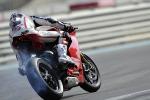 Okay okay, this is a bloke called BaylissWhen you do contrive to get it to slide, the DTC doesn`t so much cut in as quietly guide you through, rear end swaying rather than kicking, a benign electronic swan gliding serene above the frantic foot control of its unseen horsepower management.
Despite the astonishing agility, the happiest consequence of the huge weight loss, the EBC, the DTC, the ABS - the bike`s acronymic brain - keeps it so stable you feel confident enough to push it as hard as you`ll ever ride a motorcycle, its systems both performance aid and safety net. At high speeds you`re reminded of the bike`s supersport geometry as it starts to wriggle gently rather than tracking straight and true, restless for the next corner as it penetrates the air at 160mph (260kph), still accelerating hard.
The new Brembos are a masterpiece, reassuring with their immense power rather than intimidating, thanks to a level of controllability that will be a whole new experience for many riders. Squeeze the front and the Bosch 9ME CPU will redistribute power to the rear for the optimum retardation and stability while endowing you with the finest control. There`s no grabbing, no fade, no faults at all, just slewing to a stop with a flex of your fingertips.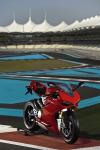 The core sensuality of this animate machine though is its engine, the offbeat 90-degree beat pulsing like a huge heart pumping blood, a signature you can hear even as it revs high and booms with a sound that will make the hairs on your neck stand proud. It really is disconcertingly stirring, and a fabulous thing to have in your command. You do have to rev it: the low and mid-range outputs are less than the 1198 offered, while the top boasts 25bhp (18.6kW) more, a huge jump in this sector. The character of the engine then is quite different to the 1198`s, demanding you work for its maximum where the 1198 was more relaxed about its performance. For many riders though, the 1198 could be too much when driving out of turns, as its power needed to be carefully modulated, especially on the non-traction control versions.
The 1199 Panigale might have less output in the middle but it still has enough, even on track with grip and confidence, and the longer wheelbase means you`re not constantly fighting wheelies. On the road you`ll need to work the gearbox more than an 1198`s to fire past cars and the like, but as an excuse to play the soundtrack it`s a good one. Gear selection itself is as slick as any you`ve tried, and with the quickshift the bike fires up the ratios with almost imperceptible speed. This is the best production quickshift yet, and another aspect of the Panigale experience which brings satisfaction and pleasure to cold performance.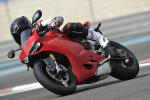 Through traffic it`ll unlikely to be entirely happy, there`s a harshness and staccato delivery on a whiff of throttle in the lowest gears that`s the only clue you have as to the difficulties the engineers went through in persuading cylinders that wide and that shallow to combust their contents cleanly. Come at it from an old school Ducati though and it`ll feel smooth and compliant, so it`s nothing to turn you away.
The 1199 Panigale is, as you`re expecting, shockingly fast, although it lacks that missile-blast of immense, raw thrust at the very peak that still singles out the S1000RR. Ducati`s horsepower claim might be the same as the Germans` but the gearing is taller than the screaming BMW`s, while the S1000RR`s power claim anyway is notoriously pessimistic - it feels like even more than they say.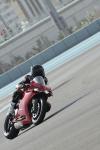 But if the Panigale 1199 can`t quite match that final hit of energy of the BMW, it`s still the quicker bike. Given circuit or sinuous strip of bitumen laid across the landscape, the Ducati`s astounding agility with its major weight advantage, the force of its drive out of turns, the tactility of its braking and the sheer confidence it instils in whoever is lucky enough to be riding her, means the Italian will ease in front.
The riding satisfaction is huge, but there`s more, a quality the specifications and performance figures can`t describe, that heat implied by the flared intake nostrils beneath the cool white LED lights. It`s a big cat aura suggested by the leanness of the lines, the forward visual weight stretched and low, the blood red hue.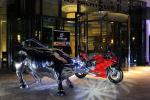 It is, because of everything it has, the quantifiable excellence which is alluring in itself combined with undefined yet blatant desirability, a very sexy motorcycle. If I`m wrong and it turns out not quite to be a match for the BMW on a track- I`d want an 1199 Panigale just the same. As a motorcycle to live with, for the sheer pleasure of doing no more than owning it, then for the utterly involving riding experience it gives, and finally for the wild thrill of its performance, the Panigale is unsurpassed.
It even has a fault, a blemish to complete its beauty: the sidestand is quite hard to kick down. The perfect flaw.
Specifications
Model tested: Ducati 1199 Panigale S
UK price: £19,750
Available: end Feb 2012
Engine: 90 degree V-twin, liquid cooled, dohc 8v, 1198cc
Power: 192bhp (195PS, 143kW) @ 10,750rpm
Torque: 98lb.ft (13.5kgm, 132Nm) @ 9,000rpm
Economy: n/a
Tank/Range: 3.75 gallons (7 litres, 4.5 US gallons) / n/a
Transmission: Six gears, wet multi-plate slipper clutch, chain final drive
Chassis: aluminium monocoque, engine stressed
Seat height: 32.5in (825mm)
Wheelbase: 56.6in (1437mm)
Rake/trail: 24.5 °/3.94in (100mm)
Weight: 415lb (188kg) wet
Recent comments
In HONDA NC700X, kharli wrote:

In HONDA NC700X, kharli wrote:

In HONDA NC700X, Grump wrote:

In HONDA NC700X, kharli wrote:

In Lest we forget..., Captain Scarlet wrote:

In Captain Scarlet's next bike, malauder wrote:

In Captain Scarlet's next bike, Captain Scarlet wrote:

In Benelli 750 SEI, CCM wrote:

In Benelli 750 SEI, Gekom57 wrote:

In Benelli 750 SEI, Gekom57 wrote:

In Captain Scarlet's next bike, Grump wrote:

In Captain Scarlet's next bike, Navy Boy wrote:

In Captain Scarlet's next bike, Captain Scarlet wrote:

In Captain Scarlet's next bike, Grump wrote:

In HONDA NC700X, Grump wrote:

In Lest we forget..., Navy Boy wrote:

In Lest we forget..., unconventional rebel wrote:

In Captain Scarlet's next bike, unconventional rebel wrote:

In HONDA NC700X, unconventional rebel wrote:

In Lest we forget..., davvy wrote:
Donate to the Kevin Ash Fund
Kevin's funeral was held on Thursday 28th February 2013 and was well attended by family, friends and colleagues.
The Telegraph has very kindly established The Telegraph Kevin Ash Fund to assist with the education of Kevin's three daughters.
If you'd like to make a donation then you can use the PayPal 'Donate' button below which will allow you to donate from your PayPal account, or via credit or debit card. A small percentage (about 3.4%) will be retained by PayPal for the service.
Kevin's family have been touched by the generosity and messages of support from people using the website and would like to express their gratitude to those who have contributed in any way.
The donations keep coming in, thank you so much, and the family especially like it when you leave a message.