BMW C600 Sport and C650GT
Pictures: Daniel Kraus and Bernhard Limberger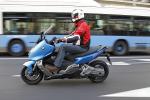 Another year and another new market sector for BMW. The Germans rocked the motorcycle world with the S1000RR two years ago, a bike which barged into the high performance superbike sector and not so much trod on the toes of the established Japanese order, it knocked them all sideways with its ultra-high spec and searing performance.
For 2012 BMW has entered the big capacity, executive scooter class, a move which must be creating some nervousness among the established brands. But there`s an immediate problem for BMW which is going to colour everything you think about the C600 Sport and its similar stablemate the C650GT, and that`s the price. The base model costs £9,395, and with it specced up to Highline status, that`s boosted to £10,245, which will get most potential UK customers thinking: I could get a car for that!
The problem is that the Italians and Spanish, both huge markets for this kind of scooter, don`t think that way at all. To them, a maxi-scooter is the best way to get to work because it`s more economical than a car, much easier to park and far faster through rush hour traffic - why would you want a car instead? But in those markets, these are the kinds of prices they expect to pay, so with everything costing the same across the EC, that`s what we`re being asked to pay too.
For your considerable wad of money you do get a class-leading scooter. The C600 uses an all-new 647cc twin-cylinder engine driving the rear wheel through a conventional scooter-type variable pulley and belt automatic transmission, married to a tubular steel chassis that owes more to motorcycle than scooter design.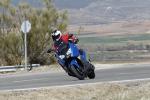 It shows when you`re riding with sharp yet stable handling few other scooters come close to - the only real rival in this respect is Yamaha`s excellent T-Max, which incidentally is offered at a similar price, cheaper only because it doesn`t come with the ABS brakes which are standard on the BMW.
The lighter Sport is significantly faster to turn, and riding the GT straight after makes that feel positively lethargic in comparison. But even that has more of a motorcycle feel than most other scooters.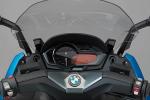 The motor is smooth and strong, giving you a top speed of just under 110mph and a 0-60mph acceleration time of less than 6 seconds, so in general traffic you`re never wanting for performance. Both scooters share the same 647cc parallel twin, despite the different numbers in their names. Its power is very easily accessed too, as all you do is turn the twistgrip and let the auto transmission look after the clutch and gear functions for you, while stopping is the same as on a bicycle, via two handlebar levers for front and rear brakes, the difference being the excellent ABS prevents you overdoing it in a panic.
Comfort is very good, with room to move your legs around and a cosseting seat as well as spacious riding position, and although the C600 Sport has less protective bodywork than its sibling the C650GT, it still looks after you well, and I`d have the Sport for its easier handling anyway. In fact I found the GT`s seat less comfortable than the Sport`s as the central bum stop holds you in a fixed position where the seat is narrower, where on the Sport`s you can slide forward or back to maximise comfort.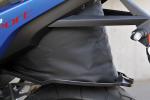 The storage space is average for the class, on the Sport with just about enough space for a smaller full face helmet beneath the seat, though when you park there`s a bellows-type extension which drops onto the rear wheel, adding enough space for a second helmet. The GT has enough space for two helmets without this, although these do need to be smaller ones and they take some juggling.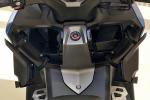 You also get two pockets in the fairing panel, although the covers are so flimsy you can pull the left one open even when it`s locked. It`s not possible to lock the right one, while another gripe is the field of view in the Sport`s mirrors is too small and shows too much elbow. There`s a better view in the GT`s but these vibrate when you`re riding along and blur the image.
The screen is manually adjustable on the Sport and electric on the GT it`s electric, and it works well on both, with inevitably more protection on the GT.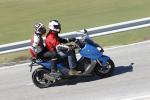 If you pay an extra £850 for the Highline versions, you get in addition to the standard ABS and onboard computer such luxuries as heated seats and handlebar grips, daytime riding lights, LED indicators and tyre pressure monitoring. You`ve also now crossed the £10,000 barrier...
But get past the price (and the expected low depreciation will help) and you find a class-leading executive scooter with great handling and a fine engine.
Specifications
Price: C600 Sport, £9,395 (Highline, £10,245)
C650GT, £9,705 (Highline, £10,455)
Available: May 5, 2012
Engine: twin cylinder, liquid cooled, sohc 8v, 647cc
Power: 69bhp @ 7,500rpm
Torque: 49lb.ft @ 6,000rpm
Economy: 55mpg recorded on test
Tank/Range: 3.5 gallons (16 litres) / 190 miles
Transmission: Variable pulley automatic, chain final drive
Chassis: tubular steel
Seat height: 31.9in (810mm)
Wheelbase: 62.6in (1591mm)
Rake/trail: 25.4 ° / 3.6in (92mm)
Weight: Sport, 549lb (249kg) wet, full tank
GT, 576lb (261kg) wet, full tank
Recent comments
In HONDA NC700X, kharli wrote:

In HONDA NC700X, kharli wrote:

In HONDA NC700X, Grump wrote:

In HONDA NC700X, kharli wrote:

In Lest we forget..., Captain Scarlet wrote:

In Captain Scarlet's next bike, malauder wrote:

In Captain Scarlet's next bike, Captain Scarlet wrote:

In Benelli 750 SEI, CCM wrote:

In Benelli 750 SEI, Gekom57 wrote:

In Benelli 750 SEI, Gekom57 wrote:

In Captain Scarlet's next bike, Grump wrote:

In Captain Scarlet's next bike, Navy Boy wrote:

In Captain Scarlet's next bike, Captain Scarlet wrote:

In Captain Scarlet's next bike, Grump wrote:

In HONDA NC700X, Grump wrote:

In Lest we forget..., Navy Boy wrote:

In Lest we forget..., unconventional rebel wrote:

In Captain Scarlet's next bike, unconventional rebel wrote:

In HONDA NC700X, unconventional rebel wrote:

In Lest we forget..., davvy wrote:
Donate to the Kevin Ash Fund
Kevin's funeral was held on Thursday 28th February 2013 and was well attended by family, friends and colleagues.
The Telegraph has very kindly established The Telegraph Kevin Ash Fund to assist with the education of Kevin's three daughters.
If you'd like to make a donation then you can use the PayPal 'Donate' button below which will allow you to donate from your PayPal account, or via credit or debit card. A small percentage (about 3.4%) will be retained by PayPal for the service.
Kevin's family have been touched by the generosity and messages of support from people using the website and would like to express their gratitude to those who have contributed in any way.
The donations keep coming in, thank you so much, and the family especially like it when you leave a message.