Pictures: Kawasaki Press (click on images)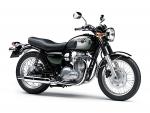 Kawasaki`s W800 is the kind of bike you`d want to have in your garage just because of the way it looks.
It really is a beautiful machine, with styling inspired by British twins of the 1960s. But there`s authenticity in this Kawasaki take on the theme, as the Akashi factory made its own twin for several years from 1965, called the W1. It was based on a BSA design but with many changes made to improve reliability and oiltightness.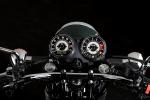 It was not, as some believe, a direct copy of BSA's A10 or A65 (both 650s) but a development of a copy of the 500cc BSA A7. There were several important changes from the original British bike, including the use of a built-up crankshaft with roller bearings (instead of the A7's single piece crank and plain bearings), a capacity increase to 624cc and inevitably a higher build quality.
In 1999 Kawasaki revived memories of the W1 with the W650 retro, also a fine looking bike spoiled by a weak engine and poor front suspension, although it still became something of a cult machine as the basis for many specials. The model withdrawn in 2008 as it couldn`t meet the new emissions regulations, but now Kawasaki has brought it back as an 800, cleaner burning and more powerful too.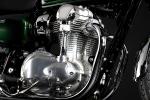 The extra capacity - up to 773cc thanks to a 5mm bore increase to 77mm - is aided by the fitment of fuel injection instead of the old carburettors and the cylinder head is changed internally to match the additional gas flow. The basic architecture is unchanged so the engine still boasts a balance shaft as well as the distinctive shaft drive to the overhead camshaft, visible on the right side of the motor, and one of the features that makes the motor so appealing visually.
The air-cooled engine is something of a work of art in fact, and it`s topped off with a superbly styled and lustrously painted fuel tank. All around the bike is detailing in chrome or polished and lacquered aluminium, while the `peashooter` silencers and large diameter wheels with their alloy rims and chunky spokes are pure 1960s.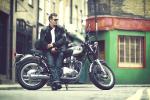 It`s a stunning machine which rather surprisingly has been attracting younger people at least as much as the oldies you might expect to be seduced by the period style. Kawasaki says that for many people across the age range the W800 appeals for looking like a motorcycle should: never mind high performance or aerodynamic bodywork, it`s just a proper motorbike.
Fortunately the appeal is still there when you`re riding it, and much more so than the W650. It`s not especially fast, a little down on the performance of Triumph`s rival Bonneville in fact, but that doesn`t matter a great deal, no one is going to be racing bikes in this class. What`s important is that the W800 feels good. The engine has a friendly, mellow sound and it pulls willingly too. Much of the torque lives at low revs - the maximum is right down at 2,500rpm - which means at low and medium road speeds the bike pulls well even in the higher gears.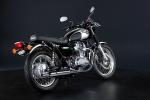 The acceleration won`t threaten your neck muscles, but for cruising around and going places at a relaxed pace it`s a satisfying ride. It`s quick enough to keep pace with faster motorway traffic too, although sustained high speeds bring the fuel consumption down to around 45mpg (15.9km/l, 6.28l/100km, 37.5mpg US). In itself this isn`t bad but the fuel tank holds only 3.1 gallons (14 litres, 3.7 gallons US) and the low fuel warning flicks on at just under 100 miles (160km) so long distances will mean frequent fuel stops. Use the bike more gently and the economy rises substantially to 55mpg (19.5km/l, 5.14l/100km, 45.8mpg US), which improves the range a lot, and it shouldn`t be too difficult to nudge 60mpg.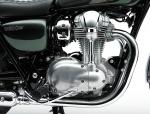 The handling is in the same mould as the engine, gentle and easy rather than too sporty or sharp. It`s a little softer than the Bonneville, but fine for swinging gently through the countryside and there are no quirks or nasties like the weak-performing forks of the old W650. Instead you get stable handling with a decent ride quality.
The price is good too, at £6,649 the W800 is right in there with the Bonneville, yet the build quality and style are both a step above. A bigger tank would be welcome, but that aside this is a thoroughly convincing and very appealing motorcycle.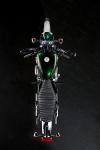 Specifications
Model tested: Kawasaki W800
Price: £6,649
Available now
Engine: parallel twin, air cooled, sohc 8v, 773cc
Power: 70bhp (71PS, 52kW @ n/a rpm
Torque: 44lb.ft (6.1kgm, 60Nm) @ 2,500rpm
Economy: 55mpg (19.5km/l, 5.14l/100km, 45.8mpg US)
Tank/Range: 3.1 gallons (14 litres) / 170 miles
Transmission: Five gears, wet multi-plate clutch, chain final drive
Chassis: steel double cradle
Seat height: 31.1in (790mm)
Wheelbase: 57.7in (1465mm)
Rake/trail: 27 °/4.25in (108mm)
Weight: 476lb (216kg) curb
Recent comments
In Lest we forget..., davvy wrote:

In HONDA NC700X, kharli wrote:

In Captain Scarlet's next bike, pittsy wrote:

In Captain Scarlet's next bike, Navy Boy wrote:

In Captain Scarlet's next bike, malauder wrote:

In Captain Scarlet's next bike, Captain Scarlet wrote:

In Lest we forget..., malauder wrote:

In Lest we forget..., Captain Scarlet wrote:

In Naturally self-centring, pittsy wrote:

In Naturally self-centring, kharli wrote:

In Naturally self-centring, pittsy wrote:

In HONDA NC700X, kharli wrote:

In Naturally self-centring, shuggiemac wrote:

In HONDA NC700X, Grump wrote:

In HONDA NC700X, fishmanboy wrote:

In HONDA NC700X, Grump wrote:

In HONDA NC700X, kharli wrote:

In HONDA NC700X, Grump wrote:

In Giving me good vibrations, pittsy wrote:

In Giving me good vibrations, unconventional rebel wrote:
Donate to the Kevin Ash Fund
Kevin's funeral was held on Thursday 28th February 2013 and was well attended by family, friends and colleagues.
The Telegraph has very kindly established The Telegraph Kevin Ash Fund to assist with the education of Kevin's three daughters.
If you'd like to make a donation then you can use the PayPal 'Donate' button below which will allow you to donate from your PayPal account, or via credit or debit card. A small percentage (about 3.4%) will be retained by PayPal for the service.
Kevin's family have been touched by the generosity and messages of support from people using the website and would like to express their gratitude to those who have contributed in any way.
The donations keep coming in, thank you so much, and the family especially like it when you leave a message.