BMW is aiming to make the broadest sweep possible across the big tourer classes with its new six-cylinder engine.
The K1600GT is designed to cover the same ground as Kawasaki`s 1400GTR, the Yamaha FJR1300A and Honda STX1300 Pan European - even to the point that BMW has deleted its own direct rival to this competition, the K1300GT. The K1600GTL meanwhile replaces some of the GT`s sportier genes with luxury ones, to the point where even though both machines share the same chassis and power train from engine to rear wheel, the GTL has a distinctive character and finds itself up against a different set of bikes.
Not that it`s a big set, including as it does the Honda Gold Wing and in some peoples` eyes, the Harley Electra Glide and Victory Vision. The BMW in many ways though is a very different machine, more akin to the company`s 7-Series cars in its efficient dedication to comfortable high speed travel, where the glitzy Glide is all 1960`s kitsch and the Vision relies on flamboyant style and excess as much as ability.
The GTL`s nearest rival though is its own stablemate, the K1600GT, as many potential buyers will be dithering between the two. So what are the differences, and how do they matter? The bodywork is the same on both bikes with only the GTL`s larger screen differing, and this is an option anyway for GT buyers. The GTL gets softer suspension settings, lower and further forward footrest, a lower and wider seat and a topbox as well as the panniers.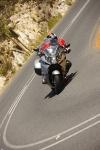 The K1600GTL is also electronically restricted to a top speed of 136mph (220kph) compared with the GT`s unrestricted maximum of 155mph (250kph), and this is the reason it has a higher maximum payload, despite the softer suspension - fully loaded at close to 150mph it could become unstable. Total permitted weight for the GTL is 1,235lb (560kg), 44lb (20kg) more than the GT.
The GTL feels different as soon as you sit on it, with a very upright riding position due to the pulled back bars and lower seat. For shorter riders this will help in moving it around with the engine off, although taller ones could be more confident in manhandling the GT, but either way the differences aren`t great, despite the added high-up mass of the capacious topbox.
The sound of the engine is familiar enough after the GT - BMW says it`s slightly more muted thanks to small silencer variations (in addition to their different finishes) and when you`re revving it hard there is a softer edge to the seductive rasp. But you`d still be hard pushed to tell which one you`re on by the exhaust note alone.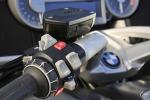 As with the GT the clutch action is light with a slightly vague bite point, but when you find it the bike wafts away effortlessly and smoothly. There`s none of the K1300 series graunch or judder when the drive is taken up, even when you`re launching the bike hard.
The next observation came as a surprise after riding the K1600GT: the K1600GTL feels a little more punchy at lower revs. It`s not a big difference, which is just as well as the gearing on both bikes is the same, as are the engines, and the GTL carries a little more weight. In which case there`s a comparative factor at play: the GT with its tauter chassis encourages you to rev it harder and push the performance more, so when you do drop down to low revs again the gap between in the power and out of it feels greater.
I wasn`t alone in this, Motor Cycle News editor Marc Potter had exactly the same feeling, and both of us quizzed the German design team afterwards about any unmentioned differences, but there were none. It simply appears to be a case of how you ride the bike compared with the GT.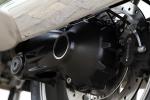 Even so, the GTL is no tyre shredding torque monster either. It pulls reasonably well at low rpm, and as with the GT you can trickle it down to engine idle speeds in the high gears and there`s no hint of discomfort from the transmission, just an obedient wafting along in the traffic which makes slow speeds as much fun as high ones. But there`s still some disappointment that you don`t get more from the motor in the lower levels, and as with the GT you do need to trouble the slick-shifting gearbox more often than you`d hope in order to get past slower traffic.
I've produced a feature comparing the lower rev torque at the rear wheel, where it really counts, and it shows the K1600GTL has a lower torque/kg ratio than the discontinued K1300GT for a substantial section of the lower rev range. It also builds more slowly.
See the Torque Comparison feature here
The suspension definitely is different though, being significantly softer on the K1600GTL, but it isn`t any more comfortable for that as it feels underdamped and crashes over bigger bumps and potholes, to the point where the rider can be jarred through the seat. I spent a lot of time switching between the ESA mode settings, not just to try them out but because I could never find something I was entirely happy with, swopping between the harshness of Sport and the jarring of Normal. Comfort was just too soft.
It was an irritation more than real nuisance after I`d got used to it, and riders coming from Harleys or Gold Wings will wonder what I`m complaining about as the GTL is better than either. But the GT is superior again and in Normal offers a convincing and comfortable ride, where the GTL often jiggles or bumps.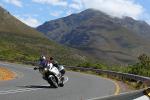 The GTL`s stability is less impressive too, although you do need to be pushing things to discover this. At 100mph (160kph) it can start to feel a little vague, and by 120mph (190kph) it can become unnerving. I didn`t get a chance to max it out, but one rider who did said it was getting borderline scary when a corner entered the fray. I shouldn`t worry about this too much though, at anything below 100mph the stability is fine, and higher speeds are mostly done on long straight roads anyway where there are no problems either.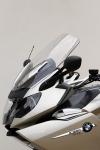 Maintaining a rapid pace is delightfully easy as the huge screen fends off the windblast with accomplished ease, so you sit upright commanding your cruise ship with its array of information displayed in LCD monochrome and TFT display (feature here), serene as the world rushes backwards around you. Personally I prefer the GT`s more forward leaning position, but I can imagine some riders will prefer the GTL`s sofa-like stance when there are really serious miles to cover.
American riders tend to prefer to look through a bike`s screen where Europeans and others like to peer over the top edge (we get rained on more...), and the K1600GTL caters for both with the extensive range of screen movement. Do note though that at higher speeds, when you raise the screen to its maximum to look through it, the force of the air pressure pushing you forwards is uncomfortably large.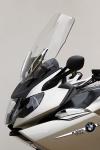 The passenger`s wind protection is equally impressive. I`m not a typical pillion at 6`3" (1.91m) and my head was out in the slipstream to an extent, but even that was better than many bikes. When I ducked my head to more physically normal levels it dipped into a region of calm and quiet I`ve not really experienced on the back of a bike before. This does change as the screen is adjusted of course, but the potential is there certainly for a very pleasingly quiet and turbulence-free ride on the back.
The seat itself is very wide and extremely comfortable, although this is achieved by extending it over the top of the grab handles. Fine when the topbox with its back rest is fitted and the rider is accelerating, but the K1600GTL has a fearsome braking capacity and when you`re slowing down it`s difficult to hold onto the handles. You can hook your hands under them but it`s not possible to grasp them properly as the seat padding gets in the way, and there aren`t many other places that are easy to hold onto. The GT with its narrower seat and clear handles is better.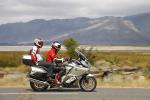 The topbox anyway detaches very easily, and it`s satisfying to use as the lid glides up on a gas strut when you undo the catch - a neat touch that`s entirely in keeping with the rest of the bike`s sophistication, as is the optional central locking, which when you have a total of five compartment locks (the box, both panniers and the small cubby holes in the lower fairing) is genuinely useful rather than mere gimmick.
As with the GT the impressive airflow management extends to removing the engine`s heat - it escapes the bike while avoiding both rider and passenger, so you don`t get painfully hot sitting in traffic for long periods, and like the GT the GTL is very well balanced once you`re moving at little more than walking pace and sits solid and reassuring at low speeds, until you have to execute a tight U-turn, when the weight starts to let you know it`s there. Not as much weight as a Gold Wing though, which is 792lb (359kg) dry and with far fewer gadgets - not even an electric screen, let alone onboard adjustable suspension. That would easily be 860lb (390kg) in a comparable condition to the BMW`s wet weight, and you`d really feel it.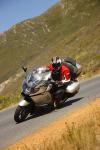 I`d love to comment more on the Gold Wing differences, in particular the low rev pull and how it compares, but it`s been a long time since I rode one - it`s not changed either in a decade. I do suspect though the Honda has more initial thrust, as its torque peak is a lot lower than the BMW`s, 4,000rpm compared with 5,250rpm, and it`s only 6lb.ft (8.1Nm, 0.83kgm) less. The 1832cc, six-cylinder Wing has a much lower maximum power at 117bhp (119PS, 87.3kW) which also points to greater low rev torque, and reading my old reviews I did comment on the `irresistible twist` from idle upwards, which I wouldn`t accuse the K1600GTL of. The Wing I do remember has a sharper clutch and sudden throttle action though which mean lower speeds can demand more concentration.
But it`s the differences between GTL and GT which many will be wondering about, and here my rides were only a day apart. The GT undoubtedly is the sharper handling, but it also has a better ride quality, and some passengers will prefer it for the better access to the grab handles. Those with larger bottoms will go for the GTL`s though and make do with the rider`s grab handles instead. High speed stability is superior on the GT but the wind protection not as comprehensive as the GTL`s, and the riding positions are quite different, the GTL being lower set and more upright. Note that BMW quotes 3.5 per cent worse economy figures but a 10 per cent larger fuel tank, so the range should be slightly more. After that it`s down to spec and price - I can only offer the UK versions here, but the specs are significantly higher, as you`d expect of BMW`s top level touring bike.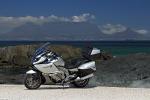 K1600GTL, £16,515
STANDARD EQUIPMENT:
Power modes
Audio system with preparation for GPS
Electronic immobiliser
Power socket
Brake pad renewal indicator
Info flat screen (digital clock, gear indicator, fuel gauge, coolant temperature and cruising range indicator, total and 2 trip odometers, service interval indicator), display on board computer: remaining distance, average consumption 2 x, average speed, external temperature, stop watch, travel time, date and oil level.
Seat heating
Cruise Control
Xenon headlight
Hazard warning flasher
Heated grips
Luggage Rack
Centre stand
Colour coded pannier cases
One piece seat
Electrically adjusted windshield
Chrome body kit
Comfort windshield
Options
LED additional fog light - £335
Electronic Suspension Adjustment - £705
Anti-Theft Alarm System & Central Locking System - £560
High Seat - no cost
Comfort Package (LED foglight, ESA + Alarm & central locking) - £1,280
K1600GTLE (UK model), £17,315
STANDARD EQUIPMENT AS K1600GT, PLUS:
Adaptive headlight
DTC traction control
Tyre Pressure Control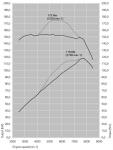 SPECIFICATIONS
Model tested: BMW K1600GTLE
Price: £15,765 (K1600GT from £14,965)
Available: end of February 2011
Engine: Inline 6-cylinder, liquid cooled, dohc 24v, 1649cc
Power: 158bhp (160PS, 118kW) @ 7,750rpm
Torque: 129lb.ft (17.8kgm, 175Nm) @ 5,250rpm
Economy: 42mpg (est)
Tank/Range: 5.8 gallon (26.5 litre, 7.0 gallon US)/ 230 miles (370km)
Transmission: Six gears, wet clutch, shaft final drive
Chassis: Aluminium bridge
Seat height: 29.5in (750mm) (options up to 31.9in (810mm)
Wheelbase: 63.7in (1618mm)
Rake/trail: n/a °/ 4.19in (106.4mm)
Weight: 767lb (348kg) (90 per cent fuel, with panniers and topbox)
Recent comments
In HONDA NC700X, kharli wrote:

In HONDA NC700X, kharli wrote:

In HONDA NC700X, Grump wrote:

In HONDA NC700X, kharli wrote:

In Lest we forget..., Captain Scarlet wrote:

In Captain Scarlet's next bike, malauder wrote:

In Captain Scarlet's next bike, Captain Scarlet wrote:

In Benelli 750 SEI, CCM wrote:

In Benelli 750 SEI, Gekom57 wrote:

In Benelli 750 SEI, Gekom57 wrote:

In Captain Scarlet's next bike, Grump wrote:

In Captain Scarlet's next bike, Navy Boy wrote:

In Captain Scarlet's next bike, Captain Scarlet wrote:

In Captain Scarlet's next bike, Grump wrote:

In HONDA NC700X, Grump wrote:

In Lest we forget..., Navy Boy wrote:

In Lest we forget..., unconventional rebel wrote:

In Captain Scarlet's next bike, unconventional rebel wrote:

In HONDA NC700X, unconventional rebel wrote:

In Lest we forget..., davvy wrote:
Donate to the Kevin Ash Fund
Kevin's funeral was held on Thursday 28th February 2013 and was well attended by family, friends and colleagues.
The Telegraph has very kindly established The Telegraph Kevin Ash Fund to assist with the education of Kevin's three daughters.
If you'd like to make a donation then you can use the PayPal 'Donate' button below which will allow you to donate from your PayPal account, or via credit or debit card. A small percentage (about 3.4%) will be retained by PayPal for the service.
Kevin's family have been touched by the generosity and messages of support from people using the website and would like to express their gratitude to those who have contributed in any way.
The donations keep coming in, thank you so much, and the family especially like it when you leave a message.