BMW has trodden a narrow line in its extensive build-up to the new K1600GT and K1600GTL models.
The Germans haven`t quite told us - as Honda did with the VFR1200F - that the new six-cylinder machines were going to change motorcycling for the next decade, but simply by listing and explaining the array of new technology the bikes can boast, they`ve managed to whet appetites, fuel excitement and more pragmatically, generate quite a few orders already.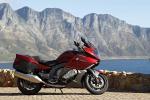 The question I can address now is, having ridden both the GT and the GTL, are those trusting early adopters going to get what they`re expecting? The K1600GT uses the new, inline six-cylinder engine first seen in the 'Concept 6' naked concept bike in autumn 2009. It`s designed as a touring and sports touring engine rather than high performance one, with an emphasis on torque more than outright power. This has allowed the use of a relatively long stroke of 67.5mm compared with the 72mm bore (most modern engines have more oversquare dimensions), which in turn has helped keep this potentially very wide power unit narrow. In addition, the cylinders are spaced just 5mm apart and no ancillaries are carried outboard of the crankshaft, resulting in avery slim design with an overall weight of 226lb (102.6kg).
Aside from its sextet of cylinders there`s nothing too unusual about the engine. The valve gear is based more on the older flat four K-Series design, which was built to similar length restrictions, while the engine management is a full ride-by-wire system, the first on a motorcycle in fact to have no direct mechanical fail-safe - the rest all have a cable which will pull the throttle closed regardless of what the computer is telling the system to do. It is of course still covered by a multitude of electronic fail-safe systems, just as well when it makes 158bhp (160PS, 118kW) at 7,750rpm, and a maximum torque of 129lb.ft (17.8kgm, 175Nm) at 5,250rpm.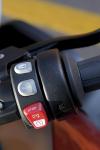 There are three engine maps (as an option on the base model), chosen by a handlebar button on the right and indicated in the new TFT display (feature here), which are Rain, Road and Dynamic, while a traction control system deals with excessive wheelspin. This is a road system rather than the complex track one used on the S1000RR.
The chassis comprises an aluminium bridge-type frame with two spars running over the top of the engine, suspended at the front by a Duolever suspension system as seen first on the K1200S and since then on the K1300S, R and GT. At the rear is BMW`s familiar Paralever single-sided swingarm and shaft drive combination.
Much of the design emphasis was on minimising weight, to the point of using a costly cast magnesium alloy subframe to mount the front fairing, but the bike is also endowed with a lot of other interesting technology, including its optional Adaptive Headlight (feature here), which remains level during cornering and points into the turn you`re going around. Even the panniers have vents designed to push air into the vortexing behind the bike to stop the swirling wake from throwing dirt onto the rear of the machine - now that`s attention to detail!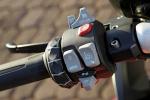 What you`ll be hoping for then is a bike laden with well thought through gadgets, a super smooth engine and real muscle from idle upwards. You get most of that, but not quite all...
Fire up the K1600GT`s exciting new motor though and it`s hard to stop blipping the throttle constantly, as the ripping, snarling exhaust has a liquid quality that`s reminiscent of a Porsche 911. This is because, according to the man behind the whole drivetrain, Heinz Hege, the bike has two independent three-into-one exhaust systems like the 911 does, rather than cross-linking them as on the Honda Goldwing, which gives a softer, less distinctive sound.
The bike snicks easily into first gear and the clutch action is light, although the bite point is a little vague and at walking pace speeds you do notice the bike`s weight. Compared with the K1300GT for example you`re more aware of the mass, and just a little more circumspect in slow, tight turns. Hege says the centre of gravity is slightly lower than the K1300GT`s, but although the bike is extraordinarily light considering its specification, it`s still a big motorcycle.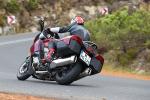 The sensation of mass disappears as soon as you`re going any faster, and the bike steers beautifully, with a reassuring solidity that will be familiar to K1300 owners. The bike inevitably sweeps rather than flicks into corners but its response to the bars is consistent and relaxed and it goes exactly where it`s pointed. Changing line mid-bend demands some bar effort but it does so without anything unexpected happening - powering on and off while leaning over leaves the bike unflustered too, thanks to the minimal geometry changes of the Duolever suspension.
We`ll come back to the chassis though as it`s the engine you want to know about. The real sweet spot is in the 4,000-7,000rpm zone, where the glorious exhaust rasp is accompanied by powerful acceleration. It`s not a sports bike beater as there`s a lot of mass to haul around at 703lb (319kg) with 90 per cent fuel on board (but no panniers, making useful comparisons with anything else very difficult...), but the sensation is of a lot of muscle propelling you along.
While there are no fuelling glitches, the connection between throttle and engine can be a little elastic at times, making you feel as if you`re being softly scooped along despite the considerable force being dealt out. It`s a friendly, benign delivery where the K1300GT is more aggressive and hard-edged, a consequence of the turbine-like combustion stream.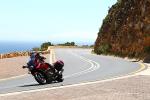 It is of course beautifully smooth, although you can still feel some background vibration which very likely is the transmission as much as the engine itself - it takes a small edge off the sophistication, just as other BMWs tend to be more vibey than their Japanese counterparts and feel a little rough and ready as a result, but still the overall impression is of a creamy effortlessness that`s in a different league to conventional fours.
The motor is a little disappointing at lower revs, especially in the 2,000-3,000rpm zone where you find yourself a lot, as the gearing is tall and the engine so smooth it will trickle down to idle even in the high gears without complaint. Given the fat torque curve you`d hope to be able to snick the smooth-changing transmission into top and leave it there until you switch off at the end of the day, but in practice typical 50-70mph (80-110kph) overtakes demand a couple of downchanges if you`re going to dispense with slower traffic rapidly. And that`s solo: with a passenger, full luggage and steep mountain roads to negotiate (which is the point of a bike like this) you`ll be using the gearbox a fair bit more than you might have expected.
I've produced a feature comparing the lower rev torque at the rear wheel, where it really counts, and it shows the K1600GT's torque/kg ratio is only marginally higher at 2,500rpm than BMW's own discontinued K1300GT's, then it builds more slowly to a lower level than the 1300's at 3,500rpm - the punch is diluted by weight, gearing and a slow-build torque curve.
See the Torque Comparison feature here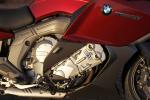 At the other end of the scale, screaming the mellifluous motor up to the red line, set at 8,500rpm on the analogue dial, unleashes a pack of furious banshees that should have no place on a touring bike... but it`s great that they do! In fact the power falls away at 7,500rpm or so, but you hang on anyway to tease out some more of that tearing calico sound and raise your pulse through the noise as much as the performance itself. The bike will go on to a top speed of around 155mph (250kph), but more usefully it rips up to 120mph (190kph) so easily (and smoothly...) you need to keep a good eye on the speedo.
Back in town, this is the easiest big touring bike to trickle along in slow moving traffic, as the chassis` delightful balance is matched by a steady flow of gentle torque to the back wheel which the twistgrip moderates without a hint of snatch or jerking and a very satisfying sensitivity. It's only if you then have to turn a sharp corner at slow speed that the sensation of mass returns.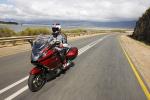 Six-cylinder engines can be thirsty beasts, but BMW motorcycles tend not to be, so how has this panned out in the K1600GT? I could judge only by the onboard computer so more accurate tests will have to wait, but this suggested 42mpg (14.9km/l, 6.7l/100km, 35.1mpg US) in fairly typical touring riding, falling to 35mpg (12.4km/l, 8.1l/100km, 29mpg US) when scraping the footrests and working the engine hard. This is the fun side of the bike but I`d say you won`t see that many being used this way, and 42mpg will be the kind of figure many riders will see, and some a fair bit better. That in turn results in a range of 220 miles (350km) from the 5.3 gallon (24 litre, 6.3 gallon US) tank, which is sufficient for this kind of bike. BMW meanwhile claims 49.5mpg (17.5km/l, 5.7l/100km, 41.3mpg US) at a steady 75mph (120kph) so very likely, at the kinds of steady speeds you`d ride at on long trips you'll get a better range than that.
Comfort certainly won`t be an issue, in fact I found the GT more comfortable than the GTL after a full day in the saddle. It feels firm at first but broad and well shaped, while the riding position leans you forward a little, just enough to spread your weight between hands, backside and feet. As with all electrically adjustable screens the balance is between noise and visibility over the top edge, but get it right and the airflow is quiet and mostly smooth, with the occasional hint of turbulence vibration.
Heat management is very good, as despite the big engine slung below you, even in hot conditions (we had to suffer up to 34 °C (93 °F) there`s no excessive heat blowing onto your legs or anywhere else, even when the fan cuts in while stationary or trickling through traffic.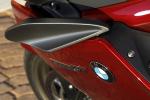 At speed, the slipstream passes just outboard of your silhouette aside from touching your shoulders, but flip out the side scoops and an additional blast of air hits your stomach, a real bonus when it`s hot. It does increase turbulence behind the screen generally at speed though, to the point of being uncomfortable, so reduce this by setting the scoops in the half way position.
These are the kind of neat touches you see on bikes ridden by the people who make them, and with what seemed like half the BMW factory in South Africa there not just to answer questions but to blast around the fabulous roads too, that`s exactly how it is at BMW. Even General Manager of BMW Motorrad, straight talking Hendrik von Künheim, was out there setting a fine pace on a GT. Not as pleasing to see though as blonde press officer Liane Drews herding the journalists on her S1000RR...
Oh yes... back to the K1600GT, and the ride quality impresses too as long as you don`t default to Sport mode on the ESA (Electronic Suspension Adjustment) just because you`re riding hard. In Sport the ride gets harsh and choppy and the lack of compliance means you`re not only more comfortable staying in Normal even when going for it, the bike feels happier too. I`d even go for the plushness of the Comfort setting in preference to Sport when riding fast, as stability doesn`t suffer too much and aside from some floatiness over undulating bumps, the wheel control remains good.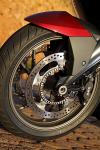 The suspension design is common to all the K-Series of course, which means you get exceptional stability during severe braking, and thanks to the long wheelbase, low centre of gravity and lack of front end dive, the bike is capable of ferocious, tyre smoking stops that will undoubtedly embarrass a lot of sports bikes. My bike didn`t suffer from fade either, despite the weight, heat and steep terrain.
It`s a fine motorcycle to be passengered on too. There`s plenty of space and a comfortable seat, although the backs of my size 11 boots just nudged up against the panniers, and the grab rails are easy to hold and well positioned. How much windblast you cop depends very much on yours and the rider`s heights, but the more typical combination of shorter pillion and larger rider results in good wind protection. You`ll need to come up with some sign language for adjusting the screen if you don`t have an intercom though, as moving this can affect the passenger almost as much as the rider.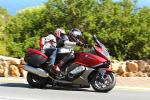 The ESA means you can easily adjust the suspension to cope with the extra load, and from the front you can hardly tell there`s an extra person on board. Maybe the front end gets a little more vague when accelerating hard, but that`s about it, and engine performance in the mid-range is almost unaffected.
You can reset the suspension again when you fill the panniers, which are capacious, extremely well finished and easy to operate. You can leave them unlocked - if only other manufacturers would do this - so there`s no need to keep using the key to open them, but the bike has a central locking option too, more useful than you`d expect as there are two further lockable compartments in the lower fairing.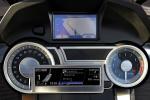 The TFT display tells you how this is set and plenty of other information too, although you need to scroll through it and also learn how to use the system, which includes a thumb-wheel on the left bar. It`s easy enough to master, but the screen itself is quite small and cluttered, while the rest of the dash has something of a tacky, glitzy look that doesn`t sit well with the rest of the bike.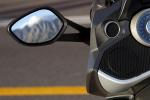 Another irritation is the mirrors. While these show a useful view of the road behind, they do suffer to some degree from vibration. Not from the engine though (which really it shouldn't) but from bumps and harshness from the road causing images to blur to an extent. It's not serious and certainly won't make the difference between you spotting a car or not, but they'd be improved if the mountings isolated them better from this.
The overall impression though is one of an imperious, highly sophisticated motorcycle capable of consuming large distances then making full use of the interesting roads you find when you arrive. The detailing is enormously impressive but so are the basics of rider comfort, range and secure but still willing handling. The engine is a thoroughly seductive power plant that will drink more fuel than it should only because you`ll find it hard to resist thrashing it and savouring the silky power delivery and rasping aural accompaniment. The weakness is in the lower rev strength, where you`ll need to stir the motor with the gearbox to maintain a good pace and nip past lesser traffic.
UK price list and specifications have finally been announced, and they`re not as high as some were expecting, considering what`s included on the base model. Unless you want the sound system that is...
There are two models, the K1600GT and the K1600GT SE.
K1600GT, £14,965
STANDARD EQUIPMENT:
Power modes
Electronic immobiliser
Power socket
Brake pad renewal indicator
Info flat screen (digital clock, gear indicator, fuel gauge, coolant temperature and cruising range indicator, total and 2 trip odometers, service interval indicator), display on board computer: remaining distance, average consumption 2 x, average speed, external temperature, stop watch, travel time, date and oil level.
Seat heating
Cruise Control
Xenon headlight
Hazard warning flasher
Heated grips
Luggage Rack
Centre stand
Colour coded pannier cases
Two section dual seat with variable height rider`s seat
Electrically adjusted windshield
OPTIONS
Preparation for Audio System, GPS Device + Bluetooth + Radio software - £410
Audio system with preparation for GPS Device - £1,050
Electronic Suspension Adjustment - £705
Anti-Theft Alarm System & Central Locking System - £560
Low Seat (780-800 mm) - no cost
Comfort Package (ESA + Alarm & central locking) - £1,000
K1600GT SE (UK model), £15,765
STANDARD EQUIPMENT AS K1600GT, PLUS:
Adaptive headlight
DTC traction control
Tyre Pressure Control
SPECIFICATIONS
Model tested: BMW K1600GT SE
Price: £15,765 (K1600GT from £14,965)
Available: end of February 2011
Engine: Inline 6-cylinder, liquid cooled, dohc 24v, 1649cc
Power: 158bhp (160PS, 118kW) @ 7,750rpm
Torque: 129lb.ft (17.8kgm, 175Nm) @ 5,250rpm
Economy: 42mpg (est)
Tank/Range: 5.3 gallon (24 litre, 6.3 gallon US)/ 220 miles (355km)
Transmission: Six gears, wet clutch, shaft final drive
Chassis: Aluminium bridge
Seat height: 31.9-32.7in (810-830mm) (options down to 29.5in (750mm)
Wheelbase: 63.7in (1618mm)
Rake/trail: n/a °/ 4.19in (106.4mm)
Weight: 703lb (319kg) (90 per cent fuel, no panniers)
Recent comments
In HONDA NC700X, kharli wrote:

In HONDA NC700X, kharli wrote:

In HONDA NC700X, kharli wrote:

In HONDA NC700X, Grump wrote:

In HONDA NC700X, kharli wrote:

In Lest we forget..., Captain Scarlet wrote:

In Captain Scarlet's next bike, malauder wrote:

In Captain Scarlet's next bike, Captain Scarlet wrote:

In Benelli 750 SEI, CCM wrote:

In Benelli 750 SEI, Gekom57 wrote:

In Benelli 750 SEI, Gekom57 wrote:

In Captain Scarlet's next bike, Grump wrote:

In Captain Scarlet's next bike, Navy Boy wrote:

In Captain Scarlet's next bike, Captain Scarlet wrote:

In Captain Scarlet's next bike, Grump wrote:

In HONDA NC700X, Grump wrote:

In Lest we forget..., Navy Boy wrote:

In Lest we forget..., unconventional rebel wrote:

In Captain Scarlet's next bike, unconventional rebel wrote:

In HONDA NC700X, unconventional rebel wrote:
Donate to the Kevin Ash Fund
Kevin's funeral was held on Thursday 28th February 2013 and was well attended by family, friends and colleagues.
The Telegraph has very kindly established The Telegraph Kevin Ash Fund to assist with the education of Kevin's three daughters.
If you'd like to make a donation then you can use the PayPal 'Donate' button below which will allow you to donate from your PayPal account, or via credit or debit card. A small percentage (about 3.4%) will be retained by PayPal for the service.
Kevin's family have been touched by the generosity and messages of support from people using the website and would like to express their gratitude to those who have contributed in any way.
The donations keep coming in, thank you so much, and the family especially like it when you leave a message.