Kawasaki Press (click on images)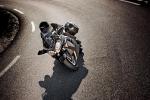 When Kawasaki released the 1400GTR in July 2007 it was the factory`s first touring bike in 21 years.
Before that was the GTR1000, its engine a modified version of the GPZ1000RX`s, then the world`s fastest production bike. The 1400GTR followed the same path, its power unit adapted from that of the fearsomely fast ZZ-R1400, and as with the old GTR1000, there were pointers once again to Kawasaki`s inexperience in the touring sector.
Now for 2010 the GTR has been facelifted, and some at least of the criticisms levelled at the original have been addressed. The changes include a larger and higher screen with revised frontal bodywork, heated grips and tyre pressure monitoring as standard, new mirrors and a swathe of electronics. This includes traction control, called KTRC, a power-assisted braking redistribution system called K-ACT, a Fuel Economy Assist setting and an Eco indicator in the dash.
The technology behind these and the variable valve timing (VVT) is described in a separate feature coming very shortly, here we`re more interested in how useful they are and if they make up for some of the old model`s shortcomings.
One of those was inadequate low rev torque. The intentions were sound enough at the design stage: the engine had its power reduced from the near 200bhp of the ZZ-R1400 to 153bhp, and the GTR was - and still is - the only current motorcycle motor to feature variable valve timing (the Honda VFR800`s VTEC switched between two- and four-valve operation but left the timing unchanged). Kawasaki`s VVT system is developed from Mitsubishi`s car engine design and advances or retards the inlet camshaft through 24 degrees according to throttle position and revs in order to produce maximum torque.
With that and the engine`s 1.4 litre capacity it ought, therefore, to have plenty of the urge at low revs you need on a touring bike. But Kawasaki can`t help being Kawasaki it seems, and typically the motor doesn`t really wake up until it`s being revved, kicking in hard at 5000rpm and firing up the road like a big, comfy missile. Entertaining enough, but what it really needs is less top end thrust and more muscle at the lower end of the tacho.
Much of the time in everyday riding the engine spends its time between 3000 and 4000rpm, and here it can feel quite breathless, a problem that`s been highlighted by BMW`s 1300 models, especially the GT which punches hard at this level, rendering the gearbox near-redundant. In contrast, the GTR rider needs to drop maybe a couple of ratios to make a decisive overtake, while touring gently with luggage and a passenger becomes quite a chore thanks to the constant tapping on the not especially light gear lever to keep the bike responsive.
It should also be particularly fuel efficient but there`s little sign of this, probably because the engine spends most of its time operating out of its most efficient zone further up the rev range. The on-board computer is reasonably accurate, indicating only 1mpg more than I was achieving, but that was only 40mpg or so in mixed riding, with very little use made of that top end thrust. In itself it`s not so much of an issue, but combined with a fuel tank that holds 4.8 gallons it means the range is only 190 miles, or 140 miles when you`re starting to think about refuelling. That`s little more than sports bike levels, and if the sports-tourer VFR1200F has been criticised for a similar range then very clearly it`s not good enough for a full-on tourer like the GTR. With that level of thirst it needs another two gallons of tank space at least, and in the meantime, this is a deal breaker for many potential riders.
Will they be missing much else? The motor is certainly smooth in terms of vibration and the power increases without any apparent steps despite the on-off VVT operation. But the off-on throttle response is jerky, which is annoying for the rider and uncomfortable for a pillion, and with Fuel Economy Assist selected this is enhanced and the bike feels even flatter at low revs. The improvement in economy is not huge anyway, I reckon maybe a couple of mpg, but it does make you think Kawasaki recognises there`s a problem here, which is probably not the intention.
The new screen improves the bike usefully though. Previously there was a fair amount of turbulence, tiring on a longer run, but this version does away with that and also offers a broader wind shadow. It`s stepless height adjustable via the left bar mounted switch and also has four preset positions, returning to one when the ignition is switched on. The fairing`s heat management is better too, or least that`s what it says in the press pack. I could have done with more not less heat being directed at me in the winter cold, but most touring`s in the summer and this was something of a complaint on the old model. There`s an additional heat shield on the exhaust under the engine too, so the rider should be a little cooler in the summer.
The chassis isn`t entirely impressive though. Although the suspension is soft there`s something of a choppy feel to the ride, possibly due to the weight of the shaft, while the bike tends to tuck in during cornering, meaning you need to maintain some pressure on the bars to hold your line in steady corners. On long sections of twisty roads this can even get tiring, where a tourer should be more relaxing than most bikes. Yet the GTR steers accurately and is surprisingly nimble for a bike of this type, so it`s not all bad. The Bridgestone tyres probably play a role here as they`re designed specifically for the bike, and even have softer than usual sidewalls in order to take some harshness out of the ride.
The old bike`s mirrors always seemed as if they were designed without the panniers being fitted, as with the luggage all in place at least a quarter of the view was taken up by pannier lid. On the 2010 model the mirrors have been raised and that`s not the problem anymore... now your hands fill your vision instead, although at least your knuckles are better protected from the wind. It`s not too bad, more an irritant than real issue, but these things start to add up on the GTR. The range displayed on the dash for example changes so much you get a far better idea of how far you have left from the tank using the trip, while scrolling through the various onboard computer settings means taking your hand off the bars and pushing a button on the dash, which is quite a distance away. Yet the hazard warning light button, which you`ll probably never use, is conveniently sited by your thumb - more attention to the ergonomics please. Ducati, BMW and Aprilia all have easy bar-mounted switches for operating their computer menus.
Still, the headlamp height is easily adjusted without leaving the seat or needing tools, and the heated grip temperature is just as easily changed. But then you want to open a pannier, and discover the clever keyless ignition sender is tucked away in a pocket somewhere, and inside that is the luggage key, So you have to dig it out, use both hands to release the key, put the fob down while you unlock a pannier, then put it all back again once you`re finished.
So what about the technology that`s new to the 2010 bike? Aside from deliberately yanking open the throttle on some gravel to see if the traction control worked (it does) I never used or had need of that. It`s not designed for super-rapid corner exits like BMW`s or Ducati`s, just to stop the wheel spinning when you`re riding across slippery campsite grass and so on. Using less throttle works just as well, and really, as Honda found out when it stopped bothering with this kind of traction control on the Pan European in the early 1990s, it`s not necessary. The braking system does improve stability in heavy stopping scenarios, and the lever effort is less, but again, most riders won`t notice most of the time, and I really can`t see many bothering too much with the two different modes that alter the braking distribution. I`d be perfectly happy with conventional ABS.
More electronics then, and as seems to be the Japanese way, none that are going to make you go wow and keep pressing the buttons in all the time you own the bike, in the way you do with the European alternatives. There are more fundamental issues with the 1400GTR though: it needs more torque where you normally use the engine, more neutral steering and most of all, a better tank range. The bike is all day comfortable but you`ll spend too much time standing next to it putting more fuel in. This is a real shame as it`s beautifully made and so close in so many ways.
Price: £12,820 otr
Extras
Top Box (47 litre) - £122.95
Top Box (39 litre) - £95.95
Top Box colour matching - £67.95 (39 litre) £88.95 (47 litre)
Top Box back rest - £35.95 (39 litre) £29.95 (47 litre)
GPS bracket - £34.95
Lower gel seat (25mm lower, 20mm narrower) - £362.95
Recent comments
In HONDA NC700X, kharli wrote:

In HONDA NC700X, kharli wrote:

In HONDA NC700X, Grump wrote:

In HONDA NC700X, kharli wrote:

In Lest we forget..., Captain Scarlet wrote:

In Captain Scarlet's next bike, malauder wrote:

In Captain Scarlet's next bike, Captain Scarlet wrote:

In Benelli 750 SEI, CCM wrote:

In Benelli 750 SEI, Gekom57 wrote:

In Benelli 750 SEI, Gekom57 wrote:

In Captain Scarlet's next bike, Grump wrote:

In Captain Scarlet's next bike, Navy Boy wrote:

In Captain Scarlet's next bike, Captain Scarlet wrote:

In Captain Scarlet's next bike, Grump wrote:

In HONDA NC700X, Grump wrote:

In Lest we forget..., Navy Boy wrote:

In Lest we forget..., unconventional rebel wrote:

In Captain Scarlet's next bike, unconventional rebel wrote:

In HONDA NC700X, unconventional rebel wrote:

In Lest we forget..., davvy wrote:
Donate to the Kevin Ash Fund
Kevin's funeral was held on Thursday 28th February 2013 and was well attended by family, friends and colleagues.
The Telegraph has very kindly established The Telegraph Kevin Ash Fund to assist with the education of Kevin's three daughters.
If you'd like to make a donation then you can use the PayPal 'Donate' button below which will allow you to donate from your PayPal account, or via credit or debit card. A small percentage (about 3.4%) will be retained by PayPal for the service.
Kevin's family have been touched by the generosity and messages of support from people using the website and would like to express their gratitude to those who have contributed in any way.
The donations keep coming in, thank you so much, and the family especially like it when you leave a message.