Moto Guzzi Norge 8V GT 2011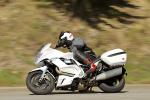 Moto Guzzi`s new Norge GT 8V doesn`t look very different to the old model. Which just goes to show how much appearances can deceive, as 80 per cent of the 2011 version is new.
The engine is the most obvious difference, even if paradoxically it looks much the same as every other Guzzi engine. It`s Guzzi`s thoroughly revised new four-valve unit (if you read the badge on a cylinder head) or eight-valve (if you look at the label on the tail section), and to make sure there`s no confusion, I can tell you it`s an eight-valve engine, with four valves per cylinder. Or easier than that, it`s the same as the new Stelvio`s motor, which means compared with the old Norge it`s a major update to the power unit.
The previous model had been managing with Guzzi`s old four-valve engine, which plodded along well enough but lacked zest as well as power, and emissions regulations were limiting its time on this earth anyway. The Norge didn`t get the first iteration of the eight-valve Guzzi motor as that lacked the low rev torque to suit its weight and role (it didn`t suit the Stelvio then either, although Guzzi fitted it anyway...), but if you`ve read the review of the 2011 Stelvio, you see that`s been put right, and sure enough the 2011 Guzzi Norge GT 8V is fitted with exactly the same engine.
The power output and torque are a little different to the Stelvio, but that`s due only to the different exhaust and intake systems, inside all is the same. Nothing wrong with that either, as the Norge is a whole lot better for it - compared with the previous Norge engine, you get pretty much 20 per cent more torque across the rev range. There`s more weight for it to carry - Guzzi quotes 567lb (257kg) for both bikes, but the Stelvio is wet, the Norge dry, but it counters with a little more thrust at lower revs, where you need it.
It`s an excellent touring bike motor in fact, purring lazily at steady speeds with enough muscle to deal with driving the back wheel through the higher gears even at low speeds, and unlike Ducati V-twins, it remains smooth and usable almost down to idle. Some vibes get through to the rider, but these are mostly what you`d call shaking rather than buzzing and they`re not troublesome.
The additional power and smoothness have been made possible on the Norge by the fitment of a larger oil cooler with improved air flow - Guzzi`s engineers say this single factor is what`s enabled them to fit this motor to the bike, as it generates significantly more heat than the older one, and within the confines of the bodywork this would have created problems otherwise. It even comes with a thermostatically-controlled fan in the same way as conventional liquid-cooled bikes.
If you`ve not seen the Moto Guzzi Stelvio 2011 review, other changes include tapered cooling fins, a more weight-efficient design for shedding engine heat, new camshafts compared with the older motors (first fitted to the 2010 Stelvio), various internal baffles to reduce engine clatter and a revised clutch. The compression ratio is higher too.
For 2011 each cylinder gets its own lambda sensor and fuelling feedback loop, rather than both cylinders being fed a fuelling map which is an average of what each really needs, the fuel injectors are new and produce a finer spray and the crankcase is revised to reduce weight and overall dimensions.
The chassis has seen a lot of changes too. The frame is the same but the suspension is completely revised, including new springs front and rear with new damping to match, while the brake discs are also new. Every section of the bodywork is changed, albeit subtly in some instances, designed mostly to improve aerodynamics for both rider and engine heat management - the headlights are the same as before though, maintaining the basic look. There`s also an electrically adjustable screen, and the panniers are redesigned for a better seal when shut, and the seat is new.
The new engine suits the Norge`s mission well then, supporting its torque and excellent fuelling with a the sort of character that`s rare in touring bikes. The chassis meanwhile reflects how much work has been put into the bike by Aprilia`s engineers (Guzzi and Aprilia are both owned by the Piaggio Group), as it has a much tauter, more communicative feel than the previous floaty detachment the old Norge was known for. Yet the suspension compliance is still extremely good, capable of soaking up poor surfaces (and we rode on plenty of those on the Tuscany press launch), both solo and two-up. A shame though that adjusting the spring preload is fiddly - you don`t get the easy remote adjuster of the Stelvio, or indeed a BMW-style electronic adjustment option.
The surprise though is just how strong the bike`s sporting capability is. Guzzi staff were smiling knowingly before the ride, telling us how twisty the roads were and how much we`d enjoy them, and they were right, we did. The bike responds to bar inputs very well and dives down onto a tight line, which is great for making the most of the roads when you arrive.
But I do have some reservations about that. This is a touring bike, and not even a sports tourer really, and I just can`t imagine a typical Norge buyer flinging the bike down winding blacktop the way some of us were. In itself, that`s not a problem, having an ability that`s rarely used doesn`t matter if nothing else is compromised, in most respects the Norge doesn`t suffer for this at all.
One aspect though won`t be liked by a lot of touring riders, and that`s the relationship between footrests and seat. The new seat puts you lower than the old one, to help make the bike more manageable, while the footrests are higher to give the bike it`s impressive ground clearance. But this means your legs are quite cramped, really surprisingly so on a bike of this nature with almost a sports bike feel, and I imagine a long motorway run could really leave its mark on your knees.
The bars meanwhile are where they should be, fairly high and wide, so it`s something of a mismatch as a riding position, and even chucking the bike around, as it`s capable of, the high feet, high hands position doesn`t feel quite right. This is subjective of course, those of you genetically closer to gibbons than most will be perfectly happy (and old Alfa Romeo drivers will feel at home too), but it`s going to put some people off who`d otherwise have gone for the Norge GT 8V, I`m sure.
Very Guzzi then, but just about everything else is good or better. Judging economy is never easy but the Norge should be good for 42mpg (14.9km/l, 6.7l/100km, 35mpg US) or more, which with a 5.1 gallon (23 litre, 6.1 gallon US) tank means a useful range of 215 miles (350km). Ride like a tourer and you`ll beat this.
You won`t be crying to get off the bike either, as long as your knees are okay with it. Comfort in other respects is very good, with a plush seat and reasonable levels of noise and turbulence from the screen. Adjusting it is a bit odd as the `up` button is on one handlebar, and a bit of a stretch for your thumb, while the `down` one is on the other bar (and too far away there too...). It doesn`t make a huge difference either, although inevitably fully up takes off a bit more wind pressure while raising the volume slightly.
The passenger accommodation is a bit cramped, not so much in the seat-to-peg distance but fore and aft, as the seat is fairly short. It`s adequate for small to average passengers but larger ones can feel a little too intimate with the rider`s back, and that`s without the optional top box fitted - this comes with a padded backrest that intrudes into the passenger`s space and pushes him or her further forward. There can be a bit of a clash between rider and passenger feet too, depending on how their angled.
The Norge then hasn`t quite shaken off the oddities as effectively as the Stelvio, but it`s still a big advance for Guzzi (riders shorter than 6`2"/1.90m can now operate the new sidestand while seated, for example), and will still suit many riders very well. The build quality for example is much better than before, and the bike feels thoroughly modern in the way a BMW boxer twin does, rather than the hanging-on-in-there old bike which was more like recent Guzzis. And if you do like a sporting edge to your tourers, this is starting to look like it could be the first choice.
The price is convincing too: the £11,549 tag gets you an onboard computer, the electric screen and ABS although the Stelvio`s standard traction control and heated grips are a cost option for the Norge buyer. Both the panniers come with the bike, and they`re solid and capacious - a shame though that you always need the key to open them. (US pricing in 'Specifications' below).
This is around £1,000 less than the similarly equipped base model BMW R1200RT. As well as the saving, what you gain from the Guzzi is being different with no great sacrifice in general terms, what you lose is leg room, some punch and liveliness as the BMW is 62lb (28kg) lighter, and on the whole, the quality and quantity of dealers. But if those negatives aren`t an issue for you (and there are plenty of riders for whom that`s the case) then you`re not going to suffer for your individuality. You might even gain.
Specifications
Model tested: Moto Guzzi Norge GT 8V
UK price/available: £11,549 on the road/now
US price/available: $15,990 MSRP/May 2011
Engine: 90-degree V-twin, air cooled, sohc 8v, 1151cc
Power: 101bhp (102PS, 75kW) @ 7,000rpm
Torque: 77lb.ft (10.6kgm, 104Nm) @ 5,500rpm
Economy: 42mpg (14.9km/l, 6.7l/100km, 35mpg US)
Tank/Range: 5.1 gallons (23 litres, 6.1 US gallons)/ 215 miles (350km)
Transmission: Six gears, dry single-plate clutch, shaft final drive
Chassis: steel tube, single-sided aluminium swingarm/shaft
Seat height: 31.9in (810mm) (1.2in/30mm lower gel seat option)
Wheelbase: 59.9in (1496mm)
Rake/trail: n/a
Weight: 567lb (257kg) (dry)
Recent comments
In HONDA NC700X, kharli wrote:

In HONDA NC700X, kharli wrote:

In HONDA NC700X, Grump wrote:

In HONDA NC700X, kharli wrote:

In Lest we forget..., Captain Scarlet wrote:

In Captain Scarlet's next bike, malauder wrote:

In Captain Scarlet's next bike, Captain Scarlet wrote:

In Benelli 750 SEI, CCM wrote:

In Benelli 750 SEI, Gekom57 wrote:

In Benelli 750 SEI, Gekom57 wrote:

In Captain Scarlet's next bike, Grump wrote:

In Captain Scarlet's next bike, Navy Boy wrote:

In Captain Scarlet's next bike, Captain Scarlet wrote:

In Captain Scarlet's next bike, Grump wrote:

In HONDA NC700X, Grump wrote:

In Lest we forget..., Navy Boy wrote:

In Lest we forget..., unconventional rebel wrote:

In Captain Scarlet's next bike, unconventional rebel wrote:

In HONDA NC700X, unconventional rebel wrote:

In Lest we forget..., davvy wrote:
Donate to the Kevin Ash Fund
Kevin's funeral was held on Thursday 28th February 2013 and was well attended by family, friends and colleagues.
The Telegraph has very kindly established The Telegraph Kevin Ash Fund to assist with the education of Kevin's three daughters.
If you'd like to make a donation then you can use the PayPal 'Donate' button below which will allow you to donate from your PayPal account, or via credit or debit card. A small percentage (about 3.4%) will be retained by PayPal for the service.
Kevin's family have been touched by the generosity and messages of support from people using the website and would like to express their gratitude to those who have contributed in any way.
The donations keep coming in, thank you so much, and the family especially like it when you leave a message.