You'd think with the overweight Z750 as the starting point, there'd not be much chance of the Z800 impressing. But it certainly does.
It's not due to some kind of weight saving programme either, at 229kg (505lb) the Z800 tips the scales a little further than the 226kg 750 did. Not that the Z750 suffered in most markets for its mass, across Europe it was Kawasaki's best selling model, with 160,000 examples passing through showrooms since the first, 2004 model. The revamp in 2007 kept interest going and it's been the naked middleweight class leader for most of this time, fending off competition from Honda's Hornet, the GSR750 and FZ8. Triumph's Street Triple has had the lowest sales of this bunch, except in the UK where we've not liked the Z750 so much and bought the home product instead. It's not just patriotism, the Triumph is easily justified dynamically and by character too - the puzzle is more why you would have gone for the Kawasaki instead.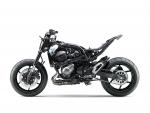 Cost reasons forced Kawasaki's engineers to retain the 750's steel spine frame, rather than replacing it with a new, aluminium one, and they even had to add weight to it after the decision was made to rubber mount the engine. The 750 could be rather buzzy and harsh, and with the 58cc capacity increase the 800 would likely be worse, so the Z800's engine is partially rubber mounted. This means it's no longer a stressed element of the frame, which has had to have additional cross-bracing steel tubes added at the front and aluminium spars on each side around the engine. These have become major styling features, but it's all added weight.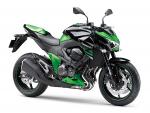 Other chassis changes include revised suspension settings and repositioning the rear shock slightly to the left of centre, where it used to be offset by a larger amount (12mm more at 38mm) to the right. The rear of the bike is set slightly higher and the front is lower, steepening the steering geometry and adding to the muscular, hunched forward look. The swingarm is 12mm longer, simply to accommodate the altered chain run resulting from the fitment of a two-teeth larger rear sprocket.
The engine's capacity increase is due to the use of 2.6mm larger pistons (now 71mm), but the focus has been on improving torque rather than peak power. To that end, the exhaust down pipes are longer - hence their weaving path in front of the engine - and the intake tracts are lengthened from 36.5mm to 41.5mm. In addition, the outer two intake funnels are shorter than the inner two, spreading the torque peak across a wider rev range.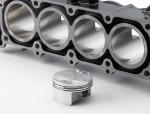 Despite the size increase the pistons are 10 per cent lighter than before, and the cylinder is now a linerless, plated, all-aluminium design, saving around 1kg (2.2lb). Other changes include 2mm larger throttle bodies at 34mm, bigger under-piston oil-cooling jets, wider radius journal fillets in the crankshaft for improved strength, a new cam chain with smaller sideplates to reduce friction, and new intake valve seat material. The exhaust system is new too.
The transmission has had a package of changes designed to enhance durability (not really a Kawasaki issue, but they've done it anyway), ease of gear changing and the clutch operation.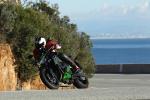 The bodywork is dramatically new, with a very angry, aggressive look that's for me is just too stylised. The slashes and angled surfaces around the engine give it an unreal, plastic look which only adds to the whole Transformers feel of the bike, yet I don't mind this at all, it's focussed rather than watered down and in generating opinion rather than disinterest will win plenty of strong fans who won't want any other bike in 2013. The ergonomics are improved too as the bike is narrower at its centre, so your legs are splayed out less and feet are a little closer together.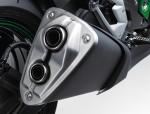 All very good but not enough you'd have thought to make a really big difference. Yet the Z800 is a far better bike to ride than the Z750. The main impression is one of exceptional smoothness and sophistication. The power has finally matched the weight and the bike no longer feels too heavy, although the mass-centralised exhausts and suspension changes mean it's a little m ore agile than before, which helps. But the sensation now is of sufficient thrust right across the rev range and an eagerness which has been missing until now, all delivered with a creamy smoothness that's new to middleweight Kawasakis.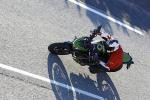 It's a mid-range engine mostly, feeling just a little flat right at the top of the rev range but very strong in the 6,000-9,000rpm zone. The one disappointment is the throttle response, which is too soft for a bike of this nature. Open the twistgrip from closed and there's a period where you can feel the throttle butterfly opening and the power being fed in gently, where the bike would do much better for having a hard-edged, immediate response. I suspect this is a result of trying to dial out the too-sudden power snatch which was an irritating characteristic of the Z750. Otherwise the engine is impressive.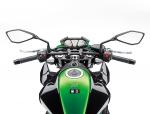 Economy is hard to gauge on a press presentation but the on-board reading suggested 43mpg (15.2km/l, 6.6l/100km, 36mpg US) in mixed riding, which I suspect will be fairly typical if a little thirstier than many owners will experience, which in turn means the range is 160 miles (260km). The Z800 is an urban-focussed bike so this is adequate, but more would have been useful.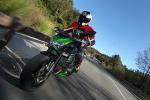 That focus shows up in the suspension, which offers a plush and beautifully controlled ride at lower speeds. The ride quality is exceptionally good in fact, calming harsh surfaces effectively and dealing with potholes and big bumps effortlessly. At high speeds the bike can become a touch bouncy, especially when you're wrestling it side to side with the throttle still open wide, but firmer control here would spoil the plush feel at more everyday speeds, and isn't be an exchange I'd want to make. I did try firming up the damping - there's rebound adjustment front and rear - and sure enough the ride was spoiled in urban riding for only a small improvement at high speeds, and it's really not that bad anyway.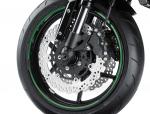 The braking is very good on the non-ABS versions (the front discs are 10mm bigger than the 750's) with a strong and progressive feel, although the ABS version seems to have lost some of that. It's still not clear exactly which markets will be getting the ABS option, but in those that do it's likely to be quite expensive compared with rival bikes' systems.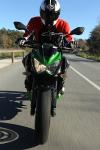 There are some negatives. The bike could do with a little more steering lock, if only for squeezing through cars in traffic jams more easily, and the mirrors are inexcusably narrow-set, showing almost entirely Alpinestars jacket in my case and very little behind me. With bulky wet weather gear this will be even worse. Overall though, it's an excellent bike that's improved massively on the Z750. The Street Triple will still run rings around it where agility matters, as it's a hefty 46kg (101lb) lighter, and it makes only slightly less peak power too. The Z800 is torquier though and effortless at lower revs, and has the most arresting looks too.
Specifications
Model tested: Kawasaki Z800
UK price: £7,499
Available: January 2013
Engine: in line four cylinder, liquid cooled, dohc 16v, 806cc
Power: 111bhp (113PS, 83kW) @ 10,200rpm
Torque: 61b.ft 83Nm, 8.5kgm) @ 8,000rpm
Economy: 43mpg (15.2km/l, 6.6l/100km, 36mpg US) (on test)
Tank/Range: 3.7 gallon (17 litres, 4.5 gallons US) / 160 miles (260km)
Transmission: Six gears, wet, multi-plate clutch, chain final drive
Frame: steel tube spine
Seat height: 32.8in (834mm)
Wheelbase: 56.3in (1445mm)
Rake/trail: 24 °/ 3.86in (98mm)
Weight: 505lb (229kg) wet
Recent comments
In HONDA NC700X, kharli wrote:

In HONDA NC700X, kharli wrote:

In HONDA NC700X, Grump wrote:

In HONDA NC700X, kharli wrote:

In Lest we forget..., Captain Scarlet wrote:

In Captain Scarlet's next bike, malauder wrote:

In Captain Scarlet's next bike, Captain Scarlet wrote:

In Benelli 750 SEI, CCM wrote:

In Benelli 750 SEI, Gekom57 wrote:

In Benelli 750 SEI, Gekom57 wrote:

In Captain Scarlet's next bike, Grump wrote:

In Captain Scarlet's next bike, Navy Boy wrote:

In Captain Scarlet's next bike, Captain Scarlet wrote:

In Captain Scarlet's next bike, Grump wrote:

In HONDA NC700X, Grump wrote:

In Lest we forget..., Navy Boy wrote:

In Lest we forget..., unconventional rebel wrote:

In Captain Scarlet's next bike, unconventional rebel wrote:

In HONDA NC700X, unconventional rebel wrote:

In Lest we forget..., davvy wrote:
Donate to the Kevin Ash Fund
Kevin's funeral was held on Thursday 28th February 2013 and was well attended by family, friends and colleagues.
The Telegraph has very kindly established The Telegraph Kevin Ash Fund to assist with the education of Kevin's three daughters.
If you'd like to make a donation then you can use the PayPal 'Donate' button below which will allow you to donate from your PayPal account, or via credit or debit card. A small percentage (about 3.4%) will be retained by PayPal for the service.
Kevin's family have been touched by the generosity and messages of support from people using the website and would like to express their gratitude to those who have contributed in any way.
The donations keep coming in, thank you so much, and the family especially like it when you leave a message.