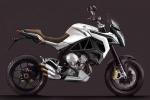 MV Agusta has let slip an image of its new Rivale, due to be unveiled at the Milan Show in mid-November.
MV boss Giovanni Castiglioni described the bike earlier this year as a halfway between a supermoto and what he called an 'enduro', probably meaning an adventure-style bike, setting it somewhere between the Triumph Tiger 800 and Ducati's 848 Streetfighter.
The bike, which will be called the Rivale, will use an 800cc version of the 675cc three-cylinder engine currently powering the F3 and Brutale 675. It's likely an 800cc Brutale will make an appearance next year too.
MV is also looking at a rival to Ducati's Diavel, which insiders suggest will come with a 1200cc, three-cylinder engine and be called the Gran Turismo. This is slated for 2014, and the same engine is likely to appear in a Triumph Tiger/R1200GS rival called the Elefant, the name used by sibling brand Cagiva for its big capacity, Ducati-powered adventure bike in the 1980s and 1990s.
Fri, 09/11/2012 - 18:04
#8
Suggiemac, I agree with your comments on the MV, however I doubt the importer has the balls to tell Verese that the sales for naked bikes in November for UK compared to 2011 was -12.1% and for supersports (both main markets for the marque of course) was down -26.3% compared to 2011.
Overall 2012/2011 Naked is -6.6% for the year and supersports -10.4% for the year.
There is also the position to consider of course that the same markets (naked and supersport) looking at 2011 against 2010 were also down -15.4% and -24.7% respectively (source MCIA) so all in all MV are selling into a drastically reducing market let alone if people like their bikes or not.
There was also the announcement recently that the Chinese (bless them) are now involved in MV Agusta so my guess is that when the proverbial hits the fan (mid 2013 I suggest) our far eastern cousins (as they did with the black cab, Benelli and Rover) will turn up as shining knights of armour and we know what happens after that!
My feeling is that Snr Castiglioni Jnr will look to make a dignified exit as soon as possible taking his cash and then saying in typical Italian style and shrug "eets a notta my faulta".
The network for MV sales in the UK is pretty dire (although there are a few extremely good dealers) but in the main there are not many reasons to encourage any buyer to purchase an MV the new Rivale being one of them but how it looks in the flesh may change my mind but I doubt it.
Sorry but all IMHO of course.
Mr I
Recent comments
In HONDA NC700X, kharli wrote:

In HONDA NC700X, kharli wrote:

In HONDA NC700X, Grump wrote:

In HONDA NC700X, kharli wrote:

In Lest we forget..., Captain Scarlet wrote:

In Captain Scarlet's next bike, malauder wrote:

In Captain Scarlet's next bike, Captain Scarlet wrote:

In Benelli 750 SEI, CCM wrote:

In Benelli 750 SEI, Gekom57 wrote:

In Benelli 750 SEI, Gekom57 wrote:

In Captain Scarlet's next bike, Grump wrote:

In Captain Scarlet's next bike, Navy Boy wrote:

In Captain Scarlet's next bike, Captain Scarlet wrote:

In Captain Scarlet's next bike, Grump wrote:

In HONDA NC700X, Grump wrote:

In Lest we forget..., Navy Boy wrote:

In Lest we forget..., unconventional rebel wrote:

In Captain Scarlet's next bike, unconventional rebel wrote:

In HONDA NC700X, unconventional rebel wrote:

In Lest we forget..., davvy wrote:
Donate to the Kevin Ash Fund
Kevin's funeral was held on Thursday 28th February 2013 and was well attended by family, friends and colleagues.
The Telegraph has very kindly established The Telegraph Kevin Ash Fund to assist with the education of Kevin's three daughters.
If you'd like to make a donation then you can use the PayPal 'Donate' button below which will allow you to donate from your PayPal account, or via credit or debit card. A small percentage (about 3.4%) will be retained by PayPal for the service.
Kevin's family have been touched by the generosity and messages of support from people using the website and would like to express their gratitude to those who have contributed in any way.
The donations keep coming in, thank you so much, and the family especially like it when you leave a message.
Recent Articles
We're familiar with solid-state electronics in biking. Ignition swapped points for transistors in the 1970s, then went digital in the 1990s. Now, the need for greater power, fuel efficiency and emissions control means modern engines only work with computer-controlled fuelling, ignition, combustion and exhaust. When we open the throttle we pull the strings, but the ECU calls the shots. To do it, the ECU needs an accurate view of the world. And it gets it through its sensors.
A gyroscope is a rigid circular or spherical mass rotating around an axis and for over 100 years motorcycles have come with three of them: a front wheel, a rear wheel and a crank (if you're being pedantic you could include cams, balancer shafts, gearbox, clutch etc). The classic mechanical model of a gyroscope ranges from the very small – electrons spinning around an atom's nucleus – to the very large – the Earth.
Most of us have an innate feel for balancing a high centre of gravity on a relatively short wheelbase. Say, like a motorbike. Its centre of gravity is the point at which the sum of the surrounding mass is zero, and is largely determined by the location of the engine, the heaviest part of the package. Usually the CoG is midway between the wheels (half the wheelbase) and 60 to 75cm off the ground; just above the engine, in front of your knees. Or at least it is until you get on.
Anyone with fingers knows bikes vibrate, sometimes strongly enough to make picking your nose impossible. But how we perceive vibration depends on its type, pattern, frequency and cause. Bikes are subject to different types of vibration. A bumpy road creates random forced vibration at medium to high frequency (around 5-35 Hz depending on vehicle speed). It's perceived as unpleasant, as is head buffeting caused by wind turbulence. Engineers and aerodynamicists try to minimise these bad vibrations. But we usually talk about engine vibration. There are many sources...
From the launch of Yamaha's new Super Ténéré: "The exhaust pipe connection between the two headers is discontinued to give more character to the engine. The link pipe gives a flat feeling to the curve, so removing it makes the engine a bit more peaky." This is all about exhaust gas. When a four-stroke is tuned for power it means more revs, and so the cylinders have thousandths of second to fill with fresh mixture, compress it, burn it and pump it out again. To get enough mixture in and out, inlet valves open early and exhaust valves stay open for longer – so both are open at the same time.