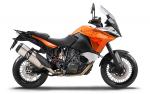 KTM is back pitching at BMW's R1200GS with its 2013 1190 Adventure, and the new bike has a much stronger road bias than the old Adventure.
The V-twin engine is a development of the LC8 unit which powers the RC8 superbike, and in this new Adventure guise makes148bhp (150PS, 110kW). Torque is 84lb.ft (12.7kgm, 125Nm), although rpm figures have yet to be released. Service intervals are set at 10,000 miles (15,000km), the same as Triumph's Tiger Explorer.
A big advantage is the bike's weight, claimed at 507lb (230kg) with a full tank (whose capacity we don't yet know). This is less than the current air-cooled R1200GS and well shy of the Tiger Explorer's 261kg.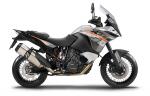 KTM 1190 AdventureThe electronics package includes multi-adjustable ABS and electronic suspension (using WP forks and shock), and includes off-road settings as well as various road ones. Tubeless tyres on 19 inch and 17 inch front and rear wire-spoked wheels are fitted, while the footrests, seat height, handlebar position and screen are all adjustable.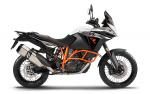 KTM 1190 Adventure RThere is also an Adventure R version with a stronger off-road bias. This weighs an additional 5kg and comes with crash protection bars, 21 and 18 inch front and rear wheels and longer travel suspension. It also features a different seat and cut down screen.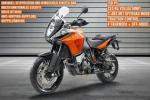 The first image of the 1190 Adventure (left) was published for a short period on KTM's website, apparently by accident, although the timing coincided with the release of details about Ducati's new Multistrada, suggesting it was designed as a spoiler. Plenty of information about the bike has been available previously too.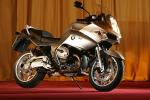 The bike generally has a familiar, angular KTM look, albeit conservatively done, but the brochure image shows a tall and unattractive headlight, similar to the hated 'lozenge' light on BMW's R1200ST from 2007. No prices have been announced other than a statement that the 1190 Adventure will be competitive with its main rivals.
Other News
Sat, 05/01/2013 - 06:48
#5
What I would really like to know, and what would make me change from my current 990ADV, is 3 things: How similar to the SMT is the non R version
and 2: What is the wind buffeting like?
On my 990 ADV the buffeting is horrible, on a certain usa based forum there are several hundred posts and no real conclusion, regarding different designs of screen to alleviate the poor aerodynamics of the current bike. Its so bad that I will not ride it on a windy day (we have periods of quite strong southerly winds here in nz)
I appreciate that you and I are different sizes Kev, Im 6' with a 32 inseam and buffeting is going to be different for different sized folk, but if you could make a stab at raising and lowering your head as you ride at say 85mph and see what the effects are on the 2 bike versions I would be very very grateful (test rides will be hard to come by here...)
The 3rd thing is fuelling: The current 990's are poor at fuelling steady low throttle openings. this means town riding and any off road is 'surgey' and annoying after a while.
However the rest of the bike including its fantastically absorbent suspension is wonderful!
The MOST comfortable and capable suspension compromise Ive ever encountered!
Thanks
James
Recent comments
In HONDA NC700X, kharli wrote:

In HONDA NC700X, kharli wrote:

In HONDA NC700X, kharli wrote:

In HONDA NC700X, Grump wrote:

In HONDA NC700X, kharli wrote:

In Lest we forget..., Captain Scarlet wrote:

In Captain Scarlet's next bike, malauder wrote:

In Captain Scarlet's next bike, Captain Scarlet wrote:

In Benelli 750 SEI, CCM wrote:

In Benelli 750 SEI, Gekom57 wrote:

In Benelli 750 SEI, Gekom57 wrote:

In Captain Scarlet's next bike, Grump wrote:

In Captain Scarlet's next bike, Navy Boy wrote:

In Captain Scarlet's next bike, Captain Scarlet wrote:

In Captain Scarlet's next bike, Grump wrote:

In HONDA NC700X, Grump wrote:

In Lest we forget..., Navy Boy wrote:

In Lest we forget..., unconventional rebel wrote:

In Captain Scarlet's next bike, unconventional rebel wrote:

In HONDA NC700X, unconventional rebel wrote:
Donate to the Kevin Ash Fund
Kevin's funeral was held on Thursday 28th February 2013 and was well attended by family, friends and colleagues.
The Telegraph has very kindly established The Telegraph Kevin Ash Fund to assist with the education of Kevin's three daughters.
If you'd like to make a donation then you can use the PayPal 'Donate' button below which will allow you to donate from your PayPal account, or via credit or debit card. A small percentage (about 3.4%) will be retained by PayPal for the service.
Kevin's family have been touched by the generosity and messages of support from people using the website and would like to express their gratitude to those who have contributed in any way.
The donations keep coming in, thank you so much, and the family especially like it when you leave a message.
Recent Articles
We're familiar with solid-state electronics in biking. Ignition swapped points for transistors in the 1970s, then went digital in the 1990s. Now, the need for greater power, fuel efficiency and emissions control means modern engines only work with computer-controlled fuelling, ignition, combustion and exhaust. When we open the throttle we pull the strings, but the ECU calls the shots. To do it, the ECU needs an accurate view of the world. And it gets it through its sensors.
A gyroscope is a rigid circular or spherical mass rotating around an axis and for over 100 years motorcycles have come with three of them: a front wheel, a rear wheel and a crank (if you're being pedantic you could include cams, balancer shafts, gearbox, clutch etc). The classic mechanical model of a gyroscope ranges from the very small – electrons spinning around an atom's nucleus – to the very large – the Earth.
Most of us have an innate feel for balancing a high centre of gravity on a relatively short wheelbase. Say, like a motorbike. Its centre of gravity is the point at which the sum of the surrounding mass is zero, and is largely determined by the location of the engine, the heaviest part of the package. Usually the CoG is midway between the wheels (half the wheelbase) and 60 to 75cm off the ground; just above the engine, in front of your knees. Or at least it is until you get on.
Anyone with fingers knows bikes vibrate, sometimes strongly enough to make picking your nose impossible. But how we perceive vibration depends on its type, pattern, frequency and cause. Bikes are subject to different types of vibration. A bumpy road creates random forced vibration at medium to high frequency (around 5-35 Hz depending on vehicle speed). It's perceived as unpleasant, as is head buffeting caused by wind turbulence. Engineers and aerodynamicists try to minimise these bad vibrations. But we usually talk about engine vibration. There are many sources...
From the launch of Yamaha's new Super Ténéré: "The exhaust pipe connection between the two headers is discontinued to give more character to the engine. The link pipe gives a flat feeling to the curve, so removing it makes the engine a bit more peaky." This is all about exhaust gas. When a four-stroke is tuned for power it means more revs, and so the cylinders have thousandths of second to fill with fresh mixture, compress it, burn it and pump it out again. To get enough mixture in and out, inlet valves open early and exhaust valves stay open for longer – so both are open at the same time.