Pictures: Kevin Ash, Caroline Quanjer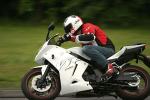 Daelim, that's Chinese isn`t it? I wouldn't touch one of them, it'll fall to bits, the warranty's worthless, you're wasting your money....
The default reactions to the brand are both predictable and from my experience of the new VJF250, wrong. This is the latest version of South Korean (not Chinese) Daelim's quarter litre sports bike, and I'll tell you right now, it shattered all the preconceptions convincingly.
For a start, the Daelim VJF250 looks right. The style might be generic sports bike, but it's well balanced visually without the odd shapes and gawkiness that blot so many Chinese and other far eastern machines a lot of observers become confused with. There's something of the older Honda look about it - the front is very SP-1-inspired - which is no great surprise as Daelim once made Hondas in Korea under licence, but what also appears to have been carried over is the design and build quality. This is a very well put together machine with tight-fitting panel gaps, decent materials and paint and an air of solidity that's just as good as on many more established - and expensive - rivals. The only blot was the tacky 'Daelim' sticker on the front, which had already lost its letter 'e' by the end of my tenure.
The dash is a dark place though, a great expanse of black plastic around the analogue rev counter and LCD information display, but it all fits well and it's easy to see. The ergonomics are good too: the Daelim VJF250 is a large bike that suits taller riders very well, with a gentle forward lean but plenty of room between bars, footrests and seat, and you even get a span-adjustable brake lever, a rare luxury on bikes in this class.
It's a well-connected lever too, operating a pair of red-painted callipers on twin discs that have plenty of power and decent feedback, while the back is better than many rivals too. All that's missing as an ABS option, one of the few factors will turn riders to another bike, especially Honda's CBR250R where it's only £150 extra.
The fuel-injected engine is smooth and strong and makes a pleasing sound too. If anything it feels more muscular than the Honda, able to sustain an 85mph (140kph) top gear cruise on motorways almost regardless of hills and headwinds, where the Honda can demand downchanges to keep its pace up. Even at high speeds the Daelim VJF250 manages 64mpg (22.7km/l, 4.41l/100km, 53mpg US), while taking it easier pushes that beyond 70mpg (24.8km/l, 4.0l/100km, 58mpg US). There are bigger bikes such as Honda's NC700S and BMW's G650GS which are even more economical and with more power too, but they're at an altogether different price level.
The 3.3 gallon (15 litre) tank gives you a range of more than 200 miles, so there's potential to go further than your local town on the VJF, although seat comfort isn't great - I was shifting about after 45 minutes or so.
Vibration levels are low (though the mirrors are blurred most of the time) and the gear changing works well, although it can feel just a little sloppy during downchanges, but once again, it manages to better many rivals. The only oddity is a high pitched whistle accompanying the meaty exhaust note.
The Daelim VJF250 handles well too, with a couple of reservations. The first is the suspension, which is too soft, especially for higher speed cornering, causing the back of the bike to bounce around. It makes for a good ride quality, especially on rougher roads at low speeds, but the bike can be upset by bumps when you're riding faster. This could be cured with an aftermarket shock but that would start to push the price up, and rivals including the Honda are little better anyway.
The second is the Swallow tyres, which are hard and offer poor wet weather grip, and I suspect the profile is behind an odd feeling as you tip the bike into a turn. When these wear out I'd replace them with something European, and I suspect the steering will become significantly better. Then you'd be worrying instead about the ground clearance, which ultimately gets in the way of the handling ability as the footrests touch down a little early for the more enthusiastic rider.
The tyres might also be responsible for a slightly slower handling response than the Honda CBR, but note although the claimed weight is less than the Japanese bike's at 348lb (158kg), my measured empty tank weight is (362lb) 164kg, a little more than the Honda.
As for the reliability worry, only time will prove this for the Daelim VJF250 and its stablemates, but the signs of quality suggest it should be fine, and bear in mind Korean car brands such as Hyundai these days are right up with the best of the Japanese in that respect.
The Daelim VJF250 holds its head up in the class regardless of price, then you discover it costs £2,999 on the road, compared with £3,950 for the CBR250R, let alone the £4,650 of the Kawasaki Ninja 250R, and you even get a centrestand as standard. The remaining unknown is spares and dealer support, Honda's is excellent, Daelim's seems to be less so. But then I'd put up with a lot to save £1,000...
Model tested: Daelim VJF250
UK price: £2,999
Available: now
Engine: single cylinder, liquid cooled, dohc 8v, 247cc
Power: 25bhp (25PS, 18.4kW) @ 9,000rpm
Torque: 14lb.ft (1.9kgm, 18.6Nm) @ 7,000rpm
Economy: 68mpg (24.1km/l, 4.15l/100km, 57mpg US)
Tank/Range: 3.3 gallons (15 litres) / 220 miles (350km)
Transmission: Five gears, chain final drive
Chassis: tubular steel cradle
Seat height: 30.7in (780mm)
Wheelbase: 54.3in (1380mm)
Rake/trail: n/a
Claimed weight: 348lb (158kg) dry
Measured weight: 163.7kg (361lb) empty tank
Recent comments
In HONDA NC700X, kharli wrote:

In HONDA NC700X, kharli wrote:

In HONDA NC700X, Grump wrote:

In HONDA NC700X, kharli wrote:

In Lest we forget..., Captain Scarlet wrote:

In Captain Scarlet's next bike, malauder wrote:

In Captain Scarlet's next bike, Captain Scarlet wrote:

In Benelli 750 SEI, CCM wrote:

In Benelli 750 SEI, Gekom57 wrote:

In Benelli 750 SEI, Gekom57 wrote:

In Captain Scarlet's next bike, Grump wrote:

In Captain Scarlet's next bike, Navy Boy wrote:

In Captain Scarlet's next bike, Captain Scarlet wrote:

In Captain Scarlet's next bike, Grump wrote:

In HONDA NC700X, Grump wrote:

In Lest we forget..., Navy Boy wrote:

In Lest we forget..., unconventional rebel wrote:

In Captain Scarlet's next bike, unconventional rebel wrote:

In HONDA NC700X, unconventional rebel wrote:

In Lest we forget..., davvy wrote:
Donate to the Kevin Ash Fund
Kevin's funeral was held on Thursday 28th February 2013 and was well attended by family, friends and colleagues.
The Telegraph has very kindly established The Telegraph Kevin Ash Fund to assist with the education of Kevin's three daughters.
If you'd like to make a donation then you can use the PayPal 'Donate' button below which will allow you to donate from your PayPal account, or via credit or debit card. A small percentage (about 3.4%) will be retained by PayPal for the service.
Kevin's family have been touched by the generosity and messages of support from people using the website and would like to express their gratitude to those who have contributed in any way.
The donations keep coming in, thank you so much, and the family especially like it when you leave a message.