Wout Meppelink, Tom Dekstra - (click on images for gallery)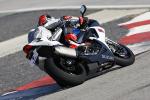 My expectations of the 2011 Suzuki GSX-R750 L1 were high, and that was nothing to do with Suzuki`s pre-launch promotion. Quite simply, the three quarter litre GSX-R has always been a great bike, on top of which the new and nearly identical 600 has been getting rave reviews.
The GSX-R600 has leapt from also-ran spot to top dog in the 600 supersport class, and while I`ve not yet ridden it myself, clearly there`s been a major improvement. That surely would be reflected in the 750 too, and as for many riders it`s always offered the perfect balance between power and handling, the best of the 600 and 1000cc classes melded into one, the GSX-R750 could well become unassailable as the ideal sports bike.
It was a bit of a shock therefore when after a few laps of the Monteblanco circuit near Seville I realised it wasn`t even steering properly. The problem seemed to be a reluctance to turn in, and once heading into the corner running on a wide line and missing the apex.
How could this be? All the ingredients are in place for track bike perfection after all. Compared with the old 750, no mean circuit tool itself, the new model, designated GSX-R750 L1, has a new frame and swingarm, new bodywork and rear shock, and most high profile, new Showa Big Piston Forks and Brembo Monobloc brakes.
These are all the same as the widely lauded GSX-R600, but the 750`s engine upgrade is less radical. Where the 600 boasts new pistons and combustion shapes among a host of other changes, the 750`s motor is unchanged in its basics. The only internal changes are revised inlet valves and reshaped holes between the cylinders to reduce pumping losses, although Suzuki does say these are significant and are a major factor in the bike`s 10 per cent fuel economy improvement.
Like the 600 the GSX-R750 gets a new ECU which is faster and remapped for improved fuelling (and repositioning it has saved 0.55lb (0.25kg) in wiring weight), with the primary injectors are re-angled at 35 instead of 42 degrees to help fuel atomisation. The exhaust system is new and reduces weight by a useful 2.4lb (1.1kg), but that`s it, not even the 600`s close ratio gearbox has been loaned to the 750.
Still, the changes have resulted in a useful boost to mid-range torque and the 750 was never really lacking in this respect anyway. The other changes have led to a major weight reduction, including an astonishing 7.5lb (3.4kg) from the bodywork, by using less of it and making the panels significantly thinner. They do feel it if you can find an area to grab, but the bike overall doesn`t feel flimsy or insubstantial and there`s certainly no flapping or flexing even at high speeds.
The bodywork also has a 2.2 inch shorter overhang at the front and 1.4 inches at the rear, centralising the mass and helping agility, while the forks aid suspension performance in one way simply by being a full 2.2lb (1kg) lighter than the old model`s - this is weight loss where it really counts too, at the far end of the bike, as steered mass and unsprung weight. They also provide superior damping, as by using the fork walls themselves as the damper cartridge it means the piston is a lot bigger (the clue`s in the name...). In turn, this leads to more precise damping control, especially of smaller and slower suspension movement, and lower fluid speeds. The fork springs are fully submerged in the oil too, reducing the tendency to foam.
See the BPF fork feature here
The Brembo callipers are more than cosmetic additions too, being 0.9lb (0.4kg) lighter than the old Tokicos, further improving steered and unsprung mass, and that`s before you`ve pulled the lever.
Further weight is lost at the swingarm, 1.75lb (0.9kg) lighter, and with a lighter frame too that adds up to a very impressive 17.6lb (8kg) weight reduction, and thanks to so many shared parts (almost all of them...) the GSX-R750 is only 6.6lb (3kg) heavier than the 600.
The wheelbase is 15mm shorter than the old 750`s, achieved by rotating the engine by three degrees into a more upright position, making room to bring the swingarm pivot forwards. If you`re wondering how the 600`s wheelbase can be 5mm shorter still, that`s achieved solely by losing a couple of drive chain links. You could do with the 750 of course, although Suzuki feels as the 750 is faster it benefits from the additional stability. Certainly its speed sensitive steering damper did struggle at times to keep corner exit wobbles tamed.
It took me three sessions and several suspension changes to get to grips with the handling issue, which was ironic as lack of grip from the track surface was the core problem. The rear Bridgestone BT-016 Pro was stepping out under power with surprising ease, yet the rubber was showing little sign of distress - not as much as me, anyway. This also meant that there was reduced feedback from the front (which ought to be dripping with it), in turn reducing my confidence that there was enough grip to really pull the bike in tight and lean on the front tyre going into turns.
Then gradually, as I learned the track, (layout as well as grip) I tried harder and harder and the whole plot began to come together. By the end of the day my opinion had reversed: the GSX-R`s sublime handling was allowing me to ride much quicker on a relatively low-friction surface (although it was at least consistent) than I would on almost any other motorcycle. A 600 would have lacked the torque to drive it out of the technical twists and turns while the power of a 1000 would have been utterly intimidating in these circumstances. Indeed it is at most tracks, aside from the fastest MotoGP-standard circuits.
The easy agility of the GSX-R750 was working beautifully with the engine too, and once I`d adapted to the surface, the BPF/Brembo front end was proving itself as one of the best on any motorcycle - little grip, yet not a single worrying moment despite some ferocious stopping well into the turn. As for anything as rude as fade, of course not - only my arms were unreliable, pumping up with the effort of keeping Ash on bike at times.
The motor makes no more peak horsepower than before, and as judging mid-range on a track is always difficult I`ll reserve that judgement for the road ride, but there`s no reason to doubt Suzuki`s claims, and the old 750 was very acceptable in this respect. But there is a complaint about the motor, which is a new-found suddenness in the response from closed to opening throttle. It`s fine at high revs and going for it, but cruising around on a light throttle at a steady, low speed by way of crude road riding simulation, the bike became irritatingly lurchy, not at all a Suzuki trait.
Otherwise it`s as you were with the engine, which means huge but not insane power at the top end and plenty elsewhere, enough to go as fast as you`d ever want without being constantly nervous of unleashing too much.
I did find that the bike felt smaller, dimensionally as well as due to its lighter weight, and at 6`3" (1.91m) it will be on the cramped side in road riding for taller riders. But there`s no buffeting from the aerodynamics and the screen is more protective than some sports bikes`.
The shame for some riders will be that it looks so similar to previous GSX-Rs. Familiar is good for maintaining a brand identity, but keep it going for too long and it stops meaning what it did originally and ends up heading towards retro territory. The GSX-R750 isn`t there yet, but it does start to look as if the time has come for a more radical, Fireblade-style major visual makeover.
For all that, the new 750 disappoints a little for not getting the more comprehensive engine update of the 600, for its less than perfect light throttle response, and that`s it. It is still, for very many riders, the most exciting and fastest sports bike they could buy, fast and furious without frightening and more useable on the track than most bikes on either side of its lonely capacity class. And it has the best front end in the business.
Model tested: Suzuki GSX-R750 L1
Price: £10,024
Available: end of February 2011
Engine: inline four-cylinder, liquid cooled, dohc 16v, 750cc
Power: 148bhp (150PS, 110.3kW) @ 13,200rpm
Torque: 63.6lb.ft (86.3Nm) @ 11,200rpm
Economy: n/a
Tank/Range: 3.75 gallons (17 litres, 4. 5 US gallons)/ n/a miles
Transmission: Six gears, wet clutch, chain final drive
Chassis: Twin spar aluminium
Seat height: 31.9in (810mm)
Wheelbase: 54.7in (1390mm)
Rake/trail: 23.45 °/ 3.82in (97mm)
Weight: 419lb (190kg) (kerb)
Recent comments
In HONDA NC700X, kharli wrote:

In HONDA NC700X, kharli wrote:

In HONDA NC700X, Grump wrote:

In HONDA NC700X, kharli wrote:

In Lest we forget..., Captain Scarlet wrote:

In Captain Scarlet's next bike, malauder wrote:

In Captain Scarlet's next bike, Captain Scarlet wrote:

In Benelli 750 SEI, CCM wrote:

In Benelli 750 SEI, Gekom57 wrote:

In Benelli 750 SEI, Gekom57 wrote:

In Captain Scarlet's next bike, Grump wrote:

In Captain Scarlet's next bike, Navy Boy wrote:

In Captain Scarlet's next bike, Captain Scarlet wrote:

In Captain Scarlet's next bike, Grump wrote:

In HONDA NC700X, Grump wrote:

In Lest we forget..., Navy Boy wrote:

In Lest we forget..., unconventional rebel wrote:

In Captain Scarlet's next bike, unconventional rebel wrote:

In HONDA NC700X, unconventional rebel wrote:

In Lest we forget..., davvy wrote:
Donate to the Kevin Ash Fund
Kevin's funeral was held on Thursday 28th February 2013 and was well attended by family, friends and colleagues.
The Telegraph has very kindly established The Telegraph Kevin Ash Fund to assist with the education of Kevin's three daughters.
If you'd like to make a donation then you can use the PayPal 'Donate' button below which will allow you to donate from your PayPal account, or via credit or debit card. A small percentage (about 3.4%) will be retained by PayPal for the service.
Kevin's family have been touched by the generosity and messages of support from people using the website and would like to express their gratitude to those who have contributed in any way.
The donations keep coming in, thank you so much, and the family especially like it when you leave a message.