Pictures: Ula Serra, Francesc Montero, Zep Gori, Félix Romero (click on images)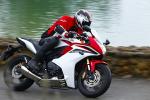 You can see why Honda is keen to revive the CBR600F moniker: nearly a quarter of a million were sold in Europe alone since its introduction in 1987 until the last ones in 2006.
The question a lot of people are asking though is, it`s all very well tacking the badge onto the 2011 version, but is it really a CBR600F? Technically it`s not, this newest incarnation amounts to nothing more than a Hornet 600 with a fresh set of clothes, where all the earlier versions were purpose-built and other Honda 600s were propagated from them, not vice versa.
Then again, does it matter? The CBR600F was regularly acclaimed as the best 600, but times and expectations were different then, it never became a sub-brand with quite the strength of VFR or GSX-R, and if the new version performs well, then who cares if it`s a dressed up Hornet? In the end, ability and price will count for the most, and the CBR600F scores well on both.
It gets off to a good start with its looks. In black the fairing`s layered design is disguised and the bike looks bitty, but in the blue and red with white options it has a sophisticated mien that`s sporting, well balanced and aligned well with Honda`s current, trend-setting family style. I`ve seen some complaints about the CBR600F`s looks and subjective or not, I don`t understand them all, it`s fresh, original and very well executed.
The riding position is what you`d expect of an all-rounder with a sports bias, more forward leaning than the Hornet but less radical than the supersport CBR600RR, and it works well. The seat is comfortable and the forward lean just sufficient to match the wind pressure at speed, and there`s plenty of room for 6 footers without unduly stretching out shorter riders.
The screen directs the slipstream onto your chest and shoulders which means turbulence and noise are below helmet level, so fatigue from both is minimal on longer motorway runs. An optional higher screen is available, but you might well find that comes with an increase in wind noise, although I didn`t get to try it out.
One ergonomic glitch is in the instruments. The slimline LCD dash shows speed digitally, along with time, engine temperature. fuel and trips, with engine revs displayed in a band along the top edge. Much of the time the information is obscured by reflections, while the black rev band is also right up against the black edge of the display and often it`s impossible to make out the engine revs.
The mirrors could do with being set a little wider too. In summer riding gear the view behind isn`t bad, but with thick winter clothing on the view is mostly of your elbows. There are worse bikes than this but the CBR600F is going to attract plenty of novice riders and a more panoramic rearward view would be especially helpful for them.
What they will love, and anyone else riding the bike, is the delightful handling. The chassis is completely unchanged from the Hornet`s, even the suspension settings are the same, but thanks to the added bodywork weight on the front this is one of the sweetest handling middleweights available. It`s difficult to say exactly why the CBR600F`s handling gels so well with its rider, but whatever it is, this is one of the most natural and enjoyable handling bikes I`ve ridden for a long time. It responds willingly to handlebar pressure, turns exactly the amount you`re hoping for then sticks to its line accurately and with supreme stability, yet changes direction again at your beck with a near-sportsbike eagerness.
For sweeping along unfamiliar roads the sense of security is as good as you`ll get, and that`s backed up by the excellent Combined-ABS system which cuts in smoothly and not too early either. This is an option in some markets but standard equipment in the UK, and for the vast majority of CBR600F riders it will only make its presence known when it really needs to, which is exactly as it should be. Some sports riders might bemoan the loss of independent front and rear wheel control, but for most the balance, strength and safety of the system is a real boon.
You don`t get a centre stand though even as an option (unlike the old CBR-F): instead, Honda would rather sell you a paddock stand. Other options include heated grips, the higher screen I mentioned, a seat cowl and the hugger which ought to be standard to help protect the suspension from road dirt. The only luggage option is a tail pack, so you`ll need to look to the aftermarket for anything more substantial.
So is the engine a worthy wearer of CBR600F? It`s a very sophisticated-feeling unit with flawless fuelling from idle to red line, and it`s also extremely smooth. A few light vibes come through the bars at one or two spots in the rev range, but you really have to be looking for them to notice. It`s pretty quick at the top end too, although it can feel a little laboured in the last quarter of the rev range, but it could do with more mid-range. At 5,500rpm in particular there`s a dip in the torque which you avoid by dropping down a gear or two. It`s not so bad though, and novices moving up to the CBR600F will be perfectly happy. But a search for more mid-range will be the first thing to get them looking for the next step up.
This is where the rival Suzuki GSX650F has an advantage: it might be 15bhp down on the Honda`s peak power but the low and mid-range are much stronger, and much more useful on the road. The GSX650F is a little more rough and ready compared with the slick and svelte Honda - its genesis is the same, as it`s a dressed up Bandit - but it`s also more than £650 cheaper. Against that, the Suzuki looks old-fashioned and is significantly heavier at an approximate 507lb (230kg) wet against the Honda`s 465lb (211kg), and you don`t get ABS either. I`d still have the Honda, but I`d wish some top end horsepower had been sacrificed for some extra mid-range thrust.
On balance then, this is a good looking bike with outstanding handling, a decent ABS system and sophisticated air that includes engine smoothness and perfect fuel injection. I had no chance to measure economy accurately but the Hornet isn`t especially good so the 4 gallon (18.4 litre, 4.9 gallon US) tank might be only adequate for touring, although it should still be enough for a 170 mile range unless you`re riding especially hard.
The 2011 Italian-built CBR600F isn`t quite created in the same vein as the old versions - those were all rounders that were also highly effective sports bikes, able to compete with more focussed supersports machines on the track right to the mid-noughties yet vastly superior as everyday machines. The new one doesn`t come close to the supersports bikes, but then they have moved on and become more hardcore than ever. It is though a fine all-rounder, with the bonus of a more relatively competitive price than before.
CBR600F timeline:

Honda CBR600F 19871987-1988 CBR600F-H/J
The original CBR600 brought big bike performance to the middleweight class, giving it real credibility among experienced riders. It came with distinctive all-enveloping bodywork that become more conventional as the years progressed.
1989-1990 CBR600F-K/L
More power with a toning down of the controversial style, but despite its all-rounder ability this was also the 600cc sportsbike to beat.
Honda CBR600F 19911991-1994 CBR600F-M/N/P/R
An all-new engine with shorter stroke and more power, much of which came from dramatically reduced internal friction. Sophistication increased but the steel frame stayed.
Honda CBR600F 19951995-1998 CBR600F-S/T/V/W
A proper ram air intake system was fitted along with various upgrades, but it was struggling more now against the full-on supersports bikes. The steel frame didn`t help.
Honda CBR600F 19991999-2000 CBR600F-X/Y
The next major upgrade with more power and crucially a lightweight aluminium alloy frame. Sales were huge and it was a fine bike to ride.
2001-2006 CBR600F-1/2/3/4/5/6 and CBR600FS-1/2 Sport
For the first time the CBR600F is available in two guises, with the CBR600F Sport designed to help Honda win trophies on the track. Both bikes now feature fuel injection, but a proper supersport was needed and work had begun on the CBR600RR, which eventually replaced the 600F altogether.
Specifications
Model tested: 2011 Honda CBR600F
Price: £7,055 on the road
Available: March 25, 2011
Engine: inline four-cylinder, liquid cooled, dohc 16v, 599cc
Power: 101bhp (102PS, 75kW) @ 12,000rpm
Torque: 47.2lb.ft (6.5kgm, 64Nm) @ 10,500rpm
Economy: n/a
Tank/Range: 4.0 gallons (18.4 litres, 4. 9 US gallons)/ n/a miles
Transmission: Six gears, wet clutch, chain final drive
Chassis: Die cast aluminium spine
Seat height: 31.5in (800mm)
Wheelbase: 56.6in (1437mm)
Rake/trail: 25 °/ 3.9in (99mm)
Weight: 465lb (211kg) (kerb, ABS version)
Recent comments
In HONDA NC700X, kharli wrote:

In HONDA NC700X, kharli wrote:

In HONDA NC700X, Grump wrote:

In HONDA NC700X, kharli wrote:

In Lest we forget..., Captain Scarlet wrote:

In Captain Scarlet's next bike, malauder wrote:

In Captain Scarlet's next bike, Captain Scarlet wrote:

In Benelli 750 SEI, CCM wrote:

In Benelli 750 SEI, Gekom57 wrote:

In Benelli 750 SEI, Gekom57 wrote:

In Captain Scarlet's next bike, Grump wrote:

In Captain Scarlet's next bike, Navy Boy wrote:

In Captain Scarlet's next bike, Captain Scarlet wrote:

In Captain Scarlet's next bike, Grump wrote:

In HONDA NC700X, Grump wrote:

In Lest we forget..., Navy Boy wrote:

In Lest we forget..., unconventional rebel wrote:

In Captain Scarlet's next bike, unconventional rebel wrote:

In HONDA NC700X, unconventional rebel wrote:

In Lest we forget..., davvy wrote:
Donate to the Kevin Ash Fund
Kevin's funeral was held on Thursday 28th February 2013 and was well attended by family, friends and colleagues.
The Telegraph has very kindly established The Telegraph Kevin Ash Fund to assist with the education of Kevin's three daughters.
If you'd like to make a donation then you can use the PayPal 'Donate' button below which will allow you to donate from your PayPal account, or via credit or debit card. A small percentage (about 3.4%) will be retained by PayPal for the service.
Kevin's family have been touched by the generosity and messages of support from people using the website and would like to express their gratitude to those who have contributed in any way.
The donations keep coming in, thank you so much, and the family especially like it when you leave a message.