Aprilia RSV4 Factory APRC SE review
Pictures: Milagro (click on images)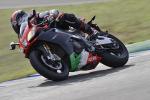 Zero to World Superbike Championship in two years... That`s a stunning performance from the Italian factory, and it's celebrated with a stunning bike.
Max Biaggi scored the 2010 rider title, and Aprilia also won the manufacturer's title,especially impressive as it was against some highly professional and motivated competition. Even more so when you consider the RSV`s V-four engine is one of the first to be designed and built entirely by Aprilia, rather than being commissioned from a specialist such as old engine supplier Rotax.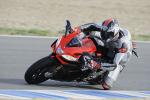 Development has not stood still on the road bike either. Changes compared with the 2010 model include a 2kg lighter exhaust system with EXUP-style butterfly valve, improved lubrication and closer ratio gears. It`s also the first road bike to be fitted with Pirelli`s new 200 section sports bike tyre, the Diablo Supercorsa SP. The combustion chamber shapes and pistons have been revised too.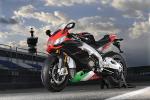 But the headline addition is the new electronics package, which includes traction control, wheelie control, launch control and a quickshift gearchange system. It`s a collection which will no doubt fuel criticism that electronics are taking more and more away from the rider, and it`s also criticism which you won`t hear from anyone who`s ridden this latest V-four. In short, it`s the most involving, exciting superbike you can swing a leg over on the market today, and that includes the seminal BMW S1000RR and tactile Ducati 1198SP.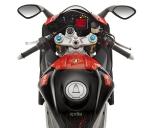 It`s the sound of the RSV first that seduces, a gorgeous angry bubbling with electrifying response to the twistgrip that makes the hairs on the back of your neck stand up. The bike is so tiny it`s hard to remember it`s a one litre machine with 190mph capability, although even at 6`3" I`m still comfortable on it in the sense that I feel in control and happy to throw it around a racetrack. In this case we were trying the bike at one of Europe`s finest circuits, Jerez in Andalusia, and an ideal one for trying out the bike`s array of electronic systems.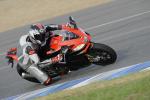 The least impressive is the first one you`ll need: launch control. Find this on the menu, hold the + and - buttons simultaneously on the left handlebar and you can set it to one of three levels, 3 being the safest. The word `launch` appears on the dash, though sadly there`s no Mission Control countdown before you blast the bike off the line. Or try to... It`s straightforward enough, you turn the twistgrip fully open and the ECU holds the revs at around 10,000rpm. Forget the throttle now, just leave it jammed against the stop and feed in the clutch to keep the revs reasonably high, and the bike pulls away. That`s all it does though, fairly quickly admittedly but without the punch you`d hope for considering the power available.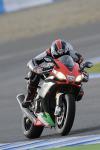 Level 2 is better and it does allow a small amount of wheelie too, and while it`s faster than level 1 it`s still a little underwhelming. But it does mean that you can reliably charge off the line every time without any danger of spinning the back wheel or looping the bike. We weren`t allowed to try level 1 as it takes a bit of training and there wasn`t time, so this should be a lot better, although I don`t know how many clutch plates you`ll get through before you`ve mastered it...
The rest of the electronics though will leave you gasping in admiration and adrenalin. The traction control system uses similar parameters to Ducati`s and BMW`s, monitoring front and rear wheel speeds, lean angle, acceleration, throttle movement and so on, and determining if rear wheel spin is about to occur. The level of intervention can be changed while still riding from a very safe 8 down to level 1, at which point the back of the bike is drifting, sliding, painting black lines on the track and making the rider look like a superbike god.
There are two Aprilia differences, the first being the system`s ability to learn revised parameters when different tyres are fitted. The rider activates this facility manually, then rides the bike for a short distance at a steady speed, and the recalibration is complete. This allows the system to work more effectively with whatever rubber it`s wearing.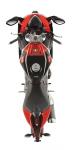 The second unique factor is that the cut-off point on each of the levels is not a line drawn at a predefined amount of spin. Instead there`s a fuzzy area leading up to this line in which the amount of spin is allowed to increase up to that point, meaning the rider still has a level of throttle control over the spin before the system says enough. In terms of feedback it brings something entirely new to traction control systems and lifts the Aprilia immediately above its BMW and Ducati rivals. The sheer exhilaration of being able safely to tighten the bike`s line while charging out of a turn at ferocious speed by dialling in more back wheel spin leaves you panting with excitement - take away from the rider? Oh no, this adds a whole new dimension for most of us.
In addition to that you have wheelie control, which if levels 1 to 3 of traction control are set is very useful even while the bike is still in a turn, as the huge amount of grip available from the Pirelli tyres means the bike is perfectly capable of wheelying even as you`re leant over and still driving out of the corner. And like the traction control, the wheelie control is distinguished by its smoothness. There`s no sudden cutting of power or dumping the front wheel back onto the ground, instead it`s gently let down again as you keep the throttle pinned to the stop. But unlike the traction control, you can`t change the level of wheelie control while riding, which is a little disappointing.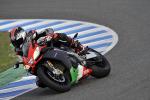 Yes, the world`s top riders can deal with the sliding and wheelying without these electronic aids, but even they still choose to use them as it helps them to go even faster. As for more ordinary mortals like me, far from getting in the way, they let you push the bike closer to its limits than you`d ever have been able to before, and detract nothing from the feedback and sensations being passed on from the tyres, suspension and bike in general. And when the bike is as phenomenally fast as the RSV, that means you will go much quicker than before and find your heart pounding in your chest as you push the machine to what were once distant, undreamed of limits.
Even the quickshift is exciting, if only because it sounds so damned cool, banging up through the ratios with just a change in the degree of anger howling from the exhaust - leave the clutch alone, keep the throttle wide open, nudge the lever and the next ratio is engaged and hurtling you forward faster than you can think 3rd-4th-5th.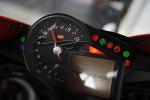 Graphics aside, the rest of the bike is unchanged RSV4 Factory, and nothing wrong with that. The standard version is the only current superbike capable of giving the S1000RR a good run, and with these electronic extras it`s quite possibly a match on the track. If the BMW is still quicker it will only be for the last kick of power it has in the final 1000rpm of its rev range. That`s great for racers, but for others simply into the pleasures of using such a high performance, precision machine, on the track or road, the RSV adds a level of style and sensory input that for me at least sets it above the German bike. In short, it`s sexy as hell, in terms of looks, performance, electronic wizardry and far from least, the glorious sound it makes.
Model tested: Aprilia RSV4 Factory APRC SE
Price: £16,999
Available: November 2010
Engine: 65 degree V-four, liquid cooled, dohc 16v, 999.6cc
Power: 178bhp (180PS, 132.4kW) @ 12,250rpm
Torque: 85lb.ft (115Nm) @ 10,000rpm
Economy: n/a
Tank/Range: 3.75 gallons (17 litres, 4. 5 US gallons)/ n/a miles
Transmission: Six gears, wet clutch, chain final drive
Chassis: Twin spar aluminium
Seat height: 33.3in (845mm)
Wheelbase: 55.9in (1420mm)
Rake/trail: 24.5 °/ 4.13in (105mm)
Weight: 395lb (179kg) (dry)
For an altogether gentler ride, here's the Aprilia Shiver 750 GT review!
Recent comments
In HONDA NC700X, kharli wrote:

In HONDA NC700X, kharli wrote:

In HONDA NC700X, Grump wrote:

In HONDA NC700X, kharli wrote:

In Lest we forget..., Captain Scarlet wrote:

In Captain Scarlet's next bike, malauder wrote:

In Captain Scarlet's next bike, Captain Scarlet wrote:

In Benelli 750 SEI, CCM wrote:

In Benelli 750 SEI, Gekom57 wrote:

In Benelli 750 SEI, Gekom57 wrote:

In Captain Scarlet's next bike, Grump wrote:

In Captain Scarlet's next bike, Navy Boy wrote:

In Captain Scarlet's next bike, Captain Scarlet wrote:

In Captain Scarlet's next bike, Grump wrote:

In HONDA NC700X, Grump wrote:

In Lest we forget..., Navy Boy wrote:

In Lest we forget..., unconventional rebel wrote:

In Captain Scarlet's next bike, unconventional rebel wrote:

In HONDA NC700X, unconventional rebel wrote:

In Lest we forget..., davvy wrote:
Donate to the Kevin Ash Fund
Kevin's funeral was held on Thursday 28th February 2013 and was well attended by family, friends and colleagues.
The Telegraph has very kindly established The Telegraph Kevin Ash Fund to assist with the education of Kevin's three daughters.
If you'd like to make a donation then you can use the PayPal 'Donate' button below which will allow you to donate from your PayPal account, or via credit or debit card. A small percentage (about 3.4%) will be retained by PayPal for the service.
Kevin's family have been touched by the generosity and messages of support from people using the website and would like to express their gratitude to those who have contributed in any way.
The donations keep coming in, thank you so much, and the family especially like it when you leave a message.