Pictures: Milagro (click on images)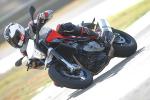 BMW`s plans for its recently acquired off-road brand are nothing if not ambitious: Husqvarna will be to the bike division what Mini is to BMW cars.
Mini was a job brilliantly done, but the new Nuda 900 and its higher spec 900R derivative suggest Husqvarna is going to need more time to work out exactly what it wants to achieve with its road bikes.
It`s not wanted for resources to draw on though. The basis for the Nuda`s power unit is the very competent if unexciting 798cc parallel twin which debuted in the F800, but Husqvarna`s engineers have done a great deal of work to make it their own: the bore is up by 2mm to 84mm and the stroke 5.4mm longer to 81mm for the 898cc capacity, but this is only the start.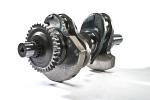 The crank throws for example have been shifted so one is 45 degrees around from the other, giving firing intervals of 315 and 395 degrees. The reciprocating counter balancer beneath the crank, driven by a slave conrod, is set to a position somewhere between the two. The primary balance is not perfect but inertial torque is reduced and the rotation of the crank is smoother, although Husqvarna says the main aim is to lend the engine some feel and character.
Other changes include new cylinder heads, a higher compression ratio at 13.0:1, 1mm bigger diameter valves and revised cam timing and engine management, resulting in an output of 103bhp (105PS, 77kW) at 8,500rpm and torque of 74lb.ft (10.2kgm, 100Nm) at 7,000rpm. The same basic layout is the same still including the semi dry sump design needed to accommodate the balancer system. There are no differences between 900 and 900R engines.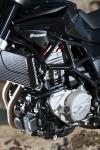 The chassis also borrows from BMW, using the F800GS`s steel trellis frame as a starting point, modified with a 2 inch (50mm) reduction in length and stiffer steering head with a steeper angle to improve agility. The 900R comes with fully adjustable Sachs forks and an Öhlins shock which includes ride height adjustment, while the stock 900 manages with lower spec Sachs forks and a fully adjustable (except ride height) Sachs shock. The 900`s suspension is set up softer and the dual seat is lower (if not low...) at 34.4in (875mm), against the R`s 35.0in (890mm).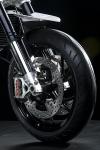 The other main differential between 900 and 900R, aside from a smattering of carbon fibre bits and bobs, is the pair of Brembo Monobloc callipers attached to the R`s forks, where the 900 has to get by with lower spec stoppers by the same manufacturer.
The styling is dramatic, angular and lean, with plenty of pleasing details such as the matt grey engine covers and fire red valve cover, although colour choice is limited: the 900 comes in black only while the 900R has some red and white too, but only the one scheme.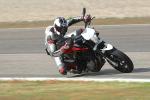 The riding position feels like a legacy of Husqvarna`s off road machines with wide bars and an upright rider stance, and the bike is very narrow in the waist area where your knees are. It`s slender down its whole length in fact, although this does make the radiator look vulnerable, especially on the right where its connecting hoses are. The seat`s narrowness helps to disguise its height, though this will still be too much for some shorter riders, but it couldn`t be much lower as the fuel is stored beneath - all 2.9 gallons (13 litres, 3.4 gallons US) of it, so you certainly wouldn`t want to steal any more volume from that.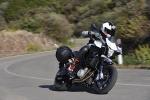 No, it`s not a lot, which I`ll come to later, but I can say now that the engine works extremely well: it`s hard to believe judging by feel and performance that it has anything to do with the F800 original. Fire it up and it responds with an edgy snarl, and once rolling the throttle response is immediate to the point of being aggressive. There is a softer `rain` engine map but this also dims the motor`s character, although it`s worth using around town as the surge and thrust in first and second gears could catch you out when you`re trying to trickle along.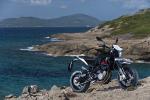 Give the bike some room and the mid-range muscle is huge, making it a real pleasure to fire from bend to bend and on the race track (our test took in road and circuit riding). But it does still rev if you need to hang on to a gear, past the 9,000rpm red zone if you have to, although you get the best from the motor changing up sooner. The 900R feels more responsive but busier, thanks to having one tooth less on the front final drive sprocket.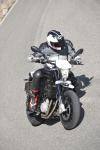 While the motor is powering you forward it`s adding to its appeal with a seductive, bubbling exhaust note that hints more at V-twin than a parallel one. The firing intervals in fact are the same as a Milwaukee cruiser`s, although this one sounds like its wild mutant cousin. It`s smooth too, surprisingly perhaps considering the oddball crank and balancer layout, but the consequence is a lack of the kind of tingling vibes that can numb fingers on longer trips.
Good so far then, especially as it`s up there with KTM`s 990 SM-T engine in rider appeal, yet the overall Nuda package still isn`t convincing. According to Husqvarna, the bike has been developed as a crossover between supermoto and naked bikes, and can`t be "...shoehorned into any specific category." The problem with that is, the bike seems unsure of what it wants to be.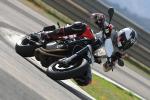 It works pretty well on the circuit, but despite the light weight and easy manoeuvrability it`s not a track bike. The forks dive a lot when you brake hard, especially the R`s as the Monoblocs are absolutely ferocious. I really think these are too much for street riding, and even on a track they can be a bit much. It`s possible to specify less aggressive pads when you buy the bike, which a dealer might or might not charge for, and I`d recommend doing that from the outset, or you`ll be over the front in your first emergency stop.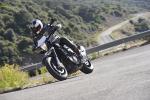 The bike swings into turns readily enough and ground clearance is pretty good too, but when you grab the wide bars and really try to force it to change direction it gets reluctant, starts to writhe and will even respond with a wobble or two from the front. On the road this is much less noticeable and the bike feels much more at home swinging through bends than being wrestled. The stock 900 though is too soft for sportier road riding, feeling more like it`s set up for comfort, and generally there`s something of an anaesthetic feel to the front end.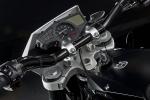 The seat though most definitely isn`t set up for comfort. Husqvarna was keen to emphasise the touring aspect of the bike`s portfolio, even equipping half the road test bikes with panniers (compact expandable ones borrowed from BMW`s K1300S accessories list - note these are not standard equipment though). But you really wouldn`t want to spend more than an hour sat on the Nuda as that`s all it takes before you`re shifting side to side in search of relief. The passenger fares even less well, with an iPhone sized pad to perch on and inadequate fore and aft space.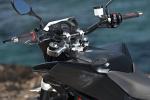 Then there`s that 13 litre tank. It`s not as hopeless as its sub-3 gallon volume sounds as the engine is exceptional thrifty with fuel for BMW, and even the hopped up Husky version is claimed to use juice at 53mpg (18.9km/l, 5.3l/100km, 44mpg US) at a steady 75mph (120kph). The R with its shorter gearing is worse though at 47mpg (16.8km/l, 5.9l/100km, 39.5mpg US), and if you start to get enthusiastic (which surely you should be on a bike like this) and cruise faster than 75mph, as many riders do, then a 900 rider will find he`s dry at 130 miles (210km) while an R could be spluttering to a halt at 115 miles (185km) from fill-up.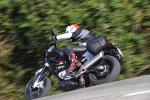 This and the seat make a mockery of the touring claims, the only saving grace being that at least the too frequent fill-ups will give your backside a chance to recover. The wind-protection is poor at speed too, as the small windshield in front of the dash is very close to the rider so its wind shadow hasn`t had time to develop and spread to a larger area by the time the slipstream hits you.
Yet you can buy a tankbag as well as those panniers from the extras list, so there`s certainly seriousness about the claims and presumably the desire to do this, it`s just that the bike doesn`t fulfil them. Sounds like an area where BMW should have been asked for more assistance.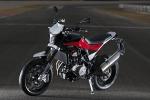 As it is, what should have been Husqvarna`s pitch straight at the KTM 990 SM-T fails to match the Austrian bike`s versatility. Okay, the KTM could also do with a larger tank, but it`s less of an issue while long distance comfort is exceptionally good, yet it also handles better on bumpy back roads.
That does leave the Husqvarna hard to shoehorn into a specific category, but rather than straddling any two it`s caught falling between them. You can`t really tour yet it`s not a great track bike. It is fun and sporty on the road, the engine is fabulous and it looks good, but it`s not as Husqvarna claims, whatever you want it to be.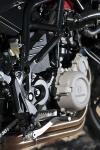 Specifications
Model tested: Husqvarna Nuda 900 (900R)
UK price: £7,850 (( £9,250)
Available: end 2011
Engine: parallel twin cylinder, liquid cooled, dohc 8v, 898cc
Power: 103bhp (105PS, 77kW) @ 8,500rpm
Torque: 74lb.ft (10.2kgm, 100Nm) @ 7,000rpm
Economy: 53mpg (18.9km/l, 5.3l/100km, 44mpg US) @ 75mph (120kph) claimed
(900R: 47mpg (16.8km/l, 5.9l/100km, 39.5mpg US) @ 75mph (120kph) claimed)
Tank/Range: 2.9 gallons (13 litres, 3.4 US gallons) / 150 miles (245km) @ 75mph (120kph) claimed
Transmission: Six gears, wet multi-plate clutch, chain final drive
Chassis: tubular steel trellis
Seat height: 34.3in (870mm) (34.4-35.2in (875-895mm) ride height adjustable)
Wheelbase: 58.8in (1495mm)
Rake/trail: 24.5 °/3.98in (101mm)
Weight: 384lb (174kg) dry. 430lb (195kg) wet (with 12 litres of fuel)
Recent comments
In HONDA NC700X, kharli wrote:

In HONDA NC700X, kharli wrote:

In HONDA NC700X, Grump wrote:

In HONDA NC700X, kharli wrote:

In Lest we forget..., Captain Scarlet wrote:

In Captain Scarlet's next bike, malauder wrote:

In Captain Scarlet's next bike, Captain Scarlet wrote:

In Benelli 750 SEI, CCM wrote:

In Benelli 750 SEI, Gekom57 wrote:

In Benelli 750 SEI, Gekom57 wrote:

In Captain Scarlet's next bike, Grump wrote:

In Captain Scarlet's next bike, Navy Boy wrote:

In Captain Scarlet's next bike, Captain Scarlet wrote:

In Captain Scarlet's next bike, Grump wrote:

In HONDA NC700X, Grump wrote:

In Lest we forget..., Navy Boy wrote:

In Lest we forget..., unconventional rebel wrote:

In Captain Scarlet's next bike, unconventional rebel wrote:

In HONDA NC700X, unconventional rebel wrote:

In Lest we forget..., davvy wrote:
Donate to the Kevin Ash Fund
Kevin's funeral was held on Thursday 28th February 2013 and was well attended by family, friends and colleagues.
The Telegraph has very kindly established The Telegraph Kevin Ash Fund to assist with the education of Kevin's three daughters.
If you'd like to make a donation then you can use the PayPal 'Donate' button below which will allow you to donate from your PayPal account, or via credit or debit card. A small percentage (about 3.4%) will be retained by PayPal for the service.
Kevin's family have been touched by the generosity and messages of support from people using the website and would like to express their gratitude to those who have contributed in any way.
The donations keep coming in, thank you so much, and the family especially like it when you leave a message.