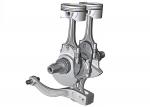 By Kevin Ash
Pictures: BMW Press


Smaller manufacturers such as BMW don't come up with new engines as often as the Japanese Big Four, but when they do there's often a feast of technical innovations to feed on. Sure enough, the F800 motor offers some rich pickings for tech-heads, in particular its innovative counterbalance system. This is the mechanism it uses to kill the devastating vibration you'd normally expect from a relatively high revving, big capacity parallel twin.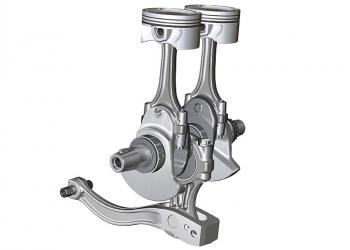 Click on image for galleryParallel twins offer plenty of advantages to engine designers, in particular their very compact design and the fact both cylinders share camshafts and their drives. Arranging the intake and airbox is very straightforward too. This makes them cheaper and much easier to package within a motorcycle chassis than V-twins, and they also have a highly centralised mass which helps handling, but their big disadvantage is vibration.

The conventional solution is to use rotating balance shafts, or as they're correctly known, Lanchester shafts, after Dr Frederick Lanchester who invented them in the early part of the last century. But these are quite costly – often two are needed, driven from the crank to rotate in opposite directions, and they sap significant power. More pragmatically, the patent was obtained by Mitsubishi in 1976 and most designs require licence payments.

So the F800 instead uses a third 'slave' conrod to drive a bobweight positioned beneath the engine. One end of the conrod attaches to a crankpin in the centre of the crank, 180 degrees away from the two cylinder crankpins. The other end is connected to a horizontal arm which pivots on a point behind the gearbox, and the bobweight is on the end of this arm close to the conrod connection. As a result, the bobweight moves up when the pistons move down, and vice versa, balancing them throughout the engine's cycle.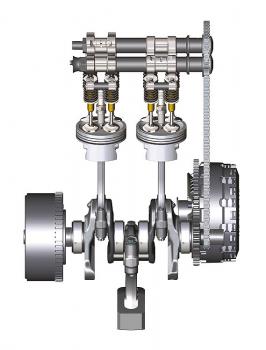 In fact although the pistons' movement is perfectly linear up and down the bores, the bobweight's movement isn't. BMW has used a long locating arm which means it's nearly so, but in fact the weight moves through a large-radius arc. Some of this counterbalances the oscillating forces of the conrods, but in practice it means the engine can't be perfectly smooth. Even so, it brings vibration down to acceptable levels despite the motor being a fully stressed frame component allowing every vibe and tingle to get through to the rider. This system uses less power than Lanchester shafts too.

The system is similar to that used by Ducati on its Supermono race bike, but because the conrod-driven bobweight on the Supermono is at 90 degrees to the single cylinder (so the engine mimics a 90-degree V-twin), and the F800's is opposite the cylinders, BMW says no patents are infringed. Yamaha's T-Max parallel twin also uses a slave conrod opposite the cylinders, but this drives a dummy counterbalancing piston, so that's different too. Even so, BMW is not the first with this idea, and I know of at least one other engine manufacturer which is studying the F800 system very closely with a lawyer peering over its shoulder…

* BMW F800 GS test
* BMW F650 GS test



Wed, 17/12/2008 - 09:27
#1
shuggiemac
Offline
Damn, I was reading through the article thinking to myself - hang on Ducati did this on the Supermono a few years back - and feeling all smug with myself and then you had to go and mention it too!
Remember the old Norton isolastic engine mounts? I suppose a modern version of that would be out of the question if the engine is a fully stressed frame member. It is interesting that after all this time we are still searching for something to balance out the parallel twin. It has been around for such a long time.
Recent comments
In Moto Guzzi Norge, Captain Scarlet wrote:

In Moto Guzzi Norge, Navy Boy wrote:

In Moto Guzzi Norge, Navy Boy wrote:

In Moto Guzzi Norge, Captain Scarlet wrote:

In Moto Guzzi Norge, Navy Boy wrote:

In Moto Guzzi Norge, Captain Scarlet wrote:

In Moto Guzzi Norge, Navy Boy wrote:

In Moto Guzzi Norge, Navy Boy wrote:

In Holding back the gears, Navy Boy wrote:

In Ducati Multistrada MTS1200, Maksim wrote:

In Ducati Multistrada MTS1200, pdm-dk wrote:

In MCN Bike Show, Navy Boy wrote:

In Clearance approved, pittsy wrote:

In Clearance approved, kharli wrote:

In Ducati Multistrada MTS1200, Bails wrote:

In Ducati Multistrada MTS1200, CCM wrote:

In Clearance approved, old blue wrote:

In Same as the old boss?, pittsy wrote:

In Yamaha FJ09 - Tracer, Navy Boy wrote:

In Yamaha FJ09 - Tracer, Captain Scarlet wrote:
Donate to the Kevin Ash Fund
Kevin's funeral was held on Thursday 28th February 2013 and was well attended by family, friends and colleagues.
The Telegraph has very kindly established The Telegraph Kevin Ash Fund to assist with the education of Kevin's three daughters.
If you'd like to make a donation then you can use the PayPal 'Donate' button below which will allow you to donate from your PayPal account, or via credit or debit card. A small percentage (about 3.4%) will be retained by PayPal for the service.
Kevin's family have been touched by the generosity and messages of support from people using the website and would like to express their gratitude to those who have contributed in any way.
The donations keep coming in, thank you so much, and the family especially like it when you leave a message.