Pictures: Daniel Kraus, Alberto Martinez, Max Kirchbauer, Bernhard Limberger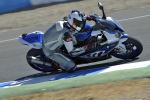 There aren't many S1000RR owners pining for better performance. But if they ever get to try the new HP4, they're going to want one anyway...
This is the fourth bike in the exclusive HP series, following on from the HP2 Megamoto and Enduro and the HP2 Sport, but it's a little different from the previous ones as BMW has minimised the cosmetic changes and concentrated instead on performance enhancement. Because the S1000RR really needed that...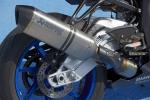 The two major component changes are to the exhaust and wheels. An all-titanium Akrapovic system replaces the stock S1000RR pipework, saving a useful 9.9lb (4.5kg) in the process, while instead of the standard cast wheels the HP4 uses forged and machined items which save a total of 5.3lb (2.4kg). This is very effective weight to lose as it not only makes the bike lighter overall, lighter wheels sharpen the steering response and by reducing unsprung weight, improve suspension performance and grip. They have less rotational inertia too, which means better acceleration and braking.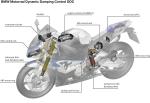 The HP4's headline feature though is its motorcycling first semi-active suspension. BMW calls it Dynamic Damping Control (DDC), and it adjusts automatically, very rapidly and on the fly the damping settings front and rear according to a whole range of parameters. The system softens on bumpy roads, firms up the front under heavy braking, alters both ends during cornering, firms the rear when you're accelerating and so on. The suspension is also changed according to which map you've selected, from Rain, Sport, Race or Slick, along with the traction control and ABS.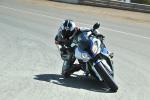 Both of these have moved on the already outstanding S1000RR's electronics, with the ABS now including a mapping called IDM, developed during the German superbike championship - this is automatically selected in Slick mode, and if it gets in your way you stand a good chance of regular podiums in German superbikes... Many racers switch off the rear ABS to assist backing the bike into corners but leave the front on. The traction control has been refined in all its guises, but a bigger change is the new facility to alter it in Slick mode while riding, so you can even change settings for different corners as you approach them. Good luck with that...
You also get launch control, where you hold the throttle wide open and the electronics restrict the engine to 8,000rpm. Control the acceleration with the clutch and the busy German electrons control the engine torque and front wheel lift for you.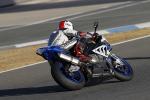 The HP4's engine is unchanged internally but the new exhaust with associated mapping changes has boosted mid-range torque, a move designed not just to help drive out of corners on the track but to make the bike easier to ride on the roads too. Further electronic changes are aimed at providing an easier and more intuitive ride-by-wire throttle action.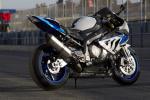 With the S1000RR as the starting point, the HP4 was never going to be bad, but it could have been a bit scary... Instead, it's not only the fastest, hardest cornering superbike you can buy, it's one of the most natural and easiest ones to ride, either at normal speeds or making full use of its performance. If the original RR had a weakness it was that it didn't feel as telepathically obedient as the fabulous Honda Fireblade. The 2012 S1000RR is a big improvement, and for all its performance enhancements, the HP4 is better still.
It is of course ferociously fast. German horses must be more muscular than other people's because the HP4's 190bhp (193PS, 142kW) feels 20bhp more than the 190bhp of Ducati or Kawasaki. I rode the bike at the fabulous Jerez circuit in Andalusia, and at the end of the back straight where other superbikes start to feel their speed, the BMW's still accelerating with merciless force.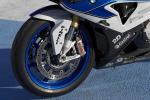 With the stock Pirelli Diablo Super Corsa SP tyres the braking power is immense - BMW has fitted a new compound pad to the radial Brembos, which are not new to the bike as reported elsewhere, it's only the pads that have been changed. With Pirelli superbike slicks fitted - as BMW did for the 34 °C afternoon session - the retardation is triceps ripping, yet even when you do manage to get the occasional squeak out of the ABS and the bike's slowing so hard your nose starts to bleed, the stability is astonishing. This is undoubtedly due to the HP4's DDC, which prevents the front end compressing as quickly as conventional forks and keeps the rear in better contact with the ground, although it does give something of the reluctant-to-turn sensation you also get with Big Piston forks. So put some effort into the bars, alter your lines accordingly and you discover just how late it's possible to trail the front brake into the turn. As for direction changes without braking, the HP4's agility is noticeably sharper than the S1000RR's, which in turn is hardly an oil tanker.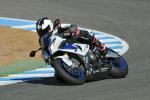 But then it's the turn of the traction control. In Sport the dash light flashes and the power is cut too early for track riding, in race it's much better, although you can alter and personalise the level before you set off anyway. In Slick the limits are yours, not the HP4's: there are 15 levels from +7 to -7, the highest amount of intervention to the lowest, and by -3 my heart was pounding hard enough to bruise my ribs as the rear tyre smeared Italian rubber in great, sweeping curves across Spanish Tarmac.
In all settings the traction control is sensationally effective and its range so broad every rider can find something that suits his style and sense of self preservation, and with more time, by gradually backing it off you can improve your riding ability in amazing safety, given what you're doing.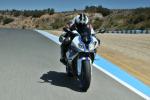 Drive out onto the straight, with the filled-out mid-range pushing the HP4 harder than ever, and the bike bangs up through the quick-shift-selected gears with satisfying smoothness, though it's better to dab at the lever rather than push it for too long or it can feel lumpy as the ignition cuts for slightly too long. Ride hard like this and you'll never notice the suspension changing its settings for you, it's only when bimbling around, such as re-learning a circuit, that you occasionally notice an odd resettling of the bike, like a very small pillion has shifted their weight.
If you do get a chance to try the launch control, it comes across more as a fall-back option rather than the quickest way you'll get off the line. You won't wheelie and won't bog down so a pretty quick getaway is assured, but a good, fully manual launch will be quicker. As long as you don't flip your HP4...
What came across most forcefully after a day with the HP4 and Jerez is not so much the imperious performance of this technological masterpiece, it's how it has progressed in terms of usability and sheer ease of riding. You could take it out of the crate and win a superbike race on it (well, a few people could...), or you could pass it to a novice to take their bike test on. It never threatens, only enhances and extends what you want to do, and it does so like the electronics have plugged in to your neurons.
All it lacks is that aura of emotion and desire which surrounds the Panigale. Open the garage door to an HP4 and your heart will pound in anticipation at the phenomenal speeds you'll be doing. Open the door to a Panigale and you'll probably just look at it for a while thinking sweaty thoughts. You might even go back indoors and grab the girlfriend...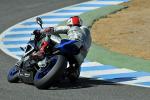 But the HP4 is so good, its performance so towering, and it's so very easy to make very fast, it will for many riders transcend that indefinable Italian sexiness with the sheer force of German rationality. It's cheaper, it's faster, it's probably more satisfying and certainly easier to ride, and as a road bike it will stand head and shoulders above most other superbikes, wherever they're from. Oh yes, and it's got heated grips...
Specifications
Model tested: BMW HP4
UK price: £16,000 est (Carbon, £19,000 est)
Available: end 2012
Engine: four cylinder, liquid cooled, dohc 16v, 999cc
Power: 190bhp (193PS, 142kW) @ 13,000rpm
Torque: 83lb.ft (11.4kgm, 112Nm) @ 4,750rpm
Economy: 48mpg (16.9km/l, 5.9l/100km, 40mpg US) (at 75mph/120kph claimed)
Tank/Range: 3.9 gallon (17.5 litres, 4.6 gallons US) / 185 miles (300km)
Transmission: Six gears, wet multi-plate clutch, chain final drive
Chassis: aluminium twin spar
Seat height: 32.3in (820mm)
Wheelbase: 56.0in (1422.7mm)
Rake/trail: 24 ° / 3.9in (98.5mm)
Weight: 439lb (199kg) wet, 90% full tank
Recent comments
In HONDA NC700X, kharli wrote:

In HONDA NC700X, kharli wrote:

In HONDA NC700X, kharli wrote:

In HONDA NC700X, Grump wrote:

In HONDA NC700X, kharli wrote:

In Lest we forget..., Captain Scarlet wrote:

In Captain Scarlet's next bike, malauder wrote:

In Captain Scarlet's next bike, Captain Scarlet wrote:

In Benelli 750 SEI, CCM wrote:

In Benelli 750 SEI, Gekom57 wrote:

In Benelli 750 SEI, Gekom57 wrote:

In Captain Scarlet's next bike, Grump wrote:

In Captain Scarlet's next bike, Navy Boy wrote:

In Captain Scarlet's next bike, Captain Scarlet wrote:

In Captain Scarlet's next bike, Grump wrote:

In HONDA NC700X, Grump wrote:

In Lest we forget..., Navy Boy wrote:

In Lest we forget..., unconventional rebel wrote:

In Captain Scarlet's next bike, unconventional rebel wrote:

In HONDA NC700X, unconventional rebel wrote:
Donate to the Kevin Ash Fund
Kevin's funeral was held on Thursday 28th February 2013 and was well attended by family, friends and colleagues.
The Telegraph has very kindly established The Telegraph Kevin Ash Fund to assist with the education of Kevin's three daughters.
If you'd like to make a donation then you can use the PayPal 'Donate' button below which will allow you to donate from your PayPal account, or via credit or debit card. A small percentage (about 3.4%) will be retained by PayPal for the service.
Kevin's family have been touched by the generosity and messages of support from people using the website and would like to express their gratitude to those who have contributed in any way.
The donations keep coming in, thank you so much, and the family especially like it when you leave a message.