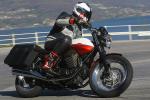 Moto Guzzi`s thoroughly revised V7 Special is hardly lacking in authenticity. Not only is it built in the same factory as the original V7 machines of the 1970s, its engine is directly developed from the V50 of the same decade.
Stronger still, that was a product of one of the great motorcycle designers, Lino Tonti, the man responsible for the famous V7 Sport Telaio Rosso. The new bike still retains the crankcase and crankshaft of the previous V7 model introduced in 2008, the Classic, but Guzzi says around 70 per cent of the Moto Guzzi V7 Special`s components are new or modified. The aim was to improve the power output, considered feeble by many at just 42bhp, although the engine was still lively enough to be interesting, and broaden the spread of torque.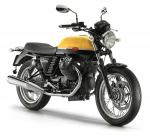 The main changes have been made to the cylinder heads, intake system and pistons, which on this family of small block Guzzis, unusually contain the combustion chambers. The design is called a Heron head, also used in the 1970s and 1980s by Moto Morini on its V-twins, and is characterised by parallel inlet and exhaust valves set into a flat cylinder head surface.
The design is associated with high efficiency because Heron head engines are generally more economical than average, but it`s not quite as simple as that. In fact, the gas flow in and out of these engines is less efficient, making them reluctant to rev high (and the heavy pistons preclude this anyway) so they`re economical more because they`re low powered and won`t rev hard than through any efficiency advantages.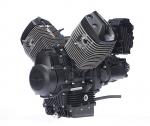 The real motive is low production cost, although the cylinder heads tend to be more compact too, an additional advantage on a layout such as the Guzzi`s. Even so, Guzzi`s modern day engineers have managed to boost power to 50bhp, and the torque is stretched wide across the rev band, so much so that although the company claims the 43lb.ft (5.9kg.m, 58Nm) torque peak is at a subterranean 2,800rpm, it admits it could be even higher below this level, it`s just that the factory dyno can`t measure torque accurately at any lower revs!
The Moto Guzzi V7 Special`s fuel efficiency has been improved too, by a claimed 10 per cent, leading to a claim of 64mpg (22.7km/l, 4.4l/100km, 53.3mpg US) in mixed riding conditions, although there`s no real way to compare this with other bikes. But the old model was very good on fuel so this might well be reasonably realistic, which in turn means the 4.8 gallon (22 litre, 5.8 gallon US) will be good for an astonishing 300 miles (480km).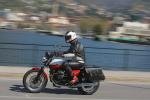 A factor in the torque and economy gains is the new intake layout, which comprises a central, single throttle body feeding both cylinders via long intake tracts. It`s helped by the replacement of the previous single lambda probe by a twin lambda set up, which means the fuel mixture in each cylinder can be monitored and modified independently. It`s this which has allowed the compression ratio increase from 9.2:1 to 10.2:1, a key element of the overall efficiency hike.
While they were at it, the design team changed the styling of the cooling fins to a more rounded, slightly wider spaced design, more reminiscent of bikes of the 1970s, if a little ironically reversing the modernisation of the V50 carried out by Tonti at the end of that decade.
The rest of the Moto Guzzi V7 Special has been subjected to less change. The shaft drive transmission is unaltered aside from improvements to the gear selector mechanism, and apart from the wheels, the chassis has been left alone. These are substantially lighter than the previous model`s (that includes the cast ones of the lower priced V7 Stone, also distinguished by its matt black or white paint) and the wire-spoked ones of the V7 Special.
The new V7 Racer also uses the wire-spoked wheels and features a host of other changes. (Review coming soon)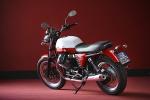 One final area worked on by Guzzi is evident as soon as you start up the bike: the sound. The previous version made a slightly incongruous gargling growl on the overrun yet was bland the rest of the time, but the new one`s careful aural tuning has resulted in a melodic idle and appealing bubbly soundtrack when putting the engine under load.
None of the old bike`s eagerness has been lost in the new engine, despite its better emissions which can often dull a motor`s response. Instead it pulls vivaciously and for much of the time has the feel of an engine with a significantly higher output than 50bhp. It`s the generous torque behind this of course, and the bike`s ability to bowl along in fourth or top gear without feeling breathless, which is exactly how most riders use their bikes most of the time.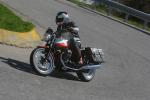 The light weight plays an important role in the bike`s liveliness - at 395lb (179kg) it`s a hefty 99lb (45kg) lighter than the Triumph Bonneville and 82lb (37kg) less than the Kawasaki W800, its two main rivals - it makes more power than the Kawasaki too. This shows up even more in the handling, which is agile enough to be really enjoyable, yet thanks to the conservative steering geometry is plenty stable enough to inspire confidence in the many novice riders who`ll be attracted by the Moto Guzzi V7 Special. It`s noticeably more responsive to the bars than the previous model, which will be due to the new wheels - 3.2lb (1.44kg) less for the front and 1.9lb (0.86kg) for the rear - and these aid acceleration and braking too.
A disadvantage for tyro riders though is the seat height. It`s not too bad at 31.7in (805mm) but the British bike at 29.1in (740mm) has more appeal for shorter riders despite carrying so much more weight. Guzzi clearly has attempted to ameliorate this by using a minimum of seat padding, but the downside of that is comfort suffers. On my relatively short stints on board it wasn`t too bad but I`m pretty sure if you make full use of that tank range you`ll be feeling it in your backside.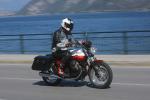 The riding ergonomics otherwise are good, with a spacious seat-bars-pegs layout (where the high seat does help) that suits taller riders, although as the bike itself is compact, someone over 6 foot (1.83m) does look rather oversized on it even if they feel okay. The footrests might feel a touch too far forward for some riders though.
The steering is exceptionally good, even at very low speeds remaining completely neutral - being tested and built in a mountainous region full of hairpin bends is good motivation for this. The suspension though is less impressive as it`s underdamped, and as soon as you start to push a little harder it gets bouncy and flustered. At lower speeds it`s generally fine, although if you hit a pothole or sharp ridge it can jar right through the bike.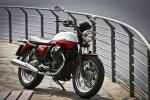 Generally though it`s all good so far, unless you like to really rev an engine. Spin the V-twin harder than 6,000rpm and the previously pleasing shakes and shudders which are an important element of the bike`s character and communication with the rider turn against you, vibrating nastily through all your contact points with the machine. Take it to the red line and the footrest buzz is borderline painful.
Instead, the Moto Guzzi V7 Special should be treated more like Honda`s NC700X, which has a similar lowly rev ceiling and unwillingness to rev. Ride the torque, the low and mid-range power and you`ll be rewarded by good economy and a pleasing riding experience.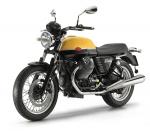 It looks great too, arguably even better than before with its choice of richly applied red and white or yellow and black paint options, while the revised intake design has left a gap between the cylinders which shows them off to even greater effect.
The V7 Special is a light, wieldy and very good looking bike that trounces its rivals on weight, brings real authenticity to the class and backs that up with a fine and fun riding experience. It`s not perfect but it deserves to be the key in reviving Guzzi`s sales which the factory is hoping.
Specifications
Model tested: Moto Guzzi V7 Special
Price: £6,930
Available: now
Engine: 90-degree V-twin, air cooled, sohc 4v, 744cc
Power: 50bhp (50PS, 37kW) @ 6,200rpm
Torque: 43lb.ft (5.9kg.m, 58Nm) @ 2,800rpm
Economy: 64mpg (22.7km/l, 4.4l/100km, 53.3mpg US)
Tank/Range: 4.8 gallons (22 litres) / 310 miles (500km)
Transmission: Five gears, shaft final drive
Chassis: tubular steel
Seat height: 31.7in (805mm)
Wheelbase: 57.0in (1449mm)
Rake/trail: 27.8 °/4.83in (123mm)
Weight: 395lb (179kg) without fuel
Recent comments
In HONDA NC700X, kharli wrote:

In HONDA NC700X, kharli wrote:

In HONDA NC700X, kharli wrote:

In HONDA NC700X, Grump wrote:

In HONDA NC700X, kharli wrote:

In Lest we forget..., Captain Scarlet wrote:

In Captain Scarlet's next bike, malauder wrote:

In Captain Scarlet's next bike, Captain Scarlet wrote:

In Benelli 750 SEI, CCM wrote:

In Benelli 750 SEI, Gekom57 wrote:

In Benelli 750 SEI, Gekom57 wrote:

In Captain Scarlet's next bike, Grump wrote:

In Captain Scarlet's next bike, Navy Boy wrote:

In Captain Scarlet's next bike, Captain Scarlet wrote:

In Captain Scarlet's next bike, Grump wrote:

In HONDA NC700X, Grump wrote:

In Lest we forget..., Navy Boy wrote:

In Lest we forget..., unconventional rebel wrote:

In Captain Scarlet's next bike, unconventional rebel wrote:

In HONDA NC700X, unconventional rebel wrote:
Donate to the Kevin Ash Fund
Kevin's funeral was held on Thursday 28th February 2013 and was well attended by family, friends and colleagues.
The Telegraph has very kindly established The Telegraph Kevin Ash Fund to assist with the education of Kevin's three daughters.
If you'd like to make a donation then you can use the PayPal 'Donate' button below which will allow you to donate from your PayPal account, or via credit or debit card. A small percentage (about 3.4%) will be retained by PayPal for the service.
Kevin's family have been touched by the generosity and messages of support from people using the website and would like to express their gratitude to those who have contributed in any way.
The donations keep coming in, thank you so much, and the family especially like it when you leave a message.