Moto Guzzi Stelvio 2011 review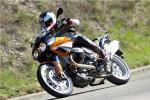 Moto Guzzis so often are nearly there... but not quite. They`ll have the spec, the looks, the power, plenty of goodwill towards this 90 year old company, then some irritating flaw will break the deal.
The new Stelvio though finally shakes off this unhappy tradition. It`s pitched as the Stelvio always has been, directly at BMW`s R1200GS, and this time, if you go for the Guzzi instead of the default German bike, you don`t have to suffer for your eccentricity. In short, Moto Guzzi has done it, the Stelvio is a match, and for many riders even, it`s a better choice.
Stelvio NTXThere are two Stelvio models, the 8V and the NTX, aligned approximately with BMW`s stock GS and the more off-road biased GS Adventure, but both share the same important parts. The engine uses the same cam-timing as the 2010 model, which was revised to address criticisms of peakiness in earlier models by increasing low and mid-range torque. For 2011 the mapping has been refined, each cylinder`s fuelling now being treated independently using a pair of lambda sensors rather than making do with an average of the two. An effort has been made to quieten the internals too, with revisions to the valve gear and oil pump gears and plenty of internal noise baffles and shields to calm the clatter generally. The clutch is modified for a smoother action and better durability, while the oil cooling capacity is increased to control engine temperature better.
Stelvio 8VThe result, says Guzzi, is an improvement in fuel economy of around 10 per cent, depending on use, as well as better throttle response and increased torque even over the 2010 version. It still makes a peak 103bhp (105PS, 77kW), so top end horsepower hasn`t been affected to any great extent.
Stelvio NTXThe headline change though is to the fuel tank. Not its shape - the external styling is as before here, although the fairing is reshaped to remove the old Stelvio`s surprised idiot look - but the volume. This is up from the old 18 litres to a cavernous 32 litres (7.0 gallons Imp, 8.4 gallons US), and both bikes get it, not just the NTX. This transforms the Moto Guzzi Stelvio`s touring ability on its own, as previously the range was inadequate. It was difficult to judge economy accurately on the press launch but the bike appeared to be capable of 42mpg (15km/l) in normal riding, possibly more, which is enough to nudge 300 miles (480km) from full to empty. Take it easy and you might be wondering if the bike is ever going to run out of fuel again. By comparison, BMW`s GS Adventure has a 33 litre tank, so the Stelvio is pretty much on a level with that.
The stock Moto Guzzi Stelvio also gets new alloy wheels - the NTX`s are spoked - and standard equipment includes ABS and a simple traction control system which cuts the spark and injection if the rear wheel acceleration exceeds preset limits. This is not the performance-oriented traction control fitted to Aprilia`s RSV4, just a basic safety aid, and like the ABS it can be switched off if required.
Other standard equipment includes three-level heated grips, and the Stelvio NTX comes with aluminium adventure-style panniers, while the onboard computer reads out economy, elapsed time, average and peak speeds and so on along with the basic functions.
Stelvio 8VNone of which would matter if the Moto Guzzi Stelvio annoyed you with some other flaw. But it doesn`t, in fact all it does is impress in just about every aspect. The classic air-cooled V-twin settles into a metronomic idle, then responds willingly to the throttle, and once rolling the bike pulls hard and smoothly pretty much from idle. There are no fuelling glitches at all and the lower rev torque means you can leave it in top gear even on tighter and undulating roads. Some vibration comes through to the rider, but less than before thanks to new rubber mounting for the bars, and what does reach you is a chunky low frequency vibe that feels more like the motor communicating with you.
Stelvio NTXWhether or not it`s stronger than the GS at low revs is hard to tell, likely the BMW is quicker as it`s carrying less weight, but this is irrelevant anyway, you wouldn`t buy a Stelvio to race a GS. What really matters here is that it`s more than enough for this bike, and its willingness and crisp response make the engine a real pleasure to use. Rev it hard and it starts to feel flat, but with so much thrust lower down there`s absolutely no need, as there once was on the original version.
Plop a passenger on the bike, pile on some luggage and even facing a steep Alpine pass, the Moto Guzzi Stelvio will muscle its way up the ribbon of asphalt eagerly and effectively. Maybe it`s a touch sudden when crawling along in walking pace traffic - a small excess of transmission lash is the fault - and perhaps the gearchange has slightly too much travel for some. But these are tiny issues, no worse than the irritations of the bike`s best rivals. In short, motor and transmission perform outstandingly, and better still, the engine is a real pleasure to be in charge of, with its mellow purr of an exhaust and involving shakes and shudders.
Stelvio 8VFar from letting the side down, the chassis absolutely enhances the Stelvio experience. The suspension - inverted Marzocchi forks and a Sachs rear shock, all fully adjustable, though I felt no need - is superbly plush yet extremely well controlled. The route through Tuscany took in some severe and very rough surfaces, yet most riders hardly seemed to notice as the bike absorbed everything with panache, yet it still took to some hard riding as if that was its main purpose. The shaft drive has had its geometry modified slightly and is completely unobtrusive, even doing silly things with the throttle in mid-corner.
The handling generally errs on the side of stability over agility, but it`s extremely stable yet still responsive enough to make sinuous roads enjoyable, while the brakes offer enough feedback to keep sportier riders happy. There`s a fair amount of dive, especially compared with the ultra-stable, anti-dive Telelever suspension of the GS, but there are no nasty surprises waiting if you do happen to slam on the brakes and invoke the ABS.
Stelvio 8VIt`s on twisty back roads that you might notice the Stelvio`s 567lb (257kg) weight. That`s measured with some fuel on board (not specified...) but not a full tank, and it`s what will make the Stelvio a real handful off road, if you`re brave enough. I didn`t get an opportunity to try, but I can`t say I missed it much. The BMW is a clear winner here with its 505lb (229kg) mass, and usefully more flickable as a result, while the Stelvio is close to the Yamaha`s 576lb (261kg), although it doesn`t feel it. It feels perfectly manageable in fact even with the huge tank brim full, such is the excellent balance and ease of control.
Stelvio 8VNo doubt the luxurious ride plays its part in the bike`s exceptional comfort, but there are other factors too. The new seat is a fine place to park your behind, and it`s lower than a stock GS`s too (although BMW has low seat options) as well as Yamaha`s Super Tenere seat. Average height riders should be confident enough in manoeuvring the bike around. But it`s the aerodynamics which impress too. The Moto Guzzi Stelvio NTX has a larger screen than the stock bike`s which is very protective at speed yet the airflow is smooth and quiet too. The standard Stelvio`s is good if a little noisier while fending off less of the windblast, but both are superior to their GS equivalents, especially the NTX compared with the GS Adventure.
On the back there`s a reasonable amount of space although some couples will find themselves fighting for foot room as the pegs are close together. Others though will be fine, so this is worth checking out. The passenger sits quite low behind the rider and is well protected from the airflow, and the grab handles are intelligently placed too - this is a good two-up machine, especially as the rear pre-load is easily increased with a remote, chunky adjuster.
Stelvio NTXThe capacity of the aluminium adventure luggage is good but you always need the key to open it, where a BMW`s can be left unlocked so you simply unlatch it with your fingers. The lock is fiddly and unconvincing too, and you can only open the lid from the rear end, not both as in BMW`s design. The panniers are set very wide on their brackets too which makes the bike awkward in traffic.
No electronic suspension adjustment options though, nor some of the other extensive accessories that BMW tempt buyers with, but the Moto Guzzi Stelvio is well equipped as standard, and it`s unrealistic to expect a low volume manufacturer like this to offer a wide range of factory options. Check out the prices anyway: £10,549 for the Stelvio, £11,649 for the NTX: an R1200GS looks competitive at £10,550, but add heated grips, computer, ABS and traction control, and you`ve bumped it up to £12,220. It`s a similar story with the £11,600 GS Adventure. Yamaha`s Super Tenere meanwhile is distant spec on the high price horizon.
Stelvio 8VThere`s no need to go for the Stelvio for its relative budget price though, it really does compete with the GS on level terms, and it comes out better in terms of comfort, wind protection and range of the standard models, while throwing into the mix its unique and highly appealing character. Even the quality appears to be very good (this is dealt with by Aprilia these days), while BMW has had issues in this respect.
Opt for a Stelvio then and you lose very little while gaining some individuality - BMW does suffer for the vast numbers of GSs everywhere, even if it`s a good problem to have - and making a useful saving too.
2011 Moto Guzzi Norge GT 8V review here!
Specifications
Model tested: Moto Guzzi Stelvio 8v (Stelvio NTX)
UK price/availability: £10,549 ( £11,649) on the road/now
US price/availability: NTX arrival end 2011-early 2012, price announced nearer the time
Engine: 90-degree V-twin, air cooled, sohc 8v, 1151cc
Power: 104bhp (105PS, 77kW) @ 7,250rpm
Torque: 83lb.ft (11.5kgm, 113Nm) @ 9,500rpm
Economy: 38mpg (14.1km/l, 7.1l/100km, 34mpg US)
Tank/Range: 7.04 gallons (32 litres, 8.4 US gallons)/ 290 miles (470km)
Transmission: Six gears, dry single-plate clutch, shaft final drive
Chassis: steel tube, single-sided aluminium swingarm/shaft
Seat height: 32.3-33.1in (820-840mm)
Wheelbase: 57.6in (1464mm)
Rake/trail: 27 °/ 4.92in (125mm)
Weight: 567lb (257kg) (kerb) (NTX: 600lb)
Recent comments
In HONDA NC700X, kharli wrote:

In HONDA NC700X, kharli wrote:

In HONDA NC700X, kharli wrote:

In HONDA NC700X, Grump wrote:

In HONDA NC700X, kharli wrote:

In Lest we forget..., Captain Scarlet wrote:

In Captain Scarlet's next bike, malauder wrote:

In Captain Scarlet's next bike, Captain Scarlet wrote:

In Benelli 750 SEI, CCM wrote:

In Benelli 750 SEI, Gekom57 wrote:

In Benelli 750 SEI, Gekom57 wrote:

In Captain Scarlet's next bike, Grump wrote:

In Captain Scarlet's next bike, Navy Boy wrote:

In Captain Scarlet's next bike, Captain Scarlet wrote:

In Captain Scarlet's next bike, Grump wrote:

In HONDA NC700X, Grump wrote:

In Lest we forget..., Navy Boy wrote:

In Lest we forget..., unconventional rebel wrote:

In Captain Scarlet's next bike, unconventional rebel wrote:

In HONDA NC700X, unconventional rebel wrote:
Donate to the Kevin Ash Fund
Kevin's funeral was held on Thursday 28th February 2013 and was well attended by family, friends and colleagues.
The Telegraph has very kindly established The Telegraph Kevin Ash Fund to assist with the education of Kevin's three daughters.
If you'd like to make a donation then you can use the PayPal 'Donate' button below which will allow you to donate from your PayPal account, or via credit or debit card. A small percentage (about 3.4%) will be retained by PayPal for the service.
Kevin's family have been touched by the generosity and messages of support from people using the website and would like to express their gratitude to those who have contributed in any way.
The donations keep coming in, thank you so much, and the family especially like it when you leave a message.