Moto Guzzi California 1400 Touring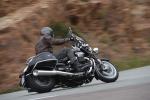 The new California 1400 really needs to work for Moto Guzzi. The company's grown by more than 50 per cent in the last two years, but that's from such a low base it wasn't going to be sustainable for much longer, and with the Piaggio Group feeding a £34 million investment into Guzzi, a major turnaround is demanded: the California 1400 is intended to be a key element of that.
There's no lack of effort in the latest bike to wear the California name, 42 years after the first. Aside from the bottom half of the engine it's an all new machine. The unmistakable air-cooled V-twin has grown in capacity thanks to larger pistons, saving the need for any significant changes to and within the crankcases, which are from the existing 1200 'big block' engine. The crank is almost the same too, aside from having its balance changed to suit, but this is where the new Cali has broken with a Guzzi tradition as its engine is rubber mounted.
Although the motor can move on its mountings, three ball-jointed rods at different angles connecting the engine to the frame control exactly how it does this so there are no issues with the output shaft misaligning with the final drive. It's a similar system to Buell's Uniplanar mounting. What this also means is a break with the Guzzi method of using the engine as a stressed chassis component, something the Mandello factory has done for very many years, which in turn means there's added weight, as the frame now needs to deal with all of the forces which previously were handled in part by the engine.
The alternatives would have been either putting up with the inevitable increased vibration from the bigger pistons, or adding a balance shaft, which would have meant an expensive redesign of the crankcase and internals. As it is, the California 1400 still compares reasonably well with other cruisers at 322kg (710lb) wet, being more than 23kg (50lb) lighter than a Harley Road King.
The motor is also distinctive for its single throttle body, sited centrally and feeding both cylinders through long intake tracts which help to move the torque peak down to very low revs. The maximum is 88lb.ft (12.1kgm, 114Nm) at just 2,750rpm, and this decreases only gently towards the 95bhp (96PS, 71kW) power peak at 6,500rpm. In theory at least this also increases legroom by moving the throttle body away from the back of each cylinder, but we'll come to that.
There's something almost Bauhaus about the California's styling, which combines abrupt edges and steady curves with clean, uncluttered detailing, those fuel tank cutouts to emphasise the size of the engine and a long, low attitude that has huge street presence and great visual appeal. It's a looker, no question, backed up by the kind of neat detailing that Guzzi is so good at. The clocks are very Fiat 500 with a central LCD circular info panel sitting within the analogue rev counter, but the rear LED lights which slash down the mudguard have a slightly different radius to the mudguard itself, so they don't fit flush, which is irritating.
The ride is still very much Guzzi California. BMW might have switched to a wet multiplate, counter-rotating clutch for its new GS but Guzzi has stayed faithful to the big, single plate dry version, which means a heavy flywheel and that characteristic kick to the right when you blip the throttle. I wouldn't want it any other way. Release the span-adjustable lever and the bike leaps forward, then once you're rolling responds to the throttle with a big kick, even at sub 2,000rpm rev levels. It keeps pulling hard up to the power peak, after which it starts to feel flat, but there's an additional trait now which is the smoothness. The rubber mounting has isolated the vibration with almost uncanny efficiency, so only the smallest trace of buzzing comes through to the rider, and you only notice that if you're looking for it. But still at idle the bike shudders and the bars shake side to side, so there's no loss of character for this.
As a touring bike, which the California is at its heart, the power characteristics are ideal, with big thrust at impossibly low revs then plenty to really get it going when you want to get a move on. It's smooth and thanks to the overdrive top gear, very relaxed too at cruising speeds.
There's a question mark still over the fuel economy. Guzzi claims the best specific fuel consumption of any of its models, but the onboard computer reading told me around town that I was achieving just 30mpg (10.6km/l, 9.4l/100km, 31.6mpg US), and at higher speeds on more open roads only 38mpg (13.5km/l, 7.4l/100km, 25.0mpg US), which results in a range to empty of just 170 miles, not good enough for this kind of bike. On the French Riviera presentation it wasn't possible to gauge this accurately so it could have been that conditions were conspiring against the California in this respect - this will have to wait until further testing in the UK. I'm a bit concerned though.
No concerns about the handling, which lives up to the California's reputation as one of the finest cornering cruisers. With the 1400 the key trait is the lightness and response, as this big bike flicks and turns and changes direction like something 45kg (100lb) lighter. I was reminded of the Triumph Trophy, another bike which handles like something well below its weight, as the California 1400 doesn't just deal with a twisty road, it makes it a real pleasure. The steering is completely neutral too, aside from a small hint of drop-in at very low speeds, so even with steep uphill hairpin bends you can just heel the bike over and let it go around on your behalf.
There's even traction control if things get slippery, which you notice if you set out to find it, but most typical riders will rarely remember it's there. The three engine maps are used more, in particular it's worth making the small effort to switch to Pioggia (wet) for town riding generally as the throttle response can be too sudden, especially for a passenger, in the other two modes, Turismo and Veloce. And how refreshing for a manufacturer not to default to English for this kind of thing - this is an Italian bike after all, it doesn't take much to learn the different names for the engine maps, and its much more in keeping with the bike's heritage.
If the range question is still waiting to be answered, there are no concerns over the comfort, which is exceptionally good, the seat is a good place to be all day and the riding position generally is spacious, with plenty of room for the passenger too. A shame though that the screen is not adjustable, that's quite an oversight when so many other bikes' are. For me at 6'3" (1.92m) the height was about right most of the time, so shorter riders might find they're looking through the top when they'd rather be peering over it, in which case they'll need to specify a shorter version from the accessory catalogue, a rather slow and costly alternative to the on-board adjustability the bike ought to have.
The screen is very similar to the old California's, which means you still get a helmet-vibrating turbulence from around 75mph (120kph) upwards, which seems to be typical of these kinds of screens. The solution seems to be chill, go slower... Another potential annoyance is the heated grips switch, which will still be there on the left switch pod even if you didn't order the grips themselves, as a reminder of your tightfistedness.
It might just be that in the summer months there's too much heat coming back onto your legs from those big cylinders. It was cool when I was riding, only 13 °C (55 °F) or so for much of the time, so the warmth I was getting was welcome, but even then in traffic it started to hint at becoming too warm. In a hot summer I think this might become an issue.]
For all the bike's quirks, and generally they are small or trivial, this is a convincing bearer of the California name. It's a delight to ride, with a fabulous sound to support its laid back, muscular motor, it's comfortable and it handles beautifully. The panniers are a good size, the equipment levels are high, it looks good and at 6,000 miles (10,000km) the service intervals are reasonable too. The fuel range might spoil things, but the jury's still out on that, otherwise it's a thoroughly seductive motorcycle.
Specifications
Model tested: Moto Guzzi California 1400 Touring
UK price: £15,770
Available: December 2012
Engine: 90 degree V-twin, air cooled, ohc 4v, 1380cc
Power: 95bhp (96PS, 71kW) @ 6,500rpm
Torque: 88lb.ft (12.1kgm, 114Nm) @ 2,750rpm
Economy: 38mpg (13.5km/l, 7.4l/100km, 25.0mpg US) (on test)
Tank/Range: 4.5 gallon (20.5 litres, 5.4 gallons US) / 170 miles (270km)
Transmission: Six gears, dry single-plate clutch, shaft final drive
Frame: steel tube
Seat height: 29.1in (740mm)
Wheelbase: 66.3in (1685mm)
Rake/trail: 32 ° / 6.1in (155mm)
Weight: 710lb (322kg) wet, full tank
Recent comments
In HONDA NC700X, kharli wrote:

In HONDA NC700X, kharli wrote:

In HONDA NC700X, Grump wrote:

In HONDA NC700X, kharli wrote:

In Lest we forget..., Captain Scarlet wrote:

In Captain Scarlet's next bike, malauder wrote:

In Captain Scarlet's next bike, Captain Scarlet wrote:

In Benelli 750 SEI, CCM wrote:

In Benelli 750 SEI, Gekom57 wrote:

In Benelli 750 SEI, Gekom57 wrote:

In Captain Scarlet's next bike, Grump wrote:

In Captain Scarlet's next bike, Navy Boy wrote:

In Captain Scarlet's next bike, Captain Scarlet wrote:

In Captain Scarlet's next bike, Grump wrote:

In HONDA NC700X, Grump wrote:

In Lest we forget..., Navy Boy wrote:

In Lest we forget..., unconventional rebel wrote:

In Captain Scarlet's next bike, unconventional rebel wrote:

In HONDA NC700X, unconventional rebel wrote:

In Lest we forget..., davvy wrote:
Donate to the Kevin Ash Fund
Kevin's funeral was held on Thursday 28th February 2013 and was well attended by family, friends and colleagues.
The Telegraph has very kindly established The Telegraph Kevin Ash Fund to assist with the education of Kevin's three daughters.
If you'd like to make a donation then you can use the PayPal 'Donate' button below which will allow you to donate from your PayPal account, or via credit or debit card. A small percentage (about 3.4%) will be retained by PayPal for the service.
Kevin's family have been touched by the generosity and messages of support from people using the website and would like to express their gratitude to those who have contributed in any way.
The donations keep coming in, thank you so much, and the family especially like it when you leave a message.