Kawasaki Versys 1000 review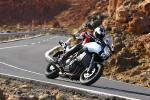 Kawasaki is the first company to respond to the question: can a four-cylinder engine work in an adventure bike?
Well, the new Versys 1000 answers this only if you`re loose with the definition of adventure bike, as with like an increasing number of machines edging into this category, there are no claims made for any off-road capability. Indeed, Kawasaki emphasises this is not an off-road bike, and as such it`s specifically not pitched against BMW`s R1200GS, the Triumph Tiger Explorer or anything else in that category. Adventure bikes then- which in turn means the Versys is seen as a rival to another Tiger, the entirely road oriented 2012 Tiger 1050, or Honda`s Crossrunner (okay, that's a four too, but it's smaller...), and the sub- £10,000 price tag is confirmation the Versys 1000 sits closer to these.
You are missing some Flash content that should appear here! Perhaps your browser cannot display it, or maybe it did not initialize correctly.
Indeed, both of these bikes were cited by Kawasaki as the ones the Versys is up against, although the marketing won`t stop some riders wondering if they really need to pay one or two thousand pounds more for a BMW or Triumph with an off-road capability they might never use, and which could in fact be compromising the bike dynamically in terms of its road manners.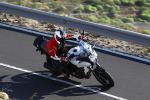 That works in the Kawasaki`s favour, and there`s plenty else that does so too. The bike is closely based in the existing Z1000 and Z1000SX, using the same engine and a lightly modified frame. One of the aims of the design team was to improve fuel economy in recognition of the fact that riders of these bikes rate range very highly, with 200 miles (300km) the expected minimum.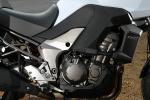 With that in mind, as well as the different way the bike will be used, the 1043cc Z1000 engine has been reworked, with new combustion chambers and cams providing reduced valve lift and less duration, with a smaller overlap period. The compression ratio is reduced from 11.8:1 to 10.3:1 while smaller throttle bodies are used. The exhaust system and engine mapping are different too, and to take advantage of the wider spread of torque as well offer more relaxed cruising, the gear ratios are spread wider, with the first two lower than the Z1000`s and 3rd to 6th are taller. Kawasaki says the fuel economy is up to 16 per cent better than the Z1000`s, but then that is something of a thirsty beast, so you`d hope so.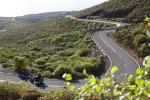 The frame has been strengthened with additional bracing around the sides of the engine, while the headstock is modified to reduce the steering angle and maintain stability despite the taller suspension. The rear subframe is stronger than the Z1000`s, an important point as the Z1000SX is not rated to be fitted with panniers and a top box at the same time: on the Versys 1000 you can fit all three in addition to a well-fed passenger.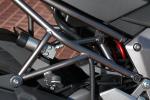 As with the Z1000 the rear suspension is sited above the swingarm, allowing more room beneath the engine for the exhaust pre-chamber, but at the front a new design of fork from KYB (formerly Kayaba) is used. This uses a thin-walled inner cartridge allowing the fitment of a bigger-than-usual damper piston, with additional secondary damper valves to control the oil flow as the fork movement changes direction at the top and bottom of its stroke. The suspension travel at both ends is longer, to improve the bike`s ability to cope with very poor quality roads. That`s the theory...
The electronics include Kawasaki`s highly advanced KTRC traction control with three modes. The more aggressive two are designed for the best traction and are similar to the Kawasaki ZX-10R Ninja`s predictive system, allowing a certain degree of tyre slippage, while the third intervenes early for safety in poor conditions. Similarly there`s a lower power engine mode which reduces output to 75 per cent of maximum, with a softer power delivery. Output in normal mode is 116bhp (118PS, 86.8kW) at 9,000rpm.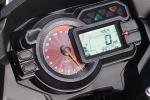 The ergonomics are as you`d expect, with the upright and spacious riding position which defines this class, a manually adjustable screen and plenty of consideration to passenger comfort. The dash is comprehensive and includes range remaining, current and average fuel consumption and an economy riding light which comes on when you`re being gentle.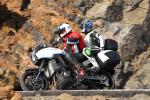 I didn`t see it much... In part this was because the engine is a thoroughly pleasing one to be in command of, with plenty of torque, an immensely strong midrange and despite the detune, still a strong kick at the top end - it wouldn`t be a Kawasaki without that. Also the roads on the Tenerife launch venue were some of the best in the world for relentless rapid riding, swinging through corners on excellent surfaces on the climb up the El Teide volcano. But the pace set by Kawasaki`s lead rider, Francesca Gasperi (that`s her in the pillion shots) was hot enough to leave a few journalists straggling too, so the 39mpg (13.8km/l, 7.2l/100km, 32.5mpg US) my bike`s dash told me I was achieving in fact was pretty impressive, much of the riding was throttle-to-the-stop and speeds were very high at times.
Extrapolating fuel consumption figures can only ever be intelligent guesswork at best, but I imagine in more everyday riding you should expect at least 45mpg (15.9km/l, 6.3l/100km, 37.5mpg US), and quite possibly significantly more, meaning the 4.7 gallon (21.5 litre, 5.7 gallon US) tank should be good for at least 210 miles (340km), which will make this the best bike in the class in this respect.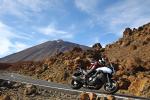 The Z1000 vibration issue can still irritate on the Versys 1000 though. The motor is smooth up to 6,000rpm, after which tingling vibrations come at you through various contact points, including tank, seat and bars. The footrests have additional rubber to dilute this effect while the wider bars probably help reduce the intensity, and while mostly the vibes aren`t too off-putting, the bike would be better without them. I'd live with it.
The Versys 1000 impresses with its agility though. At 527lb (229kg) with 5 litres of fuel on board it`s not unduly heavy, but it changes direction even more quickly and willingly than you`d expect, steering very well and naturally and turning in eagerly on the brakes, then driving out forcefully with a pleasing snarl from the engine.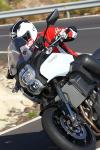 If only those forks did what they`re supposed to... The first sign that all wasn`t perfect came at high speeds on the motorway along Tenerife`s coast, where at 100mph (160kph) the front end has an anaesthetic feel and a nudge on the bars easily induces small magnitude wobbles. There`s no hint of instability, just a feeling that the front is a bit bouncy and directionally vague. Then you start to push the bike through corners and the lack of feedback increases, so you`re leaning the bike as much on faith as tactility.
On bumpy surfaces - and we had plenty of those too - the ride quality is plain poor, entirely because of the front end which has a loose, underdamped feel even when you wind up the adjusters. As it turned out, these were already set firmer for our ride than the bike will come with as standard, all of which is baffling and disappointing too, as the Versys 1000 otherwise is a fine handling machine that was still enjoyable to chuck about despite this issue.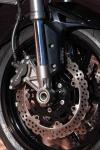 The lack of effective wheel control meant the ABS was kicking in early at the front on occasion, so much so that I was holding back and braking early on bumpy downhill sections of the route as you couldn`t be sure when the system would intervene and release the stoppers momentarily. Nothing wrong with he ABS itself either, this is the same ultra-compact Bosch ABS 9 system used on the ZX-10R and several other high performance machines, and it even controls rear wheel lift to a degree. But there`s only so much it can do when the front wheel is bouncing up and down excessively.
So much for the new KYB forks, these are the bike`s weak spot, not the strength I was expecting, and they make you pine for a good set of Showas as the Versys 1000 would be the best handling and most fun bike in the class with a decent front end set-up. As it is, the ride quality and steering accuracy of the Tiger 1050 are head and shoulders better, but even then I`d still be tempted to go for the Versys simply because of the speed of direction changes and its other qualities.
The engine is also stronger than the Triumph`s, right across the range, and as the Honda Crossrunner prices itself close to the Kawasaki and aims at the same audience, it has to bear comparison too: while its suspension is better the Versys devours it for performance and agility, and it has plenty of extra muscle to cope with a passenger and full load.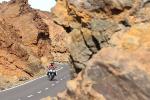 Everything else about the Versys 1000 is positive: I spent a good few hours in the saddle and found it absolutely comfortable. It`s broad, well shaped and has something of a gel feel to it which is very welcoming, while passengers reported plenty of space, well positioned footrests and no turbulence issues. With a short rider some passengers will feel a little perched up in the air, other than that it`s a very good two-up motorcycle, and once you`ve adjusted the rear spring preload with the easy-to-use remote adjuster, the handling is perfectly good loaded or light. A shame it`s such a pain having to break out the toolkit and fiddle around awkwardly to adjust the headlight height though, on a bike like this that`s a task you need to do often and it should be an easy thumb twirl, not a mechanics` masterclass.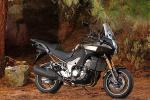 The screen works very well and seems to do so for a variety of rider heights - mine was set on the highest where it fended off enough wind pressure for cruising at any speed I cared to dial in, all without undue noise or turbulence, while shorter riders than my 6`3" (1.91m) found it more effective and comfortable in the lower setting.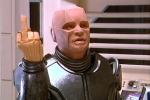 Did I say everything is positive? The styling is at best an acquired taste, a sort of Red Dwarf`s Kryton version of the Versys 650 which even its mother couldn`t claim to be beautiful. Styling these tall-rounders does seem to pose designers particular problems, but there`s little doubt judging by most people`s comments that this aspect of the bike hasn`t been a great success. I think it looks alright personally, sort of ruggedly purposeful, but I wouldn`t buy one for its catwalk style.
I would though buy one for its all-rounder ability, then hope I could do something with the forks, maybe using a heavier damping oil or perhaps spending enough time with the adjusters to dial in some feeling and control. The fact the bike is otherwise so outstandingly good makes this more of a shame than it might otherwise be.
Specifications
Model tested: Kawasaki Versys 1000
UK price: £9,499
Available early 2012
Engine: four cylinder, liquid cooled, dohc 16v, 1043cc
Power: 116bhp (118PS, 86.8kW) @ 9,000rpm
Torque: 75lb.ft (10.4kgm, 102Nm) @ 7,700rpm
Economy: 45mpg (15.9km/l, 6.3l/100km, 37.5mpg US) (est)
Tank/Range: 4.7 gallon (21.5 litre, 5.7 gallon US) / 210 miles (340km)
Transmission: Six gears, wet multi-plate clutch, chain final drive
Chassis: aluminium twin spar
Seat height: 33.3in (845mm)
Wheelbase: 59.8in (1520mm)
Rake/trail: 27 ° / 4.2in (107mm)
Weight: 527lb (239kg) wet
Recent comments
In HONDA NC700X, kharli wrote:

In HONDA NC700X, kharli wrote:

In HONDA NC700X, kharli wrote:

In HONDA NC700X, Grump wrote:

In HONDA NC700X, kharli wrote:

In Lest we forget..., Captain Scarlet wrote:

In Captain Scarlet's next bike, malauder wrote:

In Captain Scarlet's next bike, Captain Scarlet wrote:

In Benelli 750 SEI, CCM wrote:

In Benelli 750 SEI, Gekom57 wrote:

In Benelli 750 SEI, Gekom57 wrote:

In Captain Scarlet's next bike, Grump wrote:

In Captain Scarlet's next bike, Navy Boy wrote:

In Captain Scarlet's next bike, Captain Scarlet wrote:

In Captain Scarlet's next bike, Grump wrote:

In HONDA NC700X, Grump wrote:

In Lest we forget..., Navy Boy wrote:

In Lest we forget..., unconventional rebel wrote:

In Captain Scarlet's next bike, unconventional rebel wrote:

In HONDA NC700X, unconventional rebel wrote:
Donate to the Kevin Ash Fund
Kevin's funeral was held on Thursday 28th February 2013 and was well attended by family, friends and colleagues.
The Telegraph has very kindly established The Telegraph Kevin Ash Fund to assist with the education of Kevin's three daughters.
If you'd like to make a donation then you can use the PayPal 'Donate' button below which will allow you to donate from your PayPal account, or via credit or debit card. A small percentage (about 3.4%) will be retained by PayPal for the service.
Kevin's family have been touched by the generosity and messages of support from people using the website and would like to express their gratitude to those who have contributed in any way.
The donations keep coming in, thank you so much, and the family especially like it when you leave a message.