Pictures: Ula Serra, Francesc Montero, Zep Gori, Félix Romero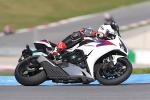 Honda has been busy looking after its lucrative far-eastern markets and exploring western utility ones with the DN-01 and NC700X.
Meanwhile the Fireblade has been left behind in performance terms by BMW`s S1000RR, the Aprilia RSV4, Kawasaki`s ZX-10R Ninja, and in sheer technology sex by the new Ducati 1199.
And yet... such is the Fireblade`s reputation it`s still selling well enough, and it`s justifying this not merely in nostalgia or brand but by convincing plenty of riders that it`s still the best superbike for the road, where most of them use it most of the time.
So the latest gentle facelift isn`t necessarily the disastrous under-estimation of where the Fireblade needs to be to remain competitive. It`s not had much done to it though: the main dynamic change is to the suspension, which is renewed with the latest Showa equipment, including the fashionable and effective big piston forks. The bike also gets the suspension company`s first twin tube shock, a design similar in principle to Öhlins TTX, where the damping oil is circulated through a remote damping mechanism rather than shunted back and forth through a shim stack.
The styling has been altered too, the front fairing section gaining more conventional, aggressive lines in place of the blunt-nosed appearance of the outgoing model, although the `graphics` (stickers) don`t appear to have much relevance to the lines or planes of the new panels. Still, it`s good looking in a more traditional way, and the new 12-spoke wheels finish it nicely - they`re also claimed to have more consistent rigidity which improves rider feedback. The bodywork revisions are said to improve cooling, something of a problem on race versions of the previous model.
There are no new electronics such as traction control, as many expected, just a jazzed up dash which includes a customisable rev counter with details such as peak hold (which leaves a trace at the highest rpm reached), revs remaining or digital rather than the segmental display. You also get lap time functions, fuel efficiency and consumption and the more usual readouts, and programmable gear change warning lights.
The engine mapping has been revised, in particular to smooth out the power delivery in the medium rev range and match the engine output more precisely to the rider`s throttle movement. There are no changes to the power or torque curves though.
I rode the new model at Portugal`s fabulous Portimao circuit where the overriding impression is of an utterly obedient, eminently controllable machine that really does live up to Honda`s claim of controllable power.
There wasn`t much grip, surprisingly, which most riders were putting down to an unusually slippery surface, but rain in the previous few days should have cleaned the track, the temperature wasn`t especially low and on previous bikes here I`ve not had any particular grip issues. The key for me was that the grip became noticeably worse towards the end of the 20 minute sessions, confirming that the new Bridgestone S20 rubber seemed to be struggling - tracks don`t go off - and gradually getting too hot for the high speeds of this track.
On R10 track tyres in the afternoon session the grip was much better, something of a relief after a few very sideways moments, so marks down for the S20s but plenty of credit to the Fireblade for ensuring those moments didn`t develop into anything worse. Indeed the bike was quite astonishingly controllable, even with the back end skating and sliding, and it could be brought back into line with a gentle shift of the wrist and barely a shake of the rest of the bike.
It was turning much better on the race rubber too, changing direction more rapidly and in particular dropping into turns more eagerly - I`d definitely be tempted to change the original rubber for something known to suit Fireblades early on after buying.
The main difference though between old and new was under braking. Some riders were concerned about the forks bottoming out but I had no such issues despite being heavier, I suspect because some bikes might have had different adjustments made to others. A couple of issues with components coming lose, practically unheard of on a Honda launch, and a history of crashes in the days before our sessions, suggested maybe the mechanics were being stretched more than usual.
Whatever, I found I could brake very late with the C-ABS just beginning to make its presence felt (this is an option but for most riders, and one worth having), then peel it into a turn with outstanding stability throughout matched with so much feedback I never really felt I was going to lose the front end.
You would of course need time to fine tune the suspension to suit tyres, track or road, your weight and riding style, but as the bike was supplied to me it provided a very strong starting point.
Underpinning everything you do with the Fireblade is just how easy it is to ride extremely fast, more so than any of the other superbikes and for many riders making redundant the additional power because what the Honda does have is so much easier to utilise.
Not a huge step forward then, even though this is a time when the Fireblade appears to need exactly that, but the bike`s core ability, or more to the point, usability, is already immensely strong, and for 2012 it`s become even better.
Specifications
Model tested: Honda CBR1000RR Fireblade
Price: £11,300 (+ £700 C-ABS)
Available: January 2012
Engine: four cylinder, liquid cooled, dohc 16v, 999.8cc
Power: 175bhp (178PS, 130.7kW) @ 12,000rpm
Torque: 83lb.ft (11.4kg.m, 112Nm) @ 8,500rpm
Economy: n/a
Tank/Range: 3.9 gallons (4.7 US gallons, 17.7 litres) / n/a
Transmission: Six gears, wet multi-plate clutch, chain final drive
Chassis: aluminium twin spar
Seat height: 32.2in (820mm)
Wheelbase: 55.5in (1410mm)
Rake/trail: 23.3 ° / 3.8in (96mm)
Weight: 439lb (199kg) wet
Recent comments
In HONDA NC700X, kharli wrote:

In HONDA NC700X, kharli wrote:

In HONDA NC700X, Grump wrote:

In HONDA NC700X, kharli wrote:

In Lest we forget..., Captain Scarlet wrote:

In Captain Scarlet's next bike, malauder wrote:

In Captain Scarlet's next bike, Captain Scarlet wrote:

In Benelli 750 SEI, CCM wrote:

In Benelli 750 SEI, Gekom57 wrote:

In Benelli 750 SEI, Gekom57 wrote:

In Captain Scarlet's next bike, Grump wrote:

In Captain Scarlet's next bike, Navy Boy wrote:

In Captain Scarlet's next bike, Captain Scarlet wrote:

In Captain Scarlet's next bike, Grump wrote:

In HONDA NC700X, Grump wrote:

In Lest we forget..., Navy Boy wrote:

In Lest we forget..., unconventional rebel wrote:

In Captain Scarlet's next bike, unconventional rebel wrote:

In HONDA NC700X, unconventional rebel wrote:

In Lest we forget..., davvy wrote:
Donate to the Kevin Ash Fund
Kevin's funeral was held on Thursday 28th February 2013 and was well attended by family, friends and colleagues.
The Telegraph has very kindly established The Telegraph Kevin Ash Fund to assist with the education of Kevin's three daughters.
If you'd like to make a donation then you can use the PayPal 'Donate' button below which will allow you to donate from your PayPal account, or via credit or debit card. A small percentage (about 3.4%) will be retained by PayPal for the service.
Kevin's family have been touched by the generosity and messages of support from people using the website and would like to express their gratitude to those who have contributed in any way.
The donations keep coming in, thank you so much, and the family especially like it when you leave a message.