Moto Guzzi California 1400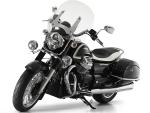 Moto Guzzi has released the first picture of the all-new California 1400.
The bike, powered by the biggest production V-twin to come out of Italy, offers an appealing modernised take on the traditional California look, characterised by huge tank cutouts to make room for the cylinders.
The bike is longer, lower and sleeker than before, and is likely to come with switchable engine maps, traction control, ABS and cruise control.
Full details with lots more pics here at ashonbikes.com on November 13.
Other News
Thu, 15/11/2012 - 23:13
#3
unconventional rebel
Offline
+1
I love the present 1100 range, a Vintage is top of my list when some spare money comes in. In addition to my current Cali obviously... I'm a bit concerned though that with this bike Guzzi are going for an oversize engine.
There's plenty of lardy cruisers with unnecessarily huge engines on the market for those that like them, I hope Guzzi keeps low weight, handling and usability (as a priority over pub bragging rights) for those of us that don't.
Recent comments
In HONDA NC700X, Grump wrote:

In HONDA NC700X, malauder wrote:

In HONDA NC700X, Spanny wrote:

In HONDA NC700X, Grump wrote:

In HONDA NC700X, kharli wrote:

In HONDA NC700X, kharli wrote:

In Belt Drive, kharli wrote:

In Sticking the knife in forks, Navy Boy wrote:

In New Bonnie, Navy Boy wrote:

In Sticking with aluminium, Navy Boy wrote:

In Sticking with aluminium, Captain Scarlet wrote:

In Sticking with aluminium, shuggiemac wrote:

In KTM 1190 Adventure news, gadrugupre wrote:

In New Bonnie, Navy Boy wrote:

In New Bonnie, kharli wrote:

In New Bonnie, Navy Boy wrote:

In Yamaha FJ09 - Tracer, Captain Scarlet wrote:

In HONDA NC700X, Captain Scarlet wrote:

In Yamaha FJ09 - Tracer, unconventional rebel wrote:

In Yamaha FJ09 - Tracer, Navy Boy wrote:
Donate to the Kevin Ash Fund
Kevin's funeral was held on Thursday 28th February 2013 and was well attended by family, friends and colleagues.
The Telegraph has very kindly established The Telegraph Kevin Ash Fund to assist with the education of Kevin's three daughters.
If you'd like to make a donation then you can use the PayPal 'Donate' button below which will allow you to donate from your PayPal account, or via credit or debit card. A small percentage (about 3.4%) will be retained by PayPal for the service.
Kevin's family have been touched by the generosity and messages of support from people using the website and would like to express their gratitude to those who have contributed in any way.
The donations keep coming in, thank you so much, and the family especially like it when you leave a message.
Recent Articles
A gyroscope is a rigid circular or spherical mass rotating around an axis and for over 100 years motorcycles have come with three of them: a front wheel, a rear wheel and a crank (if you're being pedantic you could include cams, balancer shafts, gearbox, clutch etc). The classic mechanical model of a gyroscope ranges from the very small – electrons spinning around an atom's nucleus – to the very large – the Earth.
Most of us have an innate feel for balancing a high centre of gravity on a relatively short wheelbase. Say, like a motorbike. Its centre of gravity is the point at which the sum of the surrounding mass is zero, and is largely determined by the location of the engine, the heaviest part of the package. Usually the CoG is midway between the wheels (half the wheelbase) and 60 to 75cm off the ground; just above the engine, in front of your knees. Or at least it is until you get on.
Anyone with fingers knows bikes vibrate, sometimes strongly enough to make picking your nose impossible. But how we perceive vibration depends on its type, pattern, frequency and cause. Bikes are subject to different types of vibration. A bumpy road creates random forced vibration at medium to high frequency (around 5-35 Hz depending on vehicle speed). It's perceived as unpleasant, as is head buffeting caused by wind turbulence. Engineers and aerodynamicists try to minimise these bad vibrations. But we usually talk about engine vibration. There are many sources...
From the launch of Yamaha's new Super Ténéré: "The exhaust pipe connection between the two headers is discontinued to give more character to the engine. The link pipe gives a flat feeling to the curve, so removing it makes the engine a bit more peaky." This is all about exhaust gas. When a four-stroke is tuned for power it means more revs, and so the cylinders have thousandths of second to fill with fresh mixture, compress it, burn it and pump it out again. To get enough mixture in and out, inlet valves open early and exhaust valves stay open for longer – so both are open at the same time.
Twenty one years ago BMW launched the R1100RS with a Telelever front end. It's gone on to be fitted to the most popular bike of the 21st Century, BMW's GS. Yet still – apart from BMW's other forkless system, Duolever – conventional telescopic forks survive on all other bikes, including MotoGP. Why?