Pictures: Milagro (click on images)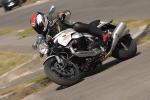 When it comes to many Italian brands the word `styling` is prefixed by `gorgeous Italian...` almost by default.
Ducati and especially Bimota are beneficiaries - or victims - of this knee jerk response, yet a step back from the cliché so often shows it up as unjustified. Most Bimotas in the last decade or so have been garishly coloured and over-styled, while Ducati has produced as many visual oddities as beauties.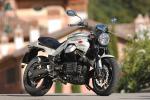 Yet on the sly, in 2007 the oldest factory of them all in Mandello del Lario, permanently struggling until the takeover of a takeover - Piaggio rescuing Aprilia who rescued Guzzi - sent out to its small number of showrooms the Griso. Now here was a bike, if ever there was one, to deserve the `gorgeous Italian styling` epithet. Set aside whatever the Moto Guzzi moniker means to you, and take in instead those beautiful stretched out lines, the tank draped across the central, overtly muscular motor. See it from the right and you have a mechanical beast, chunky oil-cooler housing followed by the big, square aluminium castings of the engine, then the rods and arms of the parallelogram final drive system designed to overcome the vertical shunts and dips of more traditional cardan transmissions.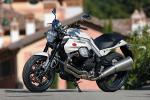 Walk slowly around to the left side and the character is different, dominated and determined by the sweeping exhaust and its unfeasibly fat pipes, dropping down at the centre then up into an equally fat silencer.
Stroll closer and admire the detail, how Guzzi`s engineers have worked so hard at ensuring all the silvers - plastic, steel or aluminium - are closely matched, how the headlamp bulb mounting is anodised red, how the finger channel taillight hides its LED light sources. It`s a visual calm which lends the Griso genuine sophistication, a bike to wear Gucci on, to have the butler park when you arrive at the Dorchester.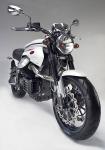 It seems almost rude to give it another 20-odd horsepower. But that`s exactly what Guzzi did with the Griso 8v, replacing the original`s Euro 3-challenged four-valve 1064 with a freer-breathing 1151, its octet of poppet valves declared by small red badges and the new siamesed silencer, its double exit allegedly reminiscent of a figure 8. A shame the 8v stickers look so cheap - on most other bikes they`d not even register, but here they`re like a coffee stain on an Armani suit.
The motor gains more than four extra valves. Someone at Guzzi was given the thankless task of counting how many components in the longitudinal crank V-twin are new compared with the old. We aren`t told how long he took to count, but the answer is 563, which he also says is around 75 per cent: apparently counting the final quarter was too much even for this diligent fellow or the percentage could have been more accurate. Some changes are obvious, such as the longer stroke but as-you-were bore of 95mm and the overhead cams with their chain drives, others such as the additional oil pump to power the separate cooling circuit are hidden, but designed to improve durability and reliability.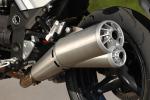 If stickers and silencer aside the Griso looks the same, in fact there are subtle changes designed to enhance comfort and control, such as handlebars narrower than the unusually wide ones of before, a reshaped seat and footrests a little higher and further back to underline the bike`s enhanced sporting bias. The pearl white colour is new for the 8v, the black is the same as before and still for me is how the Griso flavour is sampled best.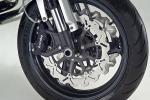 The front brakes retain the old model`s callipers but the discs they squeeze are modishly wave edged - of no meaningful practical value (the oft-quoted improved cooling is a myth as the surface area increase is minimal), but they add something raffish to the style.
There`s substance to the changes in the form of power, that very significant gain boosts the sufficient 88bhp of the earlier version to a rippling 108bhp (109PS, 80.3kW). It`s a leap which doesn`t bode well for low rev torque, and indeed the change from two-valve heads to four in so many cases arches the back of the power curve, adding high rev horses at the expense of the useful working ones in the lower reaches of the rev band.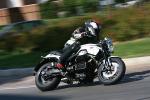 So it`s a surprise when you release the light and predictable clutch, twist the throttle and Griso 8v pulls away in near-identical fashion to Griso 4v. The two bikes in fact are almost indistinguishable in every day riding, with remarkably similar power and torque curves until 6000rpm is past. That`s a high number for a big, air-cooled twin, a short step from the 7500rpm power peak and a small hop again to the 8200rpm rev limiter. But it`s here that the slope steepens, where the bike digs in and thrusts forward with a truly exhilarating urge. The power falls away much more grudgingly than on the two-valver so you do hit the limiter more often, and the whole unit has a revvier, more willing feel, the one attribute you do note further down the rev range.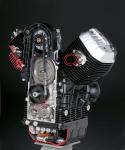 Guzzi it seems has compensated well for the 8 valve`s peakier nature in the simplest way, simultaneously adding capacity to pack out the torque. What was lost at low revs in the cylinder heads is regained in the longer crank throw, making the engine as good as it was for those who valued the torque with a big power bonus for those who`d like more thrills: Guzzi claims up to 140mph (230kph) worth.
The chassis meanwhile is largely untouched, and a good job too as this is one of the sweetest steering motorcycles you`ll find whatever the badge. The Guzzi factory nestles on the edge of the Alps and it shows in the way the bike flows easily and naturally around tight hairpin turns, defying its lengthy wheelbase and obeying its rider with languid accuracy. No awkard dropping in here, low speed or high, just a delightful balance that shrugs off the signature nod to the side when the throttle is blipped and the bike tries to spin around its own crank.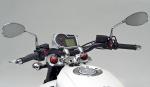 The bars might be narrower, but they`re not narrow, still splaying your arms wide in an odd but ultimately comfortable poise, and it works well enough with the re-sited footrests when you`re making the most of the power. The windblast is less of an issue than you`d expect, and if there`s a surprise it`s that the small amount of suspension choppiness should originate from the front, not the rear with its unsprung weight disadvantage over a chain. It`s not intrusive but does remind you this is not a full-on sports bike after all.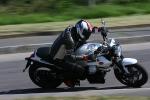 The brakes work as Brembos always seem to, with power, predictability and easy modulation, enough for forceful stopping without the wet road intimidation of some pure sports set-ups. Really it`s just the bike`s gentle rate of turn which holds it back on sinuous routes, demanding big heaves on those bars for relatively slow direction changes. Learn to swing it instead of flick it and the ride is rewarding though, and works better with the long-legged motor.
It`s worth mentioning the transmission as Guzzis` could be so bad, but the Griso`s gears engage quickly if a little stiffly at times, the backlash is slight (on some Guzzis it comes close to spoiling the ride around town) and the shaft-driven rear behaves for all the world like a chain, without the mess and maintenance. That really wouldn`t do, would it?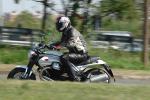 Clearly if this is all sweetness so far, it`s only so for those who expect what the Griso gives. The wind force at speed is generic to the type, the handling won`t suit sports riders and the motor is best in its mid-range. It`s not perfect here either, with something of a flat spot at 5000rpm and come-and-go buzzing vibrations across the tacho`s sweep. The reversed indicator and horn buttons an owner will adapt to, but it seems pointless and it is irritating at first, hooting when you mean to turn. I`d like a bigger fuel tank than the Griso`s 3.7 gallon (16.7 litres. 4.4 gallons US) to lend it real versatility and distance ability, but economy generally of Guzzis is good so I`d expect the range to be merely poor rather than useless. Sadly we couldn`t test consumption on the Milan-based press launch so that`s speculation.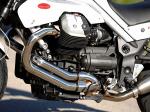 As a rule the finish seems good, as far as you can judge of a new bike on a riding presentation, but Guzzis these days do seem to be acceptably reliable, just as well when their spare parts can take so long to arrive and the dealers aren`t always the best. We`ve been told for years this will improve, but no one`s holding their breath. But for the rider after something a little different with a lot of sophisticated style, a relaxed motor with a surprise top end kick and very satisfying handling, a Griso 8v is not so much a considered choice as right up there on the shortlist. And for some, this is quite simply the best looking motorcycle available today.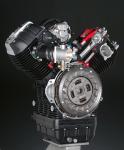 Specifications
Model tested: Moto Guzzi Griso 8v
Price 2011: £9,578
Available now
Engine: 90-degree V-twin, air cooled, sohc 8v, 1151cc
Power: 108bhp (109PS, 80.3kW @ 7,500 rpm
Torque: 79.6lb.ft (11.0kgm, 108Nm) @ 2,500rpm
Economy: n/a
Tank/Range: 3.7 gallons (16.7 litres, 4.4 gallons US) / n/a miles
Transmission: Five gears, dry single-plate clutch, shaft final drive
Chassis: steel spine
Seat height: 31.5in (800mm)
Wheelbase: 61.2in (1554mm)
Rake/trail: 26.3 °/4.25in (108mm)
Weight: 489lb (222kg) dry
Recent comments
In HONDA NC700X, kharli wrote:

In HONDA NC700X, kharli wrote:

In HONDA NC700X, Grump wrote:

In HONDA NC700X, kharli wrote:

In Lest we forget..., Captain Scarlet wrote:

In Captain Scarlet's next bike, malauder wrote:

In Captain Scarlet's next bike, Captain Scarlet wrote:

In Benelli 750 SEI, CCM wrote:

In Benelli 750 SEI, Gekom57 wrote:

In Benelli 750 SEI, Gekom57 wrote:

In Captain Scarlet's next bike, Grump wrote:

In Captain Scarlet's next bike, Navy Boy wrote:

In Captain Scarlet's next bike, Captain Scarlet wrote:

In Captain Scarlet's next bike, Grump wrote:

In HONDA NC700X, Grump wrote:

In Lest we forget..., Navy Boy wrote:

In Lest we forget..., unconventional rebel wrote:

In Captain Scarlet's next bike, unconventional rebel wrote:

In HONDA NC700X, unconventional rebel wrote:

In Lest we forget..., davvy wrote:
Donate to the Kevin Ash Fund
Kevin's funeral was held on Thursday 28th February 2013 and was well attended by family, friends and colleagues.
The Telegraph has very kindly established The Telegraph Kevin Ash Fund to assist with the education of Kevin's three daughters.
If you'd like to make a donation then you can use the PayPal 'Donate' button below which will allow you to donate from your PayPal account, or via credit or debit card. A small percentage (about 3.4%) will be retained by PayPal for the service.
Kevin's family have been touched by the generosity and messages of support from people using the website and would like to express their gratitude to those who have contributed in any way.
The donations keep coming in, thank you so much, and the family especially like it when you leave a message.