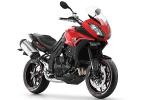 Triumph has unveiled the keenly awaited Tiger Sport, and the changes have been much more extensive than expected, including a single-sided swingarm and an extra 10bhp!
The bike has been given a sportier edge to move it away from the Tiger Explorer in Triumph's range, with most of the emphasis being on enhanced performance and sharper looks, although the changes have also improved its all-rounder capabilities. In particular its luggage carrying capacity has increased substantially.
The Tiger Sport is based on the previous Tiger 1050, and while the look is recognisably the same, much of the bodywork is new and now includes a bellypan as well as the new tail unit and side panels. The much-criticised projector headlights have been replaced with four conventional reflector types, which not only reduce weight, Triumph claims their performance is much better too. Makes you wonder why the projectors were used in the first place... The screen is also new, changing the look and according to Triumph, improving the aerodynamics too.
The engine is unchanged internally and gains its extra power from completely redesigned intake and exhaust systems, with increases in torque across the range. It now makes 123bhp (125PS), 9kW) and 77lb.ft (10.4kgm, 104Nm). Revisions to the fuel injection calibration have additionally improved the economy, with Triumph claiming the bike will typically travel around 7 per cent further on a tank of fuel. Triumph also says even the growling triple soundtrack has been enhanced, and if it the improvement is anything like the 2013 Daytona 675's (full test here) then it'll be worth a ride just for that.
The swingarm is a single-sided design - unique to the Tiger Sport and not taken from the Speed Triple as suggested elsewhere - which probably does little in practice to help the handling but it looks good and does provide more room to tuck in the exhaust system and create space for the larger optional panniers. These are not only much bigger than before, their payload has doubled to 10kg (22lb) each, thanks to a new, stronger rear subframe.
The subframe is responsible for ergonomic changes, lowering the rider seat by 5mm to 830mm, although it's narrower at the front than before which will also improve the reach to the ground. The rear seat has been lowered by a greater amount so the passenger isn't perched so high above the rider - the grab rails have been improved too. The handlebars are narrower, lower and closer to the rider to give a more sports-oriented riding position, while the switchgear is Tiger Explorer style, meaning it's now possible to scroll through the dash functions from the left handlebar, rather than having to lean forward to do so.
The frame is the same as before but the steering angle is half a degree steeper and the wheelbase is slightly longer, changes which Triumph claim have improved precision and stability. The suspension is fully adjustable and has been given new springs and revalved damping for a firmer feel and to cope with the additional load capacity.
The brakes are fitted with a new ABS system (the previous Tiger was one of the first Triumphs ever to use ABS and still had the same ageing system in 2012, so this was an overdue revision). Radially-mounted callipers are fitted at the front. The wheels are new and unique to the Tiger Sport and come with Pirelli's new Angel GT tyres.
Triumph has been paying a lot of attention to detail on its recent new models and the Tiger Sport appears to have had this too, coming with coloured seat stitching, cast aluminium pannier mounts and apparently some 'beautifully sculpted footrests', although we can't see those in the initial images.
The two colours available are red or white. Prices will be announced in February and bikes will become available in March this year.
Other News
Thu, 10/01/2013 - 21:05
#8
I sure thought the 1050 was going to be retired. I have an 09 1050 and I love it. I've thought about switching bikes but I can't part with my Tiger. It handles everything I throw at it. This new bike is meant for asphalt only so it doesn't shake my tree. I still take mine down gravel & dirt roads and it is fine. This bike will be a great all around bike to commute and take on long hops with the larger panniers. The 1050 already had plenty of power even with fully loaded. It is also rock solid in bad weather. This bike should be considered if you are looking at the Explorer check this 1050 out, it is quite a bit lighter.
Recent comments
In HONDA NC700X, kharli wrote:

In HONDA NC700X, kharli wrote:

In HONDA NC700X, kharli wrote:

In HONDA NC700X, Grump wrote:

In HONDA NC700X, kharli wrote:

In Lest we forget..., Captain Scarlet wrote:

In Captain Scarlet's next bike, malauder wrote:

In Captain Scarlet's next bike, Captain Scarlet wrote:

In Benelli 750 SEI, CCM wrote:

In Benelli 750 SEI, Gekom57 wrote:

In Benelli 750 SEI, Gekom57 wrote:

In Captain Scarlet's next bike, Grump wrote:

In Captain Scarlet's next bike, Navy Boy wrote:

In Captain Scarlet's next bike, Captain Scarlet wrote:

In Captain Scarlet's next bike, Grump wrote:

In HONDA NC700X, Grump wrote:

In Lest we forget..., Navy Boy wrote:

In Lest we forget..., unconventional rebel wrote:

In Captain Scarlet's next bike, unconventional rebel wrote:

In HONDA NC700X, unconventional rebel wrote:
Donate to the Kevin Ash Fund
Kevin's funeral was held on Thursday 28th February 2013 and was well attended by family, friends and colleagues.
The Telegraph has very kindly established The Telegraph Kevin Ash Fund to assist with the education of Kevin's three daughters.
If you'd like to make a donation then you can use the PayPal 'Donate' button below which will allow you to donate from your PayPal account, or via credit or debit card. A small percentage (about 3.4%) will be retained by PayPal for the service.
Kevin's family have been touched by the generosity and messages of support from people using the website and would like to express their gratitude to those who have contributed in any way.
The donations keep coming in, thank you so much, and the family especially like it when you leave a message.
Recent Articles
We're familiar with solid-state electronics in biking. Ignition swapped points for transistors in the 1970s, then went digital in the 1990s. Now, the need for greater power, fuel efficiency and emissions control means modern engines only work with computer-controlled fuelling, ignition, combustion and exhaust. When we open the throttle we pull the strings, but the ECU calls the shots. To do it, the ECU needs an accurate view of the world. And it gets it through its sensors.
A gyroscope is a rigid circular or spherical mass rotating around an axis and for over 100 years motorcycles have come with three of them: a front wheel, a rear wheel and a crank (if you're being pedantic you could include cams, balancer shafts, gearbox, clutch etc). The classic mechanical model of a gyroscope ranges from the very small – electrons spinning around an atom's nucleus – to the very large – the Earth.
Most of us have an innate feel for balancing a high centre of gravity on a relatively short wheelbase. Say, like a motorbike. Its centre of gravity is the point at which the sum of the surrounding mass is zero, and is largely determined by the location of the engine, the heaviest part of the package. Usually the CoG is midway between the wheels (half the wheelbase) and 60 to 75cm off the ground; just above the engine, in front of your knees. Or at least it is until you get on.
Anyone with fingers knows bikes vibrate, sometimes strongly enough to make picking your nose impossible. But how we perceive vibration depends on its type, pattern, frequency and cause. Bikes are subject to different types of vibration. A bumpy road creates random forced vibration at medium to high frequency (around 5-35 Hz depending on vehicle speed). It's perceived as unpleasant, as is head buffeting caused by wind turbulence. Engineers and aerodynamicists try to minimise these bad vibrations. But we usually talk about engine vibration. There are many sources...
From the launch of Yamaha's new Super Ténéré: "The exhaust pipe connection between the two headers is discontinued to give more character to the engine. The link pipe gives a flat feeling to the curve, so removing it makes the engine a bit more peaky." This is all about exhaust gas. When a four-stroke is tuned for power it means more revs, and so the cylinders have thousandths of second to fill with fresh mixture, compress it, burn it and pump it out again. To get enough mixture in and out, inlet valves open early and exhaust valves stay open for longer – so both are open at the same time.