Pictures: Ula Serra, Francesc Montero, Zep Gori, Félix Romero (click on images)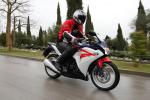 It`s important to have the right expectations of the Honda CBR250R if you`re going to get the most from it, and the looks don`t help.
Not that there`s anything wrong with the bike`s CBR family layered body panels style. Far from it, this is an exceptionally good looking motorcycle with its blend of understated sophistication and sport intent.
But that`s where the problem - if there is one - lies, in its sporting mien. Judging by appearances you`d be forgiven for expecting a very sharp handling back roads weapon with a hit of power at the peak of its howling engine`s limits, yet tucked away beneath the bodywork is a utility single-cylinder 250 four-stroke that`s designed to be cheap, robust and economical.
There's something of a mismatch between style and intent then - the chassis is equally basic with its simple steel tube frame - but to accuse it of being a sheep in wolf`s clothing is to be too Euro-centric. The CBR250R was designed primarily for the Thai and Indian markets, and in India especially where very basic 125cc and 150cc workhorses are the rule, a 250 single with the little Honda`s 90mph performance really is a sports bike.
Even so, when it`s on sale in the UK and other western countries, it has to be judged by the prevailing standards, and happily, with this mismatch understood, it does a pretty good job. Simple the chassis might be but still the CBR250R handles very well. With a kerb weight of 355lb (161kg) it was always going to be an agile device, but the geometry has been well thought through and it`s also reassuringly stable, even half way through unexpectedly bumpy bends with plenty of lean angle.
Tighter roads can genuinely be good fun, without making allowances for capacity or price, helped a lot by suspension which really impresses at this level. In keeping with Honda`s aim of equipping the majority of its bikes with ABS, the CBR250R also comes with the option of the company`s Combined-ABS system, which duly hauls it up hard without fuss or much loss of stability. Just a gentle swaying and mild pulsing through the levers lets you know the limits of the tyres` traction are being reached.
The engine either works satisfactorily or is frustrating, depending on how much you were taken in by the bike`s sporting appearance. Rev it hard and you`re rewarded with some buzzing vibration in the last 1500rpm of the rev range and a laboured feel that`s matched by breathless performance. Change your attitude, accept a lower bar and use the midrange instead: now the motor feels willing and it punts the CBR250R along more eagerly, more smoothly and quite probably more economically too.
Having said that, Honda`s fuel consumption claims aren`t especially impressive, considering this is the company`s sole new motorcycle engine for 2011 and its prime purpose is as transport rather than toy. On the standardised motorcycle economy cycle, yet to be adopted by all manufacturers, the CBR250R achieves 76mpg (27km/l), which doesn`t sound too bad.
In practice I tend to get 10 per cent worse figures than these Honda ones, dropping the CBR down to 68mpg, which is not a huge leap ahead of the best small cars. My experience of Kawasaki`s Ninja 250R, the CBR250R`s chief rival, suggests that`s usefully better than the Honda too. I suspect too that a BMW F800GS ridden together with the CBR250R would at least match the smaller bike`s thirst, and possibly even better it. An experiment for later this year perhaps...
Even so, once you`re dialled in to what the engine does best, the CBR bowls along happily and nips in and out of traffic with an easy zip - it`s a far better choice than a 125 as you`re generally able to keep pace with the traffic rather than constantly being consigned to the gutter to let most other vehicles past, or having to really nail it when you`ve wriggled your way through to the front at the traffic lights.
No worries with the ergonomics either, as the bike suited my 6`3" (1.91m) frame well enough even though the seat is low at 30.7in (780mm). It was comfortable for a longish ride and I don`t think this will be an issue even if you`re adventurous enough to try a longer distance tour. At around 70mpg the 2.9 gallon (13 litre, 3.5 gallon US) tank is sufficient for a 200 mile range, better than many touring bikes, so this at least isn`t an obstacle to taking on distances.
Stop thinking of the looks then as being a reflection of the bike`s abilities, instead treat this as a utility motorcycle with unusually high build quality and a sporting style as a bonus, and your expectations will be comfortably met. Don`t forget the price either, this is very good value too, especially at around £1,000 cheaper than the Kawasaki. That's a big difference in the £10,000 price zone, at this end of the market it's the clincher.
Specifications
Model tested: 2011 Honda CBR250F
Price: £3,688 on the road
Available: March 25, 2011
Engine: single-cylinder, air-cooled, dohc 4v, 249.6cc
Power: 26bhp (26PS, 19.4kW) @ 8,500rpm
Torque: 17.5lb.ft (23.8Nm) @ 7,000rpm
Economy: 68mpg (est)
Tank/Range: 2.9 gallons (13 litres, 3.5 US gallons)/ 200 miles (320km)
Transmission: Six gears, wet clutch, chain final drive
Chassis: Steel tube diamond shape
Seat height: 30.7in (780mm)
Wheelbase: 53.9in (1369mm)
Rake/trail: 25 °/ 3.7in (95mm)
Weight: 364lb (165kg) (kerb, ABS version)
Recent comments
In HONDA NC700X, kharli wrote:

In HONDA NC700X, kharli wrote:

In HONDA NC700X, kharli wrote:

In HONDA NC700X, Grump wrote:

In HONDA NC700X, kharli wrote:

In Lest we forget..., Captain Scarlet wrote:

In Captain Scarlet's next bike, malauder wrote:

In Captain Scarlet's next bike, Captain Scarlet wrote:

In Benelli 750 SEI, CCM wrote:

In Benelli 750 SEI, Gekom57 wrote:

In Benelli 750 SEI, Gekom57 wrote:

In Captain Scarlet's next bike, Grump wrote:

In Captain Scarlet's next bike, Navy Boy wrote:

In Captain Scarlet's next bike, Captain Scarlet wrote:

In Captain Scarlet's next bike, Grump wrote:

In HONDA NC700X, Grump wrote:

In Lest we forget..., Navy Boy wrote:

In Lest we forget..., unconventional rebel wrote:

In Captain Scarlet's next bike, unconventional rebel wrote:

In HONDA NC700X, unconventional rebel wrote:
Donate to the Kevin Ash Fund
Kevin's funeral was held on Thursday 28th February 2013 and was well attended by family, friends and colleagues.
The Telegraph has very kindly established The Telegraph Kevin Ash Fund to assist with the education of Kevin's three daughters.
If you'd like to make a donation then you can use the PayPal 'Donate' button below which will allow you to donate from your PayPal account, or via credit or debit card. A small percentage (about 3.4%) will be retained by PayPal for the service.
Kevin's family have been touched by the generosity and messages of support from people using the website and would like to express their gratitude to those who have contributed in any way.
The donations keep coming in, thank you so much, and the family especially like it when you leave a message.