BMW R1200R Classic review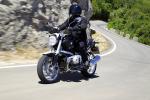 Beauty might well depend on the beholder`s personal preferences but I`ve yet to meet anyone who doesn`t think BMW`s R1200R Classic is a fine looking motorcycle.
Some might add provisos such as it being an old man`s bike, probably slow or with a gearbox like a tumble drier full of spanners, but they`d be wrong on all those counts anyway.
The Classic is the retro version of the near identical R1200R, which has been given a makeover for 2011 and much more importantly, a new engine. The air-cooled boxer twin power unit might look similar to the previous model`s but this is the latest double overhead camshaft version, first seen in the high performance HP2 Sport before migrating in a softer state of tune to the R1200GS adventure bike and the R1200RT tourer last year.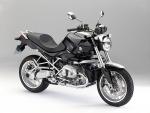 It`s a clever design as the twin`s valve layout is aligned 90 degrees out of kilter with the crankshaft, so to avoid using a very complicated cam drive arrangement, each camshaft operates one inlet and one exhaust valve, and a simple camchain is used to turn them. In turn, the valves are arranged radially, each tilted in slightly towards the centre of the combustion chamber.
There are several benefits which we`ve already seen on the GS and RT: the engine makes more peak power than before at 109bhp (110PS, 81.kW), it revs 500rpm higher and yet it also boasts an increase in torque lower down the range. A useful side effect is that the tingling, high frequency vibration which blighted the older, high cam boxer twins at high revs is reduced almost to nothing. The previous valve gear was responsible for this and the vibes have gone with it.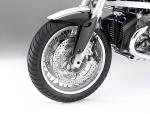 The rest of the bike is familiar enough, with BMW`s unique Telelever suspension holding up the front - a single wishbone supports the forks and determines their movement - and the single-sided swingarm and shaft drive design at the rear which BMW calls Paralever.
There`s not much frame as most components are bolted directly to the engine, but the looks nevertheless are very traditional. Ironically this is why BMW is reporting many younger people are liking the Classic: it looks like a proper motorcycle, rather than the plastic-covered missile which is how many sportier bikes appear. So much for the 'old man' tag then.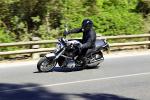 It`s not slow either. Okay, compared with a superbike it`s off the pace, but it`s still good for more than 130mph (210kph), and much more important, it feels lively and willing, exactly as the new RT and GS do. BMW aficionados might even spot the slightly deeper, crisper exhaust note, but what`s important is that it`s an eager, muscular-feeling bike that`s fine for despatching challenging backroads while offering the power and torque for high speed motorways or punchy town work.
Economy is good too, even using it enthusiastically I was achieving 47mpg (16.6km/l, 6.0l/100km, 39mpg US), while BMW claims 52mpg (18.4km/l, 5.4l/100km, 43mpg US) at a steady 75mph (120kph). Ride it at a steady 55mph (80kph) and you`ll nudge 70mpg (24.8km/l, 4.0l/100km, 58mpg US), although that will take more willpower than most people can muster. The 4 gallon (18 litre) tank is good for at least 190 miles (300km), so covering touring distances is perfectly realistic.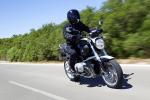 Comfort though is not on your side. My test bike was inadvertently fitted with the low seat option, and as I`m 6`3" (1.92m) that cramped my legs severely, but with a correctly matched seat the riding position is fine. The seat itself is not too bad but the suspension isn`t great, with a thumping ride quality at higher speeds especially which keeps jarring through the bike, with much of this coming through the bars into your wrists.
It gets tiring after a while and makes you realise the extra weight that comes with Telelever and Paralever does have its drawbacks, most notably as excessive unsprung weight affecting the suspension`s plushness. You do however get very little dive from the front while braking, and the stopping performance is exceptional. BMW`s ABS is outstanding, giving eye-popping braking distances with good control too.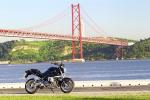 The bike generally is very stable and reassuring, steering beautifully at low speeds in particular, making the BMW R1200R an easy and undemanding machine to ride. Gearchanging incidentally is fast, smooth and easy: those clanky BMW boxes of old were banished long ago.
As for the style, there are several differences between the Classic and the stock BMW R1200R. The first things you notice are the traditional wire wheels, although the clever design means BMW can still fit tubeless tyres (safer than tubed ones). The paint scheme is nicely finished with a broad central stripe, the black and white colours reminiscent of much older BMWs, while the Classic gets a chromed exhaust system and mirrors, a polished front wishbone and other superior detailing that adds up to a big difference.
You pay £700 more than the base model, with R1200 R Classic prices starting at £50 short of £10,000, to which ABS adds £990 and the excellent ESA suspension another £645... the numbers add up fast, which is worth noting when you`re making compaisons.
It`s a good, undemanding bike then, stable rather than agile but lively enough for some fun. The suspension can be harsh, otherwise it rides as well as it looks. And it looks good.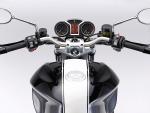 Specifications
Model tested: BMW R1200R Classic
UK price: £9,950
Available now
Engine: 180 ° Boxer twin, air cooled, dohc 8v, 1170cc
Power: 109bhp (110PS, 81kW) @ 7,750rpm
Torque: 88lb.ft (11.6kgm, 119Nm) @ 6,000rpm
Economy: 47mpg (16.6km/l, 6.0l/100km, 39mpg US)
Tank/Range: 4.0 gallons (18 litres, 4. 8 US gallons)/ 190 miles (300km)
Transmission: Six gears, dry single-plate clutch, shaft final drive
Chassis: tubular steel front and rear subframes
Seat height: 31.5in (800mm) (options from 750mm to 830mm)
Wheelbase: 58.9in (1495mm)
Rake/trail: 27.1 °/ 4.69in (119.1mm)
Weight: 492lb (223kg) (with 90% fuel/16.2 litres)
Recent comments
In HONDA NC700X, kharli wrote:

In HONDA NC700X, kharli wrote:

In HONDA NC700X, Grump wrote:

In HONDA NC700X, kharli wrote:

In Lest we forget..., Captain Scarlet wrote:

In Captain Scarlet's next bike, malauder wrote:

In Captain Scarlet's next bike, Captain Scarlet wrote:

In Benelli 750 SEI, CCM wrote:

In Benelli 750 SEI, Gekom57 wrote:

In Benelli 750 SEI, Gekom57 wrote:

In Captain Scarlet's next bike, Grump wrote:

In Captain Scarlet's next bike, Navy Boy wrote:

In Captain Scarlet's next bike, Captain Scarlet wrote:

In Captain Scarlet's next bike, Grump wrote:

In HONDA NC700X, Grump wrote:

In Lest we forget..., Navy Boy wrote:

In Lest we forget..., unconventional rebel wrote:

In Captain Scarlet's next bike, unconventional rebel wrote:

In HONDA NC700X, unconventional rebel wrote:

In Lest we forget..., davvy wrote:
Donate to the Kevin Ash Fund
Kevin's funeral was held on Thursday 28th February 2013 and was well attended by family, friends and colleagues.
The Telegraph has very kindly established The Telegraph Kevin Ash Fund to assist with the education of Kevin's three daughters.
If you'd like to make a donation then you can use the PayPal 'Donate' button below which will allow you to donate from your PayPal account, or via credit or debit card. A small percentage (about 3.4%) will be retained by PayPal for the service.
Kevin's family have been touched by the generosity and messages of support from people using the website and would like to express their gratitude to those who have contributed in any way.
The donations keep coming in, thank you so much, and the family especially like it when you leave a message.