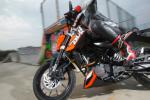 KTM is flying to the moon with its new Duke 125. That at least is how the company`s Thomas Kutruf describes its entry into the 125 street bike sector, an area in which it has absolutely no experience.
You`d never guess. For a start, KTM as a brand is such a natural fit with its exuberant bikes, youthful attitude and sporting bias there`s an almost inevitable appeal to youngsters.
You are missing some Flash content that should appear here! Perhaps your browser cannot display it, or maybe it did not initialize correctly.
But KTM took no chances and spent a lot of time interviewing youngsters from around Europe over a six month period, deciding rightly that it was a far too arrogant approach to assume that the mostly older male design and marketing staff could really have an idea of what young guys and girls consider cool in a motorcycle.
What they found out was that modern youth are very sensitive to brand names, they don`t want effectively to be patronised with anything other than a proper adult motorcycle that feels like a big bike, they do like graphics and stickers and they love the idea of being able to personalise their bike. They like authenticity too, which KTM has in spades with its enormously successful history and record in off-road and supermoto motorcycles.
But they don`t have much money, a factor which was considered just as important as the rest when KTM began the project to produce a bike that fitted the rest of the criteria. It`s all very well producing the ideal motorcycle for your target group, but if they can`t afford it then all your efforts have been in vain.
The design follows typical KTM styling cues, including the strong and lightweight tubular steel lattice frame with good quality WP forks and rear shock and even varying diameter handlebars to impart a sense of quality. The Kiska-designed bodywork is angular and minimalist in typical KTM fashion, and a range of stickers is available for the panels on each side of the front of the fuel tank. There`s even an optional strip of LED lights that fits into the gap along the back edge of these panels.
KTM knew that none of its existing engines was suitable for this application as they`re all too sports oriented and wouldn`t help the aim of making the Duke 125 easy to ride. The aim anyway was to fit the bike into the learner legal, Europe-wide 11.4kW (14bhp) power category, so a new four-stroke single was designed specifically for this bike.
That`s a powerful signal of just how seriously KTM takes this new bike. Kudruf is very clear about it: "This is not a side project for our engineers, but a top priority. We believe this segment will grow, and grow fast, as the A1 licence category spreads across Europe from 2013, and anyway youth are the future for any brand. So this bike is very important to us."
The motor then is state of the art, with double overhead camshafts and finger followers operating the valves - these in effect amplify the action of the cam lobes, meaning the camshafts themselves can use smaller lobes and be more compact, keeping the whole engine very small and light. It also has a balance shaft to minimise vibration, utilises liquid cooling and is fuelled by a Bosch fuel injection system.
KTM singles out the exhaust system as an illustration of how much effort went into the design, as they spent an inordinate amount of time not only making it look different but matching it to the engine and fuel injection in order to provide the smoothest torque and power delivery.
The brakes are ByBre, a Brembo sub-brand made in India, while the WP inverted forks are big bike fat with their 43mm diameter being the same as the RC8 superbike`s, so the brands and spec certainly impress more than on most 125s.
What also matters is how well the KTM Duke 125 rides, and it doesn`t fall short here either. No need to be short to fit even - just as well as even the younger potential riders will still be at their adult height, if not attitude... At 6`3" (1.91m) I`m perfectly comfortable on the bike and don`t look too silly on it either (no more than on any other bike anyway), yet the reasonably low seat means below average riders will manage fine too. The upright riding position is helpful here as it`s a lot more tolerant of different rider sizes than a sports bike`s low bars and high seat and footrests.
The motor responds willingly to the twistgrip, although you do need to rev it hard to pull away from the lights smartly and nose ahead of aggressive traffic, but once rolling the mid-range is impressive for such a small motor, and it doesn`t feel laboured when you spin it hard. You can tell it`s a young person`s bike by the rev counter alone, as the numbers are too small for oldies to read properly, but the big race-type LCD display presents its comprehensive package of information clearly otherwise.
You even get a fuel economy readout as well as gear position, fuel level and so on, more than on many bigger bikes. While KTM claims anything from 90-110mpg, in real life it`s difficult to resist caning the little bike wherever you go, in which case economy drops to 60-65mpg. But if you`re using the bike for a steady ride to work as well as an adrenalin stimulant in evenings and at weekends, it should be possible to get close to the claimed numbers.
Restraint isn`t easy though as the chassis is complicit with the engine in bringing out the hooligan in you. The bike handles beautifully, being both very agile and yet impressively stable too. While the suspension has none of the budget feel you normally get at this level. A sharper front brake would better match the Duke 125`s taut feel, but as many novice riders will be cutting their teeth on this, it`s probably better set up this way.
You could even consider some longer trips on the little bike. Its 2.4 gallon (11 litre) tank means the minimum range is almost 150 miles, and taking it steadier will extend this substantially, although realistically you won`t be cruising along at much more than 60mph most of the time. Squeeze down onto the tank, find a long enough straight and you`ll eventually see numbers in the low 70`s on the mph clock (115kph or so) but any kind of hindrance like wind or gradient quickly knocks that back.
It`s the overall sensation the bike gives that matters most though. It`s a delightful, exuberant machine that is both fun and very capable as a motorcycle, and rather than its small capacity being like a restriction, instead it encourages you to ride it hard and feel like you`re getting the very most from the machine, something big bike riders have forgotten how to do.
Now look at the price: at £3,695 it`s only £500 more than Honda`s CBR125R (and a lot cheaper than Yamaha`s YZF125R), and for that you not only get a much higher specification and lose the budget bike feel of the Honda (evident in both engine and chassis) you also get a free insurance offer from KTM and a special low rate finance deal, as well as a full two year warranty.
A great bike, well thought out, keenly priced and a dream realised for many youngsters. I hope we`ll be seeing plenty of these on the roads.
Specifications:
UK Price: £3,695. Available: now
Engine: Single-cylinder four stroke, liquid cooled, dohc 4v, 124.7cc
Power: 15bhp (15PS, 11.3kW) @ 10,500rpm
Torque: 9lb.ft (12Nm) @ 8,500rpm
Economy: 65mpg
Tank: 2.4 gallons (11 litres, 2.9 gallons US)
Transmission: Six gears, wet clutch, chain final drive
Chassis: Tubular steel trellis
Seat height: 31.9in (810mm)
Wheelbase: 62.6in (1590mm)
Rake/trail: 25 °/ 3.94in (100mm)
Weight: 260lb (118kg) (kerb, empty tank)
Recent comments
In HONDA NC700X, kharli wrote:

In HONDA NC700X, kharli wrote:

In HONDA NC700X, Grump wrote:

In HONDA NC700X, kharli wrote:

In Lest we forget..., Captain Scarlet wrote:

In Captain Scarlet's next bike, malauder wrote:

In Captain Scarlet's next bike, Captain Scarlet wrote:

In Benelli 750 SEI, CCM wrote:

In Benelli 750 SEI, Gekom57 wrote:

In Benelli 750 SEI, Gekom57 wrote:

In Captain Scarlet's next bike, Grump wrote:

In Captain Scarlet's next bike, Navy Boy wrote:

In Captain Scarlet's next bike, Captain Scarlet wrote:

In Captain Scarlet's next bike, Grump wrote:

In HONDA NC700X, Grump wrote:

In Lest we forget..., Navy Boy wrote:

In Lest we forget..., unconventional rebel wrote:

In Captain Scarlet's next bike, unconventional rebel wrote:

In HONDA NC700X, unconventional rebel wrote:

In Lest we forget..., davvy wrote:
Donate to the Kevin Ash Fund
Kevin's funeral was held on Thursday 28th February 2013 and was well attended by family, friends and colleagues.
The Telegraph has very kindly established The Telegraph Kevin Ash Fund to assist with the education of Kevin's three daughters.
If you'd like to make a donation then you can use the PayPal 'Donate' button below which will allow you to donate from your PayPal account, or via credit or debit card. A small percentage (about 3.4%) will be retained by PayPal for the service.
Kevin's family have been touched by the generosity and messages of support from people using the website and would like to express their gratitude to those who have contributed in any way.
The donations keep coming in, thank you so much, and the family especially like it when you leave a message.