Pictures: Kevin Ash (click on images)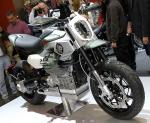 Pierre Terblanche and Miguel Galluzzi have created a series of knockout concept bikes for Moto Guzzi, which were shown for the first time at the 2009 Milan Show.
The bikes, dubbed V12LM, V12X and V12 Strada are designed to help Guzzi shed its old fashioned image with innovative new technology and lean, modern styling. The three bikes are different versions of the same basic style, the LM nodding towards the old Guzzi Le Mans with its sports bias, while the X and Strada versions are trail and street bikes respectively. Each is powered by Guzzi`s latest 1200cc, eight valve V-twin, and Terblanche says much of what is featured could be put into production. The LED headlamp arrangement is only a few years from being a production reality while other components are mostly conventional beneath the restyle.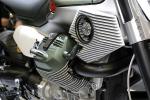 Several things are of specific interest though. The finned plates on each side of the steering head are not solely for cosmetic purposes, these are used to help cool the engine via high tech heat pipes which carry excessive heat away from the exhaust valve region of the cylinder heads. See a full explanation of the technology here.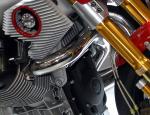 The exhaust pipes look conventional but these are made of a material called Inconel, an alloy of nickel and chromium with other metals in smaller quantities. It is used in the aerospace and chemical industries in extreme environments for its exceptional stability at high temperatures and resistance to corrosion, and also in the exhaust systems of Formula One cars. Click here for a full description of Inconel.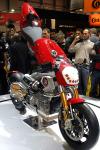 The V12LM is pictured with the bodywork raised, a feature designed to improve serviceability. A first tier of regular service items is immediately accessible underneath, then these two lift up to reveal less commonly used service items.
The bikes also feature rear view cameras on each cylinder head, which these days is relatively inexpensive and robust technology. These feed back images onto screens in place of conventional mirrors. Although legal requirements mean standard mirrors must be fitted, Terblanche says the screens could be incorporated into stock mirrors to improve the rearward view, and this is a perfectly productionable feature.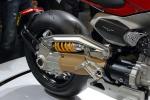 The LM incorporates the rear shock within the single-sided swingarm structure, a move designed to free up space behind the engine for the airbox and exhaust system, although in practice this would add significantly to the unsprung weight at the rear and affect ride quality.
While none of the bikes is intended as anything more than a concept, these do show a design direction in which Moto Guzzi is looking seriously.
Pierre Terblanche is former head of design at Ducati, where he was responsible for the Supermono, 999, MHe900, Sport Classic range, Hypermotard and Multistrada, as well as other machines such as the Cagiva Gran Canyon. Galluzzi is best known as the stylist of the iconic Ducati Monster under the auspices of Massimo Bordi, as well as the Cagiva Raptor and most recently the Aprilia RSV4 superbike, and is now employed as designer by the Piaggio Group, owner of the Guzzi, Aprilia, Vespa, Derbi and Gilera brands. Terblanche heads his own design company in Italy.
The bikes were announced as winners of the Motorcycle Design Association's Best Concept Award during the Milan Show.
* Moto Guzzi Concept Heat Pipe Cooling System
* Moto Guzzi Concept Inconel Exhausts
Fri, 20/11/2009 - 15:49
#1
shuggiemac
Offline
How wonderful it was to see these bikes in Milan and I am personally pleased that Pierre Treblanche has been involved again with something that has got people talking in a positive way. He took a bit of a mauling from many quarters over some of his Ducati efforts and in many ways unfairly. Then again as someone who spent his own hard earned on a 999 I suppose I would say that. The original Multistrada on the other hand .... well less said about the better. The Hypermotard though is a pretty damn nice bike.
In spite of the impressive technology for the cylinder head cooling, I would still think that mounting the rear facing cameras on top of the pots is not the best place for them - vibration, temperature will surely be there in abundance. Is there not also the chance that instead of having a mirror full of elbow as on say the 999 there would be a blurry screen full of knee !?!
That however is being somewhat flippant and I am very impressed with what Guzzi have done here and really do hope that they garner success on the back of this. The use of the Inconel pipes is fascinating and it would be interesting to know how they do manufacture them within the confines of the rapid work hardening. CNC benders are incredibly accurate (relatively speaking) and repeatable but they surely still have to make multiple bends in a pipe so does this throw up challenges?
The overall presentation was very impressive and having seen the bikes in the flesh I also believe that they have done a great job of the styling to show off the new elements as well as putting that iconic engine on display. It all fits well together.
Recent comments
In HONDA NC700X, kharli wrote:

In HONDA NC700X, kharli wrote:

In HONDA NC700X, Grump wrote:

In HONDA NC700X, kharli wrote:

In Lest we forget..., Captain Scarlet wrote:

In Captain Scarlet's next bike, malauder wrote:

In Captain Scarlet's next bike, Captain Scarlet wrote:

In Benelli 750 SEI, CCM wrote:

In Benelli 750 SEI, Gekom57 wrote:

In Benelli 750 SEI, Gekom57 wrote:

In Captain Scarlet's next bike, Grump wrote:

In Captain Scarlet's next bike, Navy Boy wrote:

In Captain Scarlet's next bike, Captain Scarlet wrote:

In Captain Scarlet's next bike, Grump wrote:

In HONDA NC700X, Grump wrote:

In Lest we forget..., Navy Boy wrote:

In Lest we forget..., unconventional rebel wrote:

In Captain Scarlet's next bike, unconventional rebel wrote:

In HONDA NC700X, unconventional rebel wrote:

In Lest we forget..., davvy wrote:
Donate to the Kevin Ash Fund
Kevin's funeral was held on Thursday 28th February 2013 and was well attended by family, friends and colleagues.
The Telegraph has very kindly established The Telegraph Kevin Ash Fund to assist with the education of Kevin's three daughters.
If you'd like to make a donation then you can use the PayPal 'Donate' button below which will allow you to donate from your PayPal account, or via credit or debit card. A small percentage (about 3.4%) will be retained by PayPal for the service.
Kevin's family have been touched by the generosity and messages of support from people using the website and would like to express their gratitude to those who have contributed in any way.
The donations keep coming in, thank you so much, and the family especially like it when you leave a message.