Pictures: Ula Serra, Francesc Montero, Zep Gori, Félix Romero (click on images)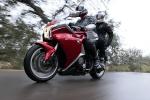 Honda`s new VFR1200F always had a huge amount to live up to, not least of which is its role as the latest bike to bear the iconic VFR moniker.
The VFR750 reversed the dreadful reputation for unreliability of Honda`s first big V-fours, the VF700 and 750 cruisers and VF750F of 1982, the VF500 as well, all notorious for their rapid-wearing camshafts, sagging camchains, breaking camchain tensioners and other issues. The VFR750 was designed to put that right, and even did away with camchains altogether by using a costly gear train to drive the camshafts. It was dependable, durable, lasted forever, and gained a huge fanbase for its combination of quality and all-round ability: this was the bike that the term sports-tourer was coined for.
We knew the VFR1200F was coming four years ago, and Honda started admitting as much officially two years ago when the V-four concept bike was shown. Since then more and information has been leaked, much of it deliberately, and Honda even set up a special VFR1200F website which not only let us know how soon VFR would be coming, it told us how it would take motorcycle engineering to a whole new level and be the new flagship of Honda`s motorcycle range.
Boy the VFR1200 needed to be good! And good it is... but not good enough to carry all that baggage. Sit astride the bike and several factors are immediately obvious. First is the size: compared with modern superbikes it`s a big machine, and for most people, all the better for that. But it`s a fair stretch to the bars, something of a surprise, then when you move the bike you notice it`s nowhere near as light as a sports bike. The kerb weight in fact is a hefty 589lb (267kg) which is some 100-130lb (50-60kg) heavier than a superbike, although the mass is carried low and centrally. The cockpit is quite spartan compared with some BMWs and Ducatis, with a central rev counter, digital speed on the left and other info on the right, You get ambient air temperature but no distance to empty, fuel consumption and so on.
Fire up the engine and the offbeat burble will be familiar to V-four owners, if deeper than a VFR800. Snick it into first, release the clutch and the bike pulls as strongly as you`d expect... the surprise is the way the growl changes dramatically to a blood-stirring snarl as 5,000rpm is reached, and another 1000rpm later the power surges in too. It`s easy to forget this is a 170bhp (173PS, 127kW) motor, almost as much output as a BMW K1300S , but then that`s because the Honda lacks the blast of speed that distinguishes the BMW. The Japanese bike has less torque in depth and carries more weight, I`d estimate as much as an additional 44lb (20kg) as BMW claims 560lb (254kg) with a full tank, where Honda`s higher kerb weight includes only 5 litres of fuel. The K 1300 is no lightweight either... The motor is impressive otherwise though, and while it doesn`t have that leave-it-in-top-gear thrust of the BMW K1300GT , where sixth is all you need, it is still strong enough to minimise cog swopping.
The transmission itself works well, although a couple of times I was reminded of an old Honda trait when during very hard acceleration the VFR dropped out of second gear into a false neutral as the revs closed in on the red line. And while that's a lot of power to unleash, it`s definitely dulled by the bike`s weight.
The upside of this mass is outstanding ride quality. The bike is unfazed by all kinds of surfaces including the very rough and bumpy, and in that respect comfort is very good. You feel a hint of the shaft drive`s mass in a thumping sensation when the suspension is working very hard, otherwise the back end is as unnoticed as any chain drive, with no hint of the vertical pitching with power on and off once associated with shaft drive. This is cited as a significant technological advance for the Honda, but in fact BMW and Moto Guzzi with its CARC system have been doing the same very effectively for some time, by the use of clever transmission and suspension geometry.
A shame though that the seat isn`t especially comfortable. It feels good at first, being very broad and supportive, but after an hour or so you find yourself shifting about a little to keep comfy. It`s not bad, and to be fair after a full day it didn`t feel any worse than that, but there are better seats out there, notably the K 1300 GT`s. But comfort`s further compromised by the vibration. This peaks at 4,500rpm where the tingles at the back of the fuel tank can buzz your sensitive parts in a most interesting way.
You might even consider this a bonus, but it`s distracting, and with some tingles coming through the bars too, really not becoming of a supposedly smooth V-four. In thicker clothing such as I was wearing on the mostly wet press launch it wasn`t such an issue, but in jeans or thin leathers it can be disconcerting. And after a full day, especially as this happens at a typical cruising speed of 85mph (135kph) or so, it starts to become irritating. At higher revs some of the vibes come through the footrests too.
No such annoyance from the screen though, which delivers the air flow to the rider in a creamy smooth flow with no hint of turbulence or buffeting, and this applies to tall or short riders. It`s very impressive and clearly a lot of time has been spent on the bike`s aerodynamics. The fairing in fact features additional outer skins which enhance stability and keep the airflow smooth, while the heat from the engine is very well managed with little of this reaching the rider.
Stability is the dominant feature of the bike. Even at very high speeds it feels absolutely rock solid, as reassuring as any motorcycle I`ve ridden in fact (and we`re talking about speeds approaching 160mph - 260kph). But that`s the upside of the weight and conservative chassis geometry, the penalty is lethargic direction changing. The VFR demands a lot of bar effort to change direction, and while it`s predictable and accurate too, no way is it sharp or a quick turner. If this is a sports-tourer, when you`re trying to hustle it down a sinuous back road you`ll be thinking the emphasis is definitely biased towards the tourer side of the spectrum.
The suspension itself copes very well with a sportier rider, soaking up bumps and keeping the wheel under control with panache, but after a good go at a demanding back road, you wouldn`t call this sporty even like the VFR800 was, it`s just too heavy.
Then the fuel warning light will come on anyway. The VFR has a 4.1 gallon (18.5 litre, 4.9 gallon US) capacity, and at the 40mpg (14.6km/l, 7.06l/100km, 33.3mpg US) we were achieving in mixed riding (with some pretty fast going), that`s a mere 164 miles (264km) to completely dry. In practice then you`ll be looking for a refill at 130 miles, or if you`re in a remote area with fuel stations 50 miles apart, at as little as 80 miles. This is a major handicap for any bike setting itself up as a tourer and I know very well that this one factor alone will turn potential customers towards other bikes such as BMW`s K 1300 series, older machines like the FJR1300 Yamaha or looking eagerly towards Ducati`s Multistrada with its claimed 250 miles (400km) and more range. I`m sure gentler riding on the VFR will reap rewards, and quite possibly many riders will see 150 miles pass before the warning light interrupts their enjoyment, but this kind of bike needs a good 200 mile range to be convincing as a tourer.
That`s even a reason why the VFR1200 won`t cut it as a Blackbird replacement. To be fair Honda is not pitching it as such, but with less weight and a better range it could easily have filled that gap in Honda`s line-up. But you can`t go as fast or as far as a Blackbird with the VFR, so those owners will be looking elsewhere.
The optional luggage compounds the problem. In some respects the design of the panniers and top box are very impressive, with their hidden hinges, lack of external lips and one-key operation. But only one pannier is big enough for some (and not all) helmets, while the top box looks more like a scooter box than a big sports-tourer one: it holds one helmet but not a lot else. There`s some 30 litres less total storage in these than the official Honda luggage for the Blackbird, so two-up touring will mean very careful packing indeed, or leaving the passenger at home.
The passenger is at least well accommodated, with plenty of room and nothing interfering with leg room, although I didn`t try long distance comfort so no comment on that.
There might be some unwanted rider-pillion helmet bumping though, as the brakes can be a little grabby. The feel is typical of six-piston callipers - the VFR has a pair up front, with front-rear brake linking - in that the initial application can feel sharp, with the front of the bike dipping. There`s plenty of power and a more progressive action after that, but conventional four-piston callipers feel better.
The looks of course are entirely subjective, but there`s no doubt the bike has considerable presence. I happen to really like the VFR's appearance, I think it`s a handsome, cleverly styled machine with great simplicity which pushes forward motorcycle design just as the Fireblade has. The swimming pool deep gloss of the paint helps too, but the overall effect is that this is a bike people are going to notice, and most I think will admire too.
It`s beautifully made then and clever in many respects too, but the sports side of its character suffers for the weight, while the touring angle is hit by the seat comfort and the fuel range. VFR owners will find it a better bike than the machines they trade in, but the canny ones will be looking at different tank badges, and maybe for the first time in their lives, risking Italian when the Multistrada appears in showrooms in March.
After all, at £11,600 the VFR1200F is slightly more costly than the base model Multistrada and up there too with BMW`s K 1300 S and K 1300 GT, as well as several older but very competent touring or sports-touring bikes. Or how about a fabulous Triumph Sprint ST at £8,849 with ABS? It`s got a 4.4 gallon (20 litre, 5.3 gallon US) tank too, with better economy, and it`s nearly 60lb (26kg) lighter too.
£11,596 on the road, available from February 21
.
Honda VFR1200F review Honda VFR1200F test VFR 1200 F
Sun, 29/11/2009 - 09:35
#3
kevash
Offline
I keep wondering if I've been too harsh on the bike as it's enjoyable to ride and sounds fantastic. But there's no escaping that fuel range or the small luggage for tourers, while it's pretty hefty for when you want to get sporty - the K 1300 S is too heavy to be really sporty and the Honda's a fair bit heavier than that. That's a good point Paul about the new generation of sports tourers, they do make the traditional ones look old school.
I had a discussion once with someone at Honda about tank size - he's English but is one of the people who signs off final prototypes - and he also feels a better range is needed on many bikes, and said he'd even suggested offering a big tank option on some bikes, but they didn't think it was needed. I reckon if there was an option of a 5.3 gallon (24 litre) tank instead of the 4.1 gallon (18.5 litre) standard one, a lot of riders would go for it. Even at, say, £400 extra it would be worth it, and the bike's resale value would be better too.
European bikes in this category have lots more electronic toys and options to play with too, the VFR feels a bit bare in comparison.
Recent comments
In HONDA NC700X, kharli wrote:

In HONDA NC700X, kharli wrote:

In HONDA NC700X, Grump wrote:

In HONDA NC700X, kharli wrote:

In Lest we forget..., Captain Scarlet wrote:

In Captain Scarlet's next bike, malauder wrote:

In Captain Scarlet's next bike, Captain Scarlet wrote:

In Benelli 750 SEI, CCM wrote:

In Benelli 750 SEI, Gekom57 wrote:

In Benelli 750 SEI, Gekom57 wrote:

In Captain Scarlet's next bike, Grump wrote:

In Captain Scarlet's next bike, Navy Boy wrote:

In Captain Scarlet's next bike, Captain Scarlet wrote:

In Captain Scarlet's next bike, Grump wrote:

In HONDA NC700X, Grump wrote:

In Lest we forget..., Navy Boy wrote:

In Lest we forget..., unconventional rebel wrote:

In Captain Scarlet's next bike, unconventional rebel wrote:

In HONDA NC700X, unconventional rebel wrote:

In Lest we forget..., davvy wrote:
Donate to the Kevin Ash Fund
Kevin's funeral was held on Thursday 28th February 2013 and was well attended by family, friends and colleagues.
The Telegraph has very kindly established The Telegraph Kevin Ash Fund to assist with the education of Kevin's three daughters.
If you'd like to make a donation then you can use the PayPal 'Donate' button below which will allow you to donate from your PayPal account, or via credit or debit card. A small percentage (about 3.4%) will be retained by PayPal for the service.
Kevin's family have been touched by the generosity and messages of support from people using the website and would like to express their gratitude to those who have contributed in any way.
The donations keep coming in, thank you so much, and the family especially like it when you leave a message.
Recent Articles
We're familiar with solid-state electronics in biking. Ignition swapped points for transistors in the 1970s, then went digital in the 1990s. Now, the need for greater power, fuel efficiency and emissions control means modern engines only work with computer-controlled fuelling, ignition, combustion and exhaust. When we open the throttle we pull the strings, but the ECU calls the shots. To do it, the ECU needs an accurate view of the world. And it gets it through its sensors.
A gyroscope is a rigid circular or spherical mass rotating around an axis and for over 100 years motorcycles have come with three of them: a front wheel, a rear wheel and a crank (if you're being pedantic you could include cams, balancer shafts, gearbox, clutch etc). The classic mechanical model of a gyroscope ranges from the very small – electrons spinning around an atom's nucleus – to the very large – the Earth.
Most of us have an innate feel for balancing a high centre of gravity on a relatively short wheelbase. Say, like a motorbike. Its centre of gravity is the point at which the sum of the surrounding mass is zero, and is largely determined by the location of the engine, the heaviest part of the package. Usually the CoG is midway between the wheels (half the wheelbase) and 60 to 75cm off the ground; just above the engine, in front of your knees. Or at least it is until you get on.
Anyone with fingers knows bikes vibrate, sometimes strongly enough to make picking your nose impossible. But how we perceive vibration depends on its type, pattern, frequency and cause. Bikes are subject to different types of vibration. A bumpy road creates random forced vibration at medium to high frequency (around 5-35 Hz depending on vehicle speed). It's perceived as unpleasant, as is head buffeting caused by wind turbulence. Engineers and aerodynamicists try to minimise these bad vibrations. But we usually talk about engine vibration. There are many sources...
From the launch of Yamaha's new Super Ténéré: "The exhaust pipe connection between the two headers is discontinued to give more character to the engine. The link pipe gives a flat feeling to the curve, so removing it makes the engine a bit more peaky." This is all about exhaust gas. When a four-stroke is tuned for power it means more revs, and so the cylinders have thousandths of second to fill with fresh mixture, compress it, burn it and pump it out again. To get enough mixture in and out, inlet valves open early and exhaust valves stay open for longer – so both are open at the same time.