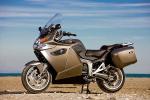 By Kevin Ash
Pictures: Double Red, Jason Critchell

For the launch of the three new 1300 BMWs we flew to Malaga on Spain's southern coastline, and on the first day rode from there up to a small town to the east of Seville. the roads were a mix of motorway, bumpy backroads and some beautifully surfaced, sinuous mountain roads. On day we headed west to Portugal's Algarve, when the weather was also mixed, mostly cool but with sunshine, wind and rain at various times.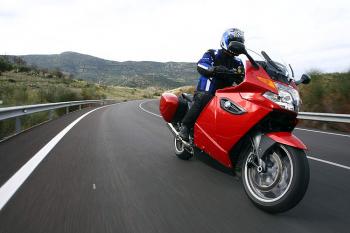 Click on image for galleryThese were great roads and conditions for putting the K1300 S through its paces and some sections highlighted the strengths of the 1300 R especially well. How telling then that the bike in most demand was the least flashy, the lowest powered and in theory at least, the dullest: every time we went out to the bikes, the keys of the five K1300GTs were the first to go.

It was clear what the riders were gaining by going for the touring bike: better comfort and weather protection for some fairly long distances, and in most cases more gadgets (the bikes' specifications varied), including heated grips, heated seat, electrically adjustable screen and integrated panniers to make carrying extra clobber that much easier. Understandable on the long, high-speed stretches then, but even when the roads ahead were more about having fun than putting distance behind you, so the GT keys were still the hardest to find.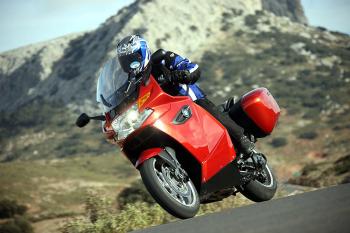 The reason was, what you lost by choosing the GT was a lot less significant than what you gained. The superior comfort was hardly unexpected, although as with all the K-Series, engine vibration at high revs is nasty, and the GT's seat isn't especially cosseting – I was shifting about after an hour or so on board. The riding position is spacious too, while rear seat accommodation is excellent, with plenty of room and even the option of seat heating for the passenger too. Buffeting from the windblast only seems to affect taller passengers, others are little affected. You can tailor the riding position too, altering the height of the seat and the handlebars by a useful 1.6in (40mm).

But what mattered on the launch was how the BMW K1300GT compared in the company of its stablemates, and on most of the roads there was precious little difference in terms of how much fun it was. While it's down on peak engine power, its 158bhp (160PS, 118kW) is still enough to be exciting, while its broader spread of torque very often made it feel as quick as the other two anyway, especially in a series of tight turns.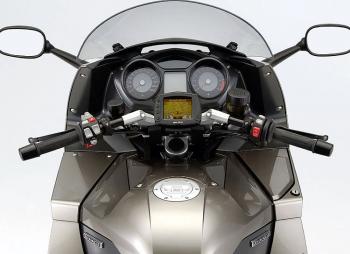 The old 1200 GT was reasonably torquey but felt weak in the 4,000-5,000rpm range, which meant you sometimes had to drop a gear or two to make snappy overtakes, but the hole has been filled on the GT and it's now a genuine top gear motorcycle (ironic then that the gearchange has been improved for a smoother and lighter action). Like the other two 1300s the GT also enjoys a crisper and more lively throttle response which adds considerably to the riding pleasure.

The GT's steering is also very light and its responses to bar inputs are accurate too – as with the other bikes the changes to the Duolever suspension have resulted in useful improvements, particularly with regard to rider feedback. So although it's the heaviest this isn't the handicap it might be, in addition to which it has a sorter wheelbase and tighter turning circle, and is easy to manoeuvre in small spaces such as parking or doing U-turns.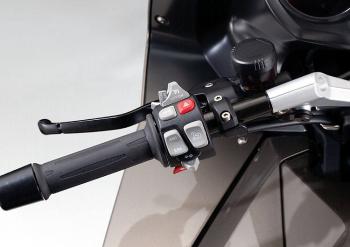 It's on a fully specced BMW K1300GT that you understand why the factory had little choice but to revert to a conventional indicator switch: the handlebars are packed with buttons and fitting the old three-button system amongst these would have been almost impossible. The new buttons' action is a touch on the heavy side though, while the indicator one needs more travel and a less pointy shape.

BMW calls the K1300GT a sports touring bike, but at first sight it looks more like a straight touring machine with its substantial bodywork and panniers. Having hustled one along a variety of roads I think BMW is right, as the GT is as capable of getting the adrenalin flowing as the 1300 S and even the R. It does help when the ESA 2 electronically adjustable suspension is fitted though. Even on the Normal, solo rider no luggage setting the suspension works better than a GT without ESA 2, providing excellent ride quality, real precision and the best high speed stability in the class. Then you can fiddle with the ESA button and set the bike up according to how hard you'll be riding, what kinds of roads are coming up and how heavily the bike is loaded, and after a few subtle whirrs the bike's ready. There are plenty of gadgets on bikes which are forgotten as soon as the novelty value has worn off, but most riders will use ESA regularly: it works and it makes a useful difference.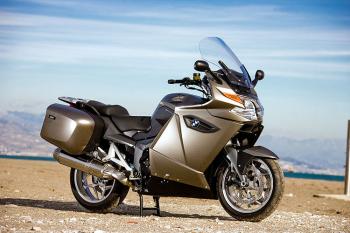 Something else noticeable was how the GT no longer seems to rattle and squeak and feels better put together than the previous model. You'd hope so as BMW has been having build quality issues in the last couple of years and needs to pull these back if its reputation is not going to be damaged.

During hard use the fuel consumption dropped below 40mpg (14km/l, 7.1l/100km, 33mpg US) but in normal riding, such as steady motorway speeds of around 85-90mph (135-145kph) the bike was returning an impressive 50mpg (17.7km/l, 5.6l/100km, 42mpg US). With its 5.3 gallon (24 litre, 6.3 gallon US) tank, that's a handy 265 mile (425km) range, and with gentler use again it would stretch even further,

The panniers are standard fitment, and while they look sleek and well integrated, their thick walls mean the capacity isn't as much as it looks. They're also a bit fiddly to operate. But the list of additional equipment, including small or large topbox, is extensive, running to tyre pressure warning, heated grips and seats, cruise control, Xenon lights and much more.

BMW does have a habit of finishing the development of its bikes after they've gone on sale, but as the K1300GT has been on sale for three years now, this does mean it's come on well, and is now setting the standards in its class.

(£12,240 on the road.
SE model*: £13,490) Model discontinued in 2011

Options prices:
1. ABS: FOC (std)
2. Xenon headlight: £299
3. ESA II: £617
4. Seat heating: £206
5. Cruise control: £339
6. On-board computer: £123
7. Heated handlebar grips: £206
8. Automatic Stability Control: £250
9. Tyre pressure control (TPC): £172
10, High windshield: £49
11. Anti-theft Alarm system: £172
12. Low seat (790mm): FOC
Dynamic pack – ASC+TPC = £377 (save £45)
Comfort pack – 6+7 = £315 (save £14)
* SE model comes with 2+4+5+6+7 as standard, saving £540

Contact: BMW (GB), 01344 426565

www.bmw-motorrad.co.uk

www.i-bmw.com - USA-based BMW sport-touring forum site


Specifications
Wed, 21/01/2009 - 12:36
#2
kevash
Offline
Hmm, the 1300S page should open fine, although I did change the optional URL path recently - that's the /bmwk1300s at the end of the web address, which might have caused your problem. I'd originally had it with an underscore (seen as a space by search engines) then altered it to catch Googlers who miss out the space bar. Very esoteric and geeky, sorry, but I try to include various misspellings and so on in the text to predict what people might mistype into Google. Most you don't see as they're in the code that brings up the picture galleries, although sometimes when your pointer hovers over an image its name appears, and it could be anything, like Motto_Guzi and stuff like that.
You wouldn't believe how many people I get who type hondacbf125 into Google as one word - I'm top hit for that below a couple of promoted ones!
Probably sent you to sleep now... getting back to the 1300S, try the link in the black menu bar again or the Recent Features box on the left, and if it still doesn't work, refresh the page (how you do this depends on the browser) as that should clear the cache and the link will work. If it still doesn't work... look in the address bar at the top of the browser and see if it has ashonbikes.com/bmw_k1300s - that's the one I changed. If you delete the _ and press return the page should work. If not, please let me know!
Re the clutch, BMW has beefed it up for all three 1300s, with stronger springs, different plates and revised hydraulics, so that should be okay now. It does still sometimes make a bit of a judder and graunching sound when you pull away, reminiscent of Ducati dry clutches (and some older Yamaha ones), but that doesn't necessarily mean it's weak, just unsophisticated.
The S feels lighter when you're wheeling them around, parking and so on, but on the move there's not a big difference, and in fact the GT's steering feels lighter. Get a test ride on both if you can as you might be surprised - I'm probably getting a GT as a long term test bike this year as I liked it so much!
BMW is having a nationwide dealer launch of the S on Feb 7 and there should be demos available then. I'm not sure if the GT is also available then. If you get in touch with a dealer now, before the publicity kicks in, you should be able to get a test ride.
Recent comments
In HONDA NC700X, kharli wrote:

In HONDA NC700X, kharli wrote:

In HONDA NC700X, Grump wrote:

In HONDA NC700X, kharli wrote:

In Lest we forget..., Captain Scarlet wrote:

In Captain Scarlet's next bike, malauder wrote:

In Captain Scarlet's next bike, Captain Scarlet wrote:

In Benelli 750 SEI, CCM wrote:

In Benelli 750 SEI, Gekom57 wrote:

In Benelli 750 SEI, Gekom57 wrote:

In Captain Scarlet's next bike, Grump wrote:

In Captain Scarlet's next bike, Navy Boy wrote:

In Captain Scarlet's next bike, Captain Scarlet wrote:

In Captain Scarlet's next bike, Grump wrote:

In HONDA NC700X, Grump wrote:

In Lest we forget..., Navy Boy wrote:

In Lest we forget..., unconventional rebel wrote:

In Captain Scarlet's next bike, unconventional rebel wrote:

In HONDA NC700X, unconventional rebel wrote:

In Lest we forget..., davvy wrote:
Donate to the Kevin Ash Fund
Kevin's funeral was held on Thursday 28th February 2013 and was well attended by family, friends and colleagues.
The Telegraph has very kindly established The Telegraph Kevin Ash Fund to assist with the education of Kevin's three daughters.
If you'd like to make a donation then you can use the PayPal 'Donate' button below which will allow you to donate from your PayPal account, or via credit or debit card. A small percentage (about 3.4%) will be retained by PayPal for the service.
Kevin's family have been touched by the generosity and messages of support from people using the website and would like to express their gratitude to those who have contributed in any way.
The donations keep coming in, thank you so much, and the family especially like it when you leave a message.
Recent Articles
We're familiar with solid-state electronics in biking. Ignition swapped points for transistors in the 1970s, then went digital in the 1990s. Now, the need for greater power, fuel efficiency and emissions control means modern engines only work with computer-controlled fuelling, ignition, combustion and exhaust. When we open the throttle we pull the strings, but the ECU calls the shots. To do it, the ECU needs an accurate view of the world. And it gets it through its sensors.
A gyroscope is a rigid circular or spherical mass rotating around an axis and for over 100 years motorcycles have come with three of them: a front wheel, a rear wheel and a crank (if you're being pedantic you could include cams, balancer shafts, gearbox, clutch etc). The classic mechanical model of a gyroscope ranges from the very small – electrons spinning around an atom's nucleus – to the very large – the Earth.
Most of us have an innate feel for balancing a high centre of gravity on a relatively short wheelbase. Say, like a motorbike. Its centre of gravity is the point at which the sum of the surrounding mass is zero, and is largely determined by the location of the engine, the heaviest part of the package. Usually the CoG is midway between the wheels (half the wheelbase) and 60 to 75cm off the ground; just above the engine, in front of your knees. Or at least it is until you get on.
Anyone with fingers knows bikes vibrate, sometimes strongly enough to make picking your nose impossible. But how we perceive vibration depends on its type, pattern, frequency and cause. Bikes are subject to different types of vibration. A bumpy road creates random forced vibration at medium to high frequency (around 5-35 Hz depending on vehicle speed). It's perceived as unpleasant, as is head buffeting caused by wind turbulence. Engineers and aerodynamicists try to minimise these bad vibrations. But we usually talk about engine vibration. There are many sources...
From the launch of Yamaha's new Super Ténéré: "The exhaust pipe connection between the two headers is discontinued to give more character to the engine. The link pipe gives a flat feeling to the curve, so removing it makes the engine a bit more peaky." This is all about exhaust gas. When a four-stroke is tuned for power it means more revs, and so the cylinders have thousandths of second to fill with fresh mixture, compress it, burn it and pump it out again. To get enough mixture in and out, inlet valves open early and exhaust valves stay open for longer – so both are open at the same time.