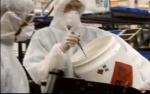 Viral videos usually work because they're shocking, funny, very witty or show something unusual or dramatic happening. It has to be enough to get whoever sees one to forward a link to friends and connections, who hopefully do the same.
They can be hugely entertaining: click on Triumph Rocket 3 manufacture and enjoy one of the motorcycle industry's best. It's entertaining, witty, original and very watchable, you'll probably look at it more than once and chances are, send the link to some friends too. Which is the point...
The Motorcycle Industry Association attempted a viral designed to coincide with last month's Ride to Work Day, and it was none of the above. Okay, and here's a link to see this one too: Ride To Work 'Viral'.
It looks like the sort of thing a bunch of sixth formers would think up after a few too many Desperados: smutty, clunkingly slow, containing a single clichéd joke that's painfully drawn out over the entire video with an ending that makes you cringe.
The only depth it has comes in generating embarrassment on several different levels. I was a victim of the first when I was watching the video for the first time while my 10 year-old daughter was in the room, and quickly had to hide the window. The second level follows on from that: I'm embarrassed for and about the motorcycle industry, which on the one hand wants to come across as a professional, nationally active body appealing to a wide audience, yet which is now being officially represented by something crass, smutty, not very clever and worse, which doesn't get its point across at all well.
I have an older daughter who I let see the video without prejudice: her initial reaction was, "Eewwww, what's that about?" and when pressed on the video's message wasn't at all sure but thought maybe it was that you ought to wear leather while riding a motorcycle. Her screwed up face confirmed she really didn't want to see people as old as her parents doing that sort of thing, so that's the young audience the video is primarily aimed at put right off by it. Well done bike industry. Clearly it was only older people responsible for this vid because youngsters are finding it creepy and repulsive.
It's also embarrassing from a production point of view, with the single, very old joke being milked dry by the laboured dialogue and the nearest we get to breaking away from stereotyping being the girl riding a motorcycle while the boy is on a scooter. Rather ironic when the whole thing revolves around one big stereotype about leather.
An odd phenomenon has come from this, something I've noted before about the motorcycle industry. The official line from many of the importers is, this is a good thing as it gets motorcycling noticed and it's aimed at a particular audience (which it misses...), never mind what people like me think. Yet speak to individuals in the various bike companies and a large majority whimper at the awfulness of it. Seems like the bike industry is also out of touch with the very people who work in it!
The video has now had 125,000 views despite some heavy promotion (and a viral should need none after being sent out into the world, it's self promoting by definition). It's getting very few now, so at best it's hardly set the internet on fire. The Triumph one has been around much longer of course, but that's been seen 1.2 million times, which underlines the point: I don't disapprove because I'm in any way prudish, it's simply because the bike industry video is awful at doing what it's supposed to do.
A shame they didn't just ask Triumph to do it.
Thu, 26/07/2012 - 02:16
#2
Captain Scarlet
Offline
Yes a bit lame. Not good to make any kind of connection with old geezers (current demographic of average biker) with the yoof of today, if we want them to be the riders of tomorrow.
To sell a dream, you've got to sell it to the right crowd (tomorrows buyers) in a way that truly engages them. If the quality of the video is average to sub-standard they switch off. If it's delivering a message from a fifty plus guy to another fifty plus guy then it actually detracts.
What's required is the video and production quality of the MCN Panigale launch, coupled with relevant modern comms. Example: make the video about teenagers Tweeting and FaceBook poking their friend about the Bike Mosh (substitute for a cooler term that your teenage kids would use) this weekend, selling images of 'can't wait' excitement leading up to the day, then a cool ride (think: 'You meet the nicest people on a Honda meets KTM SuperDuke 990 going mental in downtown Tokyo), ending with lots of smiling faces, laughter and cool soundtrack - not so much Steppenwolf, as Jay-Z.
If it's not sold as sub-zero cool and 'not for the olds' then you've already lost the value of a genuine opportunity to engage the next generation. And without them buying, whose going to subsidize our 2025 electric Blade?
Recent comments
In Life is one big drag, satsuki wrote:

In Belt Drive, kharli wrote:

In Sticking the knife in forks, Navy Boy wrote:

In New Bonnie, Navy Boy wrote:

In Sticking with aluminium, Navy Boy wrote:

In Sticking with aluminium, Captain Scarlet wrote:

In Sticking with aluminium, shuggiemac wrote:

In KTM 1190 Adventure news, gadrugupre wrote:

In New Bonnie, Navy Boy wrote:

In New Bonnie, kharli wrote:

In New Bonnie, Navy Boy wrote:

In Yamaha FJ09 - Tracer, Captain Scarlet wrote:

In HONDA NC700X, Captain Scarlet wrote:

In Yamaha FJ09 - Tracer, unconventional rebel wrote:

In Yamaha FJ09 - Tracer, Navy Boy wrote:

In HONDA NC700X, Grump wrote:

In HONDA NC700X, Grump wrote:

In Yamaha FJ09 - Tracer, Captain Scarlet wrote:

In Sticking with aluminium, Captain Scarlet wrote:

In HONDA NC700X, Captain Scarlet wrote:
Donate to the Kevin Ash Fund
Kevin's funeral was held on Thursday 28th February 2013 and was well attended by family, friends and colleagues.
The Telegraph has very kindly established The Telegraph Kevin Ash Fund to assist with the education of Kevin's three daughters.
If you'd like to make a donation then you can use the PayPal 'Donate' button below which will allow you to donate from your PayPal account, or via credit or debit card. A small percentage (about 3.4%) will be retained by PayPal for the service.
Kevin's family have been touched by the generosity and messages of support from people using the website and would like to express their gratitude to those who have contributed in any way.
The donations keep coming in, thank you so much, and the family especially like it when you leave a message.
Recent Articles
Anyone with fingers knows bikes vibrate, sometimes strongly enough to make picking your nose impossible. But how we perceive vibration depends on its type, pattern, frequency and cause. Bikes are subject to different types of vibration. A bumpy road creates random forced vibration at medium to high frequency (around 5-35 Hz depending on vehicle speed). It's perceived as unpleasant, as is head buffeting caused by wind turbulence. Engineers and aerodynamicists try to minimise these bad vibrations. But we usually talk about engine vibration. There are many sources...
From the launch of Yamaha's new Super Ténéré: "The exhaust pipe connection between the two headers is discontinued to give more character to the engine. The link pipe gives a flat feeling to the curve, so removing it makes the engine a bit more peaky." This is all about exhaust gas. When a four-stroke is tuned for power it means more revs, and so the cylinders have thousandths of second to fill with fresh mixture, compress it, burn it and pump it out again. To get enough mixture in and out, inlet valves open early and exhaust valves stay open for longer – so both are open at the same time.
Twenty one years ago BMW launched the R1100RS with a Telelever front end. It's gone on to be fitted to the most popular bike of the 21st Century, BMW's GS. Yet still – apart from BMW's other forkless system, Duolever – conventional telescopic forks survive on all other bikes, including MotoGP. Why?
A road cone is more aerodynamic blunt end forwards (if you fill the hole in first). Same goes for a bullet. And most cars – if you geared them to suit you'd get better fuel economy driving in reverse. Intuition says, aerodynamically, a sharp, pointy front end is more important than a sharp, pointy back end. For you Ferrari and Lamborghini owners, sadly, this is wrong. A falling raindrop points us, literally, in the right direction: pointy at the back. It's seven times more aerodynamic than a pointy wedge.
It takes just 100cc of unleaded mixed with 800 litres of air – or two and a bit Tequila shots in four large garden water butts – for your engine to accelerate you from a standing start to 150mph under half of a mile away in around ten seconds. And it's even more impressive when you consider how little of that fuel energy is actually used to turn a wheel.