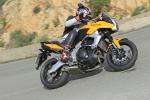 Kawasaki doesn`t feel the Versys was as successful as it should have been. If that's so then the 2010 version deserves to make amends...
At the presentation of the updated 2010 model I was told the original claim that this was a bike for every rider wasn`t strictly accurate, it wouldn`t really do the job for superbike riders, and as a result sales haven't been as good as they might.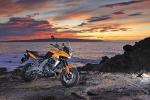 Well if a superbike rider really thought a 650 twin with long travel suspension was going to give him the same thrill as a ZX-10R, he`s taken a few too many knocks to the head. As for me, I loved it and rated it as one of the best bikes of 2006. If it hasn`t been on enough riders` radars at purchase time since then, maybe Kawasaki`s marketing departments should shoulder some of the blame because more effort promoting it surely would have resulted in more, and deserved, sales.
You are missing some Flash content that should appear here! Perhaps your browser cannot display it, or maybe it did not initialize correctly.
Kawasaki certainly listened to Versys owners, who liked its versatility, value price, response, wind protection and urban performance, while disliking the headlamp design, wind protection (a split decision then...) and too-stiff suspension. All of these and other comments were addressed by the facelifted 2010 model, which has seen changes to its styling, lights and screen with efforts made to reduce vibration reaching the rider, another complaint.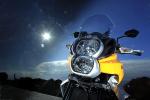 The bike`s face is the most immediately obvious change, where a pair of stacked headlights topped by the running light and flanked by more sleek and angular bodywork, replaces the old Rolling Stones tongue look of the first version. This gives the bike a leaner, more modern and clearly defined look which adds confidence to the design. There are more subtle improvements too, such as the revised passenger seat which is wider with more padding, softer footrest rubber front and rear to reduce vibration, a new rubber rear engine mounting added for the same purpose, new mirrors, radiator shrouds, engine side covers, the same LED taillight as the Z1000 and slimmer indicators.
The suspension was changed for the 09 model in response to those complaints that is was too hard - it has softer springs and new damper settings, while changes made to the silencer internals the same year (to meet Euro 3 emissions regulations) have also been carried over, though there`s now a new end cap design.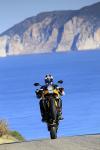 Lots of detail alterations then but nothing on the scale of engine or basic chassis changes, yet one of the upgrades has improved the Versys significantly. It`s familiar enough from the seat though, with a wieldy, rangy feel that`s comfortable and natural, underlining why this breed of `tall-rounder` is superseding the traditional sports tourer as the motorcycle for everyman. The clutch is light with a long travel between disengaged and fully home, making life easier for less experienced riders, then the motor pulls strongly from low revs and spins freely, offering a lively performance across its range.
The previous machine did spoil the fun sometimes with excessive vibration but the moves made on the new one to counter this have worked, You still get a few vibes slipping through the net but they`re no longer intrusive, in particular cruising at a steady 70-90mph (112-145kph), typical motorway speeds. There`s some tingling at small throttle openings at the 4,000rpm level but this is the worst you`ll get and it will bother very few riders, and overall the new Versys feels a lot smoother than the old.
If the vibration reduction is the most useful and significant improvement, the others have been helpful too. The new screen creates a larger wind shadow behind it, and particular in the highest position it not only protects you more, the airflow is a lot smoother. On the old bike, raising the screen created enough bothersome buffeting to persuade many riders to leave it alone, but on the 2010 bike it`s worth the rather fiddly effort to set it in the highest position.
This does mean undoing four Allen bolts, tugging out the rubber-mounted catch nuts with some pliers and extracting the plastic blanking plug (very difficult until you`re shown how... get it wrong and you`ll break something), and if you`re unlucky like me, breaking the odd fingernail too. But it`s not designed to be adjusted frequently so put some effort into setting it right, then leave it alone... and although I`m tall I`d recommend the high setting for everyone, I can`t see why you wouldn`t.
The new mirrors work better, partly because they`re wider at the outer ends, improving the field of vision, but also because the reduced vibes mean they don`t blur so much. This does vary from bike to bike but overall it`s still better.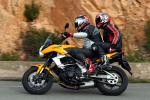 If you`re planning on riding with a passenger regularly, note that although the seat changes feel better on the back, the pillion does feel perched high and right at the back of the seat (which you can even see in the pictures), and somewhat precarious as a result. The footrests are a touch too far forward too, exacerbating the sensation they`re going to fall off the back.
A top box would solve this issue but the Versys`s official accessory luggage is designed so you can fit either a top box or panniers, but not the whole set, presumably to prevent overloading. But the bike does ride well with a passenger, feeling stable and solid to the rider and not too flighty even on bumpy surfaces.
The extra weight does stretch the braking though. The front stopper demands a good squeeze and never feels especially powerful, and with the weight of an extra person starts to feel weak. Maybe a sharper brake would trouble the long travel suspension though, and you adapt to the extra effort needed, but some riders will prefer more power. The optional ABS is worth going for.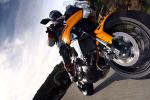 Other Versys values are unchanged, and just as well as this is a fine bike. It responds sharply to steering input and is a hoot on the kind of twisty Sardinian mountain roads we were lucky enough to ride, yet stable enough to inspire confidence in other circumstances. The engine is punchy and satisfying (though the fuel injection pump whistle at idle can get irritating) and the ride quality is excellent. As an urban tool it`s excellent, for sports riding it`s satisfying, and the 4.2 gallon (19 litres, 5.0 gallons US) tank is enough for a 210 mile (340km) range at the 50mpg (17.7km/l, 5.65 l/100km, 42mpg US) most riders will achieve.
My only doubts concern its suitability for two-up touring, without the full luggage set and with pillions feeling insecure. But at £6,110 on the road, it`s great value, and great fun too.
Recent comments
In HONDA NC700X, kharli wrote:

In HONDA NC700X, kharli wrote:

In HONDA NC700X, Grump wrote:

In HONDA NC700X, kharli wrote:

In Lest we forget..., Captain Scarlet wrote:

In Captain Scarlet's next bike, malauder wrote:

In Captain Scarlet's next bike, Captain Scarlet wrote:

In Benelli 750 SEI, CCM wrote:

In Benelli 750 SEI, Gekom57 wrote:

In Benelli 750 SEI, Gekom57 wrote:

In Captain Scarlet's next bike, Grump wrote:

In Captain Scarlet's next bike, Navy Boy wrote:

In Captain Scarlet's next bike, Captain Scarlet wrote:

In Captain Scarlet's next bike, Grump wrote:

In HONDA NC700X, Grump wrote:

In Lest we forget..., Navy Boy wrote:

In Lest we forget..., unconventional rebel wrote:

In Captain Scarlet's next bike, unconventional rebel wrote:

In HONDA NC700X, unconventional rebel wrote:

In Lest we forget..., davvy wrote:
Donate to the Kevin Ash Fund
Kevin's funeral was held on Thursday 28th February 2013 and was well attended by family, friends and colleagues.
The Telegraph has very kindly established The Telegraph Kevin Ash Fund to assist with the education of Kevin's three daughters.
If you'd like to make a donation then you can use the PayPal 'Donate' button below which will allow you to donate from your PayPal account, or via credit or debit card. A small percentage (about 3.4%) will be retained by PayPal for the service.
Kevin's family have been touched by the generosity and messages of support from people using the website and would like to express their gratitude to those who have contributed in any way.
The donations keep coming in, thank you so much, and the family especially like it when you leave a message.