Husqvarna TR650 Strada and Terra
Pictures: Daniel Kraus, Max Kirchbauer, Bernhard Limberger and Alberto Martinez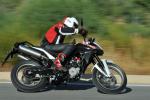 Two more new Husqvarnas have been released and we should be getting a better idea of where owner BMW wants its Italian dirt bike subsidiary to be heading. But the TR650 is confusing instead.
BMW itself had been trying to break into the KTM-dominated off-road sector in the mid-2000s and was struggling through a lack of track record or credibility. So when Husqvarna came up for grabs in 2007, as then owner the MV Agusta Group was wobbling, it looked like the perfect opportunity to take on the Austrians with a respected moniker instead.
TR650 TerraSince then Husqvarna's been relatively quiet, especially considering the blistering pace at which BMW itself has been developing new models, then finally we were offered the Nuda 900, fitted with a tuned BMW F-series twin. It looked like a supermoto, claimed to be an all-rounder with touring ability and didn't quite pull any of these off. As a rival to the KTM SM-T it fell well short, despite the excellent engine.
TR650 StradaNow we have more tuned BMW power from Husqvarna as the new TR650 - available as the supermoto-styled Strada or trail bike Terra - uses the single-cylinder motor from the G650GS. The engineers have extracted an additional 10bhp from the engine, mostly by reworking the cylinder head and fitting smaller plugs (there are two), 2.5mm bigger inlet valves and 3mm larger exhaust ones, reshaping the inlet and exhaust tracts and using racier cam profiles. There's a new, forged piston which increases the compression ratio, and it's lighter too, demanding changes to the crank and balance shaft to keep things smooth.
Other changes include the unique, all-stainless exhaust, the distinctive bright red cam cover (worth a couple of bhp in the pub) and new airbox. Despite this lot, Husqvarna says the G650's exceptional economy has been little affected and the bike will still manage 66mpg at 75mph, in turn giving it a range of more than 200 miles.
The rest is all Husqvarna's, including the steel frame and swingarm, suspension and bodywork, resulting in a similar weight to the BMW at 410lb (186kg) gassed up. And there's the clue as to where this bike is pitched: KTM's rorty, 69bhp Duke 690 has a hefty 57lb (26kg) less for its extra horses to punch about, suggesting the TR is an altogether gentler beast pitched away from the sportiest riders. The pricing confirms that: at £4,990 without the ABS option it's cheaper than the G650, although that is now only available with ABS. But add the anti-lock option to the TR650 and even though it increases to £5,690 it's still less costly than its BMW rival, let alone the £6,600 KTM.
The riding experience matches these expectations, being enjoyable rather than a heart-pounding thrill. The only meaningful difference between Terra and Strada is the wheels, with the Terra wearing a 21 inch front and the Strada a 19 incher, with a 17 and 18 inch rears respectively, and these come with trail or road tyres accordingly. Even the geometry variations are due only to the bikes sitting at a different attitude because of the wheel diameters, although surprisingly I found myself preferring the Terra on a long road ride on some tight switchback terrain. The feedback is more vague but it's more stable and secure, although the Strada is fun too when being thrown about, if not as sharp and agile as a Duke 690.
The suspension's a little soft and when pushed hard can get bouncy, but the ride quality is impressive, with quite a plush feel for bikes at this level. The engine works very well, aside from a throwback single-cylinder trait of occasionally cutting out as you're about to pull away. You learn to give it a few more revs than it really needs in order to avoid this, but the GS doesn't do it and the Husky would be better purged of the habit too. Otherwise it's a fine engine, very smooth regardless of the revs and with a powerful mid-range which segues into a forceful top end kick in the last 1000rpm before the red line, set a little above 8,000rpm. Like the GS you can also trickle it down to 2,000rpm without engine or transmission protesting, which is much lower than any other modern single can cope with - this really expands the bike's urban usability.
Inevitably the seat is high, more so on the Terra, but it's reasonably comfortable if not as comprehensively cosseting as the G650GS's. It'll last for that 200 miles (320km) range, certainly, and if there's no headwind to test your neck muscles the bike will cruise at 75mph (120kph) in most conditions too. Crack the throttle open wide and you'll see the speed creep up to 110mph (175kph) or so, but by this time the chassis is feeling wobbly and unhappy - it's not unstable, it just shimmies in protest at the slightest provocation.
There's nothing obviously wrong with the way the bike is built, although there have to be question marks over reliability when BMW is behind this as the G650GS isn't great in this respect. The mirrors keep shifting angle while you're riding so you have to readjust them every now and then, and it was hit and miss if the sidestand would remain extended or not when you pushed it out to park up. But as quirks go that's about it.
The bigger question to clear up is who the TR in either guise is for. At this weight (and forward weight distribution) even the Terra is meant for no more than very light off-roading, while the Terra is a pure road bike. Both are aimed more at relative novices and generally undemanding riders in sporting terms, and this the TR560 does well, just as long as you're long enough in the leg.
In practice it seems the main rival is BMW's own G650GS, which makes you wonder again about what exactly Husqvarna is doing and what its aim is. Taking on BMW rather than KTM doesn't seem like great business sense.
Specifications
Model tested: Husqvarna TR650 Strada and Terra
UK price: £4,990 (with ABS, £5,690)
Available: end October 2012
Engine: single cylinder, liquid cooled, dohc 4v, 652cc
Power: 58bhp (59PS, 43kW) @ 7,250rpm
Torque: 44lb.ft (6.1kgm, 60Nm) @ 5,750rpm
Economy: 66mpg (23.4km/l, 4.3l/100km, 55mpg US) (at 75mph/120kph claimed)
Tank/Range: 3.1 gallon (14 litres, 3.7 gallons US) / 200 miles (320km)
Transmission: Five gears, wet multi-plate clutch, chain final drive
Chassis: steel tube
Seat height: 33.9in (860mm) Terra: 34.4in (875mm)
Wheelbase: 59.1in (1501mm)
Rake/trail: 26 ° / 4.0in (101mm) Terra: 27 ° / 4.4in (112mm)
Weight: 410lb (186kg) wet, 90% full tank Terra: 404lb (183kg)
Recent comments
In HONDA NC700X, kharli wrote:

In HONDA NC700X, kharli wrote:

In HONDA NC700X, Grump wrote:

In HONDA NC700X, kharli wrote:

In Lest we forget..., Captain Scarlet wrote:

In Captain Scarlet's next bike, malauder wrote:

In Captain Scarlet's next bike, Captain Scarlet wrote:

In Benelli 750 SEI, CCM wrote:

In Benelli 750 SEI, Gekom57 wrote:

In Benelli 750 SEI, Gekom57 wrote:

In Captain Scarlet's next bike, Grump wrote:

In Captain Scarlet's next bike, Navy Boy wrote:

In Captain Scarlet's next bike, Captain Scarlet wrote:

In Captain Scarlet's next bike, Grump wrote:

In HONDA NC700X, Grump wrote:

In Lest we forget..., Navy Boy wrote:

In Lest we forget..., unconventional rebel wrote:

In Captain Scarlet's next bike, unconventional rebel wrote:

In HONDA NC700X, unconventional rebel wrote:

In Lest we forget..., davvy wrote:
Donate to the Kevin Ash Fund
Kevin's funeral was held on Thursday 28th February 2013 and was well attended by family, friends and colleagues.
The Telegraph has very kindly established The Telegraph Kevin Ash Fund to assist with the education of Kevin's three daughters.
If you'd like to make a donation then you can use the PayPal 'Donate' button below which will allow you to donate from your PayPal account, or via credit or debit card. A small percentage (about 3.4%) will be retained by PayPal for the service.
Kevin's family have been touched by the generosity and messages of support from people using the website and would like to express their gratitude to those who have contributed in any way.
The donations keep coming in, thank you so much, and the family especially like it when you leave a message.