Triumph Speed Triple 2011
Triumph boss John Bloor knows very well the importance of the Speed Triple to his company. And at the beginning of the development process for the new 2011 model the design team was under no illusions either, after he told them: "Whatever you do, don`t f*** it up!"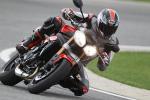 This was in July 2007, but the first Speed Triple appeared in 1994 inspired by a project created by Italian importer Numero Tre, and since then it has become arguably Triumph`s single most important bike. Its various incarnations have sold 65,000 to date, or one in seven of every Hinckley machine ever made. It`s regularly the British factory's best-selling model in many markets, and more than that, it helps to define the company`s image as a whole, as exciting, original high performance and convincingly engineered.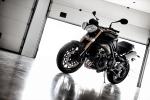 Triumph could improve on it easily enough following the faster-lighter formula for the new version, but it would also be easy to upset the Speed Triple`s very loyal following. Do that or somehow miss the point of the bike and sales could crash... hence Mr Bloor`s concern.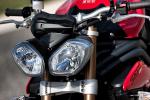 An indication of just how much the bike means to people is the controversy that`s been stirred up by nothing more than the replacement of the old, round and chromed headlights with newer pentagonal ones. It wasn`t something the designers did, er, lightly, according to product manager Simon Warburton: "We did experiment with round lights but they just looked old fashioned on the 2011 bike, they didn`t look right. The new ones keep it looking modern."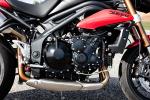 They do, and the bike deserves that as so much else is new. The engine has been upgraded with a new airbox, new exhaust system and larger inter-cylinder air transfer holes to reduce pumping losses, and while they were at it the gearchange mechanism has been refined. The result is a 5bhp power increase to 133bhp, with torque up 6lb.ft (8Nm) to 82lb.ft (111Nm) and a weight loss in the exhaust of 2.2lb (1kg).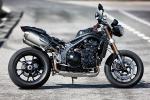 The chassis is entirely new, although it clearly retains the look of the old, especially with the twin side tube aluminium frame arching over the motor. The characteristic single-sided swingarm has a deeper section to retain rigidity despite a hefty 1kg weight loss, while the rear wheel is 3.3lb (1.5kg) lighter despite having a 6 inch rather than 5.5 inch rim. It`s now fitted with a 190 section tyre, with 55 aspect ratio. The rear sprocket is changed to maintain the same gearing, according to Triumph, compensating for the larger tyre diameter.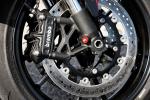 The rear suspension linkage is more linear than before, while at the front the new yokes, 0.5mm thinner discs, new wheel and yokes result in another 1.4kg weight loss, which also reduces steering inertia by 5 per cent.
The frame itself is similar in weight to before but slimmer at the back to help rider ergonomics, which now more closely emulate the excellent Street Triple. The seat is lower and narrower at the front, suiting shorter riders better, and the footrests are 29mm further forward, while the bars are 26mm closer to the rider.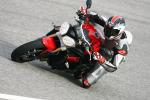 Fire up the snarling three pot motor, let out the clutch and that`s pretty much how it feels, like a muscled up Street Triple. We rode the bike at the long and varied Ascari circuit in Spain as well as on the roads, and it was clear in both circumstances that the major improvement has been in agility, ride quality and general handling. The bike feels lithe and eager in your hands, and while the old one was pretty good for a naked bike, the new is practically up to superbike levels.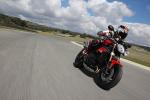 It`s not a track bike but you`d never tell... it flicks side to side with astonishing speed, while the radial, four-pad Brembos pin the nose to the bitumen with highly controllable power, then it drives out of turns with plenty of grip and feedback from the grippy Metzeler K3 Interact tyres (but don`t expect them to last too long). The weight distribution is now 50.9 per cent to the front, compared with 49.1 per cent previously, and it really shows as a new-found confidence even at extreme lean angles and braking deep into turns.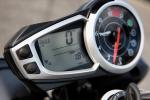 The handling is every bit as natural and easy as the much admired Street Triple, with a whole lot more power on tap. But if there`s any imperfection in the bike`s impressive armour, it`s with the engine. It`s not a track motor of course, and this does show when you`re revving it as there`s something of a flat sensation as it approaches the red line. This is anyway a three-cylinder trait, where you`re often better off using more mid-range and less high revs, but while I was expecting the engine to feel a lot stronger on the road after our circuit session - race tracks can be real power killers - it didn`t quite do that.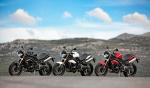 It pulls very well, sounds great, the fuelling is perfect and it`s smooth too, but it lacks just a little of the old bike`s immediate kick, especially at lower revs. We even had a 2010 model for comparison purposes and the 2011 machine is definitely quicker, if not by a huge amount, but for a brief moment when you open them up side by side, it`s the outgoing version which noses ahead initially. It`s not much on the road, but it`s the feel that matters, and here the new bike has lost a little of the edgy punch that has made Speed Triples past so exciting.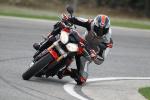 In the scheme of things this is trivial, especially as the bike overall is so accomplished. This might also be nothing more than the effect of the venue's 2300ft (700m) elevation, although the older one will still be quicker initially at sea level too. But bear in mind, the old one was still winning naked bike group tests despite its age and the 2011 version has upped the stakes yet again. The headlights shouldn`t put anyone off, and I doubt they will, nor should my small reservations about the engine, this is a very exciting, brilliant handling and visually arresting motorcycle that still drips a puddle of character onto the road whenever you leave it.
No Mr Bloor, they didn`t f*** it up.
Read the 2011 Triumph Tiger 800 Review here!
Triumph Sprint GT review here!
2011 Triumph Speed Triple Specifications
Price: £8,599 ( £9,199 with ABS)
Available: December 2010
Engine: Three cylinder, liquid cooled, dohc 12v, 1050cc
Power: 133bhp (135PS, 99.3kW) @ 9,400rpm
Torque: 82lb.ft (111Nm) @ 7,750rpm
Economy: n/a mpg
Tank/Range: 3.85 gallon (17.5 litre, 4.62 gallons US)/ n/a miles
Transmission: Six gears, wet clutch, chain final drive
Chassis: Twin spar double aluminium tube
Seat height: 32.5in (825mm)
Wheelbase: 56.5in (1435mm)
Rake/trail: 22.8 °/ 3.58in (90.9mm)
Weight: 472lb (214kg) (wet)
Recent comments
In HONDA NC700X, kharli wrote:

In HONDA NC700X, kharli wrote:

In HONDA NC700X, Grump wrote:

In HONDA NC700X, kharli wrote:

In Lest we forget..., Captain Scarlet wrote:

In Captain Scarlet's next bike, malauder wrote:

In Captain Scarlet's next bike, Captain Scarlet wrote:

In Benelli 750 SEI, CCM wrote:

In Benelli 750 SEI, Gekom57 wrote:

In Benelli 750 SEI, Gekom57 wrote:

In Captain Scarlet's next bike, Grump wrote:

In Captain Scarlet's next bike, Navy Boy wrote:

In Captain Scarlet's next bike, Captain Scarlet wrote:

In Captain Scarlet's next bike, Grump wrote:

In HONDA NC700X, Grump wrote:

In Lest we forget..., Navy Boy wrote:

In Lest we forget..., unconventional rebel wrote:

In Captain Scarlet's next bike, unconventional rebel wrote:

In HONDA NC700X, unconventional rebel wrote:

In Lest we forget..., davvy wrote:
Donate to the Kevin Ash Fund
Kevin's funeral was held on Thursday 28th February 2013 and was well attended by family, friends and colleagues.
The Telegraph has very kindly established The Telegraph Kevin Ash Fund to assist with the education of Kevin's three daughters.
If you'd like to make a donation then you can use the PayPal 'Donate' button below which will allow you to donate from your PayPal account, or via credit or debit card. A small percentage (about 3.4%) will be retained by PayPal for the service.
Kevin's family have been touched by the generosity and messages of support from people using the website and would like to express their gratitude to those who have contributed in any way.
The donations keep coming in, thank you so much, and the family especially like it when you leave a message.