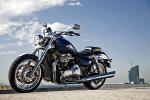 By Kevin Ash
Pictures: Jason Critchell, Paul Bryant


Triumph has the entry level end of the cruiser market effectively covered with the Bonneville America and Speedmaster – both models are doing well in the important US market and sell strongly elsewhere in the world too. They score on two counts: one is their easy riding manageability which gives them strong appeal to relative novices, the second is their combination of cruiser styling with a very specific Triumph character, and that's not just the parallel twin engine, but the sixties British twin look morphed into modern cruiser.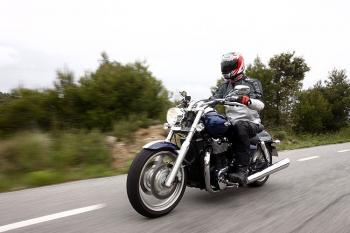 Click on image for galleryIt's important to note these reasons for the smaller twins' success because Triumph is hoping very much that owners of these will want to move up not to a Harley-Davidson but the new Thunderbird, and it will need to offer as much appeal if it's going to work in the same way. The monster 2.3 litre Rocket Three hasn't done as well as Triumph had hoped, mostly it seems because bigger isn't necessarily better after all in America: cruisers do best in the 1.4 to 1.8 litre range, and really, only two cylinders will do. But could it also be that the Rocket Three, defining three-cylinder engine and sheer size aside, actually is rather bland looking as cruisers go?

Triumph has readily admitted that it is targeting Harley-Davidson with the Thunderbird, and that it commissioned Californian designer Tim Prentice to produce a bike aimed specifically at the American bikes. He came up with the Thunderbird's styling, while the engine capacity is right there with the Milwaukee machines, 1597cc against the Harley twins' 1584cc, while everything else about the bike is generic cruiser, from the raked-out forks to the teardrop tank to the long, low stance.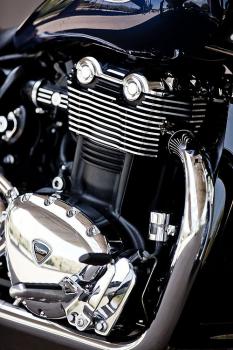 Triumph though has broken with cruiser tradition for the engine, using the classic British parallel twin layout where just about every other cruiser, and certainly every Harley, uses a V-twin. Triumph reckons it can get away with this because the British brand is still well thought of in the States as well as being identified by the parallel twin, and it's probably right. The question is, even with a different motor, does the bike offer enough else to tempt Harley regulars, which after all is the only way it will sell in big numbers?

I'm not entirely convinced, and that's despite the Thunderbird being superior to a Harley in just about every way you can measure. The engine for example does all you'd want from a cruiser, in terms of feel as well as power and torque. It's a low, low revving unit producing a muscular 108lb.ft (146Nm) of torque at a mere 2,750rpm, and a sufficient 85bhp (86PS, 63kW) at less than 5,000rpm. The crankpins are staggered 90 degrees apart to produce uneven, V-twin-like firing intervals, so when you crack open the throttle the motor thumps lumpily and the bike lunges forward with satisfying urge. Vibration is tactile low frequency rather than annoying tingles, although spin the engine beyond 5000rpm (not that you normally would) and it does become harsh, while the fuelling is perfect, smooth yet immediate and utterly predictable. It even manages to use less fuel than most other cruisers, according to Triumph (and I've always found the company's claims in this respect perfectly honest and accurate), improving on a typical Harley by some 25 per cent with 54mpg (5.2 l/100km, 45mpg US) in mixed riding and 44mpg (6.4 l/100km, 37mpg US) at a steady 75mph (120kph).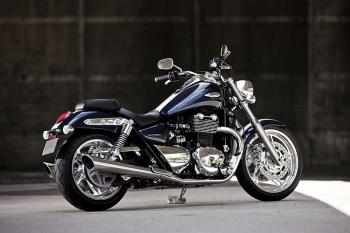 The transmission is unobtrusive with reliable gear selection and the first belt drive on a Triumph for 85 years... as Triumph product manager Simon Warburton said, they couldn't find the original engineer to call on his experience. But then the inverted-tooth, Kevlar-reinforced modern belt is vastly superior to a vintage version, quiet, clean and efficient and requiring very little maintenance. And it won't slip in the wet.

Triumph has put a lot of effort into the chassis, determined to endow the Thunderbird with superior handling to a Harley, so it has a stiffer frame and better suspension. In particular, the steering at low speed is very impressive: most cruisers with their forks raked out at something like the Triumph's 32 degrees tend to drop in to corners, and stand up if you brake while leaning, but the Thunderbird does neither, remaining neutral and as a consequence, very easy to handle. Whether a hairpin bend, mini-roundabout or high speed turn, the Thunderbird sweeps round impressively demanding the minimum input from the rider. This is a very relevant superiority, not in terms of agility but giving the bike a natural, undemanding feel.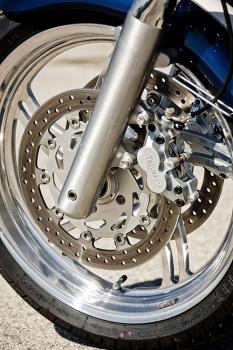 The brakes do the job unobtrusively, asking for high pressures for hard stopping but responding well and proportionally, while the optional ABS is smooth and works effectively, certainly better than earlier Triumph attempts which could badly upset the chassis on bumpy surfaces.

This despite the suspension being soft, inevitable as low speed comfort is the primary aim. Bumps at speed have the bike bouncing around, but still the damping does a good job of controlling the wheels and providing the best ride quality in the class. Add this to the comfortable riding position, which is upright and spacious while avoiding the ergonomic extremes of many cruisers, along with the generous 4.8 gallon (22 litres, 5.8 gallons US) fuel tank, and you have a genuinely useful motorcycle as a well as a cruiser, a too-rare combination.

You really can go places on this bike, and there's no shortage of accessories to turn it into exactly the machine you're after, with various luggage and screen options for touring as well as an array of shiny bits: you could spend up to £7,000 on extras if you felt the need.

The finish quality is far more consistent than a Harley's too. While the American bikes mix some of the very best finish with some unforgivably awful detailing, such as hose clips fixing exhausts or bolts and silencers which start rusting from the crate, Triumph's corrosion resistance is regularly good and the Thunderbird's attention to detail is impressive. The styling is well balanced and nicely themed too: note the way the final drive cover on the engine is angled to match the slash at the end of the silencer for example.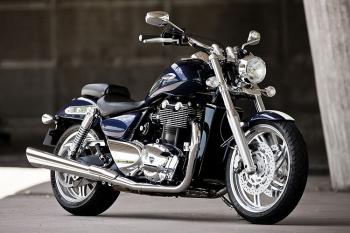 So why do I have reservations? Well, these are not so much to do with the UK market where I think the Thunderbird's dynamic qualities along with its provenance will help it succeed in the cruiser market. It really is a great bike to ride, especially as it addresses what cruiser riders like in particular by feeling and sounding good, while having better range and rust resistance than a Harley really matter here in Britain. The price is usefully lower too. I just feel that the styling is too generic. Despite the trademark Triumph engine the bike could be any cruiser from any factory, except Harley itself. Harley-Davidson's cruisers each have very particular characters beyond merely being cruisers, such as the California custom Rocker C, the Fifties Road King and ironically the Euro-custom-inspired Dyna Fat Bob. As a result, the Thunderbird lacks the presence or character of a Harley, and that does matter, more than any superiority in the handling or performance angles.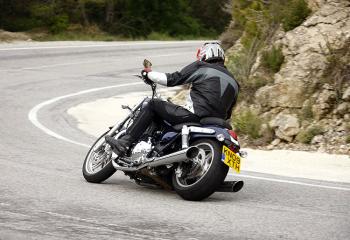 I suspect American Harley owners will see the Thunderbird, nod in appreciation at the badge and find it pleasing to look at, but find nothing to really grab their attention and persuade them to forego the home team. Still, this is just the first of many for Triumph – if Harley can make 20-30 bikes using the same motor then Triumph has plenty of scope yet to add individuality with niche versions. And for the British rider, all this matters less anyway: this is a British cruiser with values that are more important to us. The cruiser sector is smaller here but Triumph will grab a useful slice of it with the Thunderbird.



Price: £9,499 (ABS: add £600. Two-tone paint: add £300)

Available: June 2009

Contact: Triumph Motorcycles Ltd, 01455 251700, www.triumph.co.uk

Sat, 17/07/2010 - 11:45
#21
Captain Scarlet
Offline
I've ridden Sportsters and Touring Harley's over hundreds of miles and owned a FatBob Dyna and Deuce Softail. Over the years I've ridden different incarnations of the Rocket, owned a number of Triumph's and a while back I rode the T-Bird too. These where my thoughts (and costs) at that time, after a couple of hours ride...
The demo bike had covered 2,200 miles and was fitted with Triumph's own aftermarket exhaust system - audible, but quite quiet / legal sounding actually. This is what I thunk:
Slightly better than a latest Harley:
o selection of first gear from cold
o bar mounted info toggle
o foot controls positioning
o softer fuel map when just off throttle
o liquid-cooling
o unique configuration/genre mix
o hurried gear-shifts
o fork control
o stock machine rrp
o u-turns
On a par with a latest Harley:
o clutch pull & control
o mid-range grunt when used zestfully
o mirrors
o unhurried gearshifts
o reliability
o belt drive
o steering
o handling
o tank range
o slow & mid-speed cruising
Slightly worse than a latest Harley:
o just off throttle grunt
o quality
o sound
o 75-80 mph vibration
o seat comfort
o rear shocks control
o ground clearance
o no std alarm/immobiliser
o no keyless ignition
o economy
General Observations:
I could happily make more observations, but for simplicity, I have just stuck with ten in each of the three categories above.
First impressions were good. It felt manoeuvrable, selected first without a clunk and was easy to pull away on. Although the five speed box felt fine up to the 75-80 max speed that you'd ever want to cruise at for a decent length of time, it is not as relaxing as having the Harleys six-speed cruise drive transmission, which really drops the revs, improving comfort, economy and most probably longevity too. The Harley pulses are delivered slower at motorway speeds too, which means they feel more like pulses, rather than tingling vibes that the Triumph was on the verge of delivering, and did actually deliver north of that speed range.
The bike has no noticeable power band, but does seemingly have two fuel mappings. If you whap the throttle open hard and for long, then you are treated with very nearly the sort of grunt that the twin-cam 96 ci Harley currently makes. But if you are a bit ginger, or are just very chilled out, then the delivery is very soft. This is perfect for mini-roundabout u-turns in wet weather, where a Harley is punting out much more off the throttle torque and requires just a bit more finer clutch control. However, in the main, I'd take the Harley off the throttle grunt, because it's got it all going on without the need to open it up hard. Just a preference.
I managed to grind both footpegs once and my Timberlands heal on another occasion. The bike was perfectly stable although on one occasion (180 turn around a smallish roundabout) it did create a little under-steer, easily reigned back in with a gentle bit of brake and throttle roll-off. The bike handles very well, and it's not to be treated like a sports bike naturally; but with similar lean angles on the Road King Classic (two-up too), I had no such problems. Nor with the Fat Bob, but naturally that had forward-controls.
The bike is well built in the main, but the wheels looked very difficult to stop them succumbing to corrosion and in particular the exposed rear wheel nut/adjuster bar looked like it wouldn't like a lot of English weather, and some of the switchgear felt flimsy (not next to a Jap bike, but...) next to a Harleys. The toggling info button is a nice touch, better than Harleys centre console toggle button, which is a tad fiddly. But Harley have self cancelling indicators which work (based on lean angles) and cruise control is an desirable option (standard on tourers like RKC) both sides of the pond, which Triumph have overlooked and don't offer.
It has good ergonomics and is a nice place to spend time, particularly in the 30-60 mph region, which cruisers tend to shine in. Very nice to hustle around town centres and it filters relatively easily too. Slow speed balance and control is, like Harleys, very good. Performing a u-turn wasn't all that easy mind, distance wise; I had to nick a bit of a side road junction to comfortably do it, and I'd say it was only 5% better than a Harley in this respect. And the seat whilst not Harley good, was certainly fine for an hour or two - but I wouldn't have wanted to ride another thirty minutes unless I had to.
The engine sound was disappointing for me, unlike the Rockets gruffness and triple whistles, it seemed a little flat and boring. But it was smooth and relatively grunty (if revved hard) but really sounded quite indifferent to me, even with the aftermarket pipes fitted. A stock Harley would have been just as loud, without too-loud irritation, and given a more pleasant off beat gruff tone, which we obviously know they are famed for. The tank, engine, side-panel and headlight are particularly nicely shaped items and it has an air of reliability/longevity about it. I really don't see any recalls with this bike, just a few corrosion warranty claims.
The bike is easy to ride, but no easier than a Fat Bob really. And filtering and a bit more counter-steering aside, the Rocket 3 is just as easy too. So I'd recommend trying those two, plus my favourite 'bagger' a RKC. It's good to try something with the practicality of panniers and a screen, and the comfort of running boards, just to see the difference that they collectively make.
I found the tank even wider than a Harley and my calves were also very close to the engine casings on both sides - a worry in hot weather or if catching a denim clad leg against them. I started off my ride really enjoying it and definitely could envisage a happy ownership with one. But near the end of my ride, little nagging doubts like this one sullied the dream a little. And there's serious money to be spent on it - to make it prettier than a Fat Bob or as practical as a Road King. The spec I like adds approx £3.5k of accessories to it. Add additional desirable stuff (were it available), like cruise control, alarm / immobiliser, abs, panniers and touring screen with fixing kit; and you've just added a further £2.5k of accessories. Suddenly it's much more expensive than a Road King King Classic, which has all of that, plus killer classic looks, all as standard.
But maybe that's being unfair. Not everyone would bling a bike like I might, and most would be more than happy to buy a stock bike and grow and develop with it as funds suit personal circumstances. The T-Bird natural competitor is probably the SuperGlide, but lets compare it against the Fat Bob, as it's the next in the range to the SuperGlide and I've owned one:
The Triumph is a face value appealing £9,500. And the Fat Bob is now a brow raising £11,340. A not inconsiderable difference of £1,840. And I'd say that the Triumph doesn't seem the thick end of two grand worse to ride. But choose blue paint and add an alarm (Fat Bob has one as std) and the price is suddenly £10,064. The difference is now £1,276. Rather than faff with keys beneath thighs, and fiddly alarm fobs, especially in the rain at petrol stations, I'd happily pay £276 for keyless ignition, which integrates with the alarm / immobiliser, to have it on the Triumph - if I could. Poetic licence maybe, but I genuinely would, it's truly brilliant. Ignoring other advantages like self-cancelling indicators and stuff, the difference then would simply be a grand. Now a grand is most probably not enough to sway a decision one way or another to buy a personal second choice machine, whichever one an individual might choose. But, register them, then wheel them out of the showroom with 0 miles on the clock. The Harley has just lost a grand and the Triumph has just lost two grand. Now there's absolutely nothing in it whatsoever. And with that clarity of thought, I'd choose a twin. A v-twin.
Conclusion
A great deal of thought has gone into this bike. It's not just a good bike, it's a great one. I would recommend it and wouldn't criticise or suggest a faux-pas, if somebody chose one over a Harley. The fact that it can run a Harley close, straight out of the crate, is an amazing achievement for Triumph. But for me, personally, if I had to buy today; then I wouldn't choose the young pretender. To extinguish any doubts, I'd go for the legend.
Recent comments
In HONDA NC700X, kharli wrote:

In HONDA NC700X, kharli wrote:

In HONDA NC700X, Grump wrote:

In HONDA NC700X, kharli wrote:

In Lest we forget..., Captain Scarlet wrote:

In Captain Scarlet's next bike, malauder wrote:

In Captain Scarlet's next bike, Captain Scarlet wrote:

In Benelli 750 SEI, CCM wrote:

In Benelli 750 SEI, Gekom57 wrote:

In Benelli 750 SEI, Gekom57 wrote:

In Captain Scarlet's next bike, Grump wrote:

In Captain Scarlet's next bike, Navy Boy wrote:

In Captain Scarlet's next bike, Captain Scarlet wrote:

In Captain Scarlet's next bike, Grump wrote:

In HONDA NC700X, Grump wrote:

In Lest we forget..., Navy Boy wrote:

In Lest we forget..., unconventional rebel wrote:

In Captain Scarlet's next bike, unconventional rebel wrote:

In HONDA NC700X, unconventional rebel wrote:

In Lest we forget..., davvy wrote:
Donate to the Kevin Ash Fund
Kevin's funeral was held on Thursday 28th February 2013 and was well attended by family, friends and colleagues.
The Telegraph has very kindly established The Telegraph Kevin Ash Fund to assist with the education of Kevin's three daughters.
If you'd like to make a donation then you can use the PayPal 'Donate' button below which will allow you to donate from your PayPal account, or via credit or debit card. A small percentage (about 3.4%) will be retained by PayPal for the service.
Kevin's family have been touched by the generosity and messages of support from people using the website and would like to express their gratitude to those who have contributed in any way.
The donations keep coming in, thank you so much, and the family especially like it when you leave a message.
Recent Articles
We're familiar with solid-state electronics in biking. Ignition swapped points for transistors in the 1970s, then went digital in the 1990s. Now, the need for greater power, fuel efficiency and emissions control means modern engines only work with computer-controlled fuelling, ignition, combustion and exhaust. When we open the throttle we pull the strings, but the ECU calls the shots. To do it, the ECU needs an accurate view of the world. And it gets it through its sensors.
A gyroscope is a rigid circular or spherical mass rotating around an axis and for over 100 years motorcycles have come with three of them: a front wheel, a rear wheel and a crank (if you're being pedantic you could include cams, balancer shafts, gearbox, clutch etc). The classic mechanical model of a gyroscope ranges from the very small – electrons spinning around an atom's nucleus – to the very large – the Earth.
Most of us have an innate feel for balancing a high centre of gravity on a relatively short wheelbase. Say, like a motorbike. Its centre of gravity is the point at which the sum of the surrounding mass is zero, and is largely determined by the location of the engine, the heaviest part of the package. Usually the CoG is midway between the wheels (half the wheelbase) and 60 to 75cm off the ground; just above the engine, in front of your knees. Or at least it is until you get on.
Anyone with fingers knows bikes vibrate, sometimes strongly enough to make picking your nose impossible. But how we perceive vibration depends on its type, pattern, frequency and cause. Bikes are subject to different types of vibration. A bumpy road creates random forced vibration at medium to high frequency (around 5-35 Hz depending on vehicle speed). It's perceived as unpleasant, as is head buffeting caused by wind turbulence. Engineers and aerodynamicists try to minimise these bad vibrations. But we usually talk about engine vibration. There are many sources...
From the launch of Yamaha's new Super Ténéré: "The exhaust pipe connection between the two headers is discontinued to give more character to the engine. The link pipe gives a flat feeling to the curve, so removing it makes the engine a bit more peaky." This is all about exhaust gas. When a four-stroke is tuned for power it means more revs, and so the cylinders have thousandths of second to fill with fresh mixture, compress it, burn it and pump it out again. To get enough mixture in and out, inlet valves open early and exhaust valves stay open for longer – so both are open at the same time.