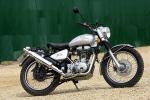 By Kevin Ash
Pictures: Paul Bryant


It says Trials on the badge beneath the headlight but the Royal Enfield Trials is barely a trail bike, let alone a proper trials machine. Not that the once-British, now-Indian company is trying to deceive, the name is a reference to the factory's successes in the International Six Days Trial, and so what if that was 60 years ago, the Enfield Bullet that the Trials is based on dates back to those times too. Mind you, heritage is a bit like joke telling: if you have to explain then it doesn't really work.


Click on image for galleryThere is an irony tucked away here: although the Trials looks like another variant on the very, very long running Bullet, production of which transferred to Madras (Chennai) in the 1960s, in fact it's based on the Bullet Classic, which is all new for 2009. No, really! India's own emissions laws as well as our Euro 3 requirements finally did for the Bullet motor what years of dreadful build quality and half a century of rivals' progress could not, consigning it to its long overdue place in the history books.

Royal Enfield in India saw this coming and started work on a replacement, with the brief that it should look little different to the old Bullet but should meet modern expectations of emissions and durability. So the engine, now built in unit with the five-speed gearbox, is all aluminium and uses modern internals, albeit still with a long stroke 84 x 90mm layout to retain the feel and character of the original. It even features fuel injection and self-adjusting hydraulic tappets, helping to eke out the service intervals to a reasonable 3,000 miles. This is important as the old bike's valves needed adjustment at least every 1,000 miles and often more, which for someone contemplating a Bullet as a regular commuter is simply too much hassle.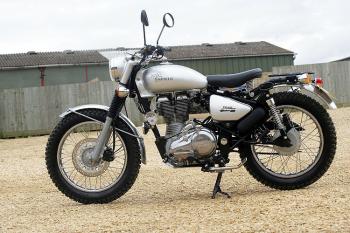 The chassis is new too, although where the new Bullet Classic now features 18 inch wheels to make sourcing tyres easier, the Trials still has 19 inch ones, and uses traditional block pattern semi-off road rubber. The rest of the chassis is the same as the Classic's, and that includes the basic road suspension, although you do get aluminium mudguards and bashplate, an upswept exhaust and single seat (with a pillion pad available as an option).

The worry was always going to be that the old Bullet's unique character was going to be lost when the engine was replaced. Happily that isn't the case. Certainly it looks the part, tall and distinctive with its cooling fins and aside from the squarer valve covers still with an Fifties air about it. It also feels right, thanks to the retention of the bore and stroke dimensions and valve timing designed to produce thumping torque rather than more power at high revs.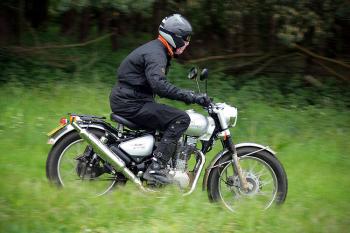 Even so, the engine does rev much more willingly than before, improving acceleration noticeably while feeling smoother in the process. Top speed is around 85mph, but where with the old motor that's a region you'd rarely venture near for fear of watching the conrod disappear into the countryside, the new one will happily maintain motorway speeds all day, just like the modern engine it really is. It still feels like the old one, aside from a sensation now that it's going to stay in one piece for longer.

The transmission isn't completely dependable, with the occasional false neutral lurking between the five ratios, while the deletion of the famous old neutral finder on the side of the gearbox is missed a little as finding it can involve a few attempts. Otherwise it all works well enough.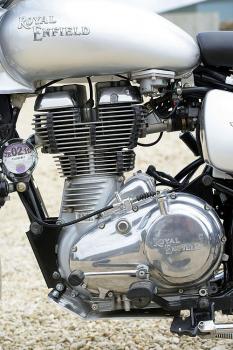 The fuelling is good, and while you get the occasional cough as the throttle is opened, there's nothing that intrudes on the ride. Enfield also says fuel consumption is as good as the old bike's despite the catalyst in the exhaust and additional power, which means 85mpg (30km/l, 2.8l/100km, 83mpg US) should be normal with up to 100mpg (35km/l, 3.3l/100km, 71mpg US) achievable. As the tank holds 3.2 gallons (14.5 litres, 3.8 gallons US), that's a useful 270 mile (430km) range.

For gentle sightseeing duties and getting to work in style then, the Trials will do the job comfortably if you ride within its limitations (which really only means going slower, the brakes and handing are fine). But what about its off-road ability? Well, it does have some, although little more than any other road bike. The bigger wheels do help and if it's not too muddy the tyres give you more grip than pure road rubber, while the bash plate could save some undercarriage damage. But realistically you shouldn't be attempting anything more ambitious than farm tracks and forest trails as there's not enough ground clearance or suspension movement, and the rubber footrests aren't ideal either.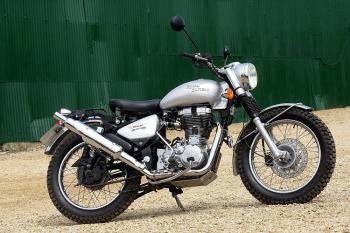 No serious trail rider is going to contemplate a Royal Enfield though, so this isn't an issue. The Bullet finally is a retro rather than the real thing, but it carries enough of the charm and feel for that not to matter, while the updates have made it far more useable too. What might bother some now is that the price has moved towards modern territory too: the Trials is only a few hundred pounds less than a new Bandit. But it shouldn't matter, not unless you can conclusively state that cheese is better than chalk.

Mon, 01/06/2009 - 10:09
#1
shuggiemac
Offline
Excellent - I was waiting for this test and there are some nice photographs in there too. Image 18 makes it looks like quite a handsome beast, in my opinion.
.
I like the Enfield's and am pleased that they continue to do well enough to keep going and indeed invest in new engines and the such like.
.
There is a new importer opened up here and I keep my fingers crossed for them that they will be able to make a go of it. The Enfield (all modela), for sure, are the kind of bikes that many purchasers will buy because that is specifically what they want and are attracted too. The fact that it is now so close in price to mainstream modern machines, will be of little relevance to them as indeed the chalk and cheese description nicely illustrates.
.
It would be nice, in an obtuse kind of way, if they could build up their brand in a Harley-esque manner. They have all the ingredients after all, history, heritage, modern machines styled in a retro way and just that little bit of something intangible that is unique to them. Perhpas we will see a range of branded Enfield women's panties, beer, after shave etc in the near future but I won't be holding my breath waiting.
Recent comments
In HONDA NC700X, kharli wrote:

In HONDA NC700X, kharli wrote:

In HONDA NC700X, Grump wrote:

In HONDA NC700X, kharli wrote:

In Lest we forget..., Captain Scarlet wrote:

In Captain Scarlet's next bike, malauder wrote:

In Captain Scarlet's next bike, Captain Scarlet wrote:

In Benelli 750 SEI, CCM wrote:

In Benelli 750 SEI, Gekom57 wrote:

In Benelli 750 SEI, Gekom57 wrote:

In Captain Scarlet's next bike, Grump wrote:

In Captain Scarlet's next bike, Navy Boy wrote:

In Captain Scarlet's next bike, Captain Scarlet wrote:

In Captain Scarlet's next bike, Grump wrote:

In HONDA NC700X, Grump wrote:

In Lest we forget..., Navy Boy wrote:

In Lest we forget..., unconventional rebel wrote:

In Captain Scarlet's next bike, unconventional rebel wrote:

In HONDA NC700X, unconventional rebel wrote:

In Lest we forget..., davvy wrote:
Donate to the Kevin Ash Fund
Kevin's funeral was held on Thursday 28th February 2013 and was well attended by family, friends and colleagues.
The Telegraph has very kindly established The Telegraph Kevin Ash Fund to assist with the education of Kevin's three daughters.
If you'd like to make a donation then you can use the PayPal 'Donate' button below which will allow you to donate from your PayPal account, or via credit or debit card. A small percentage (about 3.4%) will be retained by PayPal for the service.
Kevin's family have been touched by the generosity and messages of support from people using the website and would like to express their gratitude to those who have contributed in any way.
The donations keep coming in, thank you so much, and the family especially like it when you leave a message.