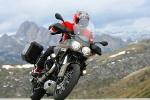 By Kevin Ash
Pictures: Milagro




Of all the manufacturers attempting to cash in on the success of BMW's 1200 GS by producing rival machines, Moto Guzzi ought to have the best potential of the lot. After all, the basic specification of the GS – shaft drive, single-sided swingarm, 1200cc air-cooled twin, dry single-plate clutch, 105bhp – could just as easily come out of a Guzzi catalogue as a BMW one. And let's not forget, in the past Guzzi was BMW's main rival as a touring bike manufacturer.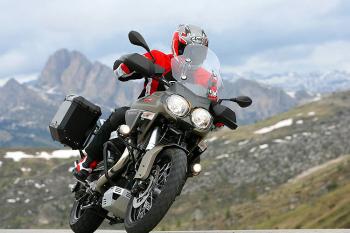 Click on image for galleryFinally, last year Guzzi brought out the Stelvio, a bike designed to do exactly that: rival the ubiquitous GS. Even a small slice of GS sales would have counted as cashing in very nicely as the old Italian marque is reduced to cottage industry capacity these days, with sales now hovering around 8,000 a year, whereas the GS is one of the world's best selling big capacity motorcycles. A mere tenth of the GS sales figures would represent an increase in Guzzi production numbers so great it would struggle to cope.

It might even have done it, if only the dealer network and marketing was up to it. But the dealers are too thinly spread and don't really compare with BMW ones, while the bike inevitably suffered from one insurmountable problem: it's not a BMW GS like Ewan and Charlie rode around the world. There was one more issue too: the Stelvio was powered by the same eight-valve engine as fitted to the Griso 8V – ignore the Stelvio's 4V designation, it definitely had eight – and it was simply the wrong motor for this kind of bike, with too much peak power and not enough torque.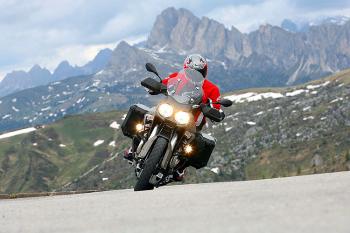 Enter the Stelvio NTX, which looks to be pitching more at the BMW R 1200 GS Adventure, with its stronger off-road bias. The NTX name comes from a 1986 Guzzi off-roader designed for the Paris-Dakar and Pharoahs rallies - the bike originally was to be called the Stelvio TT, but that's now changed. It's based on the stock Stelvio with some additions, including an aluminium sump guard, hand protectors, a pair of aluminium side cases, engine protector bars and halogen spotlights. The rear wheel rim is narrower to increase the range of off-road and trail tyres that can be fitted – indeed, you can specify enduro tyres when buying new, though in practice the vast majority of these bikes will be used for touring.

More important than any of this, the NTX has a revised engine, with new cam profiles and airbox designed to boost mid-range torque. In fact although the claim for peak horsepower remains the same, Guzzi says it's a little lower, maybe 3bhp, but they've left the claim alone as otherwise it would mean rehomologating the motor, which is expensive! More important, peak torque is up from 80lb.ft (11.0kgm, 108Nm) at 6,400rpm to 83lb.ft (11.5kgm, 113Nm) at 5,800rpm, a significant attempt to fill out that missing mid-range. Better still, the stock Stelvio will also get the new engine from this year too.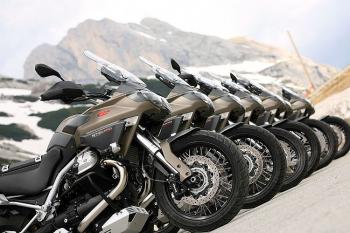 After all that they took us into the Dolomites to test the bike, which was great for the fabulous scenery, less good for assessing the engine as we were riding at an altitude of up to (7,500ft) (2,300m) which cut power by around 20 per cent! For that reason I'll have to leave a definitive judgement until I get hold of a bike in the UK, but at least the signs were good. The engine still revs eagerly enough and despite the altitude I needed to change gear less than before even climbing some very steep and twisty roads. It's smooth too, a lot less vibey than a BMW when revved hard but with at least as much character. Nor does it protest at being lugged along at lower revs. Gear selection is light, smooth and dependable, as on the stock Stelvio (and nothing's changed here so it should be), and the fuelling is fine, the small amount of snatchiness the 08 Stelvio exhibited is gone, and the throttle response is easy and reliable.

The rest of the transmission is unobtrusive too. The clutch is revised for a lighter lever action and reduced mass to improve throttle response, while the carefully designed shaft drive-swingarm geometry working well to cancel out the vertical pitching which used to be a feature of Guzzis. It doesn't dirty the bike's rear end either and needs little maintenance. It's often the case that shaft drive bikes have poorer ride quality than their chain driven equivalents, but the Stelvio soaks up bumps well, front and rear. It's soft at the expense of some feedback which is as you'd expect on a bike of this nature, but you still get more information about what the tyres are up to than on a GS, making the NTX more pleasurable and satisfying to chuck around fast, and despite the conventional forks it doesn't dive too much under heavy braking.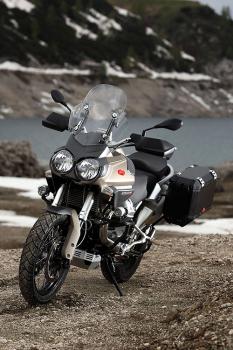 This is not a bike you'll be flicking rapidly through corners, it's tall, heavy and has a long wheelbase, but stability is good in turns and at speed, while the light, neutral steering disguises the bike's weight very effectively.

Other features that are especially important on a bike of this nature – forget the dirt bike pretensions, it's a long distance tourer – include comfort and fuel range. The seat is very roomy and all-day comfortable, and the same applies to the passenger accommodation, although the panniers prevent the pillion from resting the balls of his or her feet on the footrests, so they're pushed forward and can interfere with the rider's. Inevitably the rider does need to be tall as even in the lowest of its two height positions the seat is a 820mm from the ground. It can be raised to 840mm if required, but it's still not as high as the BMW GS's lofty 850/870mm seat, which could be an important advantage to some riders looking at the two. Having said that, BMW has special low versions of many of its bikes, including the GS.

The bars are wide and the footrests positioned to allow plenty of legroom, while there's some scope for adjusting both the gear lever and rear brake lever to match small or large feet, while the screen's height can be adjusted manually without leaving the seat or using tools. In the high position most riders will find the airflow quiet and smooth, although taller ones still get some wind noise. The fuel capacity is two litres less than the GS's at 4 gallons (18 litres), and although we didn't get an opportunity to measure fuel consumption, you'd hope for a larger tank than this on a bike made for the long haul – as it is, 200 miles (300km) should pass before the tank runs dry, which is not too bad. A big tank option like the GS Adventure's 7.3 gallons (33 litres) would be popular though, I'm sure.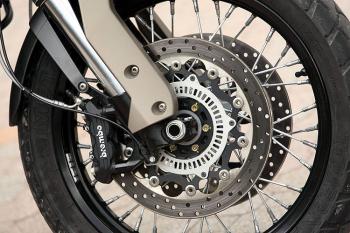 ABS is standard on the NTX and this works well, smooth without increasing braking distances noticeably, but the panniers are irritating as you always need the key to open them, which means switching off the bike's ignition every time you want to get something out unless you keep the key separate. And then it would be easy to lose.

The on-board computer is comprehensive too, including fuel consumption, average speed, trip time and other info in addition to the most essential.

Which leaves the looks. Certainly the bike has a strong presence and its size is well disguised by attractive lines – the NTX extras add purposefulness too. It's only around the headlights that things stop working so well visually as these are rather gawky, but generally it's a good looking bike. It's only available in a military matt green though, so if you don't like that, go for a GS, stock Stelvio or KTM.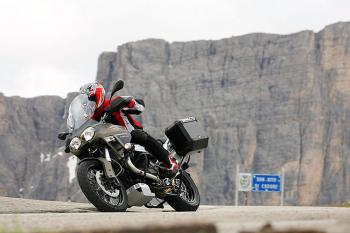 The big question is, does it match the BMW? Now that the engine's torque has been sorted (probably...) I'll stick my neck out and say yes. The handling is better in that it has superior feedback, reliability will be as good or better than the BMW (these are still having quite a few problems while modern Guzzis are proving dependable generally), and comfort over long distances is good. I'd have the Guzzi in preference now, although that's also swayed by the fact that there are so many GSs around and I like to have something a little different. But I'd be happy knowing I wasn't now paying a significant price for my individuality.

Talking of which, the Guzzi's £11,300 showroom tag, plus around £150 on-the-road charges, does make it look costly compared to the GS's £9,425. But when you add the ABS, panniers and on board computer, options on the BMW, you're up to 1200 GS SE spec, and that's £11,400. In other words, not a lot in it in this respect, making the Guzzi at the very least a considered alternative.

* See the 2009 Milan Show Moto Guzzi Concept Bikes here!

Price: £11,450

Available: now

Contact: Promark, 01293 823890
www.motoguzzi.com

Related Technical feature:
* Moto Guzzi CARC shaft drive



Fri, 12/06/2009 - 19:43
#1
granitehead
Offline
The designer of this bike is clearly a big Muppets fan and his favourite character is Beaker. The resemblance is uncanny (do a Google search and tell me I'm wrong), especially when the rider is wearing red-topped leathers!
I reckon the Stelvio could be aimed at a niche market previously unrecognised by bike manufacturers. Those riders who own small, furry pets such as hamsters now have the ideal motorcycle with which to take them for a ride. And the cage is cunningly disguised as a sump guard. Excellent!
Anyway, apart from that it looks like a much-improved second attempt.
Recent comments
In HONDA NC700X, kharli wrote:

In HONDA NC700X, kharli wrote:

In HONDA NC700X, Grump wrote:

In HONDA NC700X, kharli wrote:

In Lest we forget..., Captain Scarlet wrote:

In Captain Scarlet's next bike, malauder wrote:

In Captain Scarlet's next bike, Captain Scarlet wrote:

In Benelli 750 SEI, CCM wrote:

In Benelli 750 SEI, Gekom57 wrote:

In Benelli 750 SEI, Gekom57 wrote:

In Captain Scarlet's next bike, Grump wrote:

In Captain Scarlet's next bike, Navy Boy wrote:

In Captain Scarlet's next bike, Captain Scarlet wrote:

In Captain Scarlet's next bike, Grump wrote:

In HONDA NC700X, Grump wrote:

In Lest we forget..., Navy Boy wrote:

In Lest we forget..., unconventional rebel wrote:

In Captain Scarlet's next bike, unconventional rebel wrote:

In HONDA NC700X, unconventional rebel wrote:

In Lest we forget..., davvy wrote:
Donate to the Kevin Ash Fund
Kevin's funeral was held on Thursday 28th February 2013 and was well attended by family, friends and colleagues.
The Telegraph has very kindly established The Telegraph Kevin Ash Fund to assist with the education of Kevin's three daughters.
If you'd like to make a donation then you can use the PayPal 'Donate' button below which will allow you to donate from your PayPal account, or via credit or debit card. A small percentage (about 3.4%) will be retained by PayPal for the service.
Kevin's family have been touched by the generosity and messages of support from people using the website and would like to express their gratitude to those who have contributed in any way.
The donations keep coming in, thank you so much, and the family especially like it when you leave a message.