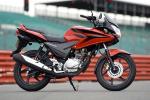 By Kevin Ash
Pictures: Paul Harmer
All the time Honda has been making machines as complex, diverse and costly as Fireblades, Pan Europeans, RC30s, RC45s and the rest, its range has been underpinned by some of the most dependable, solid commuter bikes available anywhere. The all-time classic of course is the Cub, now past its 60 millionth sale and the best selling motor vehicle of any description. After that comes Honda's 125cc commuter bikes, the pushrod CG125 and only a little younger, the overhead cam CB125. Both are air-cooled, both have spawned not only countless Honda derivatives but an even greater variety of Chinese copies, some of them legal, and each has carried armies of people to work for decades with astonishing reliability given often some very dubious maintenance conditions.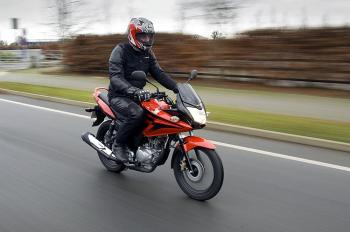 Click on image for galleryThe new CBF125 is not just built in that tradition, its job is directly to supersede the CG125 in particular as a world workhorse. Surprising then first that it looks so good, as style usually takes a distant second place to utility in this category. But it's an attractive bike with its arrow-shaped front side panels blending neatly into the tank and very modern headlight shape and surround. The wheels are italic six-spoke alloys fitted at the front with a single disc brake while the matt black exhaust boasts a natty chrome heatshield, an overall look that's sporting more than commuting.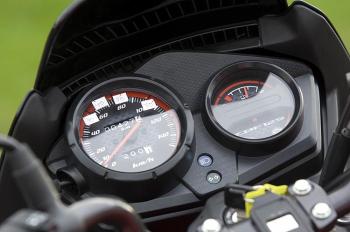 There's even a suggestion of performance in the engine specification, with fuel injection joining the overhead camshaft on the list, but this is not the intention - the injection this time is designed for economy and meeting emissions regulations. According to Honda the little CBF is capable of 134mpg (112mpg US, 47.4km/l, 2.1l/100km), which in these days of volatile fuel prices gives it almost as great an appeal to westerners as it already has in India where it's built. It's not an entirely unrealistic figure either, even though Honda doesn't specify the conditions in which it's obtained. I rode the bike across two towns and spent the rest of the time on fast dual carriageways where it was flat out at about 60mph most of the time, and it still rewarded me with 117mpg (97mpg US, 41.4km/l, 2.4l/100km). You can with some wind assistance persuade the speedo round to 75mph, which is a true 68mph, but on the level, sitting normally it'll usually show about 65mph, a true 60mph. Whichever, full throttle is the only way to deal with faster roads, and even then you find yourself swopping road space with articulated trucks depending on who has the advantage against hills and headwinds, but other kinds of use will very likely improve my figures significantly. You won't be filling it up very often, that's for sure, as the tank holds a generous 2.9 gallons (3.4 US gallons, 13l)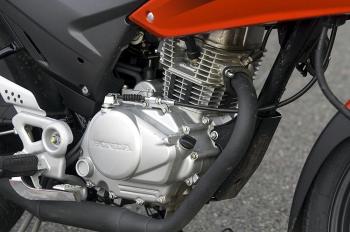 Another surprise is how enjoyable the bike is. The engine responds willingly and has plenty of zest at lower revs so you don't need to spin it wildly to get a move on, and until you're revving it right to its maximum it's impressively smooth too. Comfort is good, even for longer trips, although inevitably bigger riders such as 6'3" (1.91m) me look a bit, well, daft onboard the diminutive machine. Against that, it's dismissively easy to manoeuvre at walking pace, and it also happens to steer very well, making life as relaxed as it can be for novices. Just one issue crops up and that's the bike's sensitivity to blustery winds at speed, when that forward bodywork gets buffeted and the bike becomes disconcertingly nervous.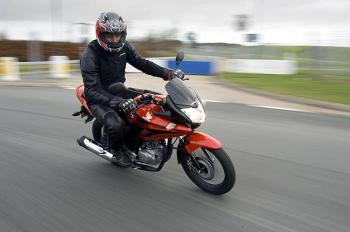 Firmer suspension might help but then the ride quality would suffer. As it is, the bike copes very well with poor surfaces, even though when stationary the forks feel far too soft – once on the move they work fine. The brakes too do the job expected, and with mirrors that don't come loose (as they do on many budget bikes) and which show a good view behind, this comes across as a well thought through and complete package. Okay, the build quality isn't to VFR standards but in this context it's perfectly acceptable, although I worry about the longevity of the matt black exhaust finish. But with that Honda badge on the side, you have a guarantee of quality and back up which simply doesn't exist on the various Chinese copies.

Price: £1,795

Available: now

Contact: Honda UK 0845 200 8000; Customer services: 0500 011959, www.honda.co.uk



Specifications
Tue, 16/12/2008 - 11:21
#1
shuggiemac
Offline
It does seem a bit of a leap in the styling stakes if this is to be the global replacement to the CG125 and interestingly one comment about the body work was the negative effect it had in side winds. Maybe they should consider a naked version, especially as if the bodywork does really not add much to the bike but will just be an expense to fix when the bike goes over. Another slant on this being if you consider that a lot of bikes like these are the mass form of transport in many parts of the world where road safety regulations are not quite as strictly enforced as they are in the west, then how is anyone going to balance a kid and a crate of chickens on the handlebars if there is a screen in the way? Examine your customers Honda marketing boys!
It is undeniably an attractive looking little bike and with fuel economy figures like that it must be a realistic commuting option for many. As for protecting the finish, I can serioulsy reccomend regular use of the excellent Scottoiler FS365. It is doing a great job of protecting my bikes that I ride throughout the winter with all the salt and other crud that can be thrown at them.
Thu, 24/03/2011 - 16:08
#2
I agree with much of this review. Even as a regular rider of bigger bikes I enjoyed my ride on the little CBF particularly around town. Even then it wasn't fast but it kept up with the traffic and it was nice to be on a bike. Compared to the 2010 and before model CBR125 it is better equipped for commuting with a hugger, nice clear speedo, easy comfy riding position and quite a bright headlight and it is much cheaper - the new 2011 model CBR125 will have to improve greatly to be competitive. As Kevin says the main weakness is that exhaust - it rusts much to easily (apart from the engine note at tick-over that is so quiet it is easy to think that the bike has stopped).
Recent comments
In HONDA NC700X, kharli wrote:

In HONDA NC700X, kharli wrote:

In HONDA NC700X, Grump wrote:

In HONDA NC700X, kharli wrote:

In Lest we forget..., Captain Scarlet wrote:

In Captain Scarlet's next bike, malauder wrote:

In Captain Scarlet's next bike, Captain Scarlet wrote:

In Benelli 750 SEI, CCM wrote:

In Benelli 750 SEI, Gekom57 wrote:

In Benelli 750 SEI, Gekom57 wrote:

In Captain Scarlet's next bike, Grump wrote:

In Captain Scarlet's next bike, Navy Boy wrote:

In Captain Scarlet's next bike, Captain Scarlet wrote:

In Captain Scarlet's next bike, Grump wrote:

In HONDA NC700X, Grump wrote:

In Lest we forget..., Navy Boy wrote:

In Lest we forget..., unconventional rebel wrote:

In Captain Scarlet's next bike, unconventional rebel wrote:

In HONDA NC700X, unconventional rebel wrote:

In Lest we forget..., davvy wrote:
Donate to the Kevin Ash Fund
Kevin's funeral was held on Thursday 28th February 2013 and was well attended by family, friends and colleagues.
The Telegraph has very kindly established The Telegraph Kevin Ash Fund to assist with the education of Kevin's three daughters.
If you'd like to make a donation then you can use the PayPal 'Donate' button below which will allow you to donate from your PayPal account, or via credit or debit card. A small percentage (about 3.4%) will be retained by PayPal for the service.
Kevin's family have been touched by the generosity and messages of support from people using the website and would like to express their gratitude to those who have contributed in any way.
The donations keep coming in, thank you so much, and the family especially like it when you leave a message.