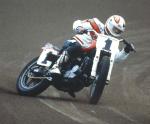 By Kevin Ash
Photographs courtesy of the Harley-Davidson Motor Company Archives
Copyright Harley-Davidson - click on images for full size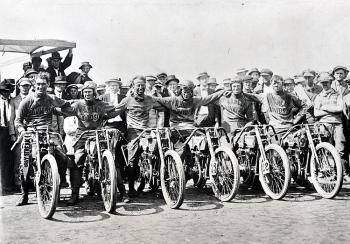 The Wrecking Crew, 1914It's not widely known in Europe but Harley-Davidson was a dominant force in oval flat track racing for most of the last century, and it still is! Harley has made the national series its own since the pioneer years of motorcycling: William S. Harley first entered a Harley-Davidson official team in a racing championship as early as 1914, and the team was quick to establish its authority by winning races and championships within a few years. The team became known as the Wrecking Crew and was so dominant on race weekends for so many years that the name has stuck ever since, right through to the current team led by Kenny Coolbeth and Bryan Smith.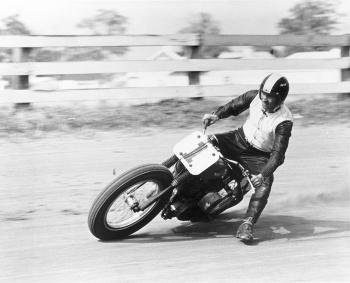 Bart Markel won the title on the KR750 in '65 and '66. Note lace-up boots and no eye or hand protection...Incredibly, half of this long history has been the story of just two legendary motorcycles. The company's remarkable side-valve KR750 flat tracker was introduced in 1953 and didn't really start to show its age and lose out to the new wave of British twins from BSA and Triumph until the late 1960s, at which point the situation became desperate, and in 1970 the overhead valve XR750 was introduced, based on the Sportster road bike. It wasn't a great success at first but this was something of a stopgap, and in 1972 a new version was produced, still called the XR750 but now with aluminium instead of iron barrels. This produced an astonishing 90bhp – remember it was only 750cc – thanks to its twin carburettors, high-rise megaphone exhaust and cylinder heads which positioned both carburettors at the rear of their cylinders with the exhausts at the front. On conventional Harley engines the rear cylinder's exhaust exits at the back of the cylinder.


Scott Parker demonstrates one-handed rear wheel steeringFlat track racing is an all-American series where bikes compete on a one mile, hard-packed dirt oval circuit. As in European speedway, the bikes slide on opposite lock around the corners, spinning their back wheels for balance and steering, although cornering speeds are much higher than in speedway, the quickest machines exceeding 120mph (190kph). And they have no front brakes...

The series runs throughout the summer months with the first race usually scheduled in March and the season finale in late September or early October. The spiritual home of Flat Track racing is in Springfield, Illinois, at the Fairgrounds Mile where the first AMA championship was held in 1937.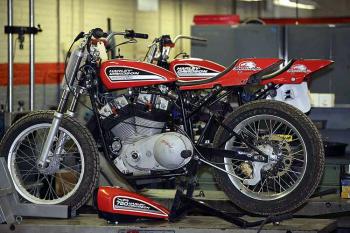 Barrels were aluminium from '72The series has been a launch pad for many careers in grand prix and MotoGP, with international stars such as Nicky Hayden and Kenny Roberts both starting their racing on the flat track circuit. And they've all ridden XR750s... Indeed, far from finding the KR750 a hard act to follow, the aluminium-barrel XR750 shone even more brightly, dominating the ovals almost totally ever since, and the titles started to gather. In the early seventies Yamaha with Kenny Roberts took two titles on XS650-based machines, while a dozen years later Honda picked up four titles with its V-twin RS750, very loosely based on the CX500 road bike. But these aberrations aside, the XR750 has been in complete control, taking famous names such as Jay Springsteen and Scott Parker to a succession of championships.


Look, no front brake...The XR750's success was underlined again in 2007 with Kenny Coolbeth's second successive victory in the US flat track racing series. Coolbeth, from Connecticut led a one-two-three for the Harley Davidson 'Wrecking Crew' team in 07 along with team mates Jared Mees and Bryan Smith. Then in 2008 he did it again, with Smith coming in second, while Harley and the XR accumulated 299 points against second placed Suzuki's 156. In fact the bike has won 29 of the past 37 AMA championships.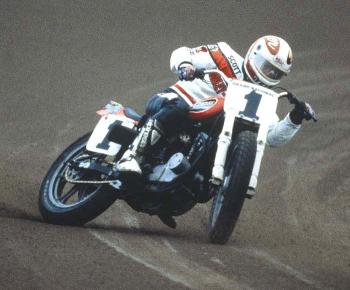 Scott Parker is flat track's most successful rider with nine championshipsThe most successful member of the Wrecking Crew is Scott Parker, who has claimed a record-breaking nine championships in the series. The most successful bike has been far more dominant than that...

This then is the legacy on which Harley-Davidson's XR1200 (click for test) road bike is based, a machine designed to invoke images of speed, competition and race success which in Europe at least haven't previously sat comfortably with the Milwaukee marque. And the link does go beyond just the 1200's looks, as both it and the 750 are based on the Sportster, and both make around 90bhp. But the XR750 weighs around half of the new 1200...




Other Features
Sun, 14/12/2008 - 19:16
#1
shuggiemac
Offline
OK we all know what the core business of Harley Davidson is and in what market segment they make their money. The XR750 and the new XR1200 raise two questions in my mind. The first is why did Harley get into the racing in the first place, if it is so far removed from their core market? Secondly and more importantly for me, why has it taken them so long to actually produce the XR1200 or something similar? It seems incredible that they have generated such a run a way succes of a machine and the marketeers have never tried to cash in on it properly.
I think the 1200 is a great looking bike and in all honesty when it is sat next to the latest generation of Buells, it outshines them all, as the best looking 'performance' USA manufactured Harley group bike. Am I the only person who rekons the new Buells look like one of those 'Transformers' from the film and kids TV series? Once the spring comes and the local Harley dealer lets us loose on demo bikes again then I will definitely try to get a run on the XR to try it for myself. I first saw the bike at the NEC when it was a 'concept', though it looked production ready then and from that moment on I have been looking forward to trying one, I just hope that it won't dissapoint.
Mon, 25/01/2010 - 02:52
#2
I like the XR750, and think that if HD did try and market these sort of bikes to the younger market, it could work well.
The HD cruisers are not my cup of tea. Though they could try and entice many younger European riders by branching out, reaping the benefits of many years of racing success. The XR750 looks really mean, I would be proud to own a bike like this, but can I have a front brake PLEASE!
The XR1200 is a good copy of the dirt tracker and I'm sure it will be a huge sucess in Europe. Poor old USA, small wonder they are angry that this model is for European dealers ONLY.
Recent comments
In HONDA NC700X, kharli wrote:

In HONDA NC700X, kharli wrote:

In HONDA NC700X, Grump wrote:

In HONDA NC700X, kharli wrote:

In Lest we forget..., Captain Scarlet wrote:

In Captain Scarlet's next bike, malauder wrote:

In Captain Scarlet's next bike, Captain Scarlet wrote:

In Benelli 750 SEI, CCM wrote:

In Benelli 750 SEI, Gekom57 wrote:

In Benelli 750 SEI, Gekom57 wrote:

In Captain Scarlet's next bike, Grump wrote:

In Captain Scarlet's next bike, Navy Boy wrote:

In Captain Scarlet's next bike, Captain Scarlet wrote:

In Captain Scarlet's next bike, Grump wrote:

In HONDA NC700X, Grump wrote:

In Lest we forget..., Navy Boy wrote:

In Lest we forget..., unconventional rebel wrote:

In Captain Scarlet's next bike, unconventional rebel wrote:

In HONDA NC700X, unconventional rebel wrote:

In Lest we forget..., davvy wrote:
Donate to the Kevin Ash Fund
Kevin's funeral was held on Thursday 28th February 2013 and was well attended by family, friends and colleagues.
The Telegraph has very kindly established The Telegraph Kevin Ash Fund to assist with the education of Kevin's three daughters.
If you'd like to make a donation then you can use the PayPal 'Donate' button below which will allow you to donate from your PayPal account, or via credit or debit card. A small percentage (about 3.4%) will be retained by PayPal for the service.
Kevin's family have been touched by the generosity and messages of support from people using the website and would like to express their gratitude to those who have contributed in any way.
The donations keep coming in, thank you so much, and the family especially like it when you leave a message.