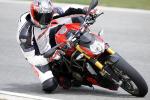 By Kevin Ash
Pictures: Milagro
It was only a matter of time before the Ducati 1098 superbike engine found its way into a stripped down streetbike chassis. The surprise for a lot of people was that the new machine didn't become another Monster, a replacement for the S4Rs which essentially was a 999 superbike with its bodywork removed. Instead, Ducati created a new line: Streetfighter, in essence a 1098 with its bodywork removed.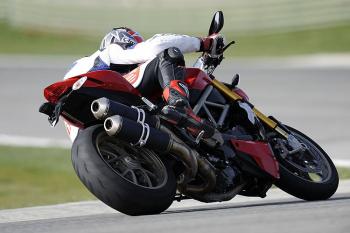 Click on image for gallerySo why this and not a better, faster Monster? Ducati General Manager Claudio Domenicali is clear about what he wants to do with these two ranges of bikes: "We want to emphasise very strongly that the Streetfighter is 1098 based, so it's not styled as a Monster. This is a much more aggressive and hard-edged bike than the Monsters, and remember the Monster range includes the entry-level 696, so it would be difficult to market Monsters coherently with such extremes."

The term streetfighter anyway comes from northern Europe where sports bike riders would – and still do – strip down their sports bikes (or crash them and have no choice because replacing the damaged bodywork was too expensive) and fit high bars to create wild and lary, high performance urban weapons. Several other manufacturers have been doing this too – okay, not crashing their bikes but stripping down superbikes – notably Triumph first with the Speed Triple, Aprilia and the Tuono, even BMW with the K1200R.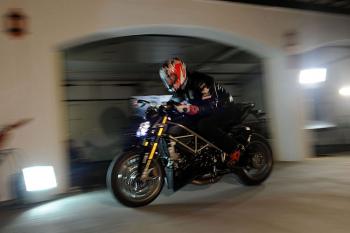 There's rather more to the Streetfighter though than a 1098 less its body panels. In fact, according to designer Giulio Malagoli, almost all the components are new. The frame is 1198 derived but features a 25.6 degree head angle instead of the superbike's 24.5 degrees while the rear subframe is all new, reducing the length of the tail section by around 3 inches (75mm). The fuel tank is an inch (25mm) shorter than the 1098's too, but you do get 2.4 inches of seat foam rather than the 1198's 1.6 inches (40mm), while the handlebars are not only higher but closer to the rider too. The footrests meanwhile are a little lower and further back than the Monster's.

The dash display shows the same information as the 1198's MOtoGP-derived dash but the Streetfighter's is smaller, and the switchgear is new too, including a rather cool starter/kill switch arrangement where sliding the kill switch hides the starter button. Only the Italians think of such details...

At the front the LED position lights are shaped as a smaller version of the 1198's headlight layout, with similar intakes beneath to emphasise the family connection.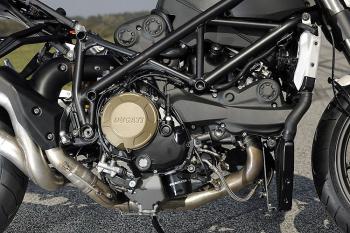 The exhaust system is new with fatter pipes than the 1098, at a chunky 2.3-2.5 inches (58-63mm) diameter. The engine itself is essentially a 1098 motor but with 1198 crankcases, used because these are made with the new Vacural process that reduces weight – some 6.6lb (3kg) is saved this way. Indeed Ducati's obsession with weight minimalisation has resulted in an overall dry weight of just 373lb (169kg) for the stock model and 368lb (167kg) for the S.

Power output is similar to the 1098's: 153bhp (155PS, 114kW) at 9,500rpm and 84.5lb.ft (11.7kgm, 114.6Nm) torque, also at 9,500rpm. And if a few years ago having the torque and power figures peaking at the same rpm was an indication of a very highly tuned and peaky motor, in this case there is a very small torque peak at 9,500rpm with a fat and flat curve lower down that looks very healthy.

The S, which is the model I rode, is fitted with Marchesini forged wheels in place of the stock bike's cast wheels, and has Öhlins suspension front and rear in place of Showa. This the same as the 1098's but the rear suspension is softer because the new swingarm is some 1.4 inches (35mm) longer, giving it greater leverage. It's also fitted with carbon fibre front mudguard and cambelt covers, and comes with Ducati Traction Control (DTC) and the Ducati Data Analyser (DDA) which can play back information about your recent ride via a USB stick that plugs in beneath the seat.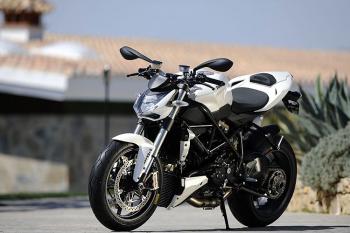 If you see a white Streetfighter it'll be a standard model, while a black one will be an S. Red could be either.

With all that lot proven up to World Superbike level, the Streetfighter is bound to be brilliant, isn't it? Well yes, but... The press launch took place entirely on a race circuit, the long and difficult Ascari track near Ronda in Spanish Andalusia, which sounds great (and indeed it was) except when riding the Streetfighter around it, you couldn't help feeling there are better bikes than this for this kind of thing, not least Ducati's own 1198. There's nothing wrong with the Streetfighter at all, it simply wasn't in it's ideal environment, although it did cope very well once you got used to the relatively upright riding position. Inevitably the front end is particularly sensitive, with less weight on it than a superbike and wider bars with a wind-blown rider hanging from them, so you have less confidence in the front end and there's a twitchier feel than on an 1198.

The bike is also set up fairly soft as standard, but does improve usefully with a few tweaks of the suspension – I increased rebound and compression damping by two clicks front and rear and left the preload alone, and the bike's fore-and-aft pitching under braking and acceleration became much better controlled. There's plenty more to play with and the track manners no doubt can be improved further, which will make this a serious tool for track day use. But an 1198 would be better...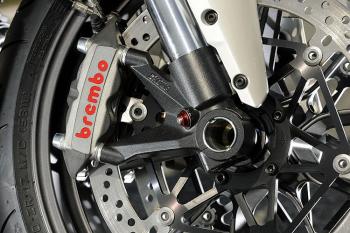 The brakes – a pair of Brembo Monoblocs up front lifted from the 1198 – inevitably are immensely powerful, but as with an increasing number of superbikes are too strong for general road use. In the wet, one quick panic grab as someone pulls out and you'll have to work hard to stay upright.

Unusually for Ducati there were a few issues with the gearbox. On my bike, selection was a little heavy and I had two of three missed changes, while other riders reported similar problems and one would find false neutrals when changing down: when this happened diving into a tight right hander the lack of engine braking caused him to run wide and crash. Another gearbox suddenly refused to change and the rider had to pull out of the session. This problem hasn't arisen with the 1198 which has the same gear assembly and crankcases so this could be peculiar to our batch of bikes – I'm reasonably confident Ducati will identify and sort the problem, as the company's gearboxes usually are fine.


Nothing wrong with that fabulous V-twin engine meanwhile. It pulls with real muscle from low revs, torque pulses shuddering through the bike as the exhausts bellow with a surprisingly loud voice, and after a small torque dip at around 7,500rpm the bike pulls hard to just beyond 10,000rpm. There's some vibration through the footrests which troubled a few riders, although for me it was their shape which I found an irritant, the raised ball on the end preventing me from sliding my feet around on them as easily as usual. The exhaust shield beside the right footrest kicks your heel out a little awkwardly too, although nowhere near as much as on the Monster S4Rs.

Direction changes are very rapid, so much so you can get the bike wobbling and flighty when flicking from side to side simply because it's turning so fast, then with the S you can drive out of a turn as hard as you like, letting Ducati's awesome traction control look after the rear tyre's grip – just whack open the throttle and let the electronics do the rest... Our bikes started off at level six of the possible eight, which intervened too early, but with level four or less set via the dash, the thrust out of corners is phenomenal, and it won't highside, whatever you do.


So, it's good as a track bike but not 1198 great, which is pretty much what you'd expect, and as we didn't ride it on the road I'll have to make an intelligent guess about its performance in the real world. In fact I think it will absolutely rock: a track such as Ascari tends to hide the thrill you can get from a bike like this, although I did try circulating as if it was a road instead, when I discovered ferocious low speed acceleration, that it wheelies like a demon, sounds fabulous and all of a sudden becomes the adrenalin-pumping wild machine it didn't really feel like as a track bike.

As for its low-fronted, super compact looks, it's certainly appealling, although for me the older S4R in blue with the offset central white stripe is still one of the best looking street bikes yet made.

Price: £13,995 (1198, £11,495)

Available: April 2009

Contact: Ducati UK, 0845 1222996, www.ducatiuk.com

Related Technical Features:
* Ducati 1198 S DTC and technical


Mon, 30/03/2009 - 09:23
#4
shuggiemac
Offline
Kevin got to my point first regarding the lights, as I too was going to mention the relative height of car lights. Take a look something like a Ferrari or one of those super low Vauxhall/Opel Lotus things and they are fag paper close to the ground. Sorry I am not a car person, so don't know and am not interested in the names.
As far as the Streetfighter is concerned, as a dyed in the wool and openly biased Ducati fan, I must say that I am a little dissapointed in it. I saw it in Milan last year and whilst the marketing types can say that it has all new components, as far as I am concerned it is still a 1098/1198 without the body work. I think that it was a fairly easy and predictable bike for the factory to come out with. Don't get me wrong, I would still love one but it does not set my pulses racing and I have much more anticipation for the Mutleystrada replacement.
I appreciate that the bike was only tested on the track, whereas it is a street machine but Kevin you did not mention anything about the comfort on the bike. Do you think that as a street machine it will be useable for decent length of trips? I know that it is not tourer but I think you know what I mean.
I am also amazed as to how the factory could let a batch of new bikes go to a press launch with dodgy gearboxes. I could rant on about the many reasons why this is avoidable and simply unforgiveable. As someone working in manufacturing industry at a senior management level, if this was done by any of our people then I would be on the war path. However I just hope that this is not indicative of attitude in Bologna as perhaps not all journalists shall be as forgiving or understanding as Mr Ash and it only adds to the aura of unreliabity that the general public have of Ducati.
Recent comments
In HONDA NC700X, kharli wrote:

In HONDA NC700X, kharli wrote:

In HONDA NC700X, Grump wrote:

In HONDA NC700X, kharli wrote:

In Lest we forget..., Captain Scarlet wrote:

In Captain Scarlet's next bike, malauder wrote:

In Captain Scarlet's next bike, Captain Scarlet wrote:

In Benelli 750 SEI, CCM wrote:

In Benelli 750 SEI, Gekom57 wrote:

In Benelli 750 SEI, Gekom57 wrote:

In Captain Scarlet's next bike, Grump wrote:

In Captain Scarlet's next bike, Navy Boy wrote:

In Captain Scarlet's next bike, Captain Scarlet wrote:

In Captain Scarlet's next bike, Grump wrote:

In HONDA NC700X, Grump wrote:

In Lest we forget..., Navy Boy wrote:

In Lest we forget..., unconventional rebel wrote:

In Captain Scarlet's next bike, unconventional rebel wrote:

In HONDA NC700X, unconventional rebel wrote:

In Lest we forget..., davvy wrote:
Donate to the Kevin Ash Fund
Kevin's funeral was held on Thursday 28th February 2013 and was well attended by family, friends and colleagues.
The Telegraph has very kindly established The Telegraph Kevin Ash Fund to assist with the education of Kevin's three daughters.
If you'd like to make a donation then you can use the PayPal 'Donate' button below which will allow you to donate from your PayPal account, or via credit or debit card. A small percentage (about 3.4%) will be retained by PayPal for the service.
Kevin's family have been touched by the generosity and messages of support from people using the website and would like to express their gratitude to those who have contributed in any way.
The donations keep coming in, thank you so much, and the family especially like it when you leave a message.
Recent Articles
We're familiar with solid-state electronics in biking. Ignition swapped points for transistors in the 1970s, then went digital in the 1990s. Now, the need for greater power, fuel efficiency and emissions control means modern engines only work with computer-controlled fuelling, ignition, combustion and exhaust. When we open the throttle we pull the strings, but the ECU calls the shots. To do it, the ECU needs an accurate view of the world. And it gets it through its sensors.
A gyroscope is a rigid circular or spherical mass rotating around an axis and for over 100 years motorcycles have come with three of them: a front wheel, a rear wheel and a crank (if you're being pedantic you could include cams, balancer shafts, gearbox, clutch etc). The classic mechanical model of a gyroscope ranges from the very small – electrons spinning around an atom's nucleus – to the very large – the Earth.
Most of us have an innate feel for balancing a high centre of gravity on a relatively short wheelbase. Say, like a motorbike. Its centre of gravity is the point at which the sum of the surrounding mass is zero, and is largely determined by the location of the engine, the heaviest part of the package. Usually the CoG is midway between the wheels (half the wheelbase) and 60 to 75cm off the ground; just above the engine, in front of your knees. Or at least it is until you get on.
Anyone with fingers knows bikes vibrate, sometimes strongly enough to make picking your nose impossible. But how we perceive vibration depends on its type, pattern, frequency and cause. Bikes are subject to different types of vibration. A bumpy road creates random forced vibration at medium to high frequency (around 5-35 Hz depending on vehicle speed). It's perceived as unpleasant, as is head buffeting caused by wind turbulence. Engineers and aerodynamicists try to minimise these bad vibrations. But we usually talk about engine vibration. There are many sources...
From the launch of Yamaha's new Super Ténéré: "The exhaust pipe connection between the two headers is discontinued to give more character to the engine. The link pipe gives a flat feeling to the curve, so removing it makes the engine a bit more peaky." This is all about exhaust gas. When a four-stroke is tuned for power it means more revs, and so the cylinders have thousandths of second to fill with fresh mixture, compress it, burn it and pump it out again. To get enough mixture in and out, inlet valves open early and exhaust valves stay open for longer – so both are open at the same time.