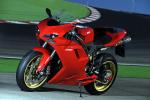 By Kevin Ash
Pictures: Milagro
So what were you expecting of the new Ducati 1198? The capacity's up 100cc of course, the weight's dropped a bit... and that's pretty much it, so not a lot to get very excited about, surely, it'll be just like a 1098 with a little bit more performance?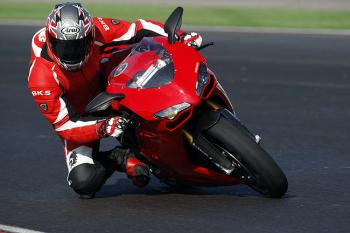 Click on image for gallery... and yes, that's WSB champion Troy Bayliss with me in some of them!If that's your mindset then you're in for a shock: the 1198 S with the world's first road-usable, race-type traction control system is not merely better, it's a milestone in motorcycling history. And I don't say that lightly: this bike will elevate most people who ride it to a whole new level of performance and excitement and have them riding a motorcycle in a completely new way, and that makes it a very significant machine.

And yet you'd have to be a hardcore Ducatista to spot the visual differences between 1098 and 1198. The standard 1198 Biposto gets new 10 spoke alloy wheels while the higher spec S is fitted with MotoGP-derived forged and machined 7-spoke versions, while the S's steel trellis frame is now finished in bronze, the badges on the rich red flanks have a different number on them, the dash is revised... and that's pretty much it.

Inside is where the important changes have happened. The bore and stroke are both increased (for the full technical low down click on this link), the compression ratio is up, the valves are bigger and consequently maximum power is boosted by a healthy 10bhp. Nothing wrong with that, but much better and more useful, the power hike is a major one right across the rev range – it still makes 10bhp more than the 1098 as low as 6,500rpm. The same applies to the torque of course, up to a thumping 97lb.ft (13.4kg.m) at 8,000rpm with big dollops more at much lower revs.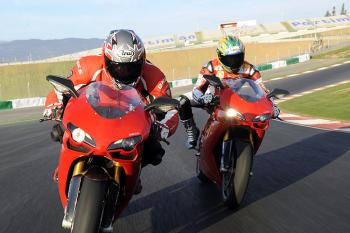 The crankcases are new, and thanks to a new casting technique and a redesign of the rear section have shed a hefty 6.6lb (3kg) compared with the old ones, while a further 1lb (0.4kg) has been lost from the headlights, disproportionately useful as this is weight stuck far out at the front which has a big effect on agility.

Oh yes, and I nearly forgot (as if...): Ducati Traction Control (DTC). This is standard on the 1198 S, the model we rode at Portugal's fabulous new Portimao circuit on the Algarve, and it opens up a whole new world. The 1098 R had traction control last year of course, and it was astonishingly effective on that, but couldn't be used on the road as the system dumped neat fuel through the exhaust which would destroy catalytic converters. It was also quite harsh, resulting in a stammering power delivery which was disconcerting for some riders. Not so the 1198 S's, which stops the fuel supply when the torque needs to be curtailed, and which operates so smoothly it's often unnoticed unless you happen to see a red light winking on the dash.

But first you need to unlearn years of mental conditioning: heel the bike over hard into a turn, toes scraping Tarmac, then (and take a deep breath...) crack that throttle wide open! The bike drives forward so hard as the Pirelli Diablo Supercorsa SP digs and finds grip where it shouldn't exist you have to grip the bars tighter. In the lower gears comes a brand new phenomenon for any road rider: this bike will wheelie while still on its side in a turn! It absolutely hammers out of corners, but the rear tyre's spin is so well controlled and so easy to deal with you just point the bars, feel the bike shimmy a little and laugh manically at the sheer exhilaration of being as quick as Troy Bayliss (for a little bit anyway...).


You can change the level of spin the system allows on the move, with eight different levels from almost obstructive to laying black lines out of every turn, and you feel like a Superbike god. The only way any other road bike is going to live with an 1198 coming out of turns will be if it has a national level racer on board, otherwise, they'll be floundering (or highsiding...) in your wake.

And there's so much more to the 1198 too. All the while this is happening the bike is seducing you to go fast with that glorious tenor boom from the underseat silencers - even Ducati doesn't seem quite sure how they passed noise emission tests, but thank goodness they did. The engine punches and shudders with the torque it's churning out, driving impressively up to 6,000rpm then firing you like a rocket beyond that – with its 373lb (169kg) and 168bhp it offers almost 1000bhp per tonne, and that's exactly how it feels.

But the apparently little changed chassis has moved on too, to the point where the new S feels almost flighty in its responsiveness. Direction changes are much quicker than before and until you get the suspension set up just right it can start to shimmy and wobble at very high speeds. The feel is much more like a race bike than before, yet paradoxically the 1198 S is also easier to ride, even if some of that comes from the great spades of extra confidence the traction control gives.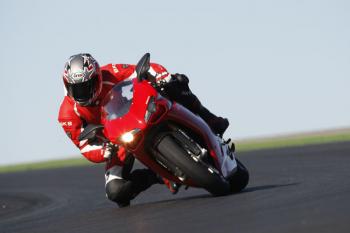 My first laps of Portimao were find-my-way wobbles, made more precarious by the circuit's many blind crests and turns, and then the 1198 S felt as uncertain as I did. As I learned both bike and circuit, so everything gelled until the bike was working with such harmony and safety I didn't want it to stop, despite the fatigue tightening and pumping up my arm muscles. It's not perfect then, this bike: the slender, pretty fuel tank is a pain in two respects as it has only a 3.4 gallon (4.1 US gallons, 15.5 litres) capacity, restricting the bike's everyday versatility, but also because it's so slim at the back there's little to grip with your legs. Those ferocious Brembo Monobloc front callipers deliver massive stopping forces with the brush of a couple of fingers on the lever, but most of that you have to take through your arms, and at Portimao, that starts to hurt pretty soon!

At least now Ducati offers inch and a quarter mirror extensions to deal with another 1098 criticism so you stand some chance of seeing what's behind you. Other areas where once Ducati was weak have been convincingly addressed. The electronics are not only way ahead of what the Japanese are offering, they're reliable too, as are the mechanical parts, judging by warranty return figures (Ducati is at a similar level to Suzuki these days), while servicing costs are on a par with the Japanese too. The finish quality meanwhile is outstanding, going some way on its own to justifying the £14,950 price tag of the 1198 S. The stock 1198 is £11,950, but really you're missing out on a motorcycling milestone by doing without that traction control, so grit your teeth, dig deep and find the extra.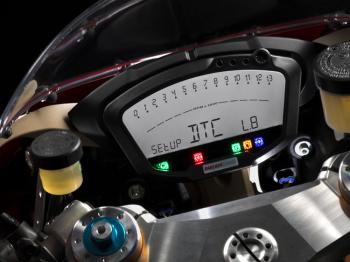 The question really is, why would you pay an extra £9,000 for a 1098 R? Okay, so that has more horsepower and revs harder but it's not much quicker, and you can only use its traction control on the track, not the road. The handling is not significantly better meanwhile. The 1198 Biposto meanwhile will feel a whole lot less, much more than a stablemate model should. Really, the 1198 S is the only one to go for. And not just against other Ducatis, but any other superbike – this is the outstanding bike of the year, for definite, but likely it's going to go down as one of the great bikes of the decade.

Price: £14,950 (1198, £11,950)

Available: January 2009 (1198, March 2009)

Contact: Ducati UK, 0845 1222996, www.ducatiuk.com

Related Technical Features:
* Ducati 1198 S DTC and technical


Specifications
Tue, 16/12/2008 - 09:43
#1
shuggiemac
Offline
The article sort of addressed my question in its closing but I am still left with a huge feeling that the S version is going to all but render the base level 1198 redundant, so why would they do that? Well Kevin's words I suppose explain it, in that they are just hoping that more people will dig deeper to find the extra money.
I think though I would be feeling slightly ticked off right now if I had bought a 1098 a couple of years ago when it was being hyped as the next greatest thing, especially if I had bought one of the tricker versions. I personally bought a 999 just when the 1098 came out as I got a great deal on it and it is still a good bike and more than enough for me. The arrival of the 1198 actually makes me glad I didn't go the extra leap to buy the newer model then.
I am a dyed in the wool Ducatisti but I do think that a number of their customers may be feeling slightly pissed off right now that the company has come up with some major changes and that does not include just the traction control, in the very short period since they were forking out for their 1098S Tricolore! Was the 1098 always meant as a stop gap due to the poor reception of the 999?
Recent comments
In HONDA NC700X, kharli wrote:

In HONDA NC700X, kharli wrote:

In HONDA NC700X, Grump wrote:

In HONDA NC700X, kharli wrote:

In Lest we forget..., Captain Scarlet wrote:

In Captain Scarlet's next bike, malauder wrote:

In Captain Scarlet's next bike, Captain Scarlet wrote:

In Benelli 750 SEI, CCM wrote:

In Benelli 750 SEI, Gekom57 wrote:

In Benelli 750 SEI, Gekom57 wrote:

In Captain Scarlet's next bike, Grump wrote:

In Captain Scarlet's next bike, Navy Boy wrote:

In Captain Scarlet's next bike, Captain Scarlet wrote:

In Captain Scarlet's next bike, Grump wrote:

In HONDA NC700X, Grump wrote:

In Lest we forget..., Navy Boy wrote:

In Lest we forget..., unconventional rebel wrote:

In Captain Scarlet's next bike, unconventional rebel wrote:

In HONDA NC700X, unconventional rebel wrote:

In Lest we forget..., davvy wrote:
Donate to the Kevin Ash Fund
Kevin's funeral was held on Thursday 28th February 2013 and was well attended by family, friends and colleagues.
The Telegraph has very kindly established The Telegraph Kevin Ash Fund to assist with the education of Kevin's three daughters.
If you'd like to make a donation then you can use the PayPal 'Donate' button below which will allow you to donate from your PayPal account, or via credit or debit card. A small percentage (about 3.4%) will be retained by PayPal for the service.
Kevin's family have been touched by the generosity and messages of support from people using the website and would like to express their gratitude to those who have contributed in any way.
The donations keep coming in, thank you so much, and the family especially like it when you leave a message.