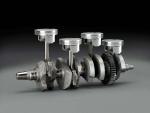 By Kevin Ash
Pictures: Yamaha Press
So Yamaha's new R1 (read the test report here) has a cross-plane crankshaft: what's that all about? A conventional four-cylinder engine has its crankpins all in the same plane – a flat-plane crank – with the two inner ones 180 degrees from the two outer ones. The inner two pistons move up and down together, and so do the two outer ones, and it's this particular configuration which generates something called inertial torque. This is independent of the main torque output generated by the combustion and cylinder pressure and happens entirely because of the crank layout.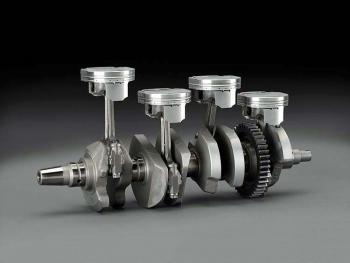 Click on image for galleryTo understand it, first imagine a crankshaft on its own, no pistons or conrods, spinning in friction-free bearings. There's nothing to slow it down or speed it up so it just keeps spinning at a smooth, constant speed. Now attach the conrods and pistons, and for the sake of this mind experiment, we'll make them friction-free too, so you can spin the crank again and the pistons bob up and down, and the whole system keeps on rotating and reciprocating. At this stage there's no combustion or valve gear or anything to confuse the issue, and crucially, there is no energy being put into our system and none being extracted or lost. This matters because it is a fundamental law of the universe that energy cannot be created or destroyed, only converted into another form – physicists know this as the first law of thermodynamics.

Within this system, the pistons are travelling at high speed when they're half way along their cylinders, and at this point they have a lot of kinetic energy. Yet 90 degrees of crankshaft rotation later, all four pistons are stationary, two at the top, two at the bottom. Their kinetic energy hasn't simply vanished because it can't: instead it's been transferred to the crankshaft, which was responsible for slowing the pistons down. As a result, the crank itself has increased its speed. Another 90 degrees on and the pistons are back up to maximum speed, accelerated by the crank which has returned some energy to them and in turn, it's slowed down again.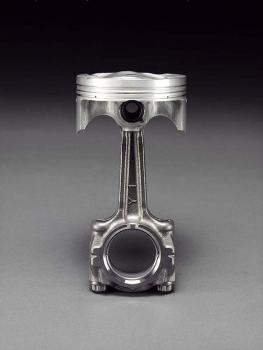 In a full rotation the crank will have sped up and slowed down twice, generating rapid negative and positive torque pulses completely independent of the torque produced by the combustion. This constant pulsing torque is like a background noise to the main torque output, blurring its edges and taking away a small element of rider control and precision as he tries to hold the back tyre on the very edge of its grip.

On Yamaha's cross-plane crankshaft, these fluctuations are all but eliminated. In this layout the crankpins are distributed at 90 degrees to each other around the crankshaft (in two planes which form a cross). So as one piston is slowing down and losing energy to the crank, another is speeding up and taking the same amount back. At no point do all the pistons stop together, as they do on a flat-plane crank. Instead the energy flow is evened out and the rotation of the crank is almost completely smooth and steady.

Although I`ve talked about the torque fluctuations as background noise, in fact the scale of them is massive, dwarfing the conventional, output torque by a factor of ten. In a GSX-R1000 engine at 12,000rpm for example, the inertial torque swings from around +500 to -500lb.ft (69kg.m, 680Nm) twice in every revolution of the crank.

See a full calculation of the scale of inertial torque here

Eliminating this means you no longer have to make allowances for it in the driveline. Many clutches for example include metal springs or rubber bushes as a cush drive in the back plate to soak up the inertial torque pulsing so it doesn`t damage the gearbox. With this gone the cush drive can be deleted and the connection between crankshaft and rear wheel is more direct, improving feel for the rider.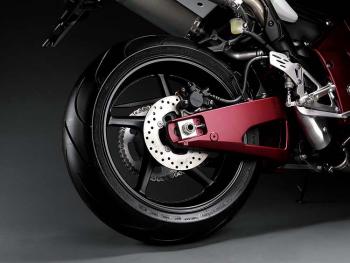 90 degree V-twins are famous for their drive out of corners, and sure enough, they have almost zero inertial torque. As one piston is accelerating so the other is slowing down, and when one is stopped the other is at maximum speed. This is an important factor in why Ducatis have been able magically to accelerate out of corners faster than more powerful conventional fours, and it's why the Ducati Desmosedici MotoGP bike crank is configured like a pair of V-twins.


Even though Yamaha makes no claims of improved traction because of the uneven firing intervals of the 2009 R1 – the so-called Big Bang effect – there are still many who cite this as the motive behind the cross-plane crankshaft design. It's not, it's to eliminate the high frequency torque fluctuations, so the uneven firing intervals are only a side-effect, not the objective.

So what becomes of the Big Bang theory of improving traction by introducing uneven firing intervals? The principle behind this depends on the difference between static and dynamic friction: a big, heavy wooden box might take two people pushing to start it moving, but once it's sliding it's much easier to keep moving, and only one person could do it. This is because at a microscopic level the rough surfaces of the box and the ground interlock when it's stationary, but when it's sliding they ride over each other.

Apply that to a bike's rear tyre being fed pulses of torque by an engine. If there are fewer pulses the tyre has time in between each to recover any lost grip, so its surface can interlock with the road's again, but when there are more pulses (as with a four compared with a twin), once the tyre is sliding the next pulse of torque comes along more quickly, before the grip can be regained, and the tyre keeps sliding. This means more torque overall can be applied by an engine with fewer, larger power pulses, an idea that came from seeing V-twins (usually Ducatis) driving out of corners faster than the four-cylinder competition.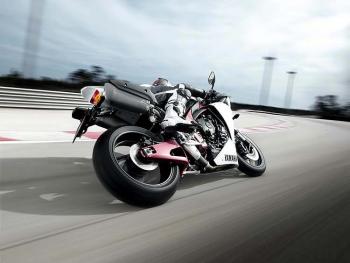 The problem with the theory is that its main principles are for static friction, and a rear tyre is clearly not static. The behaviour of a rolling tyre is very different to a stationary box, and it is not clear if this static-dynamic situation would be the same. It's likely to have similarities: we know from heavy braking tests that a skidding tyre results in longer stopping distances than if the wheels don't lock up, similar to the sliding box situation. But a tyre creeping across a road, as it does under power out of a turn, is in a grey zone between sliding and grip, and we can't be certain those principles are valid.

No proof has been offered either that the frequency of torque pulses from an engine is anything like that which might be needed to allow a tyre time to recover. Maybe they are, maybe not, but it's vague enough to make Big Bang no more than a guess, rather than a true theory.

The evidence supporting the cross-plane crankshaft's advantages though is clear and mathematically provable, and suggests those pursuing uneven firing intervals to achieve better grip (the Virgin Yamaha race team in the UK built an R1 with cylinder pairs firing together with a stock, flat plane crank – it wasn't significantly better) were shooting at the wrong target.

Yamaha R1 test



Other Technical
Wed, 10/12/2008 - 22:50
#2
kevash
Offline
All good points and I can't answer them fully, but it does seem as if the whole idea of big bang torque pulses improving traction could even have been a red herring and the lumpy delivery of a twin is not what makes a difference, it's purely the lack of inertial torque which makes the difference. Or maybe both have some effect... the trouble is, there's no published empirical evidence. But the performance of Yamaha's M1s does suggest they're right to value the inertial torque factor.
Yes, the crankshaft is heavier and it will affect how fast the bike revs, although this is mainly because the crankpins are a larger diameter to maintain the crank's rigidity - the more complex shape would flex more easily otherwise, as a flat plane crank's centre two crankpins are coaxial, which is stronger. The extra weight could well be detrimental but presumably the pay-back in improved traction is worthwhile compensation. It's also more complex and expensive to make compared with a flat-plane crank.
The new R1 does still have contra-rotating balance shafts but these are also more complex... it'll be interesting to see if the engine is any more or less smooth than an 08 R1.
Recent comments
In HONDA NC700X, kharli wrote:

In HONDA NC700X, kharli wrote:

In HONDA NC700X, Grump wrote:

In HONDA NC700X, kharli wrote:

In Lest we forget..., Captain Scarlet wrote:

In Captain Scarlet's next bike, malauder wrote:

In Captain Scarlet's next bike, Captain Scarlet wrote:

In Benelli 750 SEI, CCM wrote:

In Benelli 750 SEI, Gekom57 wrote:

In Benelli 750 SEI, Gekom57 wrote:

In Captain Scarlet's next bike, Grump wrote:

In Captain Scarlet's next bike, Navy Boy wrote:

In Captain Scarlet's next bike, Captain Scarlet wrote:

In Captain Scarlet's next bike, Grump wrote:

In HONDA NC700X, Grump wrote:

In Lest we forget..., Navy Boy wrote:

In Lest we forget..., unconventional rebel wrote:

In Captain Scarlet's next bike, unconventional rebel wrote:

In HONDA NC700X, unconventional rebel wrote:

In Lest we forget..., davvy wrote:
Donate to the Kevin Ash Fund
Kevin's funeral was held on Thursday 28th February 2013 and was well attended by family, friends and colleagues.
The Telegraph has very kindly established The Telegraph Kevin Ash Fund to assist with the education of Kevin's three daughters.
If you'd like to make a donation then you can use the PayPal 'Donate' button below which will allow you to donate from your PayPal account, or via credit or debit card. A small percentage (about 3.4%) will be retained by PayPal for the service.
Kevin's family have been touched by the generosity and messages of support from people using the website and would like to express their gratitude to those who have contributed in any way.
The donations keep coming in, thank you so much, and the family especially like it when you leave a message.
Recent Articles
We're familiar with solid-state electronics in biking. Ignition swapped points for transistors in the 1970s, then went digital in the 1990s. Now, the need for greater power, fuel efficiency and emissions control means modern engines only work with computer-controlled fuelling, ignition, combustion and exhaust. When we open the throttle we pull the strings, but the ECU calls the shots. To do it, the ECU needs an accurate view of the world. And it gets it through its sensors.
A gyroscope is a rigid circular or spherical mass rotating around an axis and for over 100 years motorcycles have come with three of them: a front wheel, a rear wheel and a crank (if you're being pedantic you could include cams, balancer shafts, gearbox, clutch etc). The classic mechanical model of a gyroscope ranges from the very small – electrons spinning around an atom's nucleus – to the very large – the Earth.
Most of us have an innate feel for balancing a high centre of gravity on a relatively short wheelbase. Say, like a motorbike. Its centre of gravity is the point at which the sum of the surrounding mass is zero, and is largely determined by the location of the engine, the heaviest part of the package. Usually the CoG is midway between the wheels (half the wheelbase) and 60 to 75cm off the ground; just above the engine, in front of your knees. Or at least it is until you get on.
Anyone with fingers knows bikes vibrate, sometimes strongly enough to make picking your nose impossible. But how we perceive vibration depends on its type, pattern, frequency and cause. Bikes are subject to different types of vibration. A bumpy road creates random forced vibration at medium to high frequency (around 5-35 Hz depending on vehicle speed). It's perceived as unpleasant, as is head buffeting caused by wind turbulence. Engineers and aerodynamicists try to minimise these bad vibrations. But we usually talk about engine vibration. There are many sources...
From the launch of Yamaha's new Super Ténéré: "The exhaust pipe connection between the two headers is discontinued to give more character to the engine. The link pipe gives a flat feeling to the curve, so removing it makes the engine a bit more peaky." This is all about exhaust gas. When a four-stroke is tuned for power it means more revs, and so the cylinders have thousandths of second to fill with fresh mixture, compress it, burn it and pump it out again. To get enough mixture in and out, inlet valves open early and exhaust valves stay open for longer – so both are open at the same time.