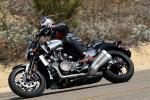 By Kevin Ash
Pictures: Bryan Nelson, Tom Riles, Alessio Barbanti
It's taken Yamaha 24 years but finally, there's a new VMAX. No surprise it took so long either, the old V-Max, with its more grown-up lower case and hyphen, was an even harder act to follow than Ducati's 916: retaining the basic look was easy enough (although the new design misses one visual fundamental of the old, which we'll come to) but how to recapture the spirit of the original beast?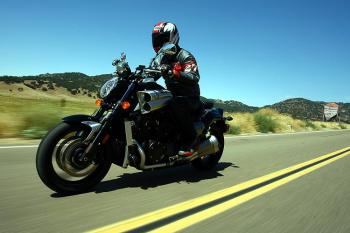 Click on image for galleryThe '84 V-Max was specified and styled in California, with the brief to be the hardest accelerating production bike and the meanest looking too, a job it did so well nothing came close for a decade. It was mostly black, looked like a steroid-inflated engine with vestigial extras for attaching a rider, and famously pro drag racer Jay 'Peewee' Gleason took a quietly breathed-on one down a quarter mile in 10 seconds. Nothing could live with that in 1984 (not even a production V-Max, but it was too late to hold back the legend). The bike was an animal, packing a clever intake system called V-Boost to feed the hungry 1200cc V-four which fed each cylinder though one carburettor at low revs then at just under 7000rpm, a valve opened and the cylinders each could breathe through two carbs. The result was a ferocious kick in the power that still felt fast a decade later in the days of Fireblades and ZZ-R1100 Kawasakis, except unlike those, the V-Max was a pig in corners, weaving and wobbling if you could get it to turn at all, and doubling the fear with brakes that'd barely stop a moped.

Did you really want the spirit recaptured? Even if you did, no way could Yamaha bring out a bike in the 21st century with borderline dangerous handling, but very very fast is still an option, and the ingredients for that are all in place. The new VMAX keeps the V-four configuration but the all-new motor is 1679cc and churns out 197bhp backed up by 123lb.ft of torque. That puts it level with speed and power kings the Ducati Desmosedici RR and Suzuki Hayabusa... but not in front, like the old bike was.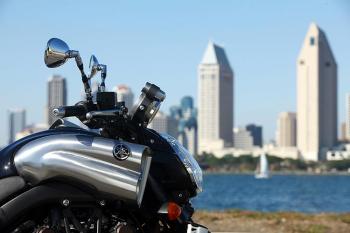 Like all Japanese bikes, it's easy enough to ride gently, with the motor purring like a contented lion. The seat is low, the gearchange light and if the clutch is a little bit heavy it's nothing serious. The fly-by-wire throttle does feel detached at times but not seriously so, and wound to the stop it's the same as any other.

The VMAX difference comes in how easy the bike is to drag from the line. On a superbike with its high centre of gravity and short wheelbase it's a struggle to keep the front wheel near the ground, let alone on it, and even the lower, heavier Hayabusa takes concentration to really fire from a standstill. On the VMAX though, just as we were on the San Diego launch, you find yourself wishing traffic lights red just so's you can catapult the bike at the horizon, time after time. It absolutely explodes from the line, leaving hundred yard long stripes of smoking rubber as it hurls you forward, passing 60mph in around 2.5 seconds. It's not uniquely fast but thanks to its long wheelbase, low C of G and the effort Yamaha's engineers put into maximising traction, it's the easiest bike yet to be fastest on. Some of the old V-Max magic is evoked too in the bubbling liquid power delivery with a kick at 7000rpm hinting at V-Boost, this time delivered by the variable length intake ducts switching to stubby high-power mode. Spin it into the 9,500rpm red zone and the huge rev warning light hitched to the central rev counter strobes at you to change up before the soft rev limiter intervenes. Grabbing the next gear is easy and positive enough, and although the ratios are wide the motor's huge strength in depth shrugs that off.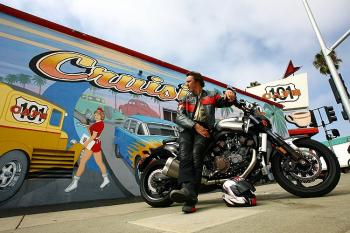 Well, that's all in a straight line, although it doesn't perform badly in corners, certainly not to scare you. The brakes are muscular six-piston calipers biting on 320mm discs, and while they're grabby at low speeds and not especially progressive, they do stop the bike effectively, if suffering from fade with repeated hard use. Importantly, that means you don't find yourself bowling into a bend too fast, so you can give the bike the time it needs to swing over onto its line and settle down for the turn. Inevitably it's steady rather than agile, and thanks to that long wheelbase, fat rear tyre and low down mass, it demands lots of lean for little cornering effect. Ground clearance though isn't an issue, it's just a shame the suspension isn't better damped as a few bumps have the VMAX feeling cheap-bike choppy when you'd hope for a more sophisticated ride considering the price and general high quality.

Yes, this is an expensive machine, to buy and no doubt to run too. At £16,120 it's looking like yet another Yamaha whose sales will suffer for over-ambitious pricing, and that's despite the obvious expense that's gone into building the machine. The Suzuki B-King is clearly a rival (if not a good selling one...) and that's £7000 cheaper, though it has to manage without the V-Max legend behind it or outstanding build quality. As for the way the VMAX so readily lights up its fat 200mm rear rubber, if you can't show restraint you'll end up paying as much for tyres as you do for fuel, and that's not writer's licence, it'll be a fact of VMAX ownership. You'll need to be very careful not to drop the thing too, and not only because you'll need help to right it: those distinctive and definitive intake scoops are hand-polished aluminium, and along with the fat, titanium silencers will be the first to hit the ground when she goes. Ouch.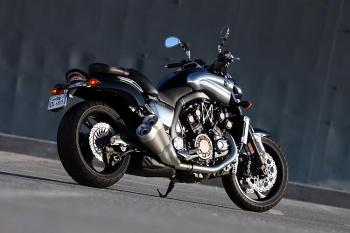 But then the designer's body language says this is only a toy. If you think you might expand your £16,000 machine's utility by taking it on a summer tour, prepare for disappointment as the underseat tank holds a mere 3.3 gallons. At the approximate 30mpg our wilder riding was rewarded with that's just 70 miles until the low fuel warning, but even at more sedate touring speeds you'll be filling up far too often, and anyway, it's almost impossible to strap even wet weather gear on board, let alone a week's worth of luggage – a day trip to Donington will tax your carrying capacity. All that power, all that money, and not even the option of doing more than sprint around your local roads until you get bored. Or caught.

Hopefully only the looks will be arresting: the bike certainly turns heads. But something has been lost: check out the original and you'll see the lines of those big scoops turn down into the V of the engine, fed fuel by the polished carburettor tops, then the polished-edge fins lead your eye across the cylinders in a clever visual statement of gas flow muscle. On the new, the scoops (ironically now for real) just disappear into the back of the dummy tank (and force taller riders' knees too far apart), while the all-black engine is relatively smaller and in comparison, lost rather than dominant. All you get between the V is an afterthought black 'X' mounting bracket – for all its brutishness, it was this kind of finesse in the old V-Max style which flagged it as special.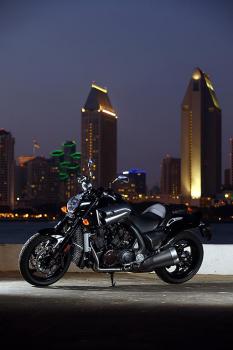 There's plenty of equipment with the new though. In addition to the electronic throttle and variable intake ducts there's shaft drive, a very smooth ABS braking system, those six-piston calipers, huge 52mm titanium-coated forks and a tank-mounted panel which includes fuel consumption, ambient temperature, stopwatch and countdown as well as more common information. A shame it's so tough to see when riding...

It's unrealistic to expect the spirit of the iconic V-Max to have been recaptured in the new – times have changed so much in a quarter of a century the context has gone. New VMAX does a pretty good job though: it's unmistakably son of V-Max, it's insanely, hilariously fast and it's a laugh to ride while evoking something of the feel of the original. It's just that there are some flaws, and at just over £16,000, it's much too expensive.

Mon, 14/05/2012 - 13:15
#1
Wed, 18/01/2012 - 16:46
#2
Captain Scarlet
Offline
Mon, 14/05/2012 - 13:16
#3
Yamaha V MAX bike is equipped with all the latest and advanced attributes which surely fills your ride with more excitement and thrill. Yamaha bikes are well known for its looks in the market and once again it has proved this statement by launching its beautiful and gorgeous looking bike Yamaha V MAX. Cars in Mumbai
Recent comments
In HONDA NC700X, kharli wrote:

In HONDA NC700X, kharli wrote:

In HONDA NC700X, Grump wrote:

In HONDA NC700X, kharli wrote:

In Lest we forget..., Captain Scarlet wrote:

In Captain Scarlet's next bike, malauder wrote:

In Captain Scarlet's next bike, Captain Scarlet wrote:

In Benelli 750 SEI, CCM wrote:

In Benelli 750 SEI, Gekom57 wrote:

In Benelli 750 SEI, Gekom57 wrote:

In Captain Scarlet's next bike, Grump wrote:

In Captain Scarlet's next bike, Navy Boy wrote:

In Captain Scarlet's next bike, Captain Scarlet wrote:

In Captain Scarlet's next bike, Grump wrote:

In HONDA NC700X, Grump wrote:

In Lest we forget..., Navy Boy wrote:

In Lest we forget..., unconventional rebel wrote:

In Captain Scarlet's next bike, unconventional rebel wrote:

In HONDA NC700X, unconventional rebel wrote:

In Lest we forget..., davvy wrote:
Donate to the Kevin Ash Fund
Kevin's funeral was held on Thursday 28th February 2013 and was well attended by family, friends and colleagues.
The Telegraph has very kindly established The Telegraph Kevin Ash Fund to assist with the education of Kevin's three daughters.
If you'd like to make a donation then you can use the PayPal 'Donate' button below which will allow you to donate from your PayPal account, or via credit or debit card. A small percentage (about 3.4%) will be retained by PayPal for the service.
Kevin's family have been touched by the generosity and messages of support from people using the website and would like to express their gratitude to those who have contributed in any way.
The donations keep coming in, thank you so much, and the family especially like it when you leave a message.