Yamaha FZ8 / FAZER8 review
Pictures: Paul Barshon, Alessio Barbanti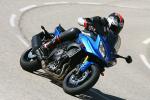 Yamaha`s argument for a bike to slot in between the 600 and one litre roadster class is persuasive...
The smaller bikes like the FZ6, Fazer 600 and Diversion are fine as first big bikes for novices and do many other duties well for a lot of riders, but lack the power and easy performance of larger engines. But a one litre alternative like the 148bhp FZ1 and Fazer 1000 can have too much for many riders, who either feel they really don`t need all that muscle or are actively intimidated by it. There is a flaw in this argument, which I`ll come back to, but it does make sense within Yamaha`s existing range.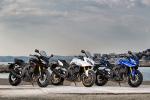 Hence the introduction of the FZ8 and Fazer8. At the same time Yamaha has rationalised its range by dropping the FZ6/Fazer, doing away with the too large overlap between this and the Diversion/XJ6, which had meant Yamaha was stealing sales from itself rather than its rivals.
There`s engineering rationalisation in the Fazer8`s design. Effectively it is a Fazer 1000 with the engine reduced in capacity to 779cc through a 9mm bore reduction to 68mm. The stroke is the same but the crankshaft is lighter, but the nature of the engine has been changed too, from the performance focussed peakiness of the 1000cc version to a softer, torquier nature for the Fazer8. This is achieved by the use of smaller valves and less aggressive camshaft profiles, bringing down maximum horsepower to 105bhp, where if it was in the same state of tune as the 1000, it would have around 120bhp.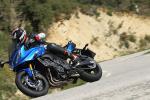 The chassis is almost identical to the 1000`s, save a slightly different rear wheel to take the narrower 180 section rear tyre, unadjustable suspension (save spring preload on the rear shock) and bodywork unique to the 800, although it`s clearly Fazer family in style.
As for FZ8 and Fazer 8 differences, these are small and mostly obvious. There`s the Fazer8`s fairing of course, the main reason most riders will be deciding on one or the other, although if you want ABS then you have to have it on the Fazer8 and you can`t have it on the FZ8. You also get passenger grips on the Fazer8, while a centre stand is a cost option on both models.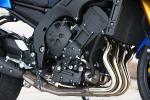 The engine is common to both, and it works beautifully. The fuelling is perfect, which is worth mentioning as the original FZ1 had the worst fuelling of any recent bike, and it`s desperately intrusive stutter was only fixed by giving it a soft, marshmellow response instead. Instead, the 800 surges forward powerfully and predictably, and crucially for those it`s aimed at, does so right across the rev range. You can trickle the bike right down to idle, some 25mph (35kph) in top gear, and it will still pull away cleanly and with reasonable force, although you do better to keep the needle swinging the high side of 3,500rpm to tap into the deeper levels of torque.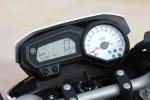 There`s a brief reduction in acceleration at 5,500rpm or so, no doubt emissions induced, followed by a step up at 7,500rp. Unlike the bigger Fazer the output starts to tail off 1,500 revs short pf the red line, the price paid for the extra urge lower down. But that`s fine, you`d use this rarely anyway, and the bike does start to get a bit buzzy in the upper quarter of its rev band.
You can get onto the edge of this at high motorway speeds, but generally the vibes then are noticed rather than outright annoying, and the rest of the time the engine is reasonably smooth. It`s also plenty quick enough for most riders on most roads, and for those who take a passenger regularly the engine is far more capable than a 600`s.
The back of the bike does settle low though when two up, and it gets bouncy too, although I didn`t get a chance to try this with the fiddly preload adjuster wound up to compensate. But the shock is certainly softly damped even solo, which on the plus side gives you a very good ride quality on poor road surfaces, but it does allow the back of the bike to sway and pitch when you`re pushing things harder.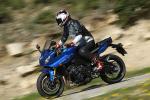 The forks you have to put up with as they are, but that`s fine as they suit the bike`s nature well, with a bias towards comfort but coping well with harder riding too. They`re not overly tested by the brakes, which have adequate power only and aren`t especially tactile, although there`s nothing wrong with them either. But the whole package works very well indeed, with agile handling, great high speed stability and accurate tracking once tipped into a corner. On the sinuous, scenic roads of Provence where the test took place, the bike was a delight to chuck around, steering neutrally, turning eagerly then backing this up with urge from the motor however you were revving it.
Inevitably the FZ8 feels lighter at the front than the Fazer8. It turns more quickly but does also feel less secure in turns. Where the Faze8r sits solid in a corner, the FZ8 is a touch twitchier and provides less clear feedback. For a while I enjoyed the FZ8 the most as it responded to the bars better, but in the end the Fazer8`s greater sense of security won me over.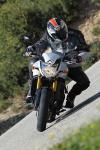 It`s also the more versatile of the two incarnations, letting you cruise long distances at high speeds where the FZ8 tortures your neck and arm muscles for daring to try the same. The Fazer8`s screen in fact is exceptionally good, giving you a broad shadow of protection and doing so almost completely free of turbulence. All day 100mph-plus blasts are not only possible, they`ll be surprisingly fatigue free too.
Instead, the fuel range could curb the Fazer8 rider`s ambitions. With mixed and sometimes quite fast riding it returned just under 39mpg, and although I`d expect most riders to do better than that, thanks to the mean 3.75 gallon (17 litre, 4.7 gallons US) you`ll be running dry at little more than 150 miles (240km). That`s fuel warning on at less than 120 miles, which is not enough. The tank is a litre less than the Fazer 1000`s thanks to being narrower where your legs are, but it really should have gained, not lost capacity. How much more do we have to complain about this before the message gets home?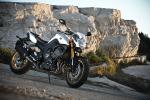 Otherwise though this is a fine bike that loses little that matters compared with the 1000 yet gains a lot over the 600 class. Where the real issue lies, once again, is in Yamaha`s pricing. At £8,799 the Fazer8 is £1,800 more than the Suzuki GSX1250FA and £1200 more than Honda`s excellent CBF1000F. And it`s these bikes too which highlight the flaw in Yamaha`s argument for an 800. If you want to reduce power to stop a bike being so intimidating, you don`t have to reduce the capacity too. Instead, keep the cubes and offer even more torque and if you like, even less power. The Honda makes only 95bhp, and the 50 per cent bigger Suzuki makes only 2bhp more than that, yet both bikes are dripping with torque that makes the Yamaha look weedy in comparison.
Meanwhile, Kawasaki`s Z750 might not be the best naked bike around, but it`s not bad, it`s close to the FZ8`s engine capacity and yet it costs only £5,999 against £7,799 for the FZ8. Again, that`s an £1800 saving, and you can do a lot with that kind of money.
Recent comments
In HONDA NC700X, kharli wrote:

In HONDA NC700X, kharli wrote:

In HONDA NC700X, Grump wrote:

In HONDA NC700X, kharli wrote:

In Lest we forget..., Captain Scarlet wrote:

In Captain Scarlet's next bike, malauder wrote:

In Captain Scarlet's next bike, Captain Scarlet wrote:

In Benelli 750 SEI, CCM wrote:

In Benelli 750 SEI, Gekom57 wrote:

In Benelli 750 SEI, Gekom57 wrote:

In Captain Scarlet's next bike, Grump wrote:

In Captain Scarlet's next bike, Navy Boy wrote:

In Captain Scarlet's next bike, Captain Scarlet wrote:

In Captain Scarlet's next bike, Grump wrote:

In HONDA NC700X, Grump wrote:

In Lest we forget..., Navy Boy wrote:

In Lest we forget..., unconventional rebel wrote:

In Captain Scarlet's next bike, unconventional rebel wrote:

In HONDA NC700X, unconventional rebel wrote:

In Lest we forget..., davvy wrote:
Donate to the Kevin Ash Fund
Kevin's funeral was held on Thursday 28th February 2013 and was well attended by family, friends and colleagues.
The Telegraph has very kindly established The Telegraph Kevin Ash Fund to assist with the education of Kevin's three daughters.
If you'd like to make a donation then you can use the PayPal 'Donate' button below which will allow you to donate from your PayPal account, or via credit or debit card. A small percentage (about 3.4%) will be retained by PayPal for the service.
Kevin's family have been touched by the generosity and messages of support from people using the website and would like to express their gratitude to those who have contributed in any way.
The donations keep coming in, thank you so much, and the family especially like it when you leave a message.