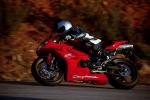 By Kevin Ash
Pictures: Jason Critchell, Paul Barshon

Triumph has been coveting supersport 600 class success for nine years now, like many manufacturers drawn by the high profile and big sales numbers. In 2000 the Hinckley factory's TT600 bravely charged straight in to clash head on with the fab four from Yamaha, Honda, Suzuki and Kawasaki (R6, CBR, GSX-R and ZX-6R respectively). Back then the Brit bike's handling and brakes were up to the job, but the four-cylinder engine's fuelling wasn't, and it looked bland in comparison too. Triumph tried again in 2003 with another four, the Daytona, which was closer to the competition and came with a sharper look, predictable throttle response and more of the same in the cornering and stopping arenas. But outright power was still lacking, and it was still slightly shy of the competition even when the capacity was upped to 646cc for 2005, following Kawasaki's 636cc ZX-6R through the hole in the class capacity ceiling.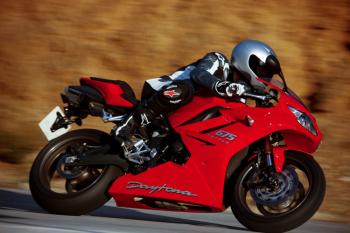 Click on image for galleryBut even the same performance as its rivals wouldn't have been enough for the old Daytona: why buy a bike which presents little that's different or extra to the established Japanese contenders when its outright performance is at best on a par? As it turns out, the 646 Daytona was merely a stopgap while Triumph was working behind the scenes on a replacement which identified much more closely with the values the company has finally understood defines its bikes.

Number one is the three-cylinder engine, not unique in contemporary motorcycling but rare nevertheless, and certainly particularly closely associated with the British manufacturer. With this established in the spec sheet, the argument for an even bigger displacement became compelling, as fewer cylinders inevitably mean reduced power, and the new Triumph couldn't afford to give any ground in this respect. Hence in 2007 the new Daytona's across-the-frame triple layout and 675cc capacity. And why not? It was the same weight as the 600 fours, just as compact (slimmer in fact), equally agile, insurance costs were the same and it was in the right price bracket too, while in racing Triumph's growing track ambitions could be satisfied as Supersport 600 rules allow 675cc triples to compete against the 600cc fours.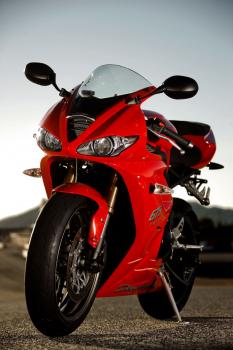 The bike was a resounding success, certainly in terms of performance, coming top in many magazine comparison tests including the biggest of them all, the European magazine collaborative Masterbikes test where it came first in 2006 and 2007 and second in 2008. It's done pretty well in showrooms, although sales fell off more quickly after two years than usual for bikes in this class, suggesting there's still some consumer resistance to leaving the safe-bet Japanese brands.

No problem, the new, uprated Daytona will get even more of the doubters to switch to British. Triumph has made a series of changes to the bike for 2009, the most immediately obvious being the sharper, sleeker upper fairing with its new lights. But the suspension and changes don't merely match the opposition, they raise the whole game with the facility to adjust low and high speed compression independently at front and rear. The suspension internals are also redesigned to reduce friction and unsprung weight and widen the adjustment range. 2lb (0.95kg) has been shed by using a new rear wheel and sprocket, while Nissin monoblock front brake callipers are fitted with new discs designed for better cooling... as if the old ones weren't up to it (they were). There are many detail changes to improve comfort and the look (right down to better looking sidestand bolts!) but more importantly the engine has been breathed on too. Cylinder head changes include reshaped exhaust ports and narrower valve seats while the new exhaust system is lighter by 3.6lb (1.65kg). The rev ceiling has been raised 400rpm thanks to increased exhaust valve duration while the valve gear and other internals are modified to deal with the extra loads.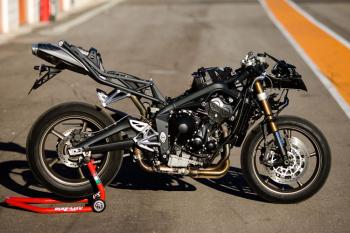 The result is an additional 3bhp and 1lb.ft of power and torque, up to 126bhp (128PS) and 54lb.ft (7.4kgm, 73Nm) respectively, and with increasing focus on Triumph's racing effort, the oil level has been raised and baffles fitted to the sump to reduce oil surge in extreme conditions. First gear ratio is raised too, which will keep racers happy, but road riders will be more interested in the revised engine management, which is designed to be more effective in particular at low revs and small throttle openings, where the previous model could still be snatchy and sudden. The claimed seven per cent reduction in fuel consumption won't upset anyone either.

Does it all work? The answer is a resounding yes. The facelifted 675 is so good in fact, most likely it will still be out there in front in the 600 group tests despite having to face the amazingly accomplished Honda CBR600RR and Kawasaki's substantially improved ZX-6R Ninja. While you might not notice the effects of all the improvements, two things do stand out, plus one that Triumph doesn't mention. The suspension (with the help of that reduced unsprung weight) is staggeringly good. At high speeds in hard use it's even better than the already superb old model, offering outstanding control and poise and doing so for a wider range of riders than before, and track day addicts will love the ability to adjust the low speed compression damping to help the bike settle more evenly in corners without dulling its response over bumps.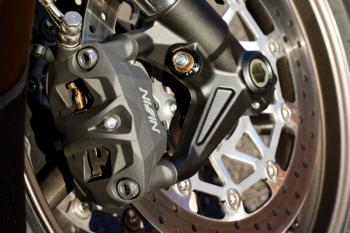 But it's on the road where the new set up really shines, offering a brilliant ride quality and compliance which is quite extraordinary given the way the bike handles rapid direction changes and harsh throttle use. It really does seem to give you the best of all worlds, dealing with pot-holed back streets as effectively as pancake-flat race tracks. Get those ferocious stoppers working – and they have plenty of grip to play with as Triumph has fitted the bike with the best stock rubber on any 600, Pirelli Diablo Super Corsas – and still the Kayaba forks cope with bumps and a clumsy brake hand. You'd only notice the benefits of the monoblock brakes on the track, where the feedback is amplified a little and probably fade is even further from most riders' horizons, but on the road they're strong and progressive without being too intimidating.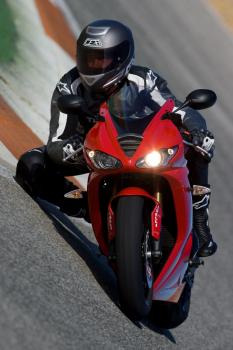 The second notable improvement is to the throttle response, at low revs in particular, where the bike feels creamy smooth and very much like it's working with you. The old one wasn't bad but this is still a lot better. And when you've had enough of gentle trickling and open it up, that's when another characteristic howls back at you... very literally, in the form of an angry, stirring wail from the airbox and exhaust which send happy shudders down your spine. Triumph makes no claims for this being any different to before but it certainly seems so. It's surprisingly loud and thoroughly evocative, snarling then wailing as the revs climb, daring you to wring its neck harder and faster. The three-pot howl is deeper and angrier than a four and there's no doubt this bike is different to the run-of-the-mill 600s, and this really shouldn't be trivialised as it's an integral facet of the Daytona's character making you, the rider, feel good. Performance is great but when a bike can add to that with something extra, that's when you grow to love it rather than merely like it.

There's no slipper clutch, which at first looks like something of an omission in this class, but in fact the problem of rear wheel lock-up under severe braking is dealt with in another way. When the engine management sees high revs but a closed throttle it opens up the throttle butterflies (without injecting fuel) letting air flow into the engine much more freely and significantly reducing engine braking. It's very effective and because the clutch itself is less complex it's also lighter, helping engine response.

Everything else is pretty much as you were: the bike is probably a little more nimble than before, although you'd really only notice riding old and new back to back, while the riding position is still well tipped forward with a high seat. It's not comfy around town, just bearable, although a 0.4in (10mm) lower seat option is available, which might help. As for the pillion, the seat is just about as high as the BMW 1200 GS Adventure's I parked my Daytona beside. This is for short trips and especially pert passengers only.

Triumph has done an excellent job in improving an already class-topping bike, keeping it right there at the front despite some major improvements from its rivals. Not only that, it's different where they're all the same. And hey, it's British!

Recent comments
In HONDA NC700X, kharli wrote:

In HONDA NC700X, kharli wrote:

In HONDA NC700X, Grump wrote:

In HONDA NC700X, kharli wrote:

In Lest we forget..., Captain Scarlet wrote:

In Captain Scarlet's next bike, malauder wrote:

In Captain Scarlet's next bike, Captain Scarlet wrote:

In Benelli 750 SEI, CCM wrote:

In Benelli 750 SEI, Gekom57 wrote:

In Benelli 750 SEI, Gekom57 wrote:

In Captain Scarlet's next bike, Grump wrote:

In Captain Scarlet's next bike, Navy Boy wrote:

In Captain Scarlet's next bike, Captain Scarlet wrote:

In Captain Scarlet's next bike, Grump wrote:

In HONDA NC700X, Grump wrote:

In Lest we forget..., Navy Boy wrote:

In Lest we forget..., unconventional rebel wrote:

In Captain Scarlet's next bike, unconventional rebel wrote:

In HONDA NC700X, unconventional rebel wrote:

In Lest we forget..., davvy wrote:
Donate to the Kevin Ash Fund
Kevin's funeral was held on Thursday 28th February 2013 and was well attended by family, friends and colleagues.
The Telegraph has very kindly established The Telegraph Kevin Ash Fund to assist with the education of Kevin's three daughters.
If you'd like to make a donation then you can use the PayPal 'Donate' button below which will allow you to donate from your PayPal account, or via credit or debit card. A small percentage (about 3.4%) will be retained by PayPal for the service.
Kevin's family have been touched by the generosity and messages of support from people using the website and would like to express their gratitude to those who have contributed in any way.
The donations keep coming in, thank you so much, and the family especially like it when you leave a message.