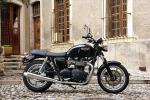 By Kevin Ash
Pictures: Triumph Press


Triumph's Bonneville has always been one of the more convincing among the breed of retro motorcycles, in the way it looks at least. It might bear the name of the definitive sports bike from the Sixties, but if any modern bike carries the original's spirit forward now it wears a GSX-R tag. Instead, the new Hinckley Bonneville is these days a gentle machine suited to relaxed sight-seeing and first-time, big-bike riders.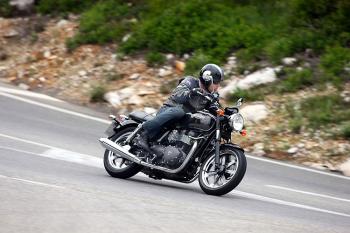 Click on image for gallery
The first Hinckley Bonneville was if anything too gentle, its 790cc, parallel-twin motor feeling unenthusiastic to the point of lethargy. That was back in 2001, now in 2009, the 50th anniversary of the first Bonnie's appearance in showrooms, the engine has grown to 865cc and with some gentle development over the years, a more satisfying, relaxed and muscular feel.

It's no ferocious road burner still, but then it's not meant to be, this is a bike aimed at those more interested in its style and an easy ride than going especially fast. But what you get these days is an immediate response to the twistgrip, a mellow purr from the reverse-cone megaphone exhaust and pleasingly strong acceleration even in higher gears. Triumph has taken the detailing very seriously too, to the point of disguising the fuel injection to look like a pair of CV carburettors. It`s so convincing, right down to the operative choke and even the feel of the throttle response, when I first wrote this report I thought the bike still did have carbs and the specs were wrong! A phone call to Triumph put me right, but when you next see an 09 Bonneville take a look and have some sympathy for me!

Triumph claims that some 90 per cent of the maximum torque is on tap from a lowly 2,500rpm right up to the red line, although on the base model Bonneville there's no rev counter so you won't know exactly where that is. Not that it matters, the engine works well and only feels weak where you'd expect it to anyway, such as passing the 90mph mark or revving it too hard. It certainly doesn't vibrate like an old one, just a few tingles here and there and nothing to trouble the rider, thanks to its pair of balance shafts cancelling out the configuration's inherent shakes.


The handling's benign too, with neutral steering at low speeds that makes life simple for the inexperienced and good stability when going faster. It doesn't change direction especially rapidly, and the suspension does get a little out of shape when pushed hard on poor surfaces, but in all it's a stable, confidence-inspiring platform. The ride is on the firm side and more suspension travel would improve comfort, but this is quibbling, it really doesn't matter on a bike of this nature, and I'd argue this gives the bike a more convincingly retro feel anyway.

The brakes have improved since the first model and now demand less of a squeeze of the lever. The feel is not bad and the single disc offers sufficient power. And if that all sounds like faint praise, it's not, this is an ideal set-up for many of the Bonnie's potential riders. I'd like to see more tank capacity though. The 3.5 gallons it has is adequate at the 50mpg you get in gentle use, but ride harder and you're down in the low 40's, when the fuel light comes on at 100 miles with a gallon remaining. It's okay for this kind of bike but could be better.

There are four Bonnevilles available from Triumph this year. The basic one which I rode and the SE (which does get a rev counter, as well as a chromed tank badge and polished engine casings rather than black) have a Seventies look, with alloy wheels and those silencers. Alternatively there's the T100, which has wire wheels and 'pea-shooter' silencers in the Sixties style, or the 50th Anniversary, essentially a T100 with orange and blue paint similar to the '59 original's, plus other detailing including a numbered brass plate on the handlebar clamp.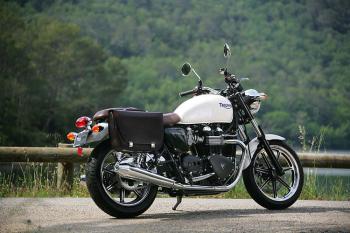 The detailing is thoughtful on all versions: it was pleasing to see a traditional trip meter with numbers turning on their barrels, zeroed by a thumbwheel rather than the ubiquitous LCD display, with button warning lights in chrome surrounds and chunky footrest rubbers with big 'Triumph' logos. The base model's exhaust follows a smoother line than the T100's kinked pipes, a criticism of the style from the outset, but engine strength aside, the changes a rider is most likely to notice over previous models are the inch lower seat and handlebars pulled about the same distance further back. This sits you more upright and comfortable but because you're also lower the windblast doesn't feel any worse.

The oil-cooler is well hidden behind the frame tubes – take note Harley-Davidson – although the SE and T100's shiny engine casings are far preferable to the very non-period, matt black of the base Bonnie. There are some fabulous two-tone paint schemes too, available on all but the standard model.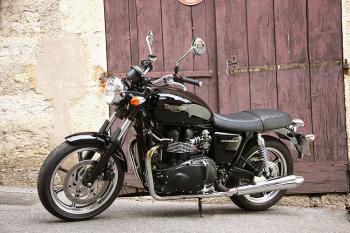 This is a bike which has matured well over the last eight years and it's still looking like good value, just as long as you have the right expectations. Think of it as a cruiser, which after all is what most of its competition is, and it's an exceptionally good machine which looks great, is satisfying to ride and will happily and dependably commute as well as cruise or even tour.



Price: £5,599 (Bonneville)
£5,999 (Bonneville SE)
£6,399 (Bonneville T100)

Available: now

Contact: Triumph Motorcycles Ltd, 01455 251700, www.triumph.co.uk


Thu, 01/10/2009 - 08:25
#2
kevash
Offline
Ha, I forgot to change that! I wrote this soon some time ago after I'd ridden the bike and having seen them I assumed they were carbs. Then I looked through the specs and it said fuel injection, so I phoned Triumph to see what was going on as I thought there might even have been a mistake, and they confirmed it is indeed fuel injected. I changed the text in this piece accordingly when I was sending the story to a foreign magazine, but this is the original unchanged version and I didn't read it through again before posting it here...
I'll change it shortly, but thanks for pointing it out!
Recent comments
In HONDA NC700X, kharli wrote:

In HONDA NC700X, kharli wrote:

In HONDA NC700X, Grump wrote:

In HONDA NC700X, kharli wrote:

In Lest we forget..., Captain Scarlet wrote:

In Captain Scarlet's next bike, malauder wrote:

In Captain Scarlet's next bike, Captain Scarlet wrote:

In Benelli 750 SEI, CCM wrote:

In Benelli 750 SEI, Gekom57 wrote:

In Benelli 750 SEI, Gekom57 wrote:

In Captain Scarlet's next bike, Grump wrote:

In Captain Scarlet's next bike, Navy Boy wrote:

In Captain Scarlet's next bike, Captain Scarlet wrote:

In Captain Scarlet's next bike, Grump wrote:

In HONDA NC700X, Grump wrote:

In Lest we forget..., Navy Boy wrote:

In Lest we forget..., unconventional rebel wrote:

In Captain Scarlet's next bike, unconventional rebel wrote:

In HONDA NC700X, unconventional rebel wrote:

In Lest we forget..., davvy wrote:
Donate to the Kevin Ash Fund
Kevin's funeral was held on Thursday 28th February 2013 and was well attended by family, friends and colleagues.
The Telegraph has very kindly established The Telegraph Kevin Ash Fund to assist with the education of Kevin's three daughters.
If you'd like to make a donation then you can use the PayPal 'Donate' button below which will allow you to donate from your PayPal account, or via credit or debit card. A small percentage (about 3.4%) will be retained by PayPal for the service.
Kevin's family have been touched by the generosity and messages of support from people using the website and would like to express their gratitude to those who have contributed in any way.
The donations keep coming in, thank you so much, and the family especially like it when you leave a message.
Recent Articles
We're familiar with solid-state electronics in biking. Ignition swapped points for transistors in the 1970s, then went digital in the 1990s. Now, the need for greater power, fuel efficiency and emissions control means modern engines only work with computer-controlled fuelling, ignition, combustion and exhaust. When we open the throttle we pull the strings, but the ECU calls the shots. To do it, the ECU needs an accurate view of the world. And it gets it through its sensors.
A gyroscope is a rigid circular or spherical mass rotating around an axis and for over 100 years motorcycles have come with three of them: a front wheel, a rear wheel and a crank (if you're being pedantic you could include cams, balancer shafts, gearbox, clutch etc). The classic mechanical model of a gyroscope ranges from the very small – electrons spinning around an atom's nucleus – to the very large – the Earth.
Most of us have an innate feel for balancing a high centre of gravity on a relatively short wheelbase. Say, like a motorbike. Its centre of gravity is the point at which the sum of the surrounding mass is zero, and is largely determined by the location of the engine, the heaviest part of the package. Usually the CoG is midway between the wheels (half the wheelbase) and 60 to 75cm off the ground; just above the engine, in front of your knees. Or at least it is until you get on.
Anyone with fingers knows bikes vibrate, sometimes strongly enough to make picking your nose impossible. But how we perceive vibration depends on its type, pattern, frequency and cause. Bikes are subject to different types of vibration. A bumpy road creates random forced vibration at medium to high frequency (around 5-35 Hz depending on vehicle speed). It's perceived as unpleasant, as is head buffeting caused by wind turbulence. Engineers and aerodynamicists try to minimise these bad vibrations. But we usually talk about engine vibration. There are many sources...
From the launch of Yamaha's new Super Ténéré: "The exhaust pipe connection between the two headers is discontinued to give more character to the engine. The link pipe gives a flat feeling to the curve, so removing it makes the engine a bit more peaky." This is all about exhaust gas. When a four-stroke is tuned for power it means more revs, and so the cylinders have thousandths of second to fill with fresh mixture, compress it, burn it and pump it out again. To get enough mixture in and out, inlet valves open early and exhaust valves stay open for longer – so both are open at the same time.