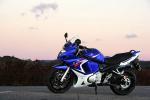 By Kevin Ash
Pictures: Jason Critchell

Suzuki sells more big capacity bikes in the UK than any other company, a fact which must irk Honda especially as the world's biggest manufacturer. But if anyone's looking for the reason, it's not hard to find : Suzuki makes good bikes at very good prices. This is especially the case in the budget middleweight sector, where Suzuki offers a very wide range, from the basic GS500 twin (officially discontinued but you might find a pre-registered one), a snip at £3,349, the SV650 V-twin at £4,599 and Bandit 650 at £4,449. Then there's the GSR600 and V-Strom, and variants on the bikes mentioned, all of which undercut their rivals sometimes by substantial amounts.


Click on image for galleryThe GSX-R sports bike range meanwhile is the strongest brand in the class among the Japanese, and again good (and great) bikes with keen prices reinforce sales here. It's an enviable portfolio, but one where you'd think it would be hard to squeeze in further models without a great deal of overlap. Yet by the simple expedient of fitting a fairing to the Bandit 650, Suzuki has created yet another low cost middleweight in the new GSX650F.

Changes from the Bandit really are minimal : the bodywork is obvious and distinguishes the GSX-F, borrowing heavily from GSX-R influences for its well balanced sports bike mien which is so much better than the odd, shapeless appearance of the old GSX600F, nicknamed the Teapot for its strange style. But the GSX-F's frame is the same as the Bandit's, the engine has only had some mild remapping to encourage revs, the suspension is tweaked but no more, the fuel tank is the same, the front tyre is different, and so it goes on with surprisingly few modifications.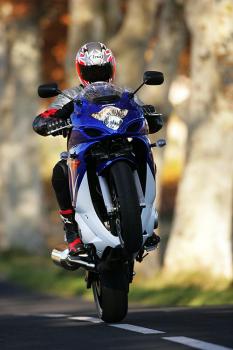 Surprising because the GSX650F feels so very different to how you'd expect a faired Bandit to be. Different, and much, much better than it has a right to, given what it is. Suzuki is reluctant to make the link between GSX-F and Bandit for fear of the sportier bike's image being tainted, but forget all that, this bike can stand very much on its own merits. It's aimed at novice riders looking for their first sports bike and older riders after something less frantic and ergonomically challenging than a GSX-R600, and it deals with both tasks supremely well. The riding position leans you forward slightly without imposing too much weight on the wrists, while the seat is a reasonable height and comfortable too, even after several hours aboard. The cockpit looks more GSX-R than budget with its digital screen grafted onto the analogue rev counter, and includes gear position and adjustable gear change warning lights (which flash as the revs reach your predetermined ceiling), and when you spin the motor hard it even makes hard edged GSX-R-type noises. It doesn't provide the mad rush you get from a full-on sports bike but its 85bhp is enough for most circumstances and what it does do is deliver a lot more thrust at low and medium revs. The engine really is outstandingly flexible, both more relaxing and quicker than a sports bike on tight, unfamiliar roads, and unlike older budget Suzukis is smooth and sophisticated rather than buzzy and crude. It trickles along happily in high gears right down to idle speeds, although it needs to be revving faster than 3000rpm to get moving and gets strong at 4000rpm. But then it keeps on going, right up to the 12,500rpm red line and beyond without feeling too flat as it tops out. Keep it in its natural 4000-8000rpm zone and you can forget it's only a 650 as it's plenty quick enough.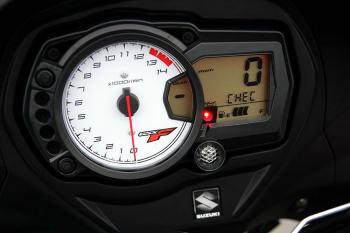 The chassis might have been hijacked from the Bandit but you'd never guess it wasn't purpose built. The GSX-F handles beautifully in fact, with a balance and agility that's quite unexpected. There are times when you notice the extra weight compared with a GSX-R, inevitably with its 110lb disadvantage. Braking from high speeds for example takes longer and trying to flick the bike side to side demands a fair amount of bar effort and at the same time, the suspension shows signs of becoming choppy when there's also a poor surface to deal with. But mostly front and rear ends behave impeccably even when pushed hard, while the upside of the additional mass is the good ride quality, an important factor in the bike's long distance comfort. The bodywork offers decent wind protection too, the screen diverting the slipstream high and without undue turbulence, although a little more width at the top would be useful, and that would set the mirrors wider, which would be useful as mostly they're filled with your images of your arms.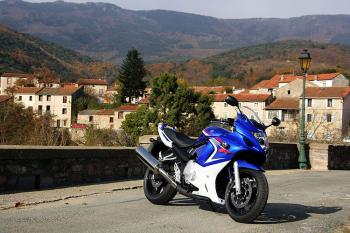 As a sports bike the GSX-F is certainly a fine introduction to the class with its combination of forgiving engine and chassis and the ability to excite, although some riders will find the ground clearance gets restrictive taking the bike out on track day circuits. Yet it has many qualities of a decent touring bike too. The comfort we've covered (include passengers in that) and the low rev torque, and with its 4.2 gallon tank and 45-50mpg capability (judging by the Bandit) it's good for more than 200 miles between refills – I suspect gentle riders will do significantly better than that.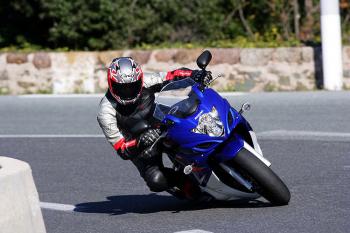 Even the finish quality appears to be improved – Suzukis haven't always impressed in this respect – and if you're buying new but have a restricted 33 horsepower licence, note the GSX-F comes with a second, suitable engine management box at no extra charge. There's even an optional centre stand, just like bikes used to have.

Then there's the price : at £4,999 this really is outstanding value considering what the bike does and how well it does it. In the one budget package you have an everyday commuter, weekend sports machine and summer continental tourer. This is only going to push Suzuki further ahead in the sales figures. And rightly so.

Price: £4,999

Available: now

Contact: Suzuki (GB), brochure hotline 0845 850 8800; Customer services: 0500 011959, www.suzuki-gb.co.uk



Specifications
Recent comments
In HONDA NC700X, kharli wrote:

In HONDA NC700X, kharli wrote:

In HONDA NC700X, Grump wrote:

In HONDA NC700X, kharli wrote:

In Lest we forget..., Captain Scarlet wrote:

In Captain Scarlet's next bike, malauder wrote:

In Captain Scarlet's next bike, Captain Scarlet wrote:

In Benelli 750 SEI, CCM wrote:

In Benelli 750 SEI, Gekom57 wrote:

In Benelli 750 SEI, Gekom57 wrote:

In Captain Scarlet's next bike, Grump wrote:

In Captain Scarlet's next bike, Navy Boy wrote:

In Captain Scarlet's next bike, Captain Scarlet wrote:

In Captain Scarlet's next bike, Grump wrote:

In HONDA NC700X, Grump wrote:

In Lest we forget..., Navy Boy wrote:

In Lest we forget..., unconventional rebel wrote:

In Captain Scarlet's next bike, unconventional rebel wrote:

In HONDA NC700X, unconventional rebel wrote:

In Lest we forget..., davvy wrote:
Donate to the Kevin Ash Fund
Kevin's funeral was held on Thursday 28th February 2013 and was well attended by family, friends and colleagues.
The Telegraph has very kindly established The Telegraph Kevin Ash Fund to assist with the education of Kevin's three daughters.
If you'd like to make a donation then you can use the PayPal 'Donate' button below which will allow you to donate from your PayPal account, or via credit or debit card. A small percentage (about 3.4%) will be retained by PayPal for the service.
Kevin's family have been touched by the generosity and messages of support from people using the website and would like to express their gratitude to those who have contributed in any way.
The donations keep coming in, thank you so much, and the family especially like it when you leave a message.