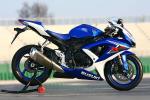 By Kevin Ash
Pictures: Milagro


The start of 2008 was mid-life facelift time for the GSX-R600, a mere two years after the previous wholesale revision of Suzuki's hugely popular supersport screamer. The new bike certainly looks different to the old, with revised bodywork most obviously refreshed at the front with a new headlight layout – a central dipped unit flanked by two main beams – but equally this is still unmistakably GSX-R and GSX-R family, the most evocative and historic of all the Japanese sports bike series.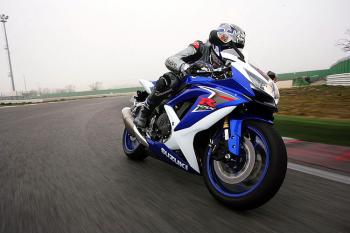 Click on image for galleryBut most changes are more gentle evolution than radical leap: aside from the bodywork differences, the engine has had some revisions aimed partly at keeping it one step ahead of emissions laws, partly at improving driveability and performance. To these ends, the mid-range torque has been boosted by reducing intake valve lift slightly, the potential peak power lost is reclaimed by a raised compression ratio to a hefty 12.8:1, finer-spray fuel injectors, revised the intake port shapes and improved internal engine breathing.

The chassis has had the same subtle wand wafted across it, and for 08 features a GSX-R1000-type electronic steering damper (this stiffens as speed increases), gently refined suspension, lighter wheels and new front brakes.

Could you tell? In the chilly, fog-bound environs of the Misano circuit press launch I found it hard to say that the 08 model was very different to the machine it supersedes. I persuaded myself that the new bike does pull a little bit more strongly in its mid-range, but that's only something I spotted because I happened to ride a two-year old model a few weeks earlier and knowing the proposed changes, looked out for it – otherwise I might not have been sure even of that.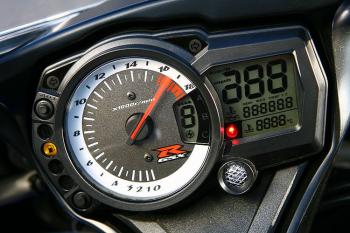 None of which should detract from the fact the GSX-R is a totally thrilling, utterly spellbinding machine. It used to be traditional to say the best 600 feels as good as a 750, but this little gem makes more power than the first Honda Fireblade, and it's not lacking too much in mid-range thrust either. The Misano circuit has been reversed in the last year, a brilliant piece of lateral thinking designed to compensate for the lack of run-off in some turns which couldn't be built around because public roads got in the way – running races backwards and reshaping a few turns appears to solve all the issues. But this also meant from my point of view that a once-familiar track was brand new again, yet relearning it on the GSX-R was just fine. The little bike's muscle dealt with my tyro track fumblings way beyond the call, hauling me out of wrong gear corners from 6000 or 7000rpm before driving seamlessly and smoothly up into its five figure zone – bear in mind the red line is drawn at a banshee 16,000rpm. The motor doesn't howl to the edge with quite the wanton eagerness of an R6, which will still have the edge as a track bike, but that little bit of extra grunt lower down will still improve lap time figures as well as feel, and it's always useful on the road.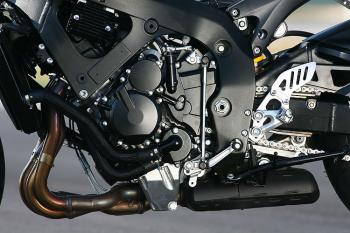 The gearbox meanwhile has been left untouched, and rightly so as the GSX-R is endowed with the sweetest set of cogs this side of a chocolate factory, snicking clutch-free so fast, effortlessly and dependably up or down ratios it's hard to imagine a quick-shifter being significantly better. And now the transmission has been enhanced with the smoothest, most unobtrusive slipper clutch I've ever tried: knocking the bike down a couple of gears at the end of the start finish straight you simply don't feel it working.

The brakes aren't so bad either, although you might argue the case if you've just spent an hour riding down a slippery Alpine mountain pass... Like an increasing number of sports bikes the GSX-R600 is fitted with a ferocious set of stoppers which work an absolute treat on the track, two fingers practically ripping the rubber from its carcass. But on the road, where grip is variable or unknown, the rider's tired, the circumstances a bit of a surprise, these could well be just a bit too much for that clumsy, startled first grab. Still, it's marketed as a track bike first, road bike second, and as such the brakes are phenomenal, feeding in the power with delicacy and just as important, releasing as you peel into the turn with perfect control and linearity.


The suspension copes with what the brakes can do as well as it ever did, but if the new settings are any better (and I'm sure they are, Suzuki's had two years to refine them) any differences were swamped by the cold weather thickening the damping oil and reducing tyre grip. Even so, the combination of excellent wheel control with surprisingly plush ride quality impressed once again, as did the staggering stability through the fifth gear, 135mph (220kph) right hander at the end of Misano's back straight – heeled right over with just a comfort dip of the twistgrip the GSX-R flew through here with not the slightest hint of a wobble, shimmy or any other sign that this was anything other than another every day change of direction. My pounding heart told another story, mind...

The theme continues with the riding position – the cockpit is thoroughly GSX-R familiar, analogue tacho to the left, digital gear position inset, and on the right the speed and distance read outs, while the bar-seat-footrest relationship is identical to the old. So, if you were about to renew this year anyway, you'll feel completely at home while getting just a little bit more of the same, and absolutely nothing wrong with that. But if you're looking for a wholesale improvement over your wholly inadequate GSX-R600 K7, maybe you should be eyeing up the GSX-R750...

Note the yellow and orange versions in the picture gallery are not available in the UK, we get only the blue, black and white versions

Price: £7,046.81

Available: now

Contact: Suzuki (GB), brochure hotline 0845 850 8800; Customer services: 0500 011959, www.suzuki-gb.co.uk



Specifications
Fri, 12/12/2008 - 13:50
#1
shuggiemac
Offline
Reading this article reminded me of a conversation I had with my 'Star Rider' instructor in 1982 when I was a new biker and doing a rare sensible thing in getting trained before venturing out on to the roads alone. I had already managed to buy myself a Triumph 750 Bonneville and the instructor had a BMW R100RT, which even in those days were two bikes in the minority as most of my mates were running around on the latest Japanese machine. I took a fair amount of ribbing for buying the Bonnie but the instructor said to me that he thought I should stick to my guns as, in his experience, every time he had bought and owned a Japanese machine he had liked them all but it really was not that long before he was wistfully eyeing the newer model and wanting something more. It was an experience that he said was not repeated with Beemer and let's face it in those days there was absolutely zero chance of Triumph updating the Bonnie. I don't know if that influenced me more than I have ever really considered but I have never actually bought a brand new Japanese bike, though I do have a number of second hand ones. So to come full circle with my rambling point, it would appear from the road test that in the real world there seems to be so little between the last two models of GSX-R 600 that it beggars the question are the factories just doing it to satisfy those who are always looking for something a little more or are there ever any real leaps in these mid model life updates? I am not having a go here at any of the manufacturers, I know the business reasons behind this but to those who are lucky enough to ride all these bikes, have there been many of these 'update' models (not re-launch) where there has been something truly significant delivered? I am truly interested to know.
P.S. - I've still got the Bonnie and will never sell it.
Recent comments
In HONDA NC700X, kharli wrote:

In HONDA NC700X, kharli wrote:

In HONDA NC700X, Grump wrote:

In HONDA NC700X, kharli wrote:

In Lest we forget..., Captain Scarlet wrote:

In Captain Scarlet's next bike, malauder wrote:

In Captain Scarlet's next bike, Captain Scarlet wrote:

In Benelli 750 SEI, CCM wrote:

In Benelli 750 SEI, Gekom57 wrote:

In Benelli 750 SEI, Gekom57 wrote:

In Captain Scarlet's next bike, Grump wrote:

In Captain Scarlet's next bike, Navy Boy wrote:

In Captain Scarlet's next bike, Captain Scarlet wrote:

In Captain Scarlet's next bike, Grump wrote:

In HONDA NC700X, Grump wrote:

In Lest we forget..., Navy Boy wrote:

In Lest we forget..., unconventional rebel wrote:

In Captain Scarlet's next bike, unconventional rebel wrote:

In HONDA NC700X, unconventional rebel wrote:

In Lest we forget..., davvy wrote:
Donate to the Kevin Ash Fund
Kevin's funeral was held on Thursday 28th February 2013 and was well attended by family, friends and colleagues.
The Telegraph has very kindly established The Telegraph Kevin Ash Fund to assist with the education of Kevin's three daughters.
If you'd like to make a donation then you can use the PayPal 'Donate' button below which will allow you to donate from your PayPal account, or via credit or debit card. A small percentage (about 3.4%) will be retained by PayPal for the service.
Kevin's family have been touched by the generosity and messages of support from people using the website and would like to express their gratitude to those who have contributed in any way.
The donations keep coming in, thank you so much, and the family especially like it when you leave a message.